Some muscles are defined by a single exercise. If you want to grow your guns and fill out your favorite t-shirt, you have to do biceps curls (or their many variations). To achieve that coveted "X-frame" look as a bodybuilder, you need well-developed shoulders — which means performing lateral raises.
Most of the muscles in your upper back aren't beholden to a single movement, since they work together as a synchronous unit. That said, isolating your trapezius muscles is as easy as shrugging your shoulders.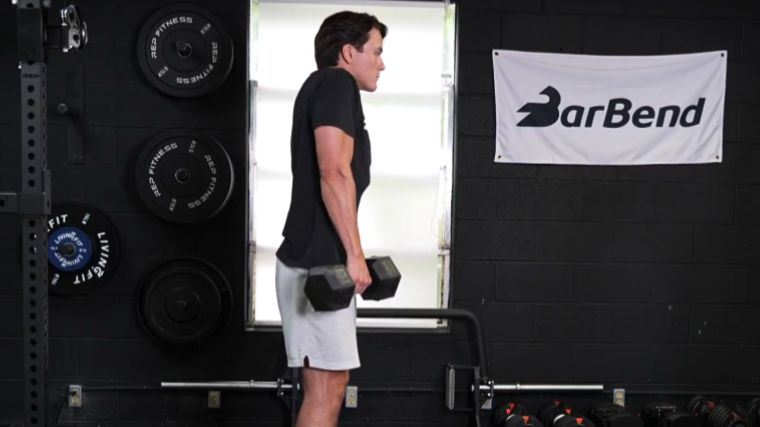 The dumbbell shrug is as close to a grab-and-go movement as it gets. There's no intricate technique to obsess over; all you need is a pair of dumbbells and you can improve your posture, grow your traps, and develop overall upper-body strength. Here's how to do the dumbbell shrug:
How To Do the Dumbbell Shrug
To perform dumbbell shrugs, well, all you need are a pair of dumbbells and a bit of free space to get to work.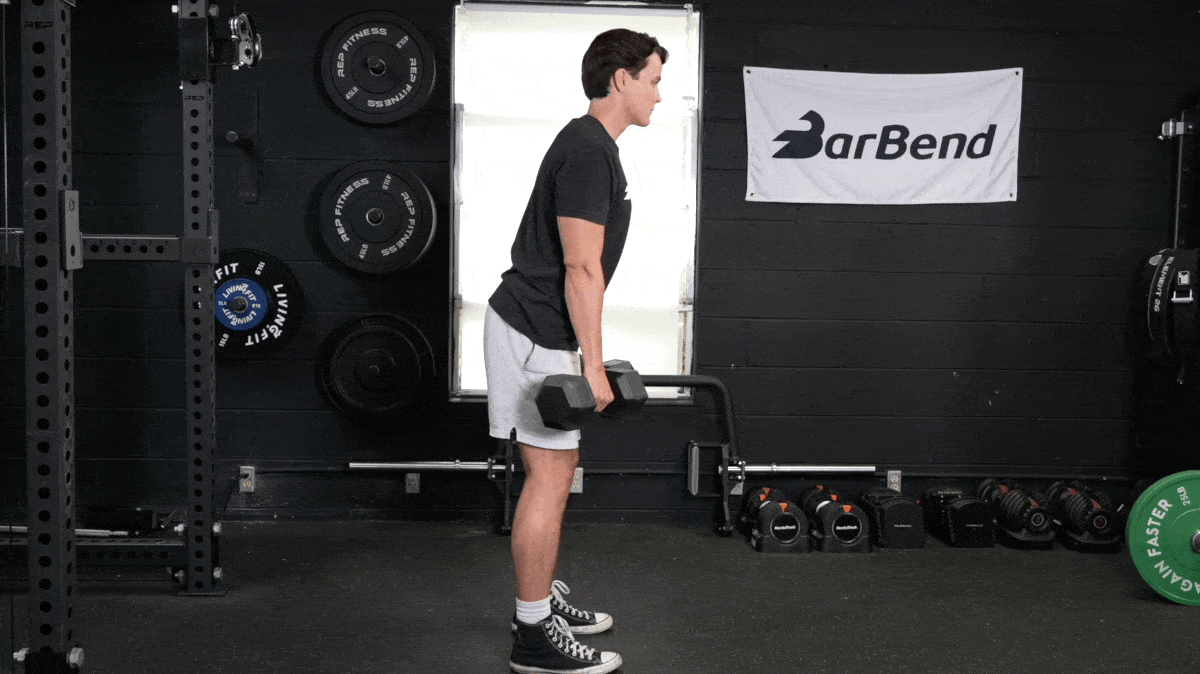 Step 1 — Stand upright with a medium-to-heavy dumbbell in either hand. Place your feet directly under your hips and look straight ahead.
Step 2 — Inhale, brace your core, and use your traps to pull your shoulders up to your ears. Hold for a moment at the top and then slowly lower the weights back down.
Coach's Tip: All of the motion of the dumbbell shrug should occur at your shoulders. Let your arms hang down freely and don't bend your elbows.
Dumbbell Shrug Variations
Shrugs are surprisingly versatile. If there are no dumbbells left on the rack, or you're simply bored to tears of your run-of-the-mill shrug, you can mix things up with these simple variations.
Single-Arm Dumbbell Shrug
[Read More: 5 At-Home Workouts for Strength, Muscle Growth, Power, and More]
Stand upright with a dumbbell held in one hand. You can stagger your feet to improve your balance.
Place your non-working arm on your hip or brace it against a stable structure for stability.
Inhale, brace your core, and shrug your working shoulder up to your ear.
Hold at the top for a moment, then lower your shoulder back down.
Kelso Shrug
[Read More: The Best Online Workout Programs For Coaching, Cardio, Value, And More]
Set an adjustable weight bench to be between 45 and 60 degrees, then grab a pair of dumbbells and stand facing the bench.
Lean forward and rest your torso on the bench with your feet planted firmly behind you on the floor.
Allow your arms to hang freely downward with the dumbbells.
From here, perform a shrug, pulling your shoulders up and back behind your ears.
Dumbbell Shrug Alternatives
The shrug motion is undeniably the best way to isolate your upper trapezius muscles, but that doesn't mean you need to stick with dumbbells forever. These dumbbell shrug alternatives provide comparable stimulation and may be better in some cases:
Smith Machine Shrug
[Read More: The Best Back Workout for Men, Women, Strength, and More]
Set the bar of a Smith machine on the hooks such that it rests at around knee level or slightly higher.
Load up some weight plates on the pegs of the Smith bar and then stand in front of it with the bar gently in contact with your thighs.
Hip hinge, pushing your pelvis backward and reaching down to grab the bar with a narrow, overhand grip.
Unhook the Smith bar and stand upright with it. Grip the bar tightly with your hands, but let your shoulders hang down.
From here, brace your core and shrug your shoulders up to your ears.
Snatch-Grip Shrug
[Read More: The 10 Best Grip Strengtheners On the Market]
Stand upright, holding a barbell with an overhand, extra-wide snatch grip. The bar should rest against your waistline, rather than down on your thighs.
Inhale, brace your core, and lean forward very slightly.
From here, perform a standard shrug, pulling your shoulders up to your ears.
Behind-the-Back Shrug
[Read More: Get Freakishly Strong With the 5×5 Workout Program]
Set a barbell atop the safety arms of a squat or power rack at just above knee height.
Stand facing away from the barbell with it gently resting against the backs of your legs.
Reach down and grab the barbell with a close, overhand grip, and stand upright.
From here, shrug as usual while taking care to avoid dragging the bar up your hamstrings.
Rack Pull
[Read More: The Best Full-Body Bodybuilding Workout for Beginner to Advanced Lifters]
Set up a barbell at around knee height in a squat or power rack.
Load the bar with plenty of plates (around 90 percent of your best deadlift is a good benchmark).
Address the bar with your conventional deadlift stance; feet close together, pointing mostly forward.
Inhale, brace your core, and deadlift the bar off the safeties. Stand fully upright and hold the top position for a moment before lowering the bar back down.
Who Should Do the Dumbbell Shrug
Filling out your favorite tee is far from the only reason to incorporate dumbbell shrugs into your routine. Shrugs — and by extension, stronger traps — have a lot to offer beyond aesthetic benefits.
Beginners
If you're just starting out on your fitness journey, it is essential that you leave no stone unturned in the weight room. Put simply, you need to train every muscle in your body so you develop proportionally.
Does this mean every single muscle needs multiple isolation exercises? Not necessarily. Compound exercises will do the job most of the time. That said, if you feel your traps deserve a bit of extra attention, the dumbbell shrug should be your go-to.
Bodybuilders
When it comes to bodybuilding and physique development, the devil is in the details. Whether you have competitive aspirations or not, you should studiously and diligently train to prevent any physique weak points that may affect your appearance, such as underdeveloped traps.
Big traps can be seen — or missed, if you don't train them — during nearly every bodybuilding pose, both from the front and from the rear. Any bodybuilder worth their salt will shrug on a weekly basis to bring their traps up with some direct stimulation.
If You Have a Muscle Imbalance
Dumbbell shrugs are technically a unilateral exercise, in that your shoulders move independently of one another each with their own weight. As such, the shrug is a great diagnostic tool for both your trap strength and general shoulder health.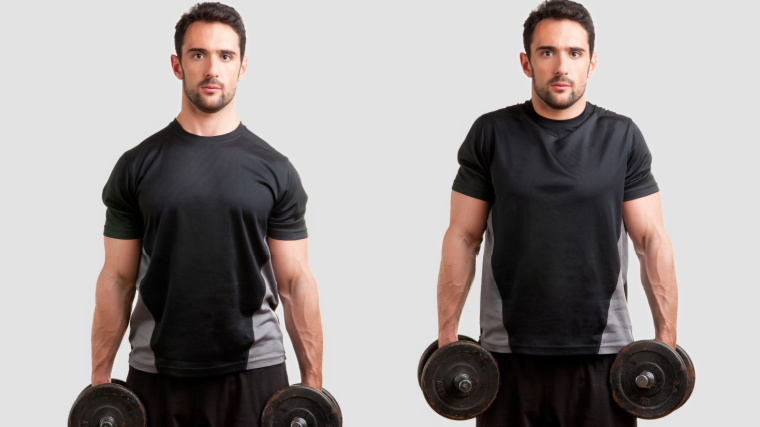 During sets of dumbbell shrugs, you can take stock of how you're moving if you perform them in front of a mirror. Imbalances in strength or range of motion may compel you to take more specific action, such as performing additional mobility exercises or even seeing a physical therapist if a discrepancy is both present and painful.
Dumbbell Shrug Sets and Reps
Most people use the dumbbell shrug for muscle growth in the trapezius area. That said, the movement has more utility than you might think. Here are some of your programming options for dumbbell shrug sets and reps.
When You're Starting Out: Do 3 sets of 10 reps with a moderate weight.
For Muscle Growth: Try 2 to 4 sets of 8 to 12 reps with a moderate to heavy weight.
For Endurance: Try 3 sets of 15 to 20 reps, and hold the dumbbells at the end of each set for as long as you can.
Benefits of the Dumbbell Shrug
Here are some of the many benefits on offer with the dumbbell shrug. Not of all them will apply to you in all cases, but you can easily walk away with more than one:
Targeted Trap Growth
The primary benefit of dumbbell shrugs is to your trapezius muscles. Your traps bear a lot of load isometrically (as in, without moving) any time you perform any type of loaded carry movement, or hold a bar in your hands during exercises like the deadlift or barbell row.
[Read More: The Single-Leg Deadlift Is the Best Pulling Accessory You're Not Doing]
Isometrics pale in comparison to dynamic motion for eliciting muscle hypertrophy, though. To maximize muscle growth, you need to contract and lengthen your traps against resistance. The dumbbell shrug fulfills that requirement to a T.
Easy and Convenient
There's always something to be said for convenience when you're building your next workout program. Most people don't have all day to frolic about in the weight room. Time is, quite literally, of the essence.
As such, you should select exercises that aren't cumbersome to set up or that require too much valuable equipment. Dumbbell shrugs shine here; as long as there are dumbbells available, you're good to go.
Builds Grip Strength
Even isolation movements like the dumbbell shrug serve more than one purpose. For instance, to perform shrugs, you need to hold on to a pair of dumbbells (duh). That means taxing your grip strength and the endurance of your forearm muscles.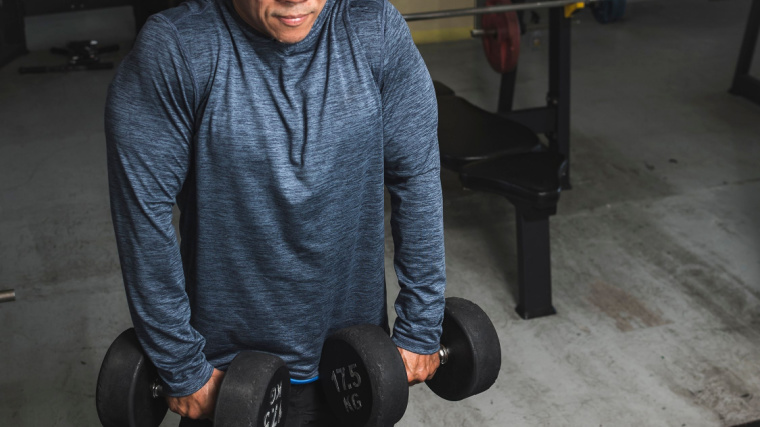 If you want to train both your traps and your grip at once, shrugs are a double-whammy. However, if you don't want your grip strength to limit how much you can shrug, there's no shame in utilizing lifting straps.
Muscles Worked by the Dumbbell Shrug
The dumbbell shrug is a single-joint isolation exercise that almost exclusively works your traps. Here's how.
Trapezius
Your traps are a three-pronged muscle that connect all along your upper spine. Your lower and middle trapezius muscles perform and assist with various scapular functions, while your upper traps primarily elevate and retract your shoulders.
Forearms
To perform dumbbell shrugs, the muscles in your forearm need to contract isometrically to maintain a closed fist around the handle of the dumbbell. This doesn't necessarily mean shrugs are a forearm exercise, but you can expect to feel your forearms burning after several sets of dumbbell shrugs.
Common Dumbbell Shrug Mistakes
The dumbbell shrug is just about as straightforward as an exercise gets. It has a limited range of motion, requires you to move in one plane only, and engages only one joint. That said, there are certainly some potential mistakes you should be aware of.
Bending Your Elbows
The shrug is a shoulder-only isolation move. Your trapezius muscles don't affect your elbows, wrists, or any other joint in your body. When a set of shrugs gets difficult, though, it's all too tempting to start bending your elbows to create "artificial" motion and involve other muscle groups.
Using Momentum
There's some value to cheating your exercise form in some cases. Small amounts of momentum can accommodate an exercise's resistance curve and help you push your workout intensity to new levels.
That said, there's no reason to sway back and forth like a tree in a tornado during your sets of dumbbell shrugs. Creating momentum in your lower body to help you heave the weights up won't help you grow your traps and can reinforce bad movement habits that will be difficult to break.
FAQs
Shrugs got you shrugging your shoulders? Here are a few common questions about the dumbbell shrug.
How heavy should I lift on dumbbell shrugs?
Most people can use very heavy weights for shrugs. Your upper traps are large, powerful muscles, and the range of motion of the shrug is quite small. As such, you should try to lift heavy dumbbells to create as much of a stimulus as possible within the bounds of good form.
Can I alternate my dumbbell shrugs?
You sure can. There's no harm to performing one shrug after another, switching between shoulders, as long as you count one rep on each side as its own full repetition.