Eleiko is a very established manufacturer and brand in the strength and power sports world, most notable for their plates, platforms, and barbells. Additionally, they produce a wide range of supportive gear for lifters and athletes, such as; weightlifting belts, knee sleeves, wraps, and straps, just to name a few. As an avid weightlifter and strength athlete who is well aware of Eleiko, I was excited to put these knees sleeves the test and share my experiences and feedback.
Click HERE to buy Eleiko's 7mm Knee Sleeves.
In this article I'm reviewing the Eleiko 7mm knee sleeve.
Stability
The Eleiko 7mm knee sleeve is the standard thickness for most recreational and competitive power, strength, and fitness athletes, which offers a nice balance between stiffness and support with movement and flexibility. Similar to other 7mm sleeves on the market, these are supposed to offer joint warmth and compressive support for squats, lunges, snatches, cleans and jerks, and other strongman and lifting movements.
When compared to other 7mm knee sleeves on the market I felt that these knee sleeves offered a good amount of support and warmth to the knees, while also being a little less rigid, allowing me to move freely without noticing the sleeve too much.
[Buy Eleiko's 7mm Knee Sleeves for the best price on Amazon.]
I found the stiffness and rigidity to be slightly less than some other 7mm knee sleeves, however I didn't really feel less supported. In fact, the added movement and flexibility of the sleeve was noticeable when compared to other, more rigid sleeves, allowing me to focus on the task at hand than the knee sleeve itself.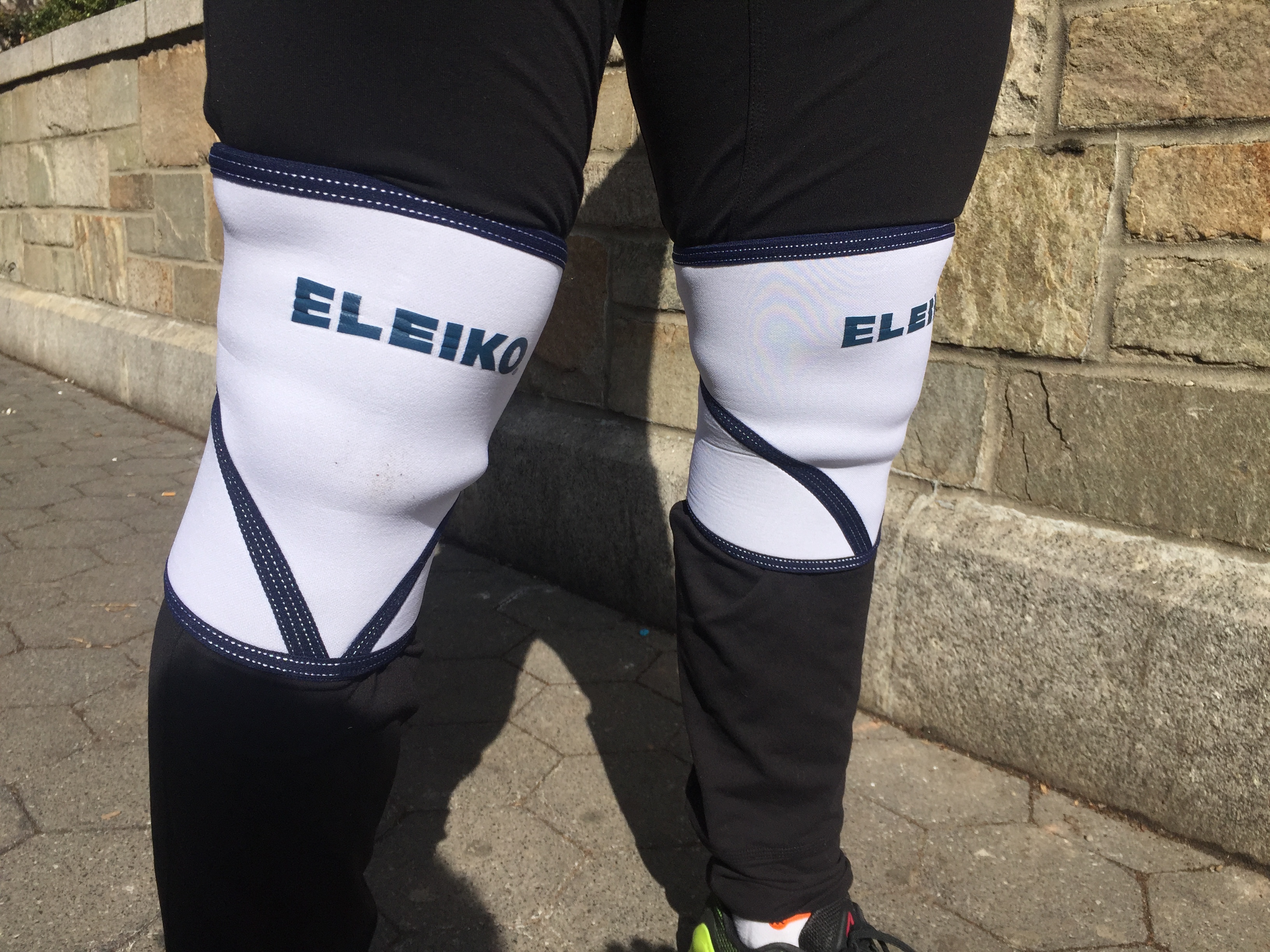 Personally, I found these sleeves to offer ample support and joint warmth for heavier movements, such as squats, clean & jerks, and snatches, while still allowing for more movement based segments such as lunges, air bike, and sleds.
When compared with other 7mm knee sleeves that I have reviewed and trained in, I found the Eleiko 7mm knee sleeves to be just as supportive yet slightly more flexible (not in a negative kind of way), ultimately making them a very balanced knee sleeve for lifters and athletes looking for ample support and joint warmth yet still full degrees of motion and flexibility.
With that said, lifters who may be more stationary in their training and competition, and/or are looking specifically for a more rigid knee sleeve, I feel there are other knee sleeves in this category that may be a better option.  
[Check out our best knee sleeves round-up for our top knee sleeve picks]
Comfort and Fit
The sleeves come in two straightforward colors (white or blue), both of which are 7mm of compression-based neoprene.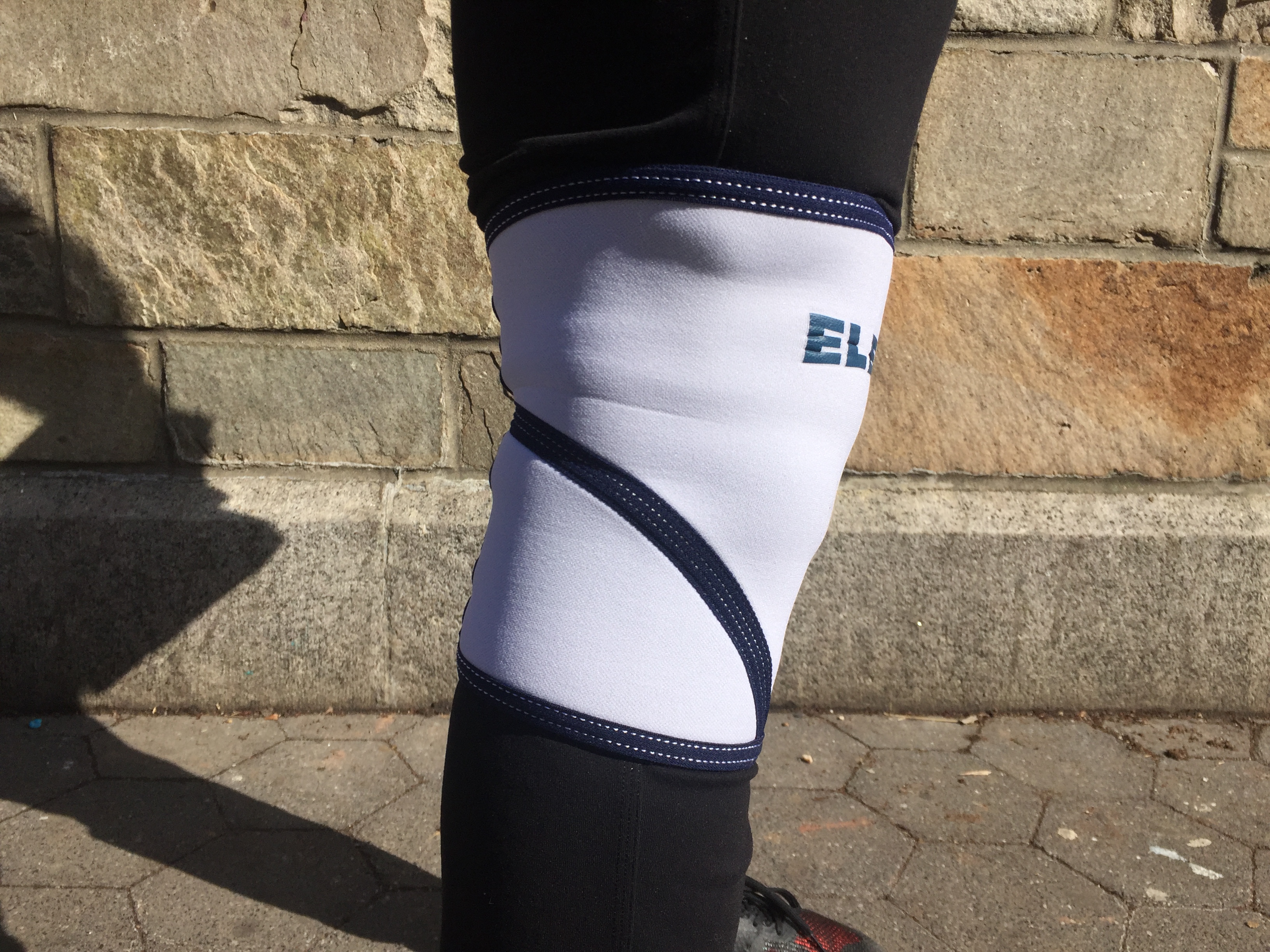 The Eleiko 7mm knee sleeves sizing was comparable to other 7mm knee sleeves that I have reviewed as well as trained/competed in (see the video for my complete measurement and sizing breakdowns).
The sleeves offered a tapered fit, making it fairly easy to slide up and down in between sets and movements. The sleeve stays in place during most training sessions, and allowed for ballistic (snatch, clean, jerk) movements nicely.
I did notice at time the sleeves would slide down an inch or two, however that could be due to sweatier sessions and wearing pants.
With that said, I did find that these sleeves kept my knees warm while still allowing for some pretty fast paced and explosive movements. At times, the added warmth came with some pretty sweaty knee sleeves, which sometimes slides down the knee, necessitating a quick readjustment.
Material
The Eleiko 7mm sleeve has demonstrated good stiffness and flexibility during most of my weightlifting, strongman, and general hypertrophy training. The 7mm neoprene has remained intact, showing little signs of wear and tear, with the single seam construction holds up and offers a snug fit and feel.
I found the material to be very similar to other 7mm knee sleeves on the market, however I did enjoy the contoured fit and style of the sleeve, as it had a nice fit with a modern and eye-catching design (a very crisp white or deep navy blue).
Durability
I have lifted in many similar sleeves for years, competing in powerlifting, weightlifting, and functional fitness competitions. The durability of these sleeves has been similar to most other 7mm knee sleeves on the market, and has been noticeably durable during longer training sessions and cycles when doing heavy squats, high intensity (% of 1rm) Olympic lifts, hypertrophy training, and even metabolic conditioning sessions (sleds, bike, etc).
Price
The price for the Eleiko 7mm Knee sleeve is $47.00 for two sleeves (a complete pair). This price is half the price of one of the more well-known 7mm knee sleeve manufactures who sells only one sleeve for the same price. It's a fairly good deal when compared to other 7mm sleeves for strength and power athletes.
Final Thoughts
The Eleiko 7mm knee sleeves offer a good amount of support and compression without sacrificing the ability to be flexible during more movement based and higher rep training.
Personally, I have found these sleeves to offer reliable support during heavy and high volume squat cycles, snatches, and heavy cleans, as well as be a great option for sleds and other conditioning based exercises. T
he price of these sleeves make them a very good option for lifters looking for a supportive and flexible sleeve to use for a magnitude of strength, power, and fitness sports.