We're less than two days away from the 2017 Reebok CrossFit Invitational, and the news highlighting what events we can expect is starting to drop. Earlier today, the CrossFit Games Instagram gave us a glimpse at event one. The event details are highlighted below.
Event 1, for time:
40 rope climbs, total
35/20-cal row, each
30/20-cal Assault Bike, each
30 Worm cleans, total
[Check out the powerhouse rosters, along with the epic stats of each athlete for this year's Reebok CrossFit Invitational teams.]
This year's first event is much different than last year's infamous team deadlift + bar facing burpee event. If you recall, last year Rogue Fitness constructed special bars that weighed 854 lbs each, and nearly looked cartoon like as the teams worked through the event.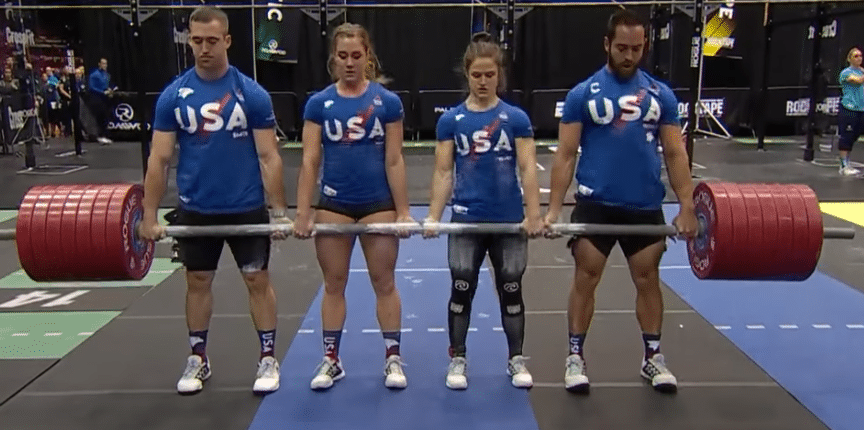 Image screenshot and courtesy of CrossFit YouTube channel.
2017 Invitational Details
This year's Reebok CrossFit Invitational is being held in Melbourne, Victoria, Australia. Their will be a live stream through CrossFit's media outlets, which include their website and YouTube channel. The 2-hour event starts at 4 P.M. AEST, and will begin with no delay.
For those living in the United States and who are interested in tuning in, then get ready because it's going to be a late night. We've went ahead and included the time conversions for the four time zones covering the US below.
Pacific Standard Time: 10 P.M. 
Mountain Standard Time: 11 P.M.
Central Standard Time: 12 A.M. 
Eastern Standard Time: 1 A.M.
https://www.instagram.com/p/BbBwsazAudr/
If you're new to the Invitational, it could be best described as CrossFit's all-star game. Teams are composed of the top athletes from four global regions who come together to compete in an epic 2-hour (or longer) showdown.
Last year, Europe's team ended up claiming first with the United States following closely behind. The Pacific region held third, and Canada came in last. Each team has at least one new member, along with more experience under their belt.
Will the 2017 results reflect a different story compared to 2016? What do you think? Leave your predictions in the comments below.
Feature image from @crossfitgame Instagram page.