Evolutionize knee sleeves are one of the most popular compression based knee sleeves sold on Amazon.com for powerlifters, weightlifters, and heavy duty lifting. Evolutionize knee sleeves are sold in pairs, and are marketed to be "unbreakable, ultra-heavy duty, and offer maximum support and warmth". I was fortunate enough to grab a pair of these sleeves, and was eager to see how they would perform during heavy and explosive training sessions.
In this article I'm reviewing the Evolutionize 7mm knee sleeve.
Click HERE to buy the Evolutionize Knee Sleeves, now rebranded as Stoic.
Stability
The Evolutionize 7mm knee sleeves register at 7mm of thickness, which is a standard thickness for most recreational and competitive power, strength, and fitness athletes. With that said, I found these knee sleeves to be some of the most rigid and supportive sleeves I have trained in to date (for reference, I've worn 10+ pairs different brands and thicknesses throughout my training), however it comes at the cost of flexibility and being able to move freely in the sleeve.
I found the stiffness and rigidity to be much more noticeable, and for lifters not concerned with moving fast (powerlifting, some strongman events, bodybuilding) this may not be an issue. However, as a weightlifter, I found these to be pretty restrictive to my movement patterning. The length of the material, while definitely offering some good support and warmth, spans across the entire knee joint and many inches above/below making them very bulky. Additionally, the high compressive nature of the sleeve was very tight and didn't allow my knee to flex as freely as I wanted.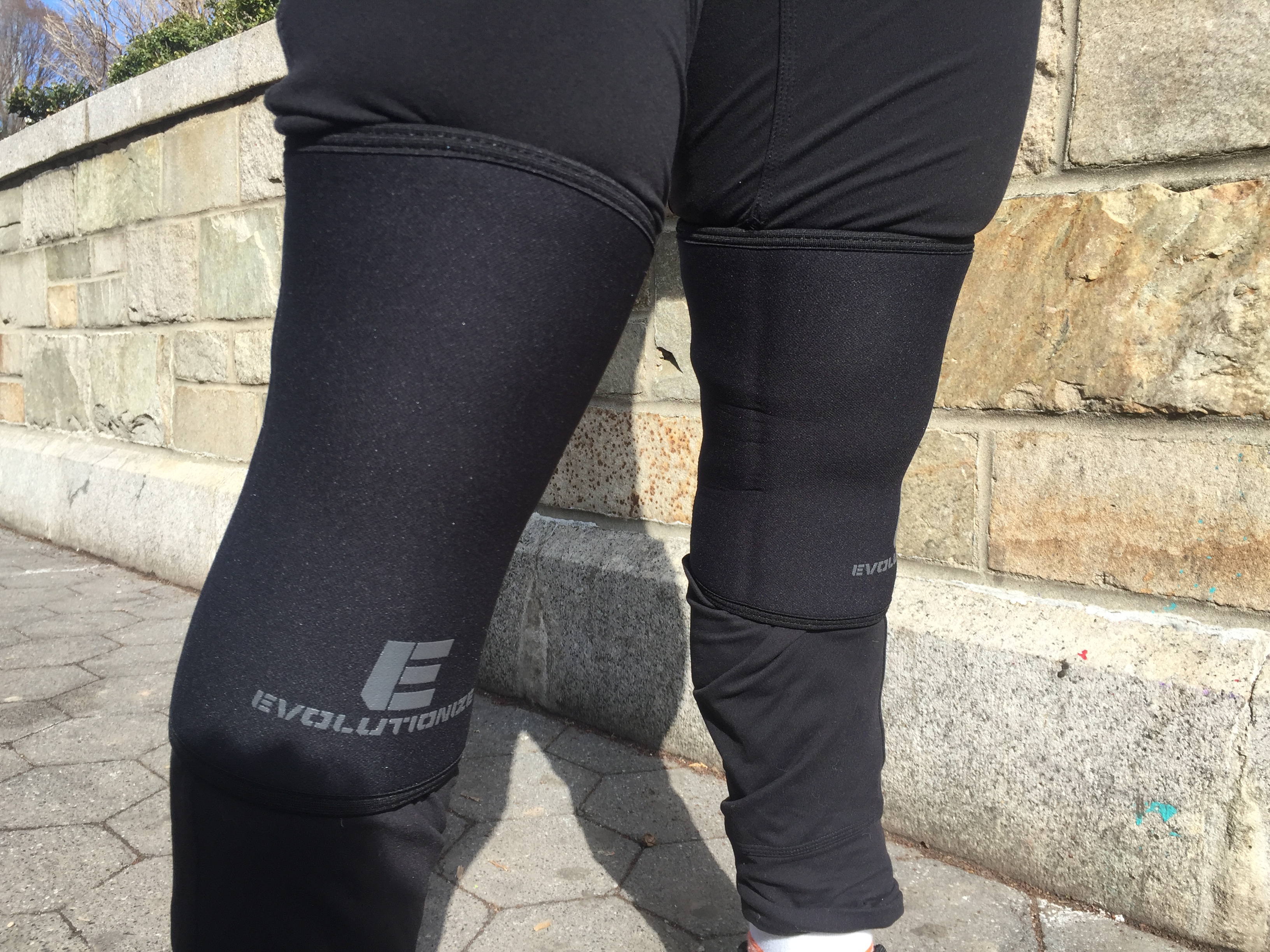 Personally, I found these sleeves to offer too much support and joint warmth for nearly every movement I perform as a weightlifter and fitness athlete, solely because I felt I was somewhat restricted in my patterning during olympic lifts, loaded carries, etc. For lifters who are potentially used to tighter knee wraps and rigid sleeves (I sometimes perform without sleeves), this may not be as big of an issue.
[Buy Evolutionize's 7mm Knee sleeves for the best price on Amazon.]
With that said, lifters who are looking for a great deal of support, (heavy rebounds out of heavier lifts) and are not entirely concerned with the flexibility and movement within these sleeves (see comfort and fit section for more), these sleeves could be a good option as they offer heavy duty support across the entire knee joint and surrounding areas.
Comfort and Fit
The sleeves come in one color (black), all measuring 7mm in thickness.
The Evolutionize 7mm knee sleeves sizing was, for all sakes and purposes, comparable to other 7mm knee sleeves that I have reviewed as well as trained/competed in (see the video for my complete measurement and sizing breakdowns). I did find that they ran pretty tight, as I had some issues putting the sleeves on and taking them off (there are special instructions by Evolutionize on how to put them on and take them off), as the methods of doing so are not like most other 7mm sleeves.
The sleeves themselves, once on, fit very snug, and covered much more of the surrounding quad and shin, which did create some extra bulk during the deep bending of the knee in squatting movements. The sleeve stays in place during most training sessions due to its pretty tight fit as well as the gripper tab designs on the interior of the sleeve (at both the top and the bottom openings).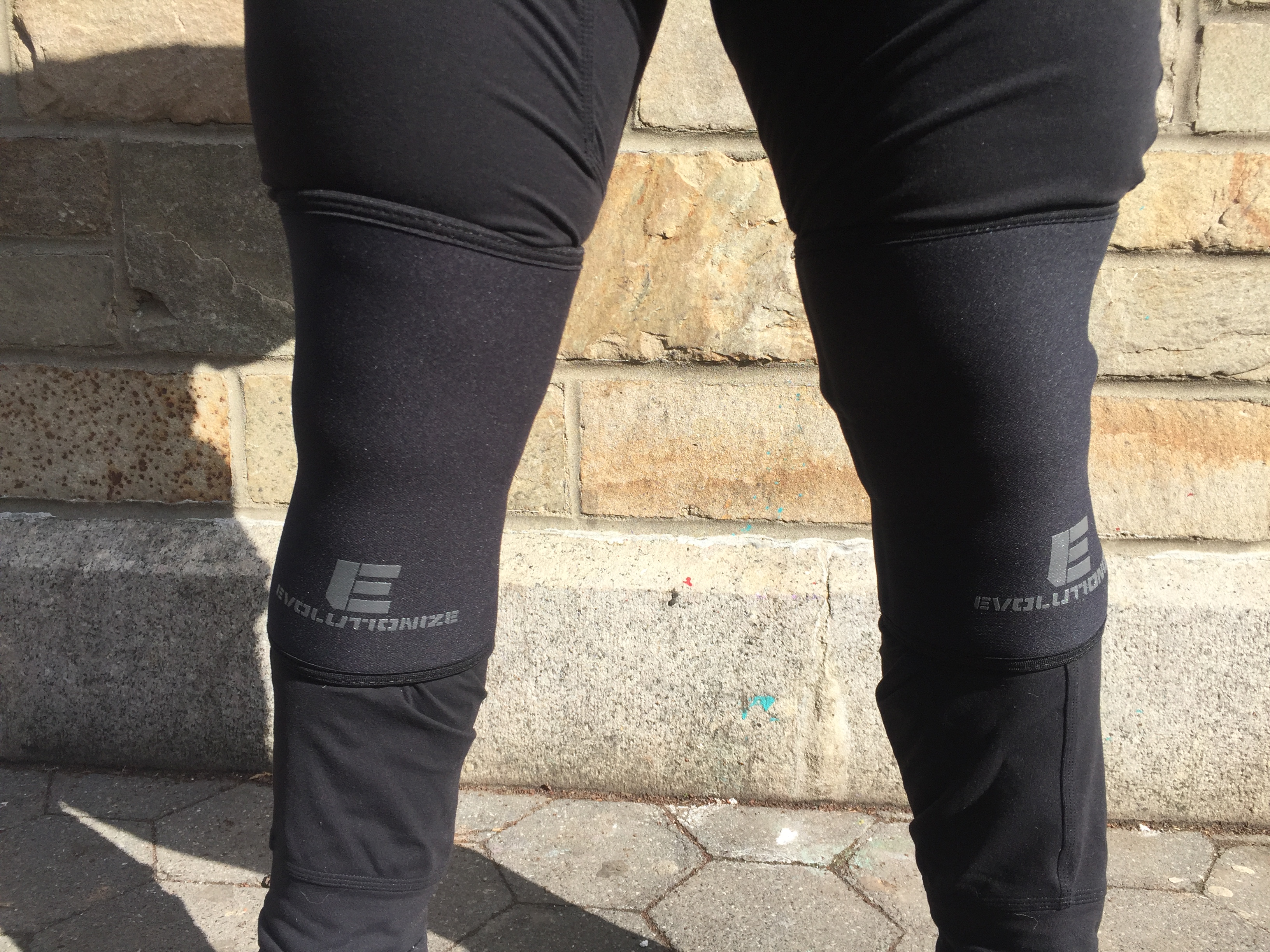 With that said, I did find that these sleeves kept my knees warm and very supported, however the tradeoff was that they felt restricting at times, specifically when approaching more ballistic and functional fitness movements (cleans, jumps, lunges, etc). As stated above, lifters who are used to heavy duty supportive gear and knee wraps may not have as big of an issue with the lack of movement and comfort in the sleeve as I, especially when performing stationary low velocity movements.
Material
The Evolutionize 7mm sleeve has demonstrated superior stiffness and support, and I think that comes at the expense of comfort and flexibility during most of my weightlifting, strongman, and general hypertrophy training. The 7mm neoprene has remained intact, however, showing little signs of wear and tear, and still provides heavy duty support with it's seamless sleeve construction.
I found the material to be very similar to other 7mm knee sleeves on the market, however I did find it much more rigid and hard to put on and take off (see the video as there is a special way to do this). That said, material was well made and I feel it could hold up to the heaviest and hardest of training for most strength and power athletes.
Durability
The durability of these sleeves seems to be very similar to some of the other top 7mm knee sleeves on the market, maybe even more so. While I have worn these sleeves for a few heavy squat sessions, they are showing know signs of wear and tear, almost making me think I am not as strong as I thought.
Price
The price for the Evolutionize 7mm Knee sleeve is $40.00 for two sleeves (a complete pair). This is very similar to other knee sleeves on the market, however is almost half the price of some of the more rigid knee sleeves we have reviewed.
[Check out our best knee sleeves round-up for our top knee sleeve picks]
For lifters looking for maximal support and are not concerned with flexibility of the sleeve, this is a good deal when compared to other 7mm sleeves for strength and power athletes.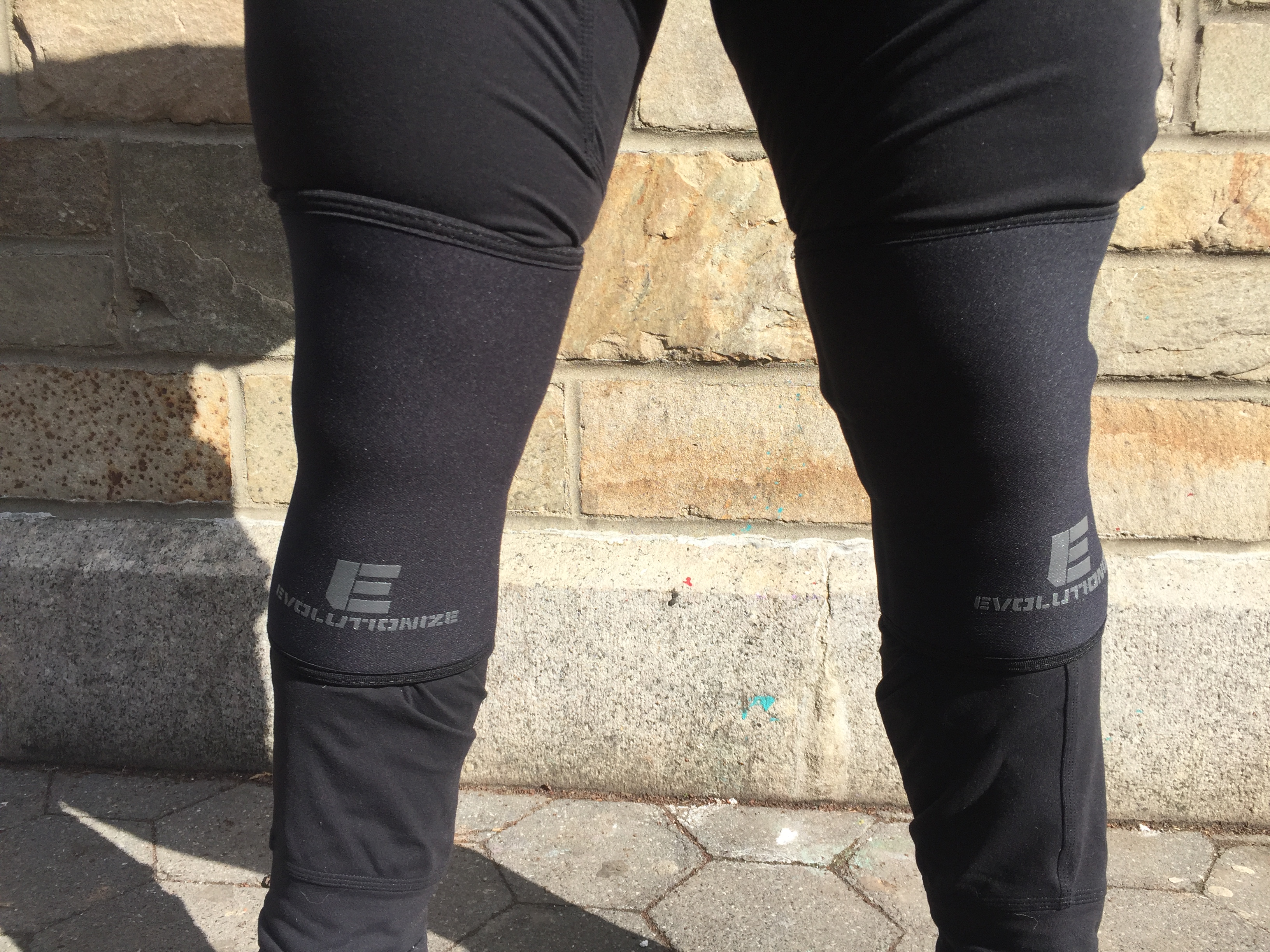 Final Thoughts
The Evolutionize 7mm knee sleeves offer a high degree of support and compression, however do sacrifice the ability to be flexible during more movement based and higher rep training.
Personally, I have found these sleeves to offer excessive support during heavy and high volume squat cycles, snatches, and heavy cleans, as I found them to be somewhat restricting during most of my weightlifting and general fitness training.
For lifters who are more concerned with maximal stiffness, support, and rigidity of a sleeve (and are willing to sacrifice movement and flexibility of the sleeve), these may be a good option compared to the other knee sleeves I have reviewed. The price tag is a very reasonable, especially since you are getting some heavy duty and durable sleeves. For beginners or lifters looking for a more balance sleeve (offers good support without sacrificing movement and flexibility), I feel that there are other better 7mm knee sleeve options on the market at the same price point.