The second Wellness Olympia was bound to be a highly-competitive contest. The inaugural champion, Francielle Mattos, was met with multiple challengers to her title in the pre-judging round of the 2022 Olympia. Angela Borges, the runner-up from one year ago, and Isabelle Nunes sought to hear "and new…" at the end of the night.
Rayana Santana, Kassandra Gillis, and Gisele Machado were also in the final callout, which was a seventh of the contest. The focus shifted to the finals, where individual posing routines were performed before a winner was crowned. Ultimately, Mattos took home her second win in the Wellness division.
2022 Wellness Olympia Results
Francielle Mattos — $50,000
Isabelle Nunes — $20,000
Angela Borges — $12,000
Kassandra Gillis — $7,000
Rayane Fogal de Souza Santana — $6,000
[Related: 2022 Mr. Olympia Results — Live Updates & Coverage]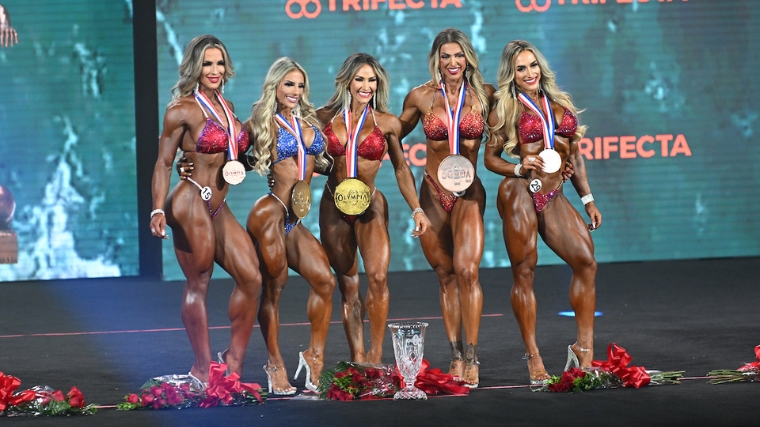 [Related: Andrea Shaw Three-Peats, Wins 2022 Ms. Olympia]
2022 Wellness Olympia Final Recap
The finals for this division started with individual routines from the top 10, who were the following:
Marissa Andrews
Yarishna Ayala
Angela Borges
Leonida Ciobu
Kassandra Gillis
Giselle Machado
Isabelle Nunes
Rayane Fogal de Souza Santana
Bruna Seredich
Francielle Mattos
The final comparisons with head judge Sandy Williamson followed:
Comparison 1
Leonida Ciobu
Yarishna Ayala
Marissa Andrew
Rayane Fogal de Souza Santana
Giselle Machado
Bruna Seredich
Comparison 2
Kassandra Gillis
Francielle Mattos
Isabelle Nunes
Angela Borges
Those were the only two comparisons for the round, and they transitioned to awards immediately. Nunes' additional eight pounds of muscle added to her lower body in the off-season paid off in spades as she was awarded the runner-up to Mattos.
[Related: Missy Truscott Triumphant at the 2022 Fitness Olympia]
The 2022 Olympia Schedule
Below is the schedule for the rest of the 2022 Olympia weekend. The divisions below are listed in the same order as they appear on the event schedule.
The morning and evening sessions on Dec. 17 begin at 9:00 a.m. and 7:00 p.m., respectively.
Saturday, Dec. 17, 2022
9:00 a.m. — Pre-Judging
7:00 p.m. — Finals
BarBend is producing live coverage of the pre-judging and finals for each division.
Featured image: Chris Bernacchi