We've been counting the days since Generation Iron 2 was announced last year. A spiritual sequel of the 1977 masterpiece Pumping Iron, which chronicled the rivalry between a young Arnold Schwarzenegger and Lou Ferrigno, and a direct sequel to 2013's critically-acclaimed Generation Iron, the 2017 update promised a fresh take on internet fitness culture.
What's unusual about the movie, and what gives it a palpable sense of directionlessness compared to the previous films, is that it's not about a bodybuilding contest. Pumping Iron was about the heated leadup to the 1975 Mr. Olympia and Generation Iron was about the battle for the 2012 title, but the sequel is more of a "State of the Union" of the sport — it's not a documentary about a bodybuilding contest, it's a documentary about bodybuilding.
It's a little like how The Hangover 3 wasn't about a hangover. As a movie it was OK, but as a Hangover movie it seemed a little out of place. That's the feeling you get when you're watching Generation Iron 2. Bodybuilding is arguably about competition, and it's competition that gives the previous movies in the series a strong narrative direction, characters to root for, and an exciting climax. Generation Iron 2 has broad scope; it's a bird's eye view. It doesn't have the tension that made its predecessors enjoyable for viewers unfamiliar with the sport. This is a movie made for a niche.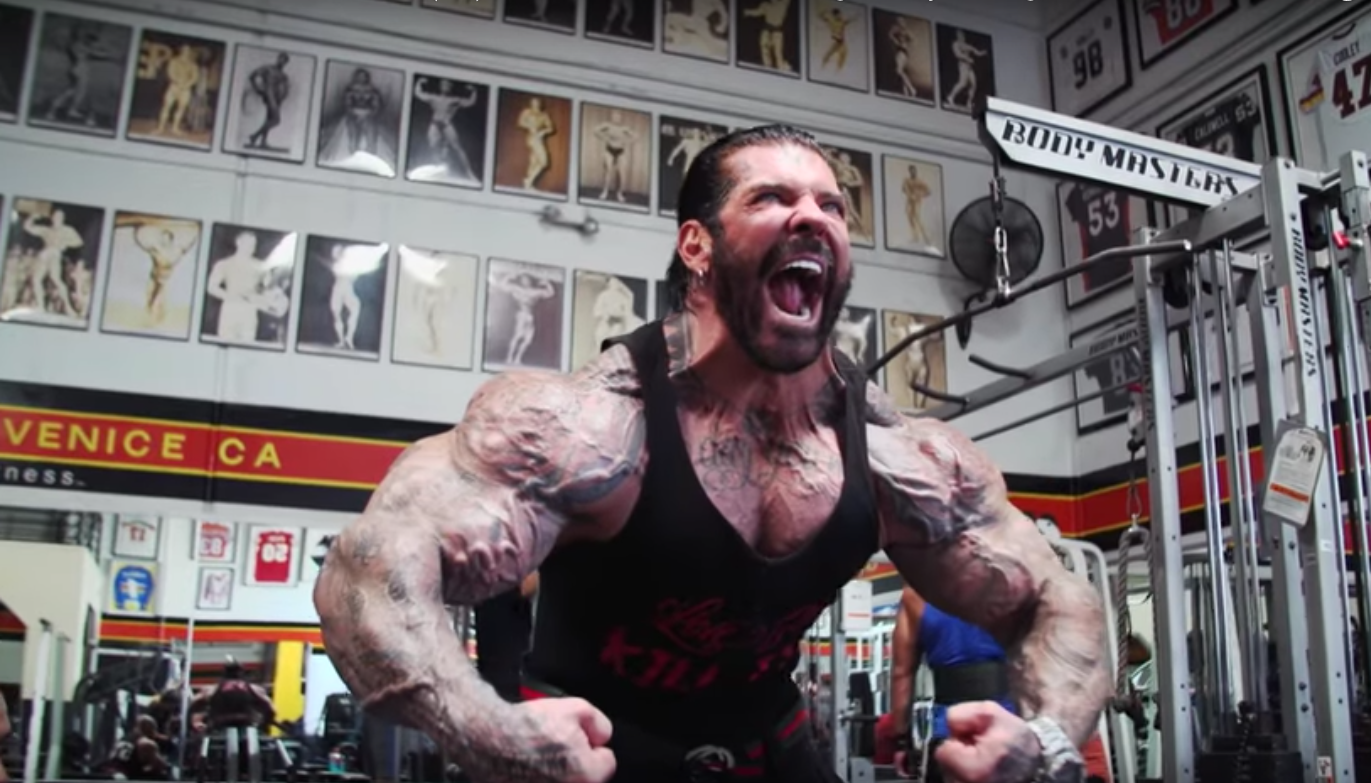 Image via Generation Iron Fitness & Bodybuilding Network on YouTube.
If that sounds like you, there's plenty on offer. Helmed by the same director as the 2013 installment, the movie takes a look at the intersection of bodybuilding and social media (and the disdain felt for it by industry veterans), the extinction of female bodybuilding, the rise of Kuwait's Oxygen Gym as an international hotspot of the sport, Hidetada Yamagishi's unsuccessful run for the 2016 Mr. Olympia title, the logistics of making the leap from bodybuilding to acting, Kai Greene's burgeoning career as an artist, the new generation of steroids… are you feeling a little dizzy, too?
There's a lot of breadth and not a lot of depth in Generation Iron 2. There is a Mr. Olympia contest held toward the end of the movie but it's barely foreshadowed and the two contestants we're meant to care about had barely any screentime during the preceding ninety minutes.
Image via Generation Iron Fitness & Bodybuilding Network on YouTube.
That's not to say it's unenjoyable. Kai Greene, the sport's philosopher king, is as fascinating, mysterious, and quotable as ever as he tries to find meaning in a life that no longer revolves around Mr. Olympia. Rich Piana lives up to his reputation as a dark horse (or is it black sheep?) of the sport, at one point confessing that he finds little meaning in family and that his biggest goal is to be as popular as Dwayne Johnson — so that everyone will want to wait on him. Iris Kyle shows a lot of pathos as she grapples with the reality that Ms. Olympia has been discontinued and that female bodybuilding is largely extinct, subverted by figure and bikini competitions. Social media celebrity Calum von Moger, meanwhile, proves that despite his farm boy niceness and mammoth Instagram following, he really doesn't have the on-screen charisma to meet his movie star aspirations.
If you're interested in these people, you'll be glad to have so much backstage access to their lives. If you mostly enjoyed the previous films because you could root for your favorite athlete to win the climactic showdown, you'll find this movie a little unfocused and overlong.
This is a documentary about how the niche sport is evolving to meet the technological, medical, scientific, and cultural landscapes of today. It doesn't have a lot of crossover appeal, but that description appeals to you, Generation Iron 2 delivers.
Featured image via Generation Iron Fitness & Bodybuilding Network on YouTube.