The Genius Brand consider themselves a nootropic company, meaning they specialize in substances that may improve cognitive function. They sell about a dozen different supplements, from branched chain amino acids and protein to more traditional nootropics like mood boosters. Their Genius Preworkout is very unusual in that it doesn't have any caffeine, but it does contain a wide variety of ingredients that are linked to focus, endurance, and power. Let's take a look at the Grape Limeade flavor.
Shop Genius Pre Workout here.
The Genius Brand Genius Pre Nutrition & Ingredients
There's no calorie information, but one scoop contains the following: citrulline malate (6g), beta-alanine (3g), betaine (2g), tyrosine (1g), arginine (1g), taurine (1g), alpha GPC (600mg), HICA (a.k.a. α-hydroxyisocaproic acid or HICA, 500mg), rhodiola rosea (100mg), ElevATP (150mg),  theobromine (30mg), AstraGin (25mg), and huperzia serrata (a.k.a. toothed clubmoss extract, 10mg).
The other ingredients are just natural flavors, stevia, some anti-caking agents, and beet root.
It's worth pointing out there are no artificial flavors, sweeteners, or colors in this product.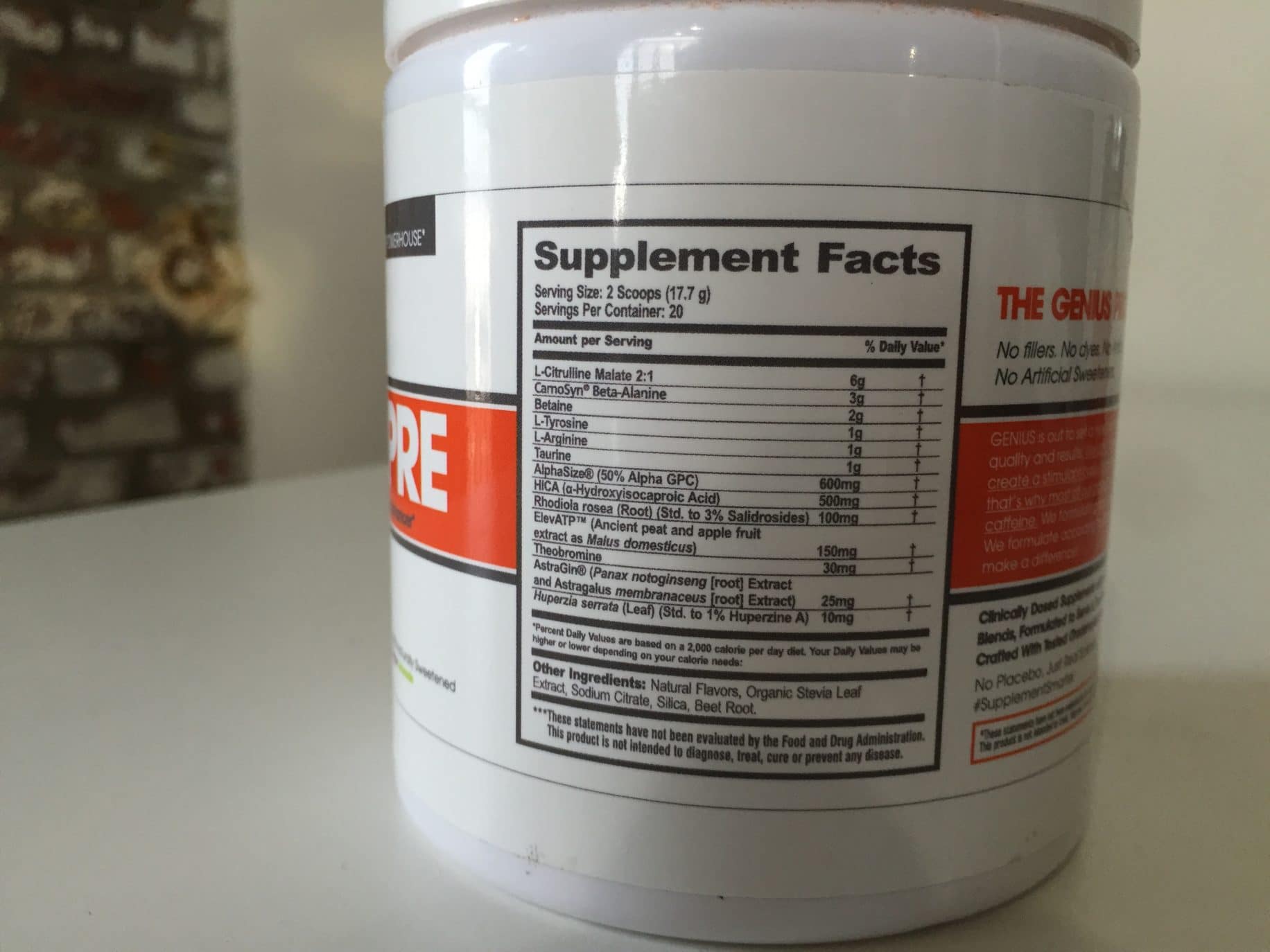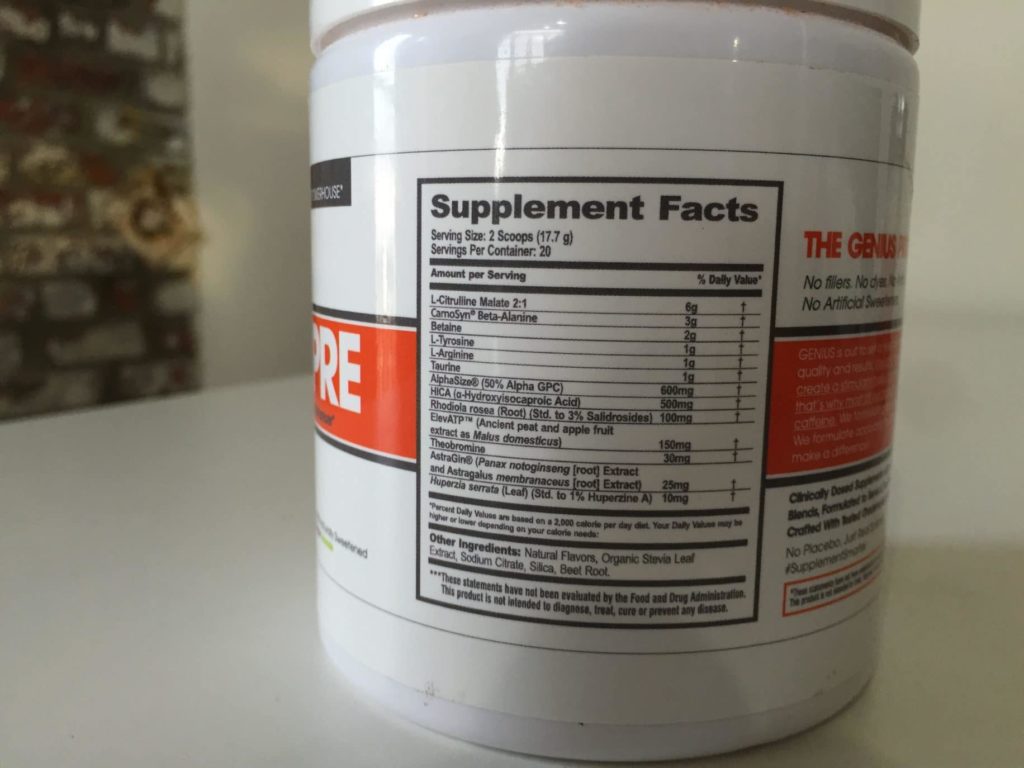 The Genius Brand Genius Pre Benefits & Effectiveness
So what do all these ingredients do? Let's run through them:
Citrulline malate: a nitric oxide precursor, it's strongly linked to endurance and increased blood flow.
Betaine: associated with better power output and focus.
L-tyrosine: may help with focus and reduce the stressful effects of a workout.
L-arginine: another nitric oxide precursor — note that since it competes for the same mechanism as citrulline malate, it might be redundant including both of them.
Alpha GPC: linked to improved power output, cognition, and production of growth hormone.
Taurine: helps promote focus and may improve recovery.
HICA: may promote muscle mass, though evidence is very weak.
Rhodiola rosea: reduces fatigue and may boost cognition.
ElevATP: may boost adenosine triphosphate, which could boost power.
Theobromine: a vasodilator that may increase heart rate.
AstraGin: improves absorption of other ingredients.
Toothed clubmoss: may improve focus.
Clearly, there's a lot going on in this ingredients list, but most of the ingredients have solid research supporting them and, equally as important, the product contains effective doses. Certain ingredients, like toothed clubmoss and HICA, don't have a ton of evidence supporting them and researchers haven't even really landed on an effective dose. But most of the ingredients are certainly worth being included in the product.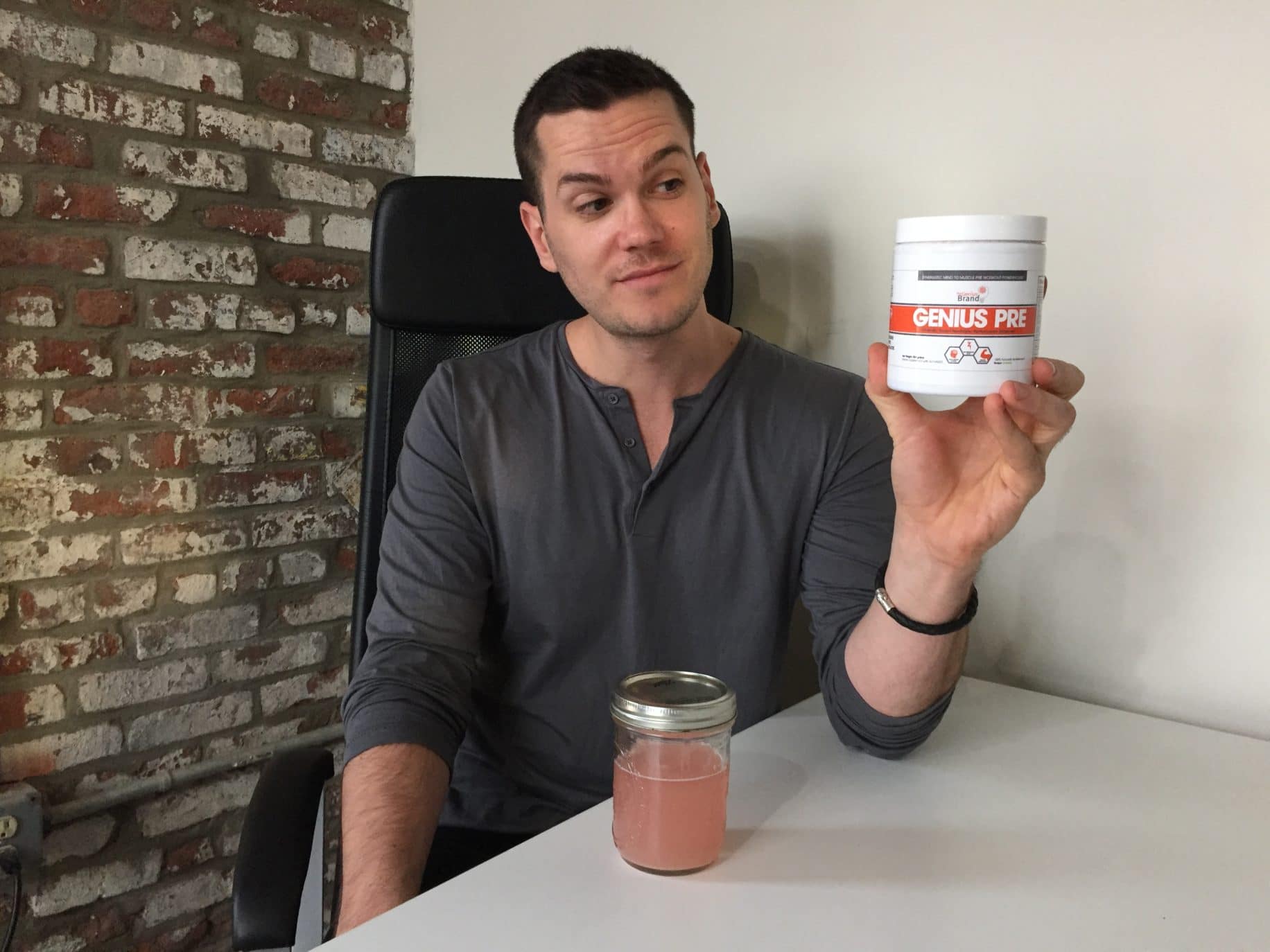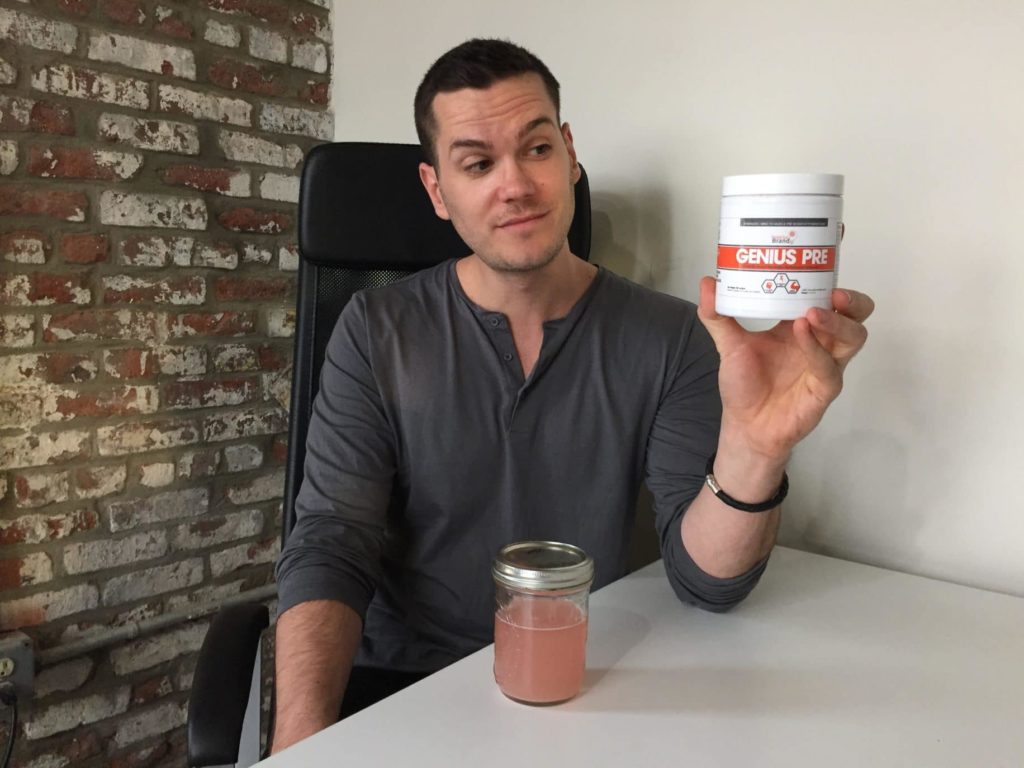 The Genius Brand Genius Pre Price
It comes in 354-gram tubs, which provide 20 servings for $38. That winds up at $1.90 per serving, which is pretty pricy; pre-workouts typically cost between 80 cents and $1 per serving. But most pre-workouts aren't all-natural and most pre-workouts are much lower in the active ingredients in Genius Pre, so this might be worth the cost for you.
The Genius Brand Genius Pre Taste
I tried the Grape Limeade flavor and it was surprisingly good. Usually, grape flavor is hard to pull off but Genius Pre had an unmistakable, though mild, grape flavor. I couldn't really taste the lime, rather it tastes a little like grape bubblegum. For a naturally flavored pre-workout, I was impressed.
Related: Best Pre Workout Picks
The Takeaway
There are a lot more pros with Genius Preworkout: it's got high doses of effective ingredients and it includes a few more unusual ingredients that have some pretty strong links with focus, which should satisfy a few die hard nootropics fans. It's on the pricier side and it's caffeine free, which might turn off some customers, but if you're looking for a stimulant-free, nootropic-based pre-workout, I think Genius Pre is a pretty interesting and potentially effective product!