The Hypervolt Plus is the latest percussive massage gun that is designed and produced by Hyperice. This massage gun has a lot going for it, and possibly the biggest pro that I've found with device is how quiet its motor is.
The only real drawback to this product is the slightly higher price tag, but I wanted to investigate if that could be justified. In this Hyperice Hypervolt Plus review, I dive into multiple aspects of this massage gun that should help you decide if it's a good choice to include in your arsenal of recovery products.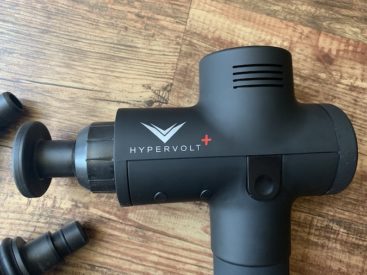 This massage gun is perfect for the serious athlete that needs wants a versatile massage gun that has a quiet motor for use in every setting.
Who Should Buy the Hyperice Hypervolt Plus
Fitness professionals who need a manual massage gun for clients.
Lifters that want additional tools for recovery.
Athletes that need a massage gun that is quiet for public spaces or apartment use.
Who Shouldn't Buy the Hyperice Hypervolt Plus
The very casual or beginner lifter.
Lifters that already pay for in-person training that have massage done regularly to them.
Those with a very strapped budget.
Price
You can expect to pay $399.00 for a Hyperice Hypervolt Plus massage gun. This price is slightly higher than some of the other budget massage guns on the market, however, I think it could be justified.
The slightly longer battery life, quiet(er) engine, and multiple attachments make this gun a solid pick for the money compared to the guns that fall into the similar price range.
Performance
Overall, I really enjoyed the Hypervolt Plus massage gun. I live in a small apartment in New York City and at times other massage gun's loud motors limit my ability to use them at odd hours. The quieter motor on the Hypervolt Plus was the perfect solution for this continual dilemma I have with its Quiet GlideTM technology.
Similar to other massage guns on the market, the Hypervolt Plus has three different speeds, which is great because it provided me with variance in multiple settings. I found that the slower speed with the softer head on the Hypervolt Plus was the perfect combination for late night recovery massages before heading to bed. Another pro to the Hypervolt Plus is the built-in pressure sensors that can help dictate the level of pressure needed for various areas on the body.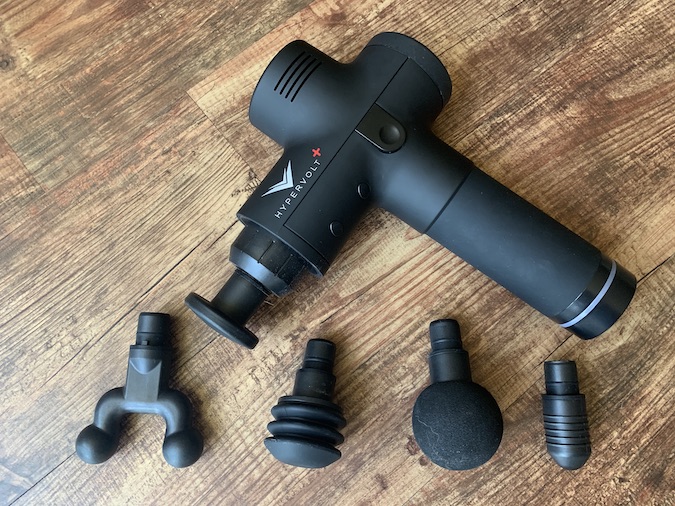 The multiple head attachments also provide a lot of benefit for targeting various areas. The Hypervolt Plus has roughly 2.5 hours of use before needing to be charged, which is pretty good compared to other massage guns on the market. I could use this massage gun over the span of 3-5 days without the need to charge it.
Build Quality
Out of every massage gun I've reviewed, I think the Hypervolt Plus takes the case for the best build quality. This massage gun feels sturdy and well-built. The product feels smooth and well put together where the rubber, plastic, and metal meet with one another, and there's no shaky feeling whatsoever when it's running at full speed.
The 90W high-torque motor is powerful and it's matched with Quiet GlideTM technology, so the top of the gun where the motor sits feels powerful, but controlled. The lithium-ion battery attached at the bottom provides a sturdy handle and gives the product a nice firm weight.
Features
Curious about everything the Hyperice Hypervolt Plus has to offer? Check out this product's features below.
Three different speeds.
Multiple head attachments.
Head attachments can be easily cleaned.
Up to 2.5 hours of battery life.
Quiet Glide™ technology.
Rubber handle promotes grip.
Built-in pressure sensor.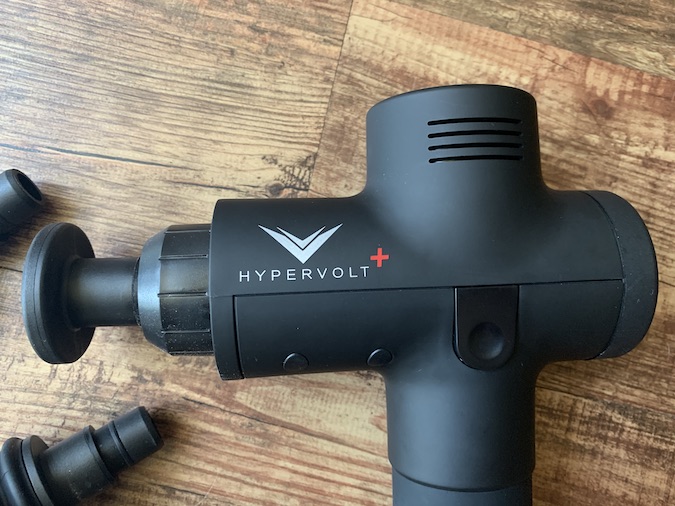 Hypervolt Plus Specs
This massage gun has some of the best specs on the market, check them out below!
90W high-torque motor.
Motor has Quiet Glide™ technology.
Lithium-ion batter.
Total Weight: 3 lbs
Places to Buy
If you're interested in buying a Hyperice Hypervolt Plus you can check out a few places to do so. You can visit Hyperice or Amazon's sites to buy online, or you can check out Best Buy and Dick's Sporting Good if you want to potentially try out the massage gun in person (definitely, call ahead to check if they're in store though!).
How Massage Guns Might Help Recovery
Massage guns come with a lot varied opinions in regard to their usefulness. These opinions often surround the idea that for many their high price tags are not worth the smaller benefits that might have. However, if price isn't a concern for you, then there are a couple benefits that might come attached with massage guns.
Percussive therapy has been around for years, and this is the style of massage provided by massage guns. It's suggested to be useful for assisting with mobility and recovery efforts. Manual therapy has continuously been suggested to be beneficial for athletes when it comes to prep, performance, and recovery. In fact, this 2008 study pointed out that a lot of research and practical users under appreciate the benefits that massage can have on athletic performance. (1)
Hyperice Information
Hyperice is a company that has established themselves as being one of the frontrunners for building recovery focused tools and technology. They offer products like NormaTech and massage guns to promote recovery and support every athlete's performance.
Warranty
If you purchase a Hypervolt Plus massage gun and it has a defect or problem with workmanship within a year, then you can send it it for repair free of charge. Note, this is only for product defects, not mishandling or abuse to the product.
Return and Refund
In order to return a Hyperice product, you have 30 calendar days to send the product back. If the product was opened, then there will be 10% restocking fee applied.
Contact Information
To reach Hyperice, visit their site and hit the support button where you'll find multiple ways to contact them.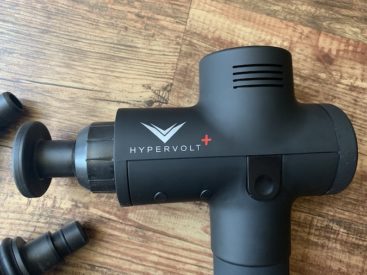 This massage gun is perfect for the serious athlete that needs wants a versatile massage gun that has a quiet motor for use in every setting.
FAQs
How much does the Hyperice Hypervolt Plus cost?
The Hypervolt Plus costs around $399.00 USD, but often has coupons offering $50.00 off.
Does the Hypervolt Plus have a warranty?
Yes. The Hypervolt Plus comes with a one year limited warranty that protects user's from product defects and workmanship errors.
Who should use the Hypervolt Plus?
Serious lifters and fitness enthusiasts that have the budget for additional recovery tools could benefit with the Hypervolt Plus. Also, trainers and gyms can benefit with the Hypervolt Plus for client use.
Is the Hypervolt Plus worth it?
If cost isn't an issue for you, and you want a quiet massage gun to use in the gym or your home, then this gun is definitely worth it. It has a strong motor and multiple attachments for tackling a variety of needs.
What's the difference between the Hypervolt and Hypervolt Plus?
The main difference between these two models is their hardware. The Hypervolt Plus has a 90W high-torque brushless motor, while the Hypervolt only has a 60W brushless motor. That's a decent difference in power between the two machines!