If you already enjoy a hot shower after an arduous workout, a post-workout aquatic session in frigid water might bring you well outside of your comfort zone. The last thing you want after a tough session of hefting heavy weights probably isn't more physical discomfort — but research suggests that some shivers in cold water can help your body tremendously in the long run.
Once you've decided to optimize your recovery and brave the cold water, you've got to face down your next battle: taking an ice bath versus a cold shower. Sure, they both involve very chilly water, but do they elicit the same results? Can the greatest cold shower even hold a candle to the best cold plunges?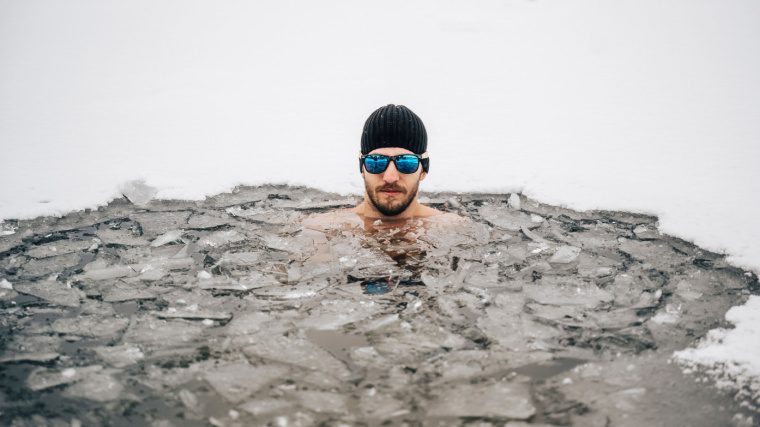 Read on to learn about the differences (and similarities) between these two cold water immersion techniques. Find out what's right for you and your muscle recovery — and then, prepare to take the plunge.
What Is Cold Water Immersion?
Generally speaking, cold water immersion is the act of submerging yourself, from your toes up to your neck, in cold water. The typical definition of the act requires your body to be dipped into a stable, still form of water, where the application of water to the body remains constant and uniform from every angle.
Not all cold water exposure qualifies under this definition of immersion, of course. You get cold exposure — and its health benefits — when you're taking a frigid shower, but you're not fully in the water. But even non-immersive cold water therapy may be able to confer some of the health benefits to your blood flow, nervous system, and overall well-being.
Key Differences
You can find perhaps the biggest difference between ice baths and cold showers right there in the name — bath versus shower. But there are some other nuances to keep in mind, too.
Body Position and Water Activity
One of the clearest differences between an ice bath and a cold shower is the position of your body while you're indulging in each activity.
Cold showers involve standing completely upright while fresh water continually douses you with a whole-body effect. You are more or less getting sprayed with water, but you're not surrounded by it.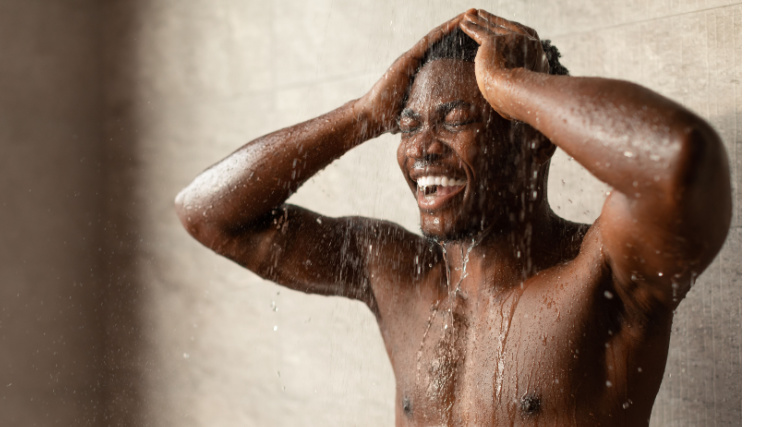 During ice baths, you are fully immersed in ice-cold water, experiencing the constant, uniform application of frigid temperature.
Activity Level
Since splashing around might potentially cause water to leave what is usually a very full tub, the standard protocol for an ice bath is that its recipient should remain motionless in the water. With cold plunges — whether you've purchased one or made a DIY cold plunge — there usually isn't much room to navigate. So, the idea of an ice bath is often stillness.
Conversely, cold showers are less rigid or structured, generally featuring more movement. They can (and often do) double as a body-cleaning activity, perhaps especially if you're hopping in after training. Soaping and rinsing are expected activities during most cold showers.
Relative Water Temperature
Many faucets can't produce water that is below 55 degrees Fahrenheit. This means that your shower will certainly get chilly, but in terms of fearing frostbite or generally getting too cold for comfort, showers will be "warmer" by comparison. Your blood vessels and endorphins can certainly feel the chill, but it's not quite as cold as an ice bath.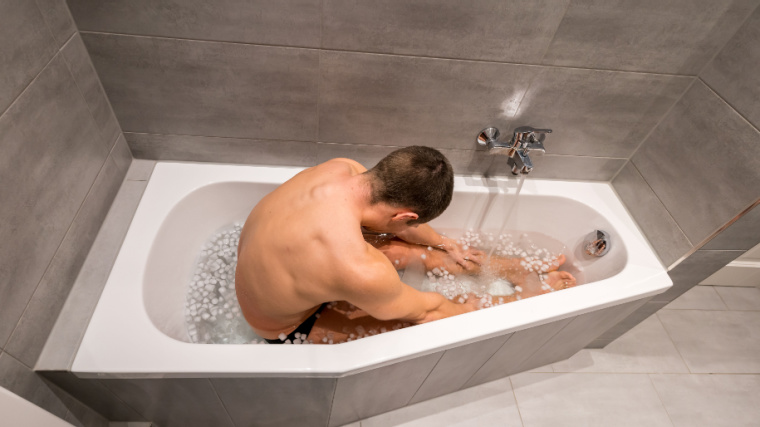 [Read More: 5 At-Home Workouts for Strength, Muscle Growth, Power, and More]
There is a very wide range of temperatures for cold water immersion, but the targeted water temperature for an ice bath is often between 40 and 45 degrees Fahrenheit. (1) Therefore, the water of an ice bath is usually in the vicinity of 20 percent cooler than that of the coldest tap water.
Key Similarities
For all of their differences, ice baths and cold showers also share a few traits in common. This extends from the aquatic nature of the activities themselves to the benefits you may hope to reap.
Absolute Water Temperature
The 10 degrees Fahrenheit separating a cold shower and an ice bath is negligible compared to the 45 degrees Fahrenheit that differentiates a cold shower from a 100-degree hot shower or bath. Both cold-treatment methods require temperatures strikingly colder than those of a hot-water, post-workout aquatic regimen.
Purpose
Whether you ultimately choose cold showers or ice baths, you're often aiming to create similar physiological responses. You might be hoping to improve your muscle recovery after exercise, increase mental clarity, or decrease inflammation. Either way, cold showers and ice baths can both offer similar benefits.
Strategy
Although you'll be immersed in one version and standing in the other, the importance of breathwork is critical for both cold strategies. To help your body adjust to an uncomfortable temperature change, you'll need to do some deep breathing to help reduce the stressors your body is feeling in such intense cold.
[Read More: The 5 Best Fitness Trackers]
Regardless of the health conditions you're hoping to address and the physiological responses you're aiming to create, you'll likely gain a lot more physical benefits and mental clarity if you don't completely hate the process. Try taking deep, calm breaths during immersion or showering to help your mind and body warm up to the frigid experience.
The Benefits of Ice Baths
If you've ever seen your favorite strength athlete dunk their entire bodies into a cold plunge chock full of ice after an event, it's reasonable to wonder why they'd ever want to pile even more physical discomfort into the mix. There are plenty of compelling reasons that athletes choose to subject themselves to ice baths.
[Read More: Get Freakishly Strong With the 5×5 Workout Program]
It's important to note that studies of the benefits of post-exercise cold water immersion have potentially positive impacts on cardiovascular health, blood pressure, muscle soreness, weight loss, overall wellness, and even better sleep. (1)
However, these studies have often been small-scale, only including participants of one gender, and varied in the exact temperature and salt composition of the water. Because of this, more research is needed to better understand how cold water immersion impacts people at different temperatures, in larger populations, and across all genders. (1)
Enhanced Immunity
An invisible byproduct of ice baths comes in the form of an enhanced immune response inside your body. Icing your body can heat up your immune system by triggering a boost in your blood's concentration of catecholamines, which regulate the body's immune response. (2) This may help you respond more quickly and effectively to certain illnesses.
Reduced Inflammation
Ice cold water acts similarly to a bag of ice placed on an injured appendage; it can greatly reduce swelling and inflammation. In trials, the ability of cold water immersion to reduce inflammation was proven to be on roughly the same level as active recovery. (3) Following this rationale, an ice bath may adequately substitute for a post-lift run or swim.
Accelerated Muscle Recovery
Research trials suggest that cold water immersion may be capable of helping the muscles of athletes recover from intense workouts more quickly than both hot water and neutral water interventions. (4)
[Read More: Omega 3 Benefits — More Muscle, Better Recovery, and Enhanced Endurance]
Therefore, if you're choosing an immersion strategy based on its ability to reduce downtime in between heavy lifts, you may want to turn the temperature way down.
It's a Deeply Meditative Activity
Most ice bath immersion is a solo activity that both encourages and requires a centered mind. During an ice bath, you'll be required to steel your mind and rigidly focus on whatever it takes to pass the prescribed immersion time.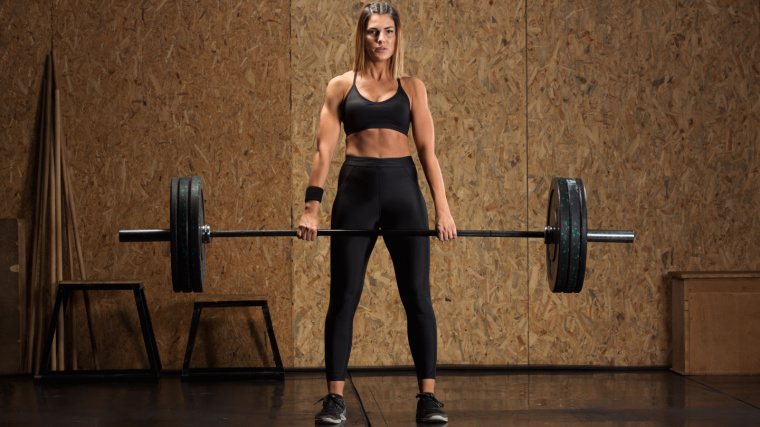 [Read More: Romanian Deadlift Vs. Deadlift — Which is Better for Your Program?]
This feature makes ice baths an excellent way to forge mental toughness and calm amid discomfort. The knowledge that you can get through the rigors of an ice bath may well help you the next time you're attempting a 500-pound deadlift or stepping under a heavy barbell. If you can tolerate an ice bath, you can mentally do nearly anything you've trained for.
The Cons of Ice Baths
If ice baths are so beneficial, why isn't everyone lining up to take them? The answers will vary depending on who you ask. But the bottom line is that ice baths can be challenging to arrange and somewhat difficult to endure.
They Can Be Quite Uncomfortable
Immersing your body into a miniature pool containing water 50 degrees Fahrenheit below your natural body temperature is not an inherently pleasant experience. Because of the discomfort inherent to ice baths, it can take quite a lot of mental fortitude for you to choose to endure them, especially if you consider them to be nonessential activities.
It's Not a Cleaning Activity
While an ice bath is a bath in a very literal sense, it's generally not prescribed as a hygienic cleaning activity. Consequently, once you exit your ice bath, you may have to find a separate means of actually cleaning your body, whether it's in the form of a warm shower, or a bath of a different kind.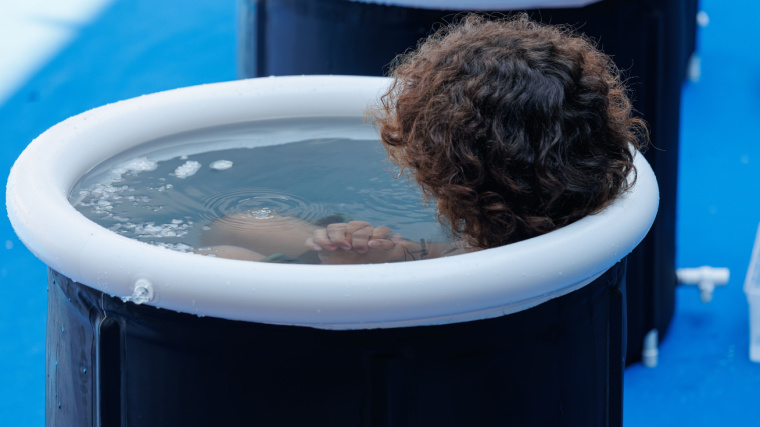 [Read More: The Best Online Workout Programs For Coaching, Cardio, Value, And More]
This can add an extra layer of logistics, towel availability, and tracking water across the floor if you don't have access to the most optimal set-up.
It Requires Special Preparations
Many people go so far as to purchase or build their own cold plunge devices to reap the rewards of an ice bath. This can necessitate spending a sizable chunk of money or having the know-how and handiness to craft a fairly technical device all on your own.
Minimally, you'll often need to acquire, dump, and replace ice in your tub to sustain your targeted water temperature. These logistics may be prohibitive for many athletes.
The Benefits of Cold Showers
Just because a cold shower is quicker and easier to have than an ice bath doesn't mean it's not going to be helpful. While cold showers may not match every hidden benefit of ice baths, that doesn't mean they can't benefit you and your recovery from intense exercise.
Enhanced Immunity and Overall Health
Ice baths aren't the only form of cold therapy that may offer immune system benefits. Test subjects who took cold showers of varying lengths for 90 days were nearly 30 percent less likely to take sick days than test subjects who showered or bathed at normal temperatures. (5)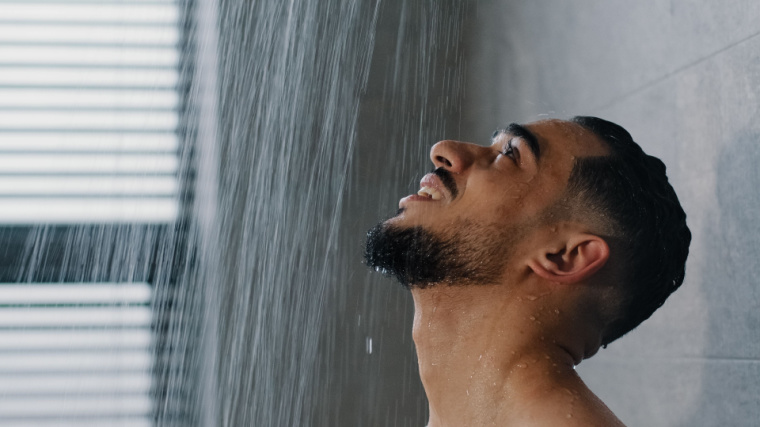 [Read More: The 12 Best Multivitamins On the Market]
There is also some evidence that cold showers may improve symptoms of mental health struggles. Showering in water at 68 degrees Fahrenheit for even just two to three minutes once or twice daily may reduce depression symptoms because of its impact on the nervous system. (6)
Heart Rate Recovery
If you're an athlete, cold showers appear to be a tool you can utilize to help your heart rate rapidly return to its normal range. In a study involving trained cyclists, those who followed their workouts with cold showers saw their heart rates decrease more than twice as fast as those who went without the cold showers. (7)
No Special Preparations
Enjoying a cold shower is a simple matter of leaving the handle of the faucet aimed squarely at the "C," whereas producing ice-cold temperatures necessitates additional steps. You can enjoy the advantages of a cold shower in practically every environment with an operable shower, whether you're at home, at the gym, or spending the night at a hotel.
It's a Multipurpose Activity
A cold shower can be enjoyed during your everyday act of showering and cleaning your body. You can lather on soap, shampoo, and conditioner the same way, regardless of the temperature of the water splashing down. As such, you can combine the act of cooling your body with cleaning your body, all without adding any time-consuming steps to the process.
The Cons of Cold Showers
Just because cold showers are easy to come by, that doesn't mean absolutely everything about them is convenient. Just because they're more convenient doesn't mean that they have the same exact benefits as ice baths. Here are some downsides to consider.
Lack of Comfort
While the dip in environmental temperature isn't as drastic as it would be if you chose to take an ice bath, exposing yourself to 55 degrees Fahrenheit water is no picnic. Your natural body temperature is more than 40 degrees warmer than the water, and the inability of your skin to rapidly heat the water causes it to feel every discomforting degree of the difference.
Limited Control Over Water Temperature
Chances are that you have very limited control, if any, over the coldest possible water temperature that can escape from your faucet. In most scenarios, there will be next to nothing you can do to lower your water temperature below its preset level. This will be especially true at gyms, hotels, and apartment complexes where you have no access to temperature controls.
Inconsistent Application of Cold Water
The very nature of showers is that they administer unidirectional, top-down sprays of water along a fixed trajectory. This naturally results in water striking your body in one location and then rapidly gaining heat through exposure to the air and contact with your skin.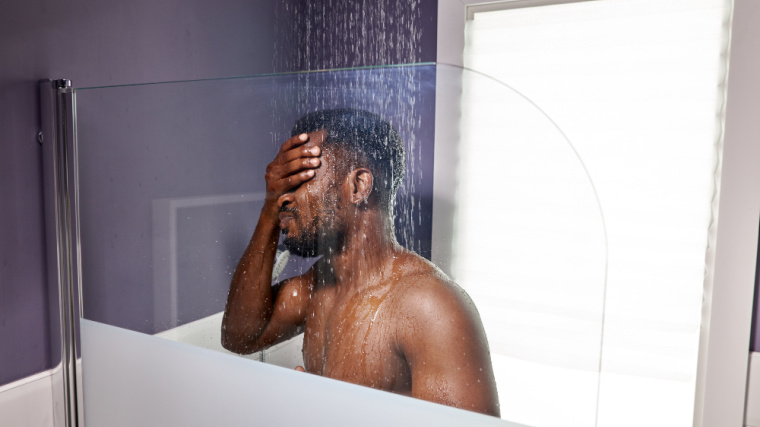 Therefore, the water is coldest at the point where it initially touches you, and its temperature is never uniform.
Water, Water, Everywhere
Much of training comes down to the simple question of how much you're willing to endure in order to achieve the results you want. In your case, if the benefits of cold water application sound attractive, whether to take an ice bath versus a cold shower may be the question. A cold shower might be a quick and accessible resource for the outcomes you want.
If you're in need of something more clinical — or want an added challenge — a bathtub full of icy water may be your ticket to the full-body reduction in inflammation you've been searching for. Either way, you'll need to demonstrate a certain degree of toughness. Both cold-water remedies force you to sacrifice a few degrees of comfort in the pursuit of an ice-cold edge.
FAQs
Why would you make it a point to apply cold water to your body after a workout? This summary will give you some easy answers to whatever questions you might have.
What is the difference between cold showers and ice baths?
Cold showers require the application of a stream of cold water provided by the faucet of the shower. Ice baths call for submerging your body up to your neck in a pool of water that has been cooled to a temperature beneath the coldest water temperature typically available from a faucet.
Is a cold shower as good as an ice bath?
Whether or not a cold shower is as good as an ice bath depends on your objectives for engaging in a post-workout, cold-water application session.
Due to the uniform application of colder temperatures available through an ice bath, the benefits may be enhanced with ice baths. But, cold showers offer easier logistics and can still help your immune system, heart rate recovery, and even mental health.
What are the benefits of a cold shower?
The foremost proven benefits of a cold shower include increased post-workout recovery from exercise, enhanced immunity to illness, improved heart rate recovery, and ease of set-up compared to an ice bath.
References
Esperland D, de Weerd L, Mercer JB. Health effects of voluntary exposure to cold water – a continuing subject of debate. Int J Circumpolar Health. 2022 Dec;81(1):2111789.
Janský L, Pospísilová D, Honzová S, Ulicný B, Srámek P, Zeman V, Kamínková J. Immune system of cold-exposed and cold-adapted humans. Eur J Appl Physiol Occup Physiol. 1996;72(5-6):445-50.
Peake JM, Roberts LA, Figueiredo VC, Egner I, Krog S, Aas SN, Suzuki K, Markworth JF, Coombes JS, Cameron-Smith D, Raastad T. The effects of cold water immersion and active recovery on inflammation and cell stress responses in human skeletal muscle after resistance exercise. J Physiol. 2017 Feb 1;595(3):695-711.
Versey, Nathan G., Shona L. Halson, and Brian T. Dawson. "Water immersion recovery for athletes: effect on exercise performance and practical recommendations." Sports medicine 43 (2013): 1101-1130.
Buijze GA, Sierevelt IN, van der Heijden BC, Dijkgraaf MG, Frings-Dresen MH. The Effect of Cold Showering on Health and Work: A Randomized Controlled Trial. PLoS One. 2016 Sep 15;11(9):e0161749. Erratum in: PLoS One. 2018 Aug 2;13(8):e0201978.
Shevchuk NA. Adapted cold shower as a potential treatment for depression. Med Hypotheses. 2008;70(5):995-1001.
Ajjimaporn A, Chaunchaiyakul R, Pitsamai S, Widjaja W. Effect of Cold Shower on Recovery From High-Intensity Cycling in the Heat. J Strength Cond Res. 2019 Aug;33(8):2233-2240.
Featured Image: Matej Vernarsky / Shutterstock