The company behind IdealShape has an impressive variety of different brands on the market, including the organic-focused IdealRaw, the female-focused IdealLean, and their popular meal replacement IdealShake.
We've reviewed IdealShake before, but when we learned that they released a version known as the Superfood Blend, we had to learn more. The main differentiator here is the fact that the Superfood Blend contains, well, a blend of superfoods like spinach, kale, chlorella, and blueberry. That means the final product delivers a hit of antioxidants in addition to a broad spectrum of micronutrients and some digestive enzymes that might help with nutrient absorption.
IdealShape sent us their Key Lime Pie and Dark Chocolate flavors to test out. Here's what we thought.
IdealShape IdealShake Superfood Blend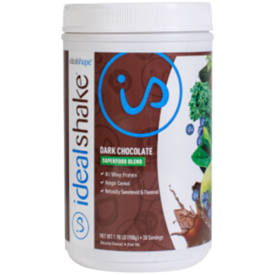 IdealShape IdealShake Superfood Blend
A very low calorie shake with plenty of vitamins, minerals, digestive enzymes, and antioxidants.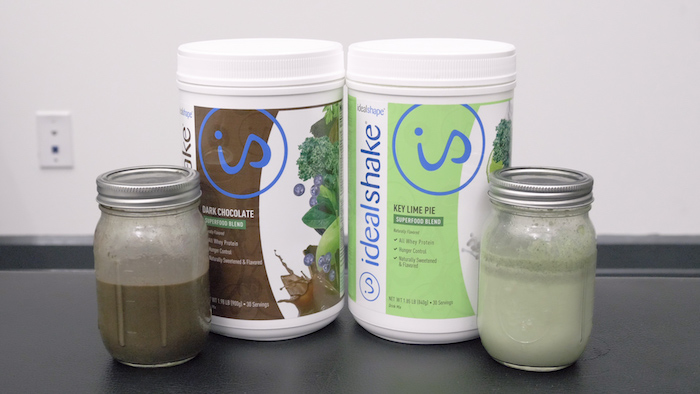 IdealShake's IdealShape Superfood Blend Nutrition
The two flavors we received have slightly different micronutrient profiles but largely identical macronutrients (that's carbs, protein, and fat.) Here's what you'll get in a scoop of the Dark Chocolate flavor.
Calories: 100
Protein: 12 grams
Carbohydrate: 8 grams (4 grams fiber, 1 gram sugar)
Fat: 3 grams (1 gram saturated fat)
Vitamin A: 80% of the recommended daily intake (RDI)
Calcium: 70%
Vitamin D: 80%
Thiamin: 80%
Niacin: 70%
Folate: 60%
Biotin: 90%
Phosphorus: 10%
Magnesium: 50%
Chloride: 8%
Vitamin C: 100%
Iron: 60%
Vitamin E: 80%
Riboflavin: 70%
Vitamin B6: 70%
Vitamin B12: 80%
Pantothenic Acid: 90%
Iodine: 60%
Zinc: 30%
Potassium: 8%
Sodium: 9%
The Key Lime flavor is largely the same, though it's a tad less nutritious — it has no Vitamin A, Vitamin D, or B6.
[Don't miss our complete list of the best meal replacements on the market!]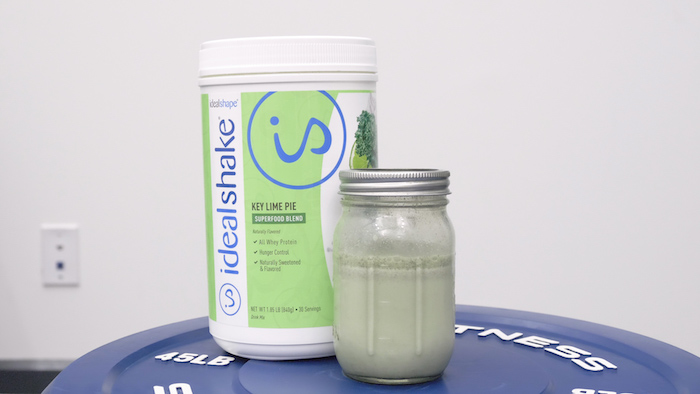 IdealShake's IdealShape Superfood Blend Ingredients
Most of the ingredients are the vitamins and minerals, but there are a few others worth highlighting.
The first ingredient is a blend of whey concentrate and whey isolate, followed by the Superfood Blend: powdered blueberry, apple pectin, flax, spinach, parsley, cracked cell chlorella, and kale.
There are also natural flavors and the natural sweetener stevia — no artificial sweeteners here.
Also worth highlighting are the digestive enzymes bromelain, papain, DigeSEB, and lactase.
For folks with allergies, note that it contains milk, soy lecithin, and has been produced on equipment that also processes dairy, soy, wheat, peanuts, eggs, fish, shellfish, and tree nuts.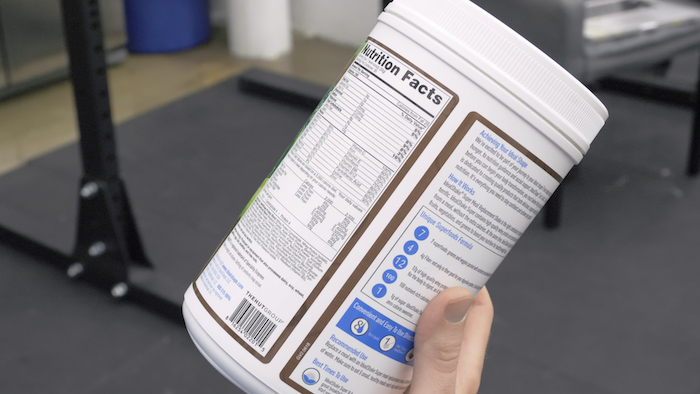 IdealShake's IdealShape Superfood Blend Benefits & Effectiveness
There's a lot to like here. There are about 21 vitamins and minerals and they're mostly dosed effectively. Both flavors are pretty low in potassium and phosphorus and chloride but by and large, I'm very impressed with how many micronutrients you'll get in a scoop.
I'm also a big fan of all the digestive enzymes. The mixture of papain and bromelain (found in papaya and pineapples), DigeSEB (a blend of proteases, lipase and amylase), and lactase may help to improve nutrient absorption and reduce indigestion among certain consumers.(1)(2)(3)(4)(5) Studies published in the Journal of the International Society of Sports Nutrition and the Journal of Sports Science even found that the enzymes in DigeSEB helped to increase the absorption rate of protein and even help facilitate muscle healing post workout.(6)(7)
And the Superfood Blend? The ingredients listed are indeed good sources of antioxidants, which may help to reduce inflammation and improve immunity.(8)(9)(10) A downside is that IdealShake has a proprietary blend of ingredients, so we don't know how many of each ingredient it contains — it's hard to get a good idea of the antioxidant potency of the product. Nonetheless, they come second on the ingredients list right after the whey so you're probably getting a good few gram of the stuff.
The main complaint I can see someone having with this product is that it's so low in calories, it's not really a meal replacement. A meal would have at least five times the calories you'd get in a scoop of IdealShake, so I'd consider this more of a nutritious snack or something to help you control hunger between meals.
[See our list of the best dedicated green superfood supplements!]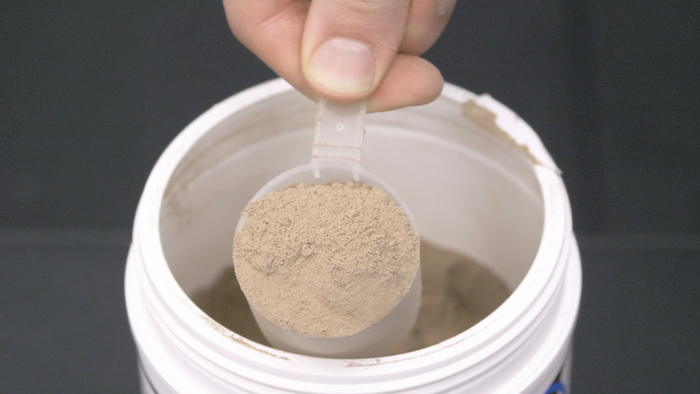 IdealShake's IdealShape Superfood Blend Price
You can pick up one tub of 30 servings for between $34 and $39, so that comes to about $1.20 per scoop.
That's moderately priced for a meal replacement — it's about the average price. Note that if you judge these products on their cost per calorie, you might find it a tad pricy since it's just 100 calories per scoop. But if you see the low calorie count as a plus, you can be happy with the price, here.
IdealShake's IdealShape Superfood Blend Taste
Key Lime Pie: I was surprised by how much I enjoyed the flavor. Lime is an uncommon flavor in dairy-based shakes but it tastes like a subdued lime-flavored candy — the whey does take the edge of the sourness and the earthiness of the SuperFood Blend winds up giving the flavor something of a "pie crust" element. I really enjoyed it.
Dark Chocolate: I wasn't as happy with Dark Chocolate. In some products like this, the earthy bitterness of the cocoa helps to mask or work with the earthy bitterness of the superfoods, but here it came out a tad too gritty. That said, I mixed mine with water; I think with milk this would go down well.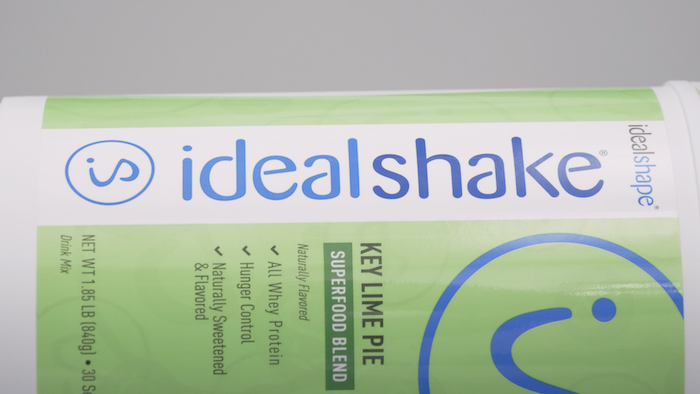 IdealShake's IdealShape Superfood Blend Pros & Cons
Pros
Very low in calories, great for weight management
Excellent nutrition profile
Contains extra antioxidants
All natural
Well priced
Cons
Proprietary blend
May contain soy and other allergens
Too low in calories to be a true meal replacement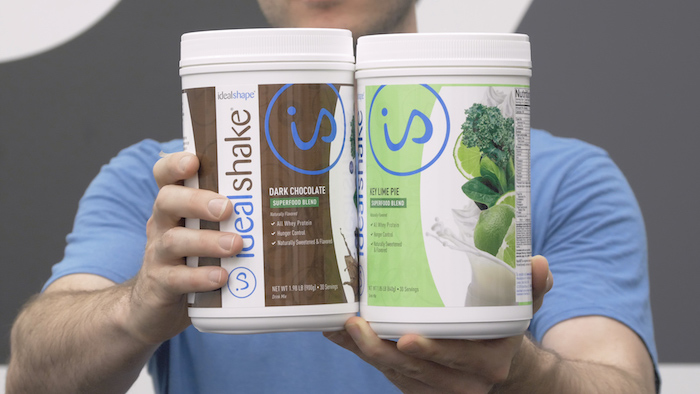 The Takeaway
I was very happy with IdealShake Superfood Blend. It's pretty low in calories for a meal replacement but if you're looking to keep calories low or if you want a convenient source of nutrition, I think it's a good option. It's full of vitamins and minerals, it's got extra enzymes to help digestion, there are no artificial ingredients, and it's got a hit of antioxidants from the superfoods. Given its reasonable price, I think it's a fine option for folks on calorie restricted diets.
References
1. Pavan R, et al. Properties and therapeutic application of bromelain: a review. Biotechnol Res Int. 2012;2012:976203.
2. Tursi JM, et al. Plant sources of acid stable lipases: potential therapy for cystic fibrosis. J Paediatr Child Health. 1994 Dec;30(6):539-43.
3. Bassinello PZ, et al. Amylolytic activity in fruits: comparison of different substrates and methods using banana as model. J Agric Food Chem. 2002 Oct 9;50(21):5781-6.
4. Peroni FH, et al. Mango starch degradation. II. The binding of alpha-amylase and beta-amylase to the starch granule. J Agric Food Chem. 2008 Aug 27;56(16):7416-21.
5. Stremnitzer C, et al. Papain Degrades Tight Junction Proteins of Human Keratinocytes In Vitro and Sensitizes C57BL/6 Mice via the Skin Independent of its Enzymatic Activity or TLR4 Activation. J Invest Dermatol. 2015 Jul;135(7):1790-1800.
6. Oben J, et al. An open label study to determine the effects of an oral proteolytic enzyme system on whey protein concentrate metabolism in healthy males. J Int Soc Sports Nutr. 2008 Jul 24;5:10.
7. Miller PC, et al. The effects of protease supplementation on skeletal muscle function and DOMS following downhill running. J Sports Sci. 2004 Apr;22(4):365-72.
8. Arulselvan P, et al. Role of Antioxidants and Natural Products in Inflammation. Oxid Med Cell Longev. 2016;2016:5276130.
9. McAnulty LS, et al. Effect of blueberry ingestion on natural killer cell counts, oxidative stress, and inflammation prior to and after 2.5 h of running. Appl Physiol Nutr Metab. 2011 Dec;36(6):976-84.
10. Joseph SV, et al. Berries: anti-inflammatory effects in humans. J Agric Food Chem. 2014 May 7;62(18):3886-903.
IdealShape IdealShake Superfood Blend
Per Serving: ~$1.30