You just finished a tough workout, did a few cool-down stretches, and are on the way to showering. As you enter the locker room, you notice your gym has an infrared sauna. Before you grab your post-workout drink, you may want to pop in for a few minutes to relax and breathe. Sauna bathing may help ease the muscle soreness you know is coming after leg day.
Many gyms have traditional or infrared saunas because they can be relaxing and feel good after a workout. A traditional sauna heats the air around you, while an infrared sauna uses light to warm your body directly. Some evidence shows they may help with joint pain, chronic fatigue, and even heart health.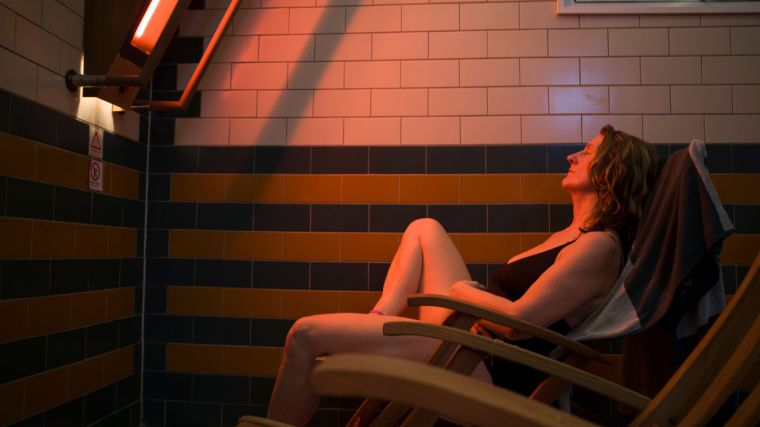 Here, we'll explain infrared saunas, what they are, how they work, and how to use them. Immerse yourself in the potential health benefits of infrared saunas and learn how it all begins with increased sweating. Although there may not be a lot of concrete research on benefits, relaxation is also a health benefit in itself. Just be sure to bring your water.
What Is an Infrared Sauna?
An infrared sauna is a type of sauna that uses infrared light to warm your body directly. Infrared saunas are sometimes called near-infrared or far-infrared saunas, depending on where the wavelengths fall on the light spectrum. Using an infrared sauna causes your body to react as it would to moderate exercise. You'll likely feel an increased heart rate and begin to sweat. (1)
What Is a Sauna?
For thousands of years, people across many cultures have practiced "sauna bathing," or exposing oneself to high temperatures for some time with the intention of healing and cleansing. (2)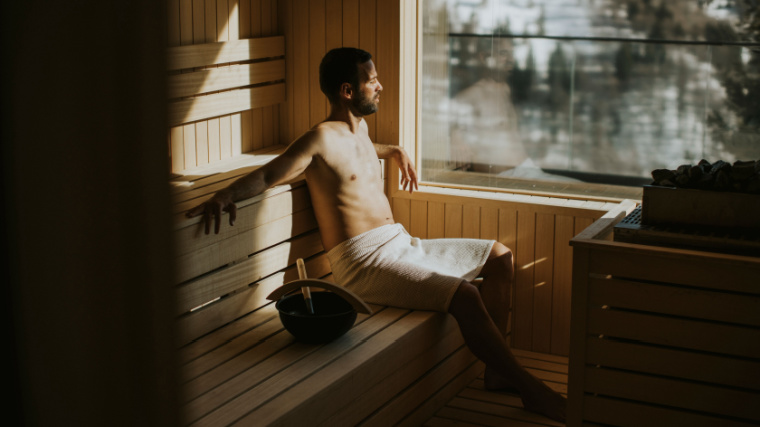 [Read More: The 16 Best Pre-Workout Supplements]
The word "sauna" is Finnish and refers to a room with wood paneling and benches where you can sit and expose yourself to high temperatures. Initially, wood fires heated the air, and some saunas in rural Finland still use them. Nowadays, traditional saunas tend to use conventional electrical heaters. (2)
Infrared Saunas Vs. Traditional Saunas
A heater warms the air in a traditional sauna or a dry sauna. The temperature ranges from 70 to 100 degrees Celsius or 158 to 212 degrees Fahrenheit. There is about 10 to 20 percent humidity. You typically stay in a traditional sauna for five to 20 minutes, cool off, and repeat for one to three cycles. (2)
Infrared sauna sessions are shorter and cooler. The temperature ranges from 40 to 60 degrees Celsius, or 104 to 140 degrees Fahrenheit, and you stay in for 15 to 30 minutes. (3)
Some people find infrared saunas more relaxing and enjoyable, especially if they don't tolerate extreme heat very well.
How Does an Infrared Sauna Work?
While traditional saunas heat the air, infrared saunas heat your body directly, and the air is at a lower temperature. Infrared heat comes from light, the same heat that the sun and your body produce naturally. (4)
Infrared heaters send near or far infrared light waves to warm your body. Infrared heat can penetrate your skin more deeply and quickly than the warmed air of a traditional sauna. As the far infrared light waves enter your body, your sweat glands activate, and you begin sweating more vigorously while feeling more comfortable in a less hot room. (2)(4)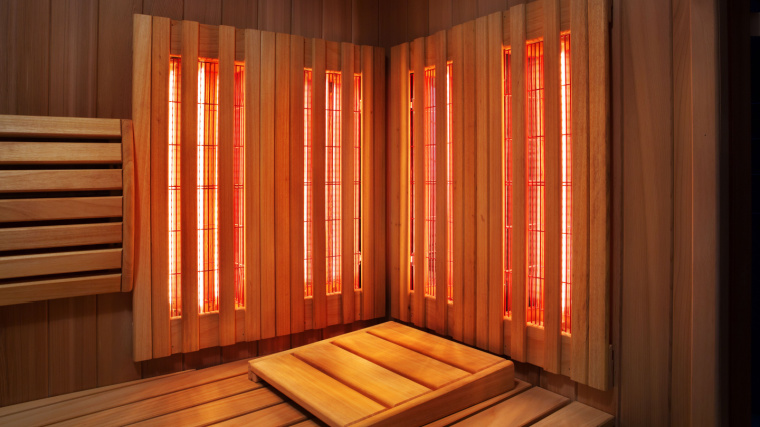 [Related: Why Saunas Can Build Muscle, Boost Endurance, and Increase Strength]
After your skin heats, your body temperature rises, and your heart rate, cardiac output, and blood circulation increase. Vasodilation also improves. Regular infrared sauna use increases your body's ability to tolerate heat. It also may improve thermoregulation — your body's ability to regulate its core temperature. (3)
These are similar physiological effects that your body experiences when exercising, leading researchers to investigate whether sauna use can improve heart health and other health conditions.
Benefits of Infrared Saunas
The Mayo Clinic states that studies investigating sauna use for health conditions show that it may help with high blood pressure, type 2 diabetes, arthritis, heart failure, dementia, and Alzheimer's disease. Although the studies are small, the Mayo Clinic adds that harmful side effects haven't been reported, and sauna use should be safe. (1)
We'll take a closer look at the evidence from a few of those studies below.
May Improve Muscle Recovery
Although infrared sauna use can replicate how your body responds to exercise acutely, it (obviously) can't replace exercise. But, it can be a great addition to your muscle recovery strategies when you're regularly resistance training.
A study investigated whether far-infrared sauna bathing for cis men doing strength and endurance training could boost their recovery. The study found that it benefited their neuromuscular systems during recovery — particularly for endurance exercise. (3)
[Read More: The 10 Best Protein Powders for Muscle Gain]
Since using an infrared sauna can increase your blood flow and circulation, it could also help reduce muscle soreness during recovery. More circulation helps deliver oxygen and nutrients to your muscles, which may also help decrease inflammation. (3)
Another study on cis male basketball players investigated infrared sauna use after a resistance training session. It found that they had improved recovery of power capacity and less muscle soreness the day after training. (5)
May Ease Joint Pain
Some evidence shows that infrared saunas may help ease joint pain for people with chronic pain conditions. Rheumatoid arthritis is an autoimmune disorder where the immune system attacks the body's tissues and joints, causing chronic pain and inflammation.
Surface heat therapy has been used throughout history to treat rheumatic conditions. Infrared saunas can cause total-body heating, which mimics a form of total-body heat therapy called hyperthermia. A study investigated if infrared sauna use could help people with rheumatoid arthritis (RA) and ankylosing spondylitis (AS). (6)
[Read More: The 12 Best Supplements for Muscle Growth]
The study showed that patients experienced pain relief after four weeks of sauna treatments. Their pain, stiffness, and fatigue decreased, and they felt comfortable during and after the treatments. It didn't change their disease activity scores, but their conditions did not worsen. The study concludes that infrared sauna use has short-term benefits with no adverse side effects for people with RA and AS. (6)
May Help With Chronic Fatigue Syndrome
Research shows infrared saunas can be helpful for another condition: chronic fatigue syndrome. Chronic fatigue syndrome is a biological condition characterized by extreme fatigue for more than six months, cognitive dysfunction, and sleep issues that make activities of daily living extremely difficult. Currently, no distinct therapy helps to treat it, so a study investigated whether Waon therapy could help people with chronic fatigue syndrome. (7)(8)
Waon therapy is a type of infrared sauna therapy developed in Japan. You start with 15 to 30 minutes in an infrared sauna at 60 degrees Celsius, or 140 degrees Fahrenheit. Then, you lay under a warm blanket for 30 minutes outside the sauna. Waon therapy may be beneficial for cardiovascular health. (2)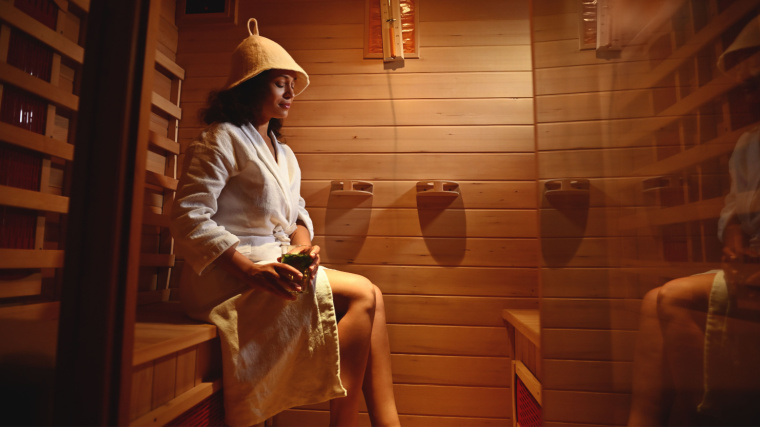 [Read More: The 12 Best Women's Multivitamins]
In the study on people with chronic fatigue syndrome, ten patients did Waon therapy for four weeks. They had one infrared sauna session a day, five days a week. Fatigue was measured on a rating scale before, during, and after treatment. (8)
After therapy, perceived fatigue decreased. Depression, anxiety, and a negative mood also decreased, while their ability to perform tasks increased. Pain levels stayed the same. Although it was only one small study, the study concludes that Waon therapy may be a helpful treatment for people with chronic fatigue syndrome. (8)
May Improve Heart Health
Infrared sauna use, especially through Waon therapy, may help improve your cardiovascular system, lower your blood pressure, and boost your heart health. (2)
One study was done on people at high risk of heart disease. After receiving infrared sauna therapy, their blood pressure decreased. Researchers hypothesize that infrared sauna use can increase vasodilation, the widening and relaxing of blood vessels. (9)
More vasodilation allows for better blood flow and can lower blood pressure. The study concluded that sauna use may help fight oxidative stress, reducing people's risk of atherosclerosis and cardiovascular diseases. (9)
[Read More: The Best Online Workout Programs for Coaching, Cardio, Value, and More]
A study from 2015 suggested that frequent sauna use correlates with a reduced risk of fatal cardiovascular diseases and mortality. (10)
In a systematic review of studies on the clinical effects of sauna use, far-infrared sauna use was helpful for people with cardiovascular disease and heart failure. The review states that increased sweating caused by heat stress has beneficial cardiovascular and metabolic effects. (11)
The review suggested that sauna use alone may not be the sole factor in improving cardiovascular health. People who use saunas may be more likely to have an overall healthy lifestyle, and more research is needed on sauna use as a sole treatment. (11)
Sweating May Promote Detoxification
You've probably heard the popular buzzword "detox" around wellness topics. Products, diets, and supplements claim to remove toxins from your body, help with weight loss, and improve your overall health. The U.S. Food and Drug Administration (FDA) has taken action against several companies for promoting dangerous products under the guise of detoxification. (12)
Always be wary of buzzwords and quick fixes. Sauna manufacturers may also say that infrared saunas help you detoxify your body. Since saunas cause increased sweating, your body may "detoxify" because it's losing water and other substances. That doesn't mean you'll automatically lose weight or become healthier.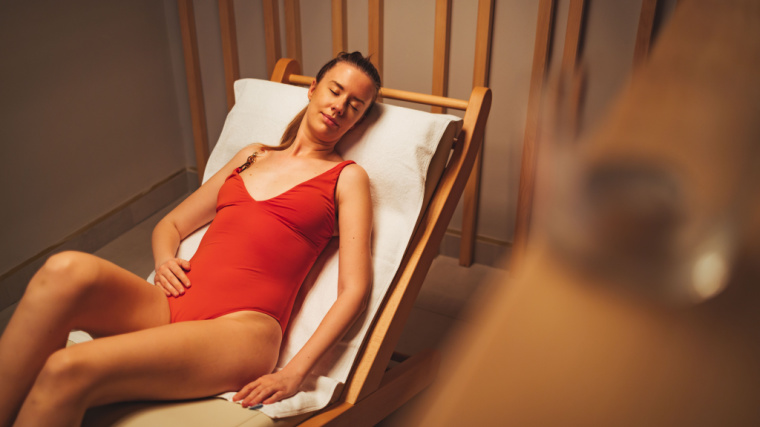 [Read More: The 11 Best Fat Burner Pills That Work]
Research shows that sweating helps your body excrete heavy metals like aluminum, cadmium, cobalt, and lead. This excretion also happens during urination but may be higher during sweating. (2)
May Increase Well-Being
Although there isn't a lot of concrete, widespread research on the benefits of infrared saunas, regularly using one as part of an overall healthy lifestyle can increase your well-being. You can practice breathwork or meditation in an infrared sauna as you relax and sweat. It's a great end to your workout as well.
Breathing and meditating — in or out of an infrared sauna — can calm your nervous system and reduce stress.
How to Use an Infrared Sauna
Here are a few things to remember if you'd like to use an infrared sauna.
Set your temperature. The temperature should be between 40 to 60 degrees Celsius or 104 to 140 degrees Fahrenheit. It's best to start at a lower temperature to see how it feels.
Plan your length of time. Infrared sauna sessions are typically 15 to 30 minutes. Start with 15 minutes, and increase if you're tolerating it well.
Drink plenty of water. You'll be sweating a lot, so drink plenty of water before and after your infrared sauna session to replenish your lost fluids. You may also want to include salt or electrolytes post-sauna session.
Consult your healthcare provider. Especially if you have any health conditions, check with a doctor before using an infrared sauna.
Sweat It Out
Infrared saunas are often found in gym locker rooms and can be a relaxing place to finish your workout. Infrared light warms your body directly instead of heating the air to extremely high temperatures like a traditional, dry sauna. They may be more comfortable for some people.
[Read More: The 11 Best Post-Workout Supplements]
While infrared saunas have many purported health benefits, most studies are small, and research needs to be more conclusive. Still, some evidence shows they may improve muscle recovery, ease joint pain, help with chronic fatigue syndrome, and boost cardiovascular health. It may also be nice to relax after your workout — when you try it out, just drink plenty of water.
FAQs
Here, we will answer some common questions on infrared saunas.
What does an infrared sauna do for the body?
Infrared saunas use infrared light to create heat that directly warms your skin, raises your core body temperature, increases your heart rate, and causes sweating. The effects are similar to your body's acute response to moderate exercise.
How often should you use an infrared sauna for benefits? 
You can use an infrared sauna as often as you would like, but try starting with three to four sessions a week to see how you respond.
What is the average cost of an infrared sauna?
The average cost of an infrared sauna is around $2,000 but can go up to $10,000 or more. 
Do infrared saunas really detoxify your body?
Infrared saunas cause sweating, so you will "detox" only as much as you would during exercise or any other activity done in the heat that causes excessive sweating.
References
Bauer, B. A., M.D. What is an infrared sauna? Does it have health benefits? Mayo Clinic.
Rhonda P. Patrick, Teresa L. Johnson, Sauna use as a lifestyle practice to extend healthspan, Experimental Gerontology, Volume 154, 2021, 111509, ISSN 0531-5565.
Mero A, Tornberg J, Mäntykoski M, Puurtinen R. Effects of far-infrared sauna bathing on recovery from strength and endurance training sessions in men. Springerplus. 2015 Jul 7;4:321.
How Infrared Saunas Work. Clearlight Infrared Saunas.
Ahokas EK, Ihalainen JK, Hanstock HG, Savolainen E, Kyröläinen H. A post-exercise infrared sauna session improves recovery of neuromuscular performance and muscle soreness after resistance exercise training. Biol Sport. 2023 Jul;40(3):681-689.
Oosterveld FG, Rasker JJ, Floors M, Landkroon R, van Rennes B, Zwijnenberg J, van de Laar MA, Koel GJ. Infrared sauna in patients with rheumatoid arthritis and ankylosing spondylitis. A pilot study showing good tolerance, short-term improvement of pain and stiffness, and a trend towards long-term beneficial effects. Clin Rheumatol. 2009 Jan;28(1):29-34.
Sapra A, Bhandari P. Chronic Fatigue Syndrome. 2023 Jun 21. In: StatPearls [Internet]. Treasure Island (FL): StatPearls Publishing; 2023 Jan–.
Soejima Y, Munemoto T, Masuda A, Uwatoko Y, Miyata M, Tei C. Effects of Waon therapy on chronic fatigue syndrome: a pilot study. Intern Med. 2015;54(3):333-8.
Masuda A, Miyata M, Kihara T, Minagoe S, Tei C. Repeated sauna therapy reduces urinary 8-epi-prostaglandin F(2alpha). Jpn Heart J. 2004 Mar;45(2):297-303.
Laukkanen T, Khan H, Zaccardi F, Laukkanen JA. Association between sauna bathing and fatal cardiovascular and all-cause mortality events. JAMA Intern Med. 2015 Apr;175(4):542-8.
Hussain J, Cohen M. Clinical Effects of Regular Dry Sauna Bathing: A Systematic Review. Evid Based Complement Alternat Med. 2018 Apr 24;2018:1857413.
U.S. Department of Health and Human Services. "Detoxes" and "Cleanses": What You Need To Know. National Center for Complementary and Integrative Health.
Featured Image: Alexanderstock23 / Shutterstock