The 17th edition of the CrossFit Games is underway in Madison, WI. All eyes turned to the two-time defending champion Justin Medeiros on Day Three (Aug. 3) when the Individual athletes took the competition floor. However, Medeiros' Games campaign unfolded differently from what he or his fans likely envisioned. He ranked 29th and 37th in the first two events, respectively — the two worst CrossFit Games event finishes of his career.
On Aug. 4, 2023, Medeiros appeared on the Buttery Bros YouTube channel to explain what led to his opening day performance. Medeiros' interview begins at 2:00. Check it out below:
"Ride" was the first Individual event that featured athletes biking as many laps as possible in 40 minutes on a Trek Bikes Marlin 8 mountain bike. Athletes who completed lap six within 40 minutes raced for a final lap. Although Medeiros initially started well, a crash led to his eventual 29th-place finish among the 39 athletes.
"You took a tumble out there," said Heber Cannon, one-half of the Buttery Bros. "A couple of them," clarified Medeiros. Medeiros stated that his falls resulted from a collision with Lazar Đukić. Per Medeiros, the first tumble happened after Đukić stepped on the pedal too hard, which slowed Medeiros down and led to a crash. However, Medeiros didn't clarify whether the fall resulted from a side impact or a rear-end collision.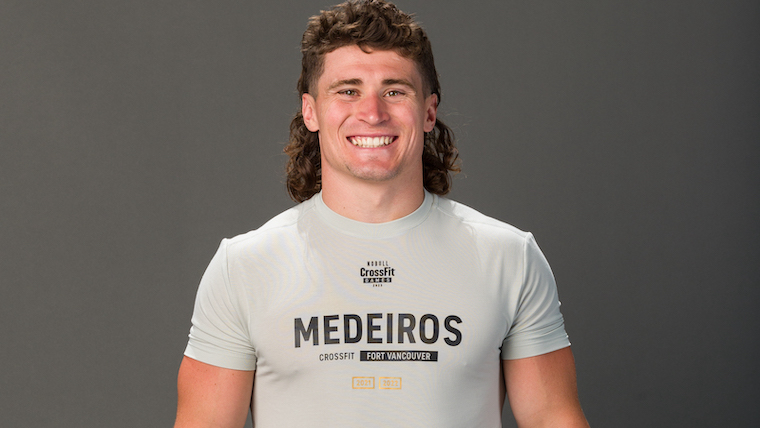 During the second accident, Medeiros was riding on the inside of Đukić, who was close to Medeiros' right. "I don't think he wanted me to be on the inside, so he tried to squeeze me out," Medeiros said. "I could have braked and gone around him, but I didn't want to brake."
Medeiros could have either stayed where he was or hit the rails. He chose the former, which resulted in the collision and the subsequent fall. Đukić finished in 35th.
I don't think either of us wanted to fall, so I don't think either one of [the collisions] was on purpose.
In the second event, "Pig Chipper," Medeiros had visual abrasions across his chest. He finished 37th overall — the worst event finish in his four-year CrossFit Games career. On the other hand, Đukić regrouped and took second overall behind Roman Khrennikov.
After the first two events, Medeiros sat in 36th place overall and was at risk of not making it through the first round of cuts-offs after Day Four. However, Medeiros came back strong to finish second in event three, "Inverted Medley," to jump to 22nd place at the end of Day Three.
While a defense of his Fittest Man on Earth® throne seems impossibly out of reach with just under two days of competition left, Medeiros made it through the cuts and will see the 2023 CrossFit Games to the end.
Featured image: William Johnson @BarbellStories