Team USA weightlifter Katherine Nye is easily one of the most prominent weightlifters in the country and in the world, given she won the title of the International Weightlifting Federation's 2019 Lifter of the Year.
The 21-year-old was last year's -71kg World Champion, Junior World Champion, and Pan American Champion and she holds the junior world record in the snatch with 112kg/245lb.
She's a titan in the sport, and The Today Show got her on to judge their Hoda & Jenn-alympics. (The hosts in this timeslot are Hoda Kotb and Jenna Bush Hager.) (If Jenna looks familiar, it's because she looks exactly like her dad, George W.)
Here's the video! The hosts don't know a ton about the sport, raising their eyebrows comically when introducing Nye.
Jenna: Kate is the junior world record holder… in the snatch.
Hoda: Yeah.
Jenna: And yes, that is an official lift term. The snatch.
Hoda: So what is the snatch, you ask? Take a look at how the pros do it.
Thus begins the segment, 39 seconds into the video below.
Highlights include…
Learning They Need to Do a Snatch
Jenna: I'm doing the snatch. (busts up laughing) Snatch? Is that what it is? Is that it?
Hoda: Oh. We're doing that? The big bar? What?
Jenna: You lift it up like that? (demonstrates a clean)
Hoda: I don't think I've ever done that.
Jenna: Golly.
Hoda: So, put weight on a bar and lift it up? Are there spotters?
There were not.
Jenna Doing a Clean & Push Press Instead
Nye appears at 1:30 giving her advice on the snatch:
For snatching you're going to go from ground to overhead in one swift motion, making sure you keep your core tight, the bar close to your body, and you pick weights that are comfortable for you.
Jenna then dutifully performs a clean and push press, calling it "the Olympic snatch."
Then it's Hoda's turn, and she does a pretty decent attempt at a power snatch. They both got 45 pounds!
View this post on Instagram
A Short Q&A With Katherine Nye
Now what? An interview with Nye about the upcoming Olympics! It starts at 2:30.
I'm very excited. You know with the postponement it was hard to accept that it was going to be a whole other year. But I've been trying to have the mindset that it's a year to get better and to improve and do even better than I would this year so I'm really excited to work towards that.
[Related: Check out our interview with Katherine Nye about her weightlifting diet]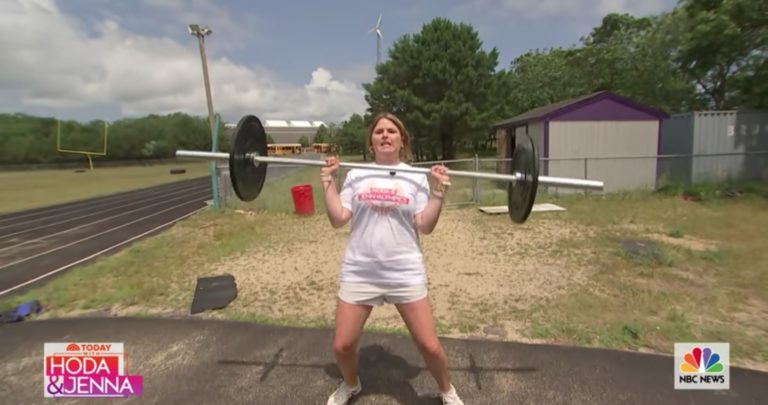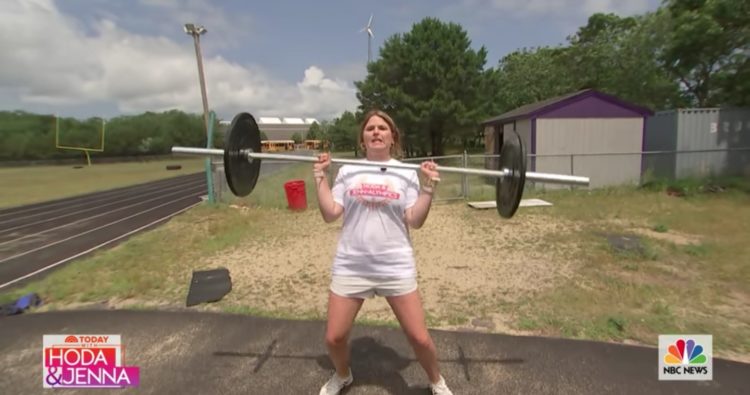 Nye Judges the Final Attempts
Then, at 3:58, we see the hosts' attempts at 65 pounds. Jenna, again, does a clean and push press. Nye gives a diplomatic assessment.
Nye: I love the enthusiasm. And, honestly, it wasn't bad at all. I would say the one thing is there's two lifts in the Olympic lifting score, and Jenna did more of a clean & jerk than a snatch. So that was a great clean & jerk.
Jenna: But I'm afraid I didn't do the right snatch. I did the clean & jerk instead.
At 04:49, Hoda made a wobbly 65-pound power snatch/muscle snatch combo. Nye's judgement:
Especially considering her bad knees, I think Hoda did really good. I do think she did it in one swift motion and she didn't stop at the shoulders, so I think Hoda did a great job and showed a lot of strength and athleticism. So I think Hoda did great.
Hoda got gold, which brings the two to one gold medal each after Jenna won gymnastics yesterday. Next up, they're doing cornhole, judged by Olympic snowboarder Shaun White. Yeah, we don't know either.
But it's great the show is highlighting weightlifting, and it went a lot better than the time Nye appeared on The Kelly Clarkson Show, where Clarkson called her a bodybuilder and said her record was 90 pounds lighter than it is.
Nye later said,
In situations where interviewers are telling my story and giving my sport publicity, I try just to be thankful for the thoughtfulness. She didn't have to do a story on me, and she put me on NATIONAL TV. That's unheard of for a weightlifter. Even though it was a bit disappointing, she got the point across, which I really appreciate.
Hey, there's no such thing as bad publicity!
Featured image via TODAY with Hoda & Jenna on Facebook