The humble kettlebell wears many hats in the weight room. For some, it serves as a damn good conditioning tool. Others love kettlebell exercises for their versatility. Still others use kettlebells as part of their accessory routine, or as the centerpiece of a dynamic warm-up.
But what about muscle-building? Can you make a kettlebell the centerpiece of a glute workout and still add some mass to your ass? As it turns out, you can.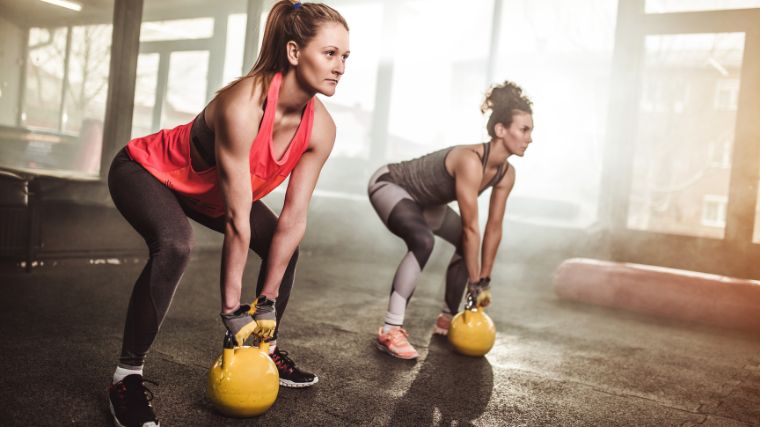 These kettlebell glute workouts are perfectly tailored toward making your backside as round as a kettlebell itself. Give them a spin — or a swing, rather — during your next trip to the gym and see for yourself. They're tailored according to your experience level, so you can jump right in:
3 Best Kettlebell Glute Workouts
Best Beginner Kettlebell Glute Workout
As a beginner, you might find the kettlebell awkward to work with. Its design isn't as simplistic as, say, a dumbbell or barbell; the "bell" of the kettlebell swings freely around your hand. However, that functionality is precisely what makes kettlebells so ergonomic and user-friendly once you adjust to it.
The Workout
This beginner kettlebell glute workout should get you acclimated to several common kettlebell exercises while also teaching you how to properly hinge, squat, and swing.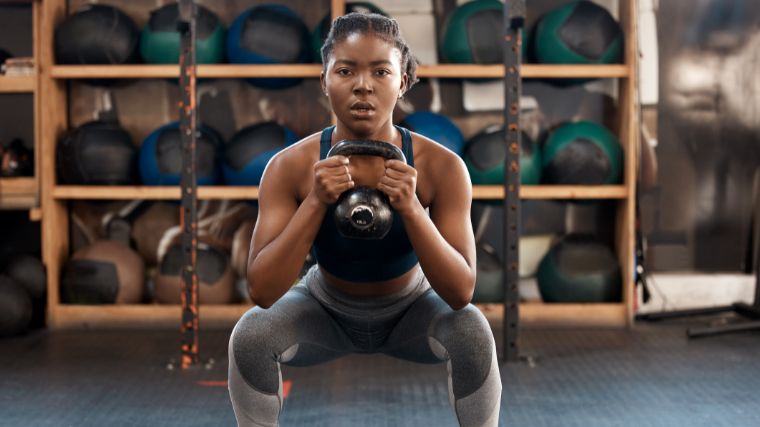 [Read More: Best Treadmills For Streaming, Folding, Running, And More]
Consider this workout equal parts instructive and stimulative: You'll get a stellar booty session in while also learning your body's fundamental movement patterns.
Kettlebell Goblet Squat: 3 x 8
Kettlebell Deadlift: 3 x 8
Kettlebell Swing: 2 x 12
Best Intermediate Kettlebell Glute Workout
The "intermediate" phase of your fitness journey — that is, between one and three years for most folks — is the perfect time to diversify your so-called training portfolio. In simple terms, this means acclimating yourself to a wide variety of stimuli and working with different equipment.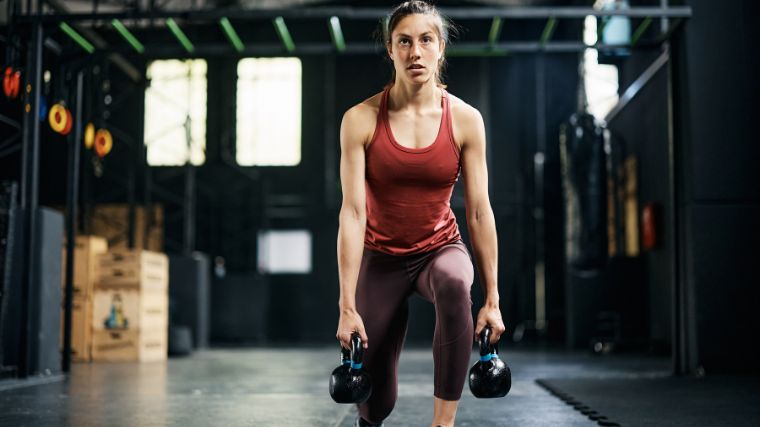 [Read More: Omega 3 Benefits — More Muscle, Better Recovery, and Enhanced Endurance]
If you've avoided kettlebells in the past, they may be just what you need to keep the gains train rolling. With some experience under your belt, you're primed to maximize all that an intermediate kettlebell glute workout has to offer.
The Workout
This workout builds on the beginner principles of kettlebell training, but ramps up the difficulty and volume. Expect to hit your glutes from different angles through both squat and hinge exercises for a comprehensive stimulus.
Best Advanced Kettlebell Glute Workout
Kettlebells may lack the loading potential of barbells or the consistent stimulation of a cable station, but that doesn't mean they're a dead end if you're an experienced gymgoer. In fact, some clever workout design can really elevate kettlebells.
The Workout
In the context of building muscle and strength with kettlebells, your biggest "issue" is the simple fact that most kettlebells aren't especially heavy. Sure, you can find bells upwards of 100 pounds in some gyms, but they're few and far between.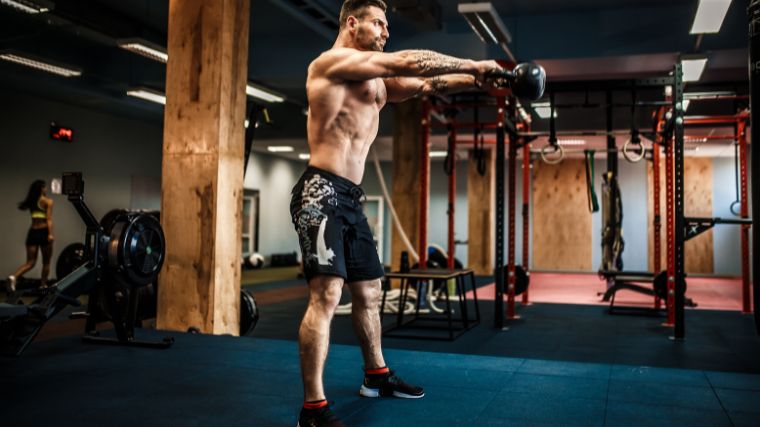 [Read More: The Best Full-Body Bodybuilding Workout for Beginner to Advanced Lifters]
So, the best way to make a kettlebell-focused glute workout truly challenging is to do (almost) everything on one leg. As a bonus, you'll break one heck of a sweat and build up some bodily resilience along the way.
Double Kettlebell Walking Lunge: 2 x 10 paces
Single-Leg Kettlebell Hip Thrust: 3 x 12
Kettlebell Step-Up: 3 x 12
Kettlebell Swing: 100 repetitions for time
How to Progress Your Kettlebell Workouts
No matter what type of equipment you use or what training style you follow, your physical fitness routine should contain some form of progression. This is as true for yoga practices as it is for strength training. Progressing your kettlebell glute workouts isn't necessarily straightforward — here's how to keep moving in the right direction.
Add Weight (When Possible)
Progressive overload refers to incrementally increasing the challenge of a physical activity or task over a period of time. In the weight room, this generally takes the form of adding more weight to an exercise.
If you work with the barbell, overload is pretty simple; just add another five pounds to your barbell. On an exercise like the deadlift, you may not even notice that extra weight. However, moving to a heavier kettlebell can be a taller order.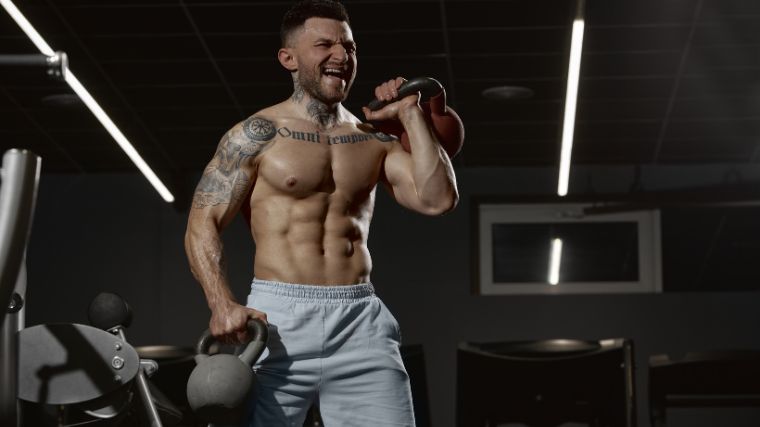 [Read More: Use the Bent-Over Row to Make Big Gains With Big Weights]
Still, you should strive to work with heavier bells over time for as long as you can. It is the most quantifiable method of progressive overload and should give you the most bang for your buck. However, always be mindful that heavier weights should not come at the expense of good technique.
Add Repetitions
It's not practical in all cases to add more and more weight to your favorite exercises — this is especially true for single-joint isolation movements, or single-leg exercises where even small jumps in load feel quite heavy.
If you can't work with a heavier kettlebell during your glute workouts, your next best option is to bang out another repetition or two. This still counts as progressive overload and will still help you build muscle.
Shoot for an extra repetition (or two) every week or so and you'll be well on your way. Once you can perform double the amount of repetitions as originally planned, you're probably ready to move up in weight and start over again.
Trim Your Rest Times
People tend to overlook — and undervalue — the benefits of pushing their training density. Density, that is, referring to how time-efficient you can be with your workout. If you can't add weight or include more repetitions, but you can do your entire kettlebell glute workout in less time than last week, that's progress.
Make an effort to reduce rest times if and only if you've exhausted more conventional progression pathways. It's not always feasible to move up in weight or add two repetitions. However, you can probably shave five to 10 seconds off your rest periods without noticing. Over time, you'll induce more muscular fatigue (leading to more hypertrophy), and improve your cardiovascular capacity in the process.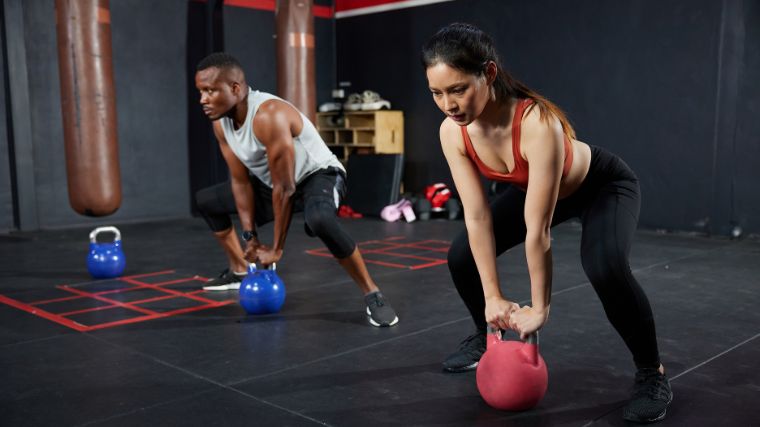 The only consideration to be mindful of regarding workout density is that, eventually, you'll deprive yourself of the requisite time it takes to recover from high-intensity lifting. If you're doing a heavy set of kettlebell deadlifts, your body needs a certain amount of time to replenish its energy reserves. For heavy sets, try to avoid resting any less than a minute or so.
Perfect Your Technique
Few phrases are more ubiquitous in the fitness world than "maintain good form." Even if you're brand new to exercise, it's probably among the first things you've heard or read and, in most cases, goes without saying.
However, you can and should think of your technique as a progression pathway. Not necessarily to the same degree as increasing weight or adding repetitions, but fine-tuning your execution can indeed provide a greater return on your sweat investment in the gym.
This is especially true for kettlebells, which aren't necessarily easy to work with. There's a world of difference between a sloppy, haphazard kettlebell swing where you use your arms and upper back a lot, and a crisp, airtight, locked-in swing that relies entirely on your glutes. Consistently strive to master your technique and you'll make better gains with kettlebells (and every other piece of equipment).
Benefits of Kettlebells
There's no one-size-fits-all tool in the weight room. Each piece of equipment you work with serves its own purpose and is best utilized in specific situations. Barbells, for example, are unparalleled for their loading potential. Exercise machines are second-to-none introductory tools. Kettlebells have a lot to offer, both for glute workouts and on their own merit:
They're (Almost) Everywhere
There's no point in committing to a workout program if you can't perform it from start to finish with the equipment available to you. Apartment or hotel gyms, for instance, may not have cable machines or barbells.
[Read More: How to Do the Lat Pulldown for a Wider Back and Better Pull-Ups]
But you can find kettlebells basically anywhere. They're all over commercial gyms and, as a bonus, fit nicely on the rack of a well-furnished garage gym. This means you can get in a good kettlebell glute workout whether you're on the road or buckled down for a series of home-based sessions.
Ergonomic Value
Kettlebells have a decent learning curve, but once you get comfortable with them, they're extremely intuitive. Since the bell itself is outside of your palm and the handle rotates freely in your hand, you can perform certain ballistic exercises like swings or cleans much easier than with a dumbbell or barbell.
Versatility
Despite being constructed differently than other free weights, there's almost nothing you can't do with a kettlebell. You can maximize their design for ballistic, explosive movements, or use them the same way you would a dumbbell in most cases.
So, if you're following a leg or glute workout but only have access to an assortment of kettlebells, you don't have to throw your entire routine out the window. Romanian deadlifts are the same with kettlebells as they are with dumbbells or a barbell, for the most part. In some cases, the kettlebell alternative may even be more comfortable for you.
Great for Cardio
The design of the kettlebell lends itself well to weaving repetitions together quickly, particularly on exercises like the clean or swing. Kettlebell movements also tend to require a less-intricate setup — to squat with a barbell, you need to wedge it into your back properly, unrack it from the station, adjust your stance, and so on.
[Read More: The 12 Best Supplements for Muscle Growth]
Kettlebells, by contrast, are extremely grab-and-go. As such, they're fantastic for body conditioning and general cardiovascular fitness.
What Muscles Make Up Your Glutes
You probably know where they are: Your glutes lie on the back of your pelvis and are both visually prominent and athletically pertinent. You need your glutes to look good in a pair of jeans and to jump high, run far, or squat heavy.
Here's what's going on with your glute anatomy and how each of the three muscles in the gluteal compartment affects your movement.
Gluteus Maximus: Your glute max provides hip and postural stability during walking or running, and is your primary hip extensor. It can also play a more low-key role in some acute hip-related functions. (1)
Gluteus Medius: Your glute medius is responsible for general hip stability. It also rotates your thigh outward, which is known as hip abduction.
Gluteus Minimus: Your "glute min" is the deepest and smallest of the gluteal complex. It steadies the pelvis when the opposite foot is raised off the ground during walking and running. You can't practically isolate your glute min with most resistance exercises.
More Training Content
References
Elzanie, A., & Borger, J. (2023). Anatomy, Bony Pelvis and Lower Limb, Gluteus Maximus Muscle. In StatPearls. StatPearls Publishing.
Featured Image: nelic / Shutterstock