For gym rats all over the world, the prospect of leg day is met with both fear and excitement. Lower-body workouts are generally regarded as the hardest form of resistance training you can do: It's what separates the wheat from the chaff in the weight room.
But if you've been bitten by the leg day bug and want to squeeze as much juice out of your workouts as possible, you need more than work ethic (though, after your fifth set of squats, you'll definitely need grit).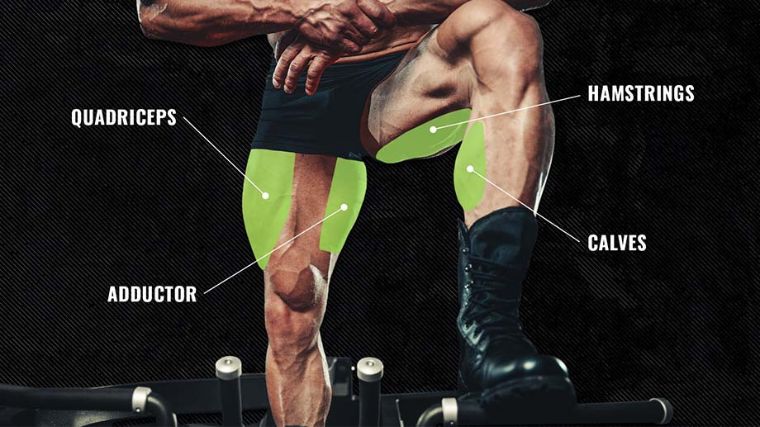 Understanding the anatomy and function of your legs will unlock your muscle and strength-building potential. When it comes to building your wheels, you'll have to work hard and smart. Use this anatomy guide to smarten up your leg exercises.
Your Leg Muscles
Your legs are built to do a whole lot more than carry you from room to room. Three primary joints make up the structure of your lower half — your ankle, knee, and hip. Each joint is encased by different muscles that perform unique functions and, most importantly, are trainable.
These muscles are the major players involved in any well-made leg workout. There are other tissues at play, but think of these muscles as your A-Team.
Quadriceps
Your quadriceps, or quads, are among the strongest and most prominent muscles in your entire body. Bodybuilders revere big quads for their contribution to the coveted "X-frame" aesthetic, while athletes in nearly all sports rely on strong quadriceps to perform well on the field.
Where It Is: Three of your four quadriceps muscles originate on the femur and cross the knee to insert onto your shin bone. The fourth, your rectus femoris, begins higher up on your pelvis.
What It Does: The principal function of your quads is to straighten your knee joint, though the rectus femoris assists with hip flexion as well.
Despite being such a large and powerful muscle, your quads generally only act on your knee joint. That said, some research has shown that you can bias certain sections of your quads by manipulating things like hip angle or the direction your toes point while you bend and straighten your knee. (1)
Hamstrings
While your quadriceps consist of different "heads" of the same muscle, the tissues in your hamstrings are distinct. The semitendinosus, semimembranosus, and biceps femoris generally "antagonize," or perform opposite functions of, your quads.
Where It Is: The muscles on the back of your thigh connect from the base of your pelvis down past your knee joint and onto your shin bone.
What It Does: Your hamstrings primarily function to control your knee joint by resisting extension and facilitating flexion.
Your hamstrings are among the most critical structures for general lower-body stability. They control the rate at which your knee opens and closes while you run and "root" your hips if you stand on one leg.
Glutes
Your glutes are good for a lot more than just helping you look great in a pair of jeans. The gluteal muscles are generally considered the most powerful skeletal muscles in your body, capable of producing tremendous force — think sprinting off the starting blocks on a track or standing upright with a really, really heavy deadlift.
Where It Is: Your gluteus maximus, medius, and minimus all lie on the posterior side of your pelvis and connect onto various aspects of the top of your femur.
What it Does: All three gluteal muscles perform hip extension along with various smaller roles such as abduction and rotation of the thigh, or general pelvic stability.
You can think of your glutes as the "bridge" between your quadriceps and hamstrings. Your glutes are active during posterior chain exercises like the deadlift, but also strongly assist with quad-focused movements like the squat or vertical jump.
Hip Adductors
Much like the hamstrings, there's no specific muscle called the "hip adductor." Adduction describes a type of movement, and your hip adductors consist of the tissues that support that functionality.
Where It Is: Your hip adductors, which include the adductor longus, brevis, and magnus, the gracilis, and the pectineus, all sit on the inside of your upper leg and connect from your pelvis to your femur and shin.
What It Does: These muscles principally perform adduction of the thigh, drawing your leg inward toward your midline.
Strong hip adductors are necessary for good pelvic stability during both weight training and general athletics. For the bodybuilder, well-developed adductors add to the silhouette of the physique and contribute strongly to overall leg mass.
Calves
Your calf muscles (there are two) are the only significant mass of lean tissue between your knee and ankle joints. While many gymgoers tend to overlook calf training to their detriment, dedicating time and effort to your gastrocnemius and soleus will pay dividends in terms of both performance and aesthetics.
Where It Is: The gastrocnemius sits on the back of your lower leg, connecting from your femur to your heel bone. Beneath it lies the soleus muscle, which originates at the top of the shin and connects onto the heel.
What It Does: Your calf muscles primarily perform plantar flexion as well as controlling the architectural stability of your foot.
The gastrocnemius and soleus are two distinct compartments of a larger muscular structure called the triceps surae. What's more, there's actually a small and slender muscle on the front of your shin as well, called the tibialis anterior. You can train this muscle to some degree, but tibialis anterior exercises are usually reserved for clinical or rehabilitative settings.
The Best Leg Exercises
Your legs are designed to help you run, jump, skip, slide, turn, and a whole lot more. So many viable movement patterns also means a long, long list of possible exercise options. But, as with any other muscle group, certain movements stand above their peers.
These are some of the best exercises you can do for each region of your leg anatomy. They aren't the only good lifts, nor is resistance training the only way to develop fitness in your lower body. That said, they'll make for one hell of a foundation.
Overall — Low-Bar Back Squat
Most lower-body, multi-joint exercises can be categorized as either a squat or hinge, and work your quads or hamstrings, respectively (with some overlap here and there). This makes it difficult to choose a single top-tier leg exercise — but the low-bar back squat is hard to beat.
[Read More: The Best Back Workout for Men, Women, Strength, and More]
The deciding factor here is the bar position. The low-bar technique will tip your torso forward and encourage you to shoot your hips backward as you squat, adding in a bit of posterior chain engagement. It won't turn the squat into a deadlift, but it does provide the most comprehensive lower-body stimulus you can get.
How to Do It
Unrack the barbell from a squat or power rack. It should sit low on your upper back, wedged tightly between your rear deltoids and trapezius muscles.
Take a comfortable stance, roughly between hip and shoulder width. Allow the barbell to lean your torso forward slightly.
Squat by unlocking your hips and knees simultaneously, sinking downward as low as you're able.
Maintain a braced core and a flat back as you descend. Once your hip crease sinks deeper than your kneecap, reverse the motion and push back up with your legs.
For Quads — Heels-Elevated Front Squat
When it comes to squatting, the angle of your torso will affect which muscles perform the most work. The more upright you are, the less of a moment arm — the horizontal distance between a joint and your midline — there is on your hips. As such, they bear less of the load.
[Read More: The 12 Best Supplements for Muscle Growth]
So, an exercise like the front squat, particularly if you elevate your heels by wearing weightlifting shoes or standing on a pair of weight plates, is particularly effective at targeting your quads and sparing your lower back. (2)
How to Do It
Unrack a barbell by holding it in the front rack position. It should sit between your front delts and your neck. Hold the bar with a full grip if you can, or relax and just use your fingertips.
Step back and stand with your heels on a pair of small plates (if you're not wearing lifting shoes) in your standard squat stance.
From here, initiate the front squat by bending your knees and attempting to sit straight down.
Sink as low as you can without pushing your butt backward, and then reverse the motion. It's perfectly fine for your knees to travel forward past your toes.
For Glutes — Romanian Deadlift
Your glutes' principal duty is to extend your hip and pull your torso upright. So, any loaded hip hinge movement will do the trick for glute training. The Romanian deadlift edges out its competitors because it is straightforward, easy to learn, and you can perform it with almost any form of resistance.
[Read More: The Definitive Guide to Bodybuilding Meal Prep]
However, there's something to be said for the loading profile of the Romanian deadlift as well. Emergent scientific research is beginning to show that an exercise is particularly effective at muscle growth if it challenges the tissue when it is fully stretched. (3) This makes the Romanian deadlift an exceptional all-around glute builder.
How to Do It
Stand upright with your feet under your hips, holding a barbell with a close, double-overhand grip.
Hinge over. Unlock, but don't bend, your knees and push your butt backward.
Allow the bar to drift naturally down your thighs as you descend.
Once your torso is parallel to the floor, or the bar passes your kneecaps, reverse the motion. Thrust your hips forward and return to a standing position.
For Hamstrings — Seated Leg Curl
Free-weight training reigns supreme in most cases, but exercise machines certainly have their place on leg day. They can be particularly useful for isolating certain leg muscles that play supportive or synergistic roles alongside other tissues.
Take your hamstrings, for instance. Most free-weight hamstring exercises also stress your lower back and core, as you're required to hinge over while you move. If you want to avoid training an already-fatigued lumbar spine, you're out of luck.
[Read More: The Gymgoer's Guide to Whey Protein]
Or you could turn to the hamstring curl machine instead, which lets you zero in on your hammies without worrying about balance, stability, or sharing the load with other muscles.
How to Do It
Get situated in the machine; the thigh pad should rest just behind your kneecaps, while the foot pad sits on the back of your ankles.
Grab ahold of the handles for stability.
Push your thighs into the pad and curl your legs by contracting your hamstrings.
Curl as far as you can, then slowly reverse the motion.
For Calves — Standing Calf Raise
Weak or under-developed calf muscles stick out like a sore thumb on an otherwise muscular physique. What's more — and this is the frustrating part for leg day enthusiasts — you can't really hit your calves indirectly.
[Read More: 5 At-Home Workouts for Strength, Muscle Growth, Power, and More]
To train your calves, you need to do calf raises. More specifically, the prominent gastrocnemius muscle crosses the knee joint and is larger than its counterpart, the soleus. Therefore, standing calf raises (that stretch the gastrocnemius) will give you more bang for your buck.
How to Do It
You can perform a standing calf raise with just about any type of equipment — if possible, head for the Smith machine.
Place a riser or weight plate under the bar and set the bar around the level of your collarbones.
Put the front halves of your feet on the plate, allowing your heels to touch the ground. You should feel a stretch in your calves.
Unrack the bar by flexing your calves. Then, reverse the motion and lower down slowly until your heels gently touch the ground again. That's one rep.
Leg Training Tips
When it comes to lower-body training, hard work is half the battle. Heavy leg exercises are grueling enough on their own, but if you want to spice up your workouts and squeeze out every last morsel of gains, there are some steps you can take.
These training tips should help you streamline your leg training sessions, clear up the clutter, and focus on what really matters.
Prioritize Strength
Despite what you may have heard, muscular size and strength are pretty closely intertwined. Think of it this way — muscle hypertrophy depends largely on applying as much mechanical tension as possible to induce growth. The stronger you are, the heavier you can lift, thus applying more tension and facilitating more growth. (4)
It's definitely worthwhile to take a powerbuilding-esque approach to your leg workouts. Begin with a heavy, two-legged compound exercise like the squat, deadlift, or leg press, and push yourself toward progressive overload every session.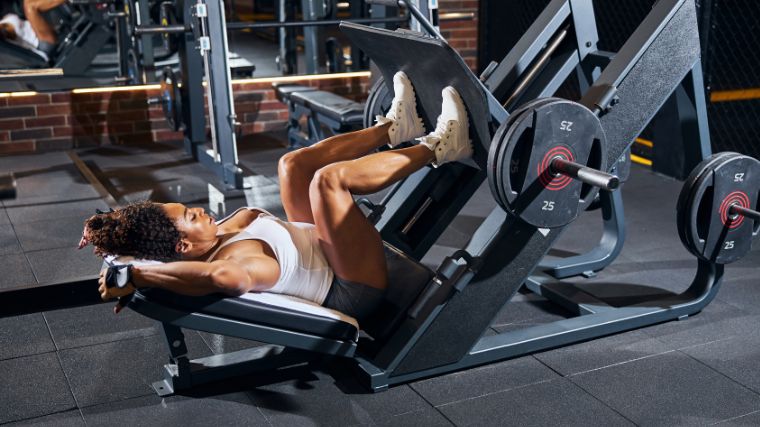 [Read More: How to Do the Goblet Squat — Variations, Benefits, Mistakes, and More]
Then, follow it up with movements like single-leg lunges or deadlifts and then some machine work, focusing more on creating as much fatigue as possible. The strength you build from your first exercise or two should carry over nicely into your accessory work on leg day.
Go Deep
Partial range of motion training has its place. However, that place is hardly on leg day. Leg workouts necessitate large ranges of motion because the joints you're working with — your hips and knees — are typically quite mobile.
Leave the half squats at the door and utilize as much of your range of motion as feasibly possible. Research indicates that, especially in exercises like the squat, muscle activation increases as range of motion increases: Deeper squats mean bigger quads and a beefier backside. (5)(6)(7)
Work Unilaterally
For most folks, unilateral (that's one-limbed) resistance training is a necessary evil. The benefits you glean from single-leg workouts are tremendous, but at a cost — they're difficult to perform, cumbersome to set up at times, and, perhaps most of all, are extremely demanding on bodily coordination.
However, everyone should have at least one single-leg movement in their repertoire. Unilateral exercises allow you to focus on each leg separately, providing unique stimulation and potentially even revealing any dormant muscular imbalances you may not have noticed otherwise.
[Read More: What Are Workout Splits and Which Is the Best One?]
Note that most people have some disparity in strength between their dominant and non-dominant limbs. Here's the good news: Some research shows that training your dominant side separately may strengthen your weaker side, too. (8)
Experiment Often
When it comes to performing optimally in the gym, exercise selection matters a great deal. The good news is that leg training offers the widest and most diverse assortment of exercises, more than you probably know what to do with.
The bad news is that there are more leg exercises than you know what to do with. However, that doesn't mean you should limit yourself to just a handful — in fact, it's to your advantage to "experiment" on a regular basis.
On a smaller scale, this can look like fiddling with your stance width or bar placement in the squat until you find a "groove" that works for you. Doing so will also slightly adjust the loading profile of the movement, altering which muscles receive the most stimulation. (9)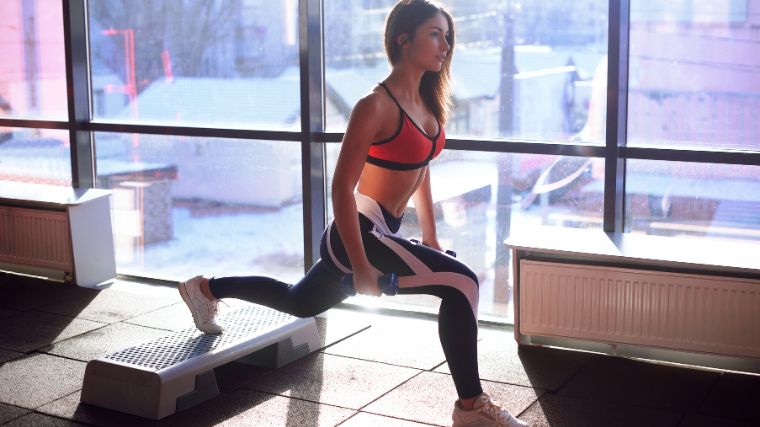 [Read More: The 8 Best Knee Sleeves You Can Buy (Spring 2023 Update)]
More pointedly, some studies have shown that working with more exercises, and changing them out from time to time, produces better results than hammering away at the same movements for months on end. (10)
There's certainly an element of diminishing returns to weight lifting, no matter what muscle you're working. If you aren't getting much value out of your current roster of leg day staples, it's probably worth switching things up.
Start With Free Weights, Finish With Machines
Balance and bodily coordination may not matter too much on arm day, but many top-tier leg movements require you to lunge, step, stride, or suspend yourself on one leg. For intricate lifts like the sumo deadlift or overhead squat, technical precision matters just as much as effort.
As such, any free-weight movements that come with any type of acrobatic element should be placed at the beginning of your workout. In a fatigued or semi-fatigued state, you're liable to lose some bodily control and struggle to maintain pristine form or posture.
Your Takeaways
In order to train your legs properly, you need to understand both the structure and function of your leg anatomy. There's quite a bit going on below the waist; knowing how the machine that is your body operates will save you time and effort, and sweeten your rewards in the gym.
Your legs contain a wide array of muscle groups. Some are clustered together by their general function, such as your hip adductors.
Your quadriceps, hamstrings, glutes, adductors, and calves are the five major trainable muscle groups in your lower body.
Squatting exercises that involve a lot of knee bend will engage your quadriceps and glutes. Hinges train your hamstrings and glutes.
Your calves must be trained directly through ankle isolation exercises in most cases.
A good leg workout contains equal parts squatting and hinging movements, uses a variety of equipment, and has at least one single-leg exercise.
More Training Content
References
Stoutenberg, M., Pluchino, A. P., Ma, F., Hoctor, J. E., & Signorile, J. F. (2005). The impact of foot position on electromyographical activity of the superficial quadriceps muscles during leg extension. Journal of strength and conditioning research, 19(4), 931–938.
Yavuz, H. U., Erdağ, D., Amca, A. M., & Aritan, S. (2015). Kinematic and EMG activities during front and back squat variations in maximum loads. Journal of sports sciences, 33(10), 1058–1066.
Pedrosa, G. F., Lima, F. V., Schoenfeld, B. J., Lacerda, L. T., Simões, M. G., Pereira, M. R., Diniz, R. C. R., & Chagas, M. H. (2022). Partial range of motion training elicits favorable improvements in muscular adaptations when carried out at long muscle lengths. European journal of sport science, 22(8), 1250–1260.
Schoenfeld B. J. (2010). The mechanisms of muscle hypertrophy and their application to resistance training. Journal of strength and conditioning research, 24(10), 2857–2872.
Contreras, B., Vigotsky, A. D., Schoenfeld, B. J., Beardsley, C., & Cronin, J. (2016). A Comparison of Gluteus Maximus, Biceps Femoris, and Vastus Lateralis Electromyography Amplitude in the Parallel, Full, and Front Squat Variations in Resistance-Trained Females. Journal of applied biomechanics, 32(1), 16–22.
Bloomquist, K., Langberg, H., Karlsen, S., Madsgaard, S., Boesen, M., & Raastad, T. (2013). Effect of range of motion in heavy load squatting on muscle and tendon adaptations. European journal of applied physiology, 113(8), 2133–2142.
Caterisano, A., Moss, R. F., Pellinger, T. K., Woodruff, K., Lewis, V. C., Booth, W., & Khadra, T. (2002). The effect of back squat depth on the EMG activity of 4 superficial hip and thigh muscles. Journal of strength and conditioning research, 16(3), 428–432.
Lee, M., & Carroll, T. J. (2007). Cross education: possible mechanisms for the contralateral effects of unilateral resistance training. Sports medicine (Auckland, N.Z.), 37(1), 1–14.
McCaw, S. T., & Melrose, D. R. (1999). Stance width and bar load effects on leg muscle activity during the parallel squat. Medicine and science in sports and exercise, 31(3), 428–436.
Fonseca, R. M., Roschel, H., Tricoli, V., de Souza, E. O., Wilson, J. M., Laurentino, G. C., Aihara, A. Y., de Souza Leão, A. R., & Ugrinowitsch, C. (2014). Changes in exercises are more effective than in loading schemes to improve muscle strength. Journal of strength and conditioning research, 28(11), 3085–3092.
Featured Image: ALL best fitness is HERE / Shutterstock