If having an extra wide track and a high weight capacity are two priorities on your hunt for the perfect treadmill then you might be in luck with the Life Fitness T5. This tread is as sturdy as they come and though it does take up a lot of room and carry a higher price tag, you'll be getting a lasting machine that will support heavier runners and frequent pavement-pounders for many years to come.
Main Takeaways
This treadmill provides extra track width for its users, coming in at 22 inches. 

The T5 supports athletes weighing all the way up to 400 pounds.

There are two console options, so users can choose one with more basic features or more high tech features. 
Life Fitness T5 Treadmill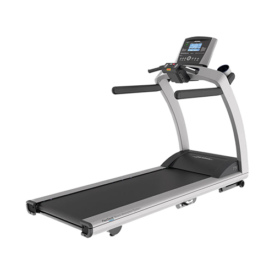 Life Fitness T5 Treadmill
The Life Fitness T5 is a solid treadmill with a lasting build. It sports great cushioning (with adjustable settings), an energy-saving motor, a high weight capacity and the option to choose from two different consoles.
Life Fitness T5 Treadmill Highlights​
When it comes to dropping a hefty amount of change on a treadmill, you're going to want to make sure it's the perfect fit for your needs. The T5 is a beefy machine and has a high weight capacity. It includes most of the features you would want in a console, but it doesn't have any fans. So, like with all purchasing decisions, make sure you're sorting through the pros and cons appropriately before buying.
Who Should Buy the Life Fitness T5
Heavier runners who need a treadmill with a higher weight capacity.
Users who are seeking a little extra width in the running area for their wider gait.
Athletes who want the ability to choose between different consoles based on their personal needs.
Who Shouldn't Buy the Life Fitness T5
Buyers looking for a cheaper, cost-effective treadmill.
Joggers who want fans in the console to keep them cool while they sweat.
Anyone who wants a class subscription option that plays live classes on the display.
Price​
This machine is on the expensive end of the treadmill spectrum, coming in at $4,249. Life Fitness will deliver the item to your curbside for that number, but if you want them to lug the 341-pound tread inside and put it together for you, Life Fitness offers a white glove delivery service for an additional cost.
Overall Build and Quality​
For the $4,249 price tag, you can expect a commercial-grade ride on the Life Fitness T5. There are two console options, inclines up to 15 percent, speeds up to 12 percent and a bunch of pre-programmed workout options included with your purchase, so you'll be getting the full package—plus a very sturdy build—even though this machine costs a little more than most.
Features​
With the choice between two consoles, you can customize your purchase to be more or less high-tech depending on the kinds of workouts you enjoy. You can also monitor your heart rate throughout your session with the wireless heart rate monitor and connect to Bluetooth to store all your workout stats on your favorite fitness app.
Incline range​
This tread inclines from zero to 15 percent, which is the range most treadmills provide.
Speed range​
You can go from 0.5 to 12 mph on the Life Fitness T5, which allows you to conquer both long distance jaunts and sprint workouts alike.
Included workouts​
The Go console (the more basic option) has 12 pre-programmed workouts (two advanced, three goal-oriented, and five HeartSync programs) built in, while the Track console (the more high-tech option) has 16 pre-programmed workouts built in.
Display​
There are two display options on this machine: the Go and Track consoles. The Go console includes 12 pre-programmed workouts. It can hold two user profiles and has a Quick Start system to bypass the scrolling and get your workout started faster.
The Track console adds four additional pre-programmed workouts and some higher-tech options. It connects via Bluetooth to Android and Apple devices to create more personalized workouts, track your stats throughout your session and connect to your favorite outside fitness apps.
Speakers​
There are no built in speakers in either the Go or Track consoles, so you'll have to be okay with listening directly through your mobile device or headphones.
Fans​
The Life Fitness T5 Treadmill does not have fans built into its console, so if you want to have a cooler workout, you'll have to rely on a nearby floor fan or some powerful air conditioning.
Heart Rate Monitoring​
Your purchase comes with both a wireless heart rate monitor and a contact heart rate monitor on the handlebars, and both work with the HeartSync workouts in the Go or Track consoles.
HDMI, USB and Other Inputs​
There is a USB port built into this machine that you can use to upload new workouts from the LFConnect database (which you can find in the LFConnect app), or even save your own data and custom programs to use on your tread.
Bluetooth and Audio Options​
You can sync your mobile device via Bluetooth on the Track console to save all your workout data to the fitness app of your choosing.
Water Bottle, Cup Holders, Tablet and Phone Holders​
The Life Fitness T5 includes reading racks, accessory trays and cup holders, so you'll have a place for everything during your workout.
Product Specs​
The Life Fitness T5 is on the heavier side, coming in at 341 pounds, and though that makes it a bit difficult to assemble, it also makes it very sturdy and reliable. One of the best things about this tread's motor is its energy-saving abilities—it automatically adjusts to the user's weight to conserve energy when in use. This machine does have a large footprint though, so if you're looking for something you can shove in a corner, this may not be the right buy for you.
Motor Size​
The Life Fitness T5 has a 3.0 HP motor with 6.0 HP peak performance, but what's really cool about it is that it automatically adjusts to each user's weight, so it's not using the same output on lighter users that it would with heavier users, helping you save on your electricity bill.
Running Area​
The running area checks in at around average at 22 x 60 inches, which is a little wider than the average 20 inch track width. It's a nice touch that will feel more accommodating to larger runners.
Weight Capacity​
This machine can hold users of up to 400 pounds, which is definitely on the higher end of most treads.
Folding Options and Dimensions
This machine has a large footprint at 79.5 in x 32 in x 61, and it does not fold, so don't expect to be throwing this machine in a small space. It's also not super simple to assemble, so it may be worth spending the extra money to have Life Fitness assemble it for you.
Max Speed and Incline Range​
This tread hits the typical max speeds and inclines of 12 mph and 15 percent respectively, but the coolest related feature is the Quick Start option, which will start you right at your preferred speed and incline without you having to do any scrolling while finishing your pre-workout.
Electrical Requirements
This machine only requires your average home power outlet (120 volts), but what's great about it, is when it's plugged in but not running, it automatically reduces its power draw by 90%, saving you money on your next electricity bill.
Warranties​
With your purchase, you'll get a lifetime warranty on the frame, lifetime on the deck, 10 years on the motor, seven years on the parts and one year on labor.
Belt Information and Roller Size​
This machine has some industrial level motors—2.6 inches at the front, 2.0 inches in the back. The Life Fitness T5 has a 2-ply stretch resistant, heavy duty belt, so you can expect your track to last for years to come.
Cushioning and Feel​
The FlexDeck cushioning reduces impact on joints by 30 percent. There are three options for firmness which will keep workouts varietal and help decrease the opportunity for injury on runners' joints.
Workout Apps and Compatibility​
On the Track console, you can sync your mobile device with Bluetooth to track your stats in apps like Nike+, Garmin, MyFitnessPal, Apple Fitness+, Fitbit and more by syncing your LFConnect app to your fitness app of choice.
Subscription Options​
There are no specific workout subscription services through Life Fitness, but you can use the LFConnect app to track your stats with third-party apps via Bluetooth. You can also power up your tablet and stream a workout on there if you prop it up on the machine's tablet holder.
Places to Buy
You can buy the Life Fitness T5 on the Life Fitness website or on Amazon Marketplace.
Company Information​
Life Fitness has produced reliable treadmills for over 50 years. They also design other fitness equipment such as bikes and rowers and accessories, including medicine balls, heavy bags, and barbells.
FAQs
Is the Life Fitness T5 treadmill good?
The T5 is certainly a solid built, workhorse treadmill. We think it's worth the price and will last even the most avid runner a long time.
Do the Life Fitness T5 weigh you?
Yes and no. The display isn't going to announce your weight to you at all points of your workout, but as you run, the machine is weighing you to make sure the motor uses the right amount of energy based on your weight.
How long will the T5 last?
The average lifespan of a treadmill is seven to 12 years. If you're using it everyday for intense workouts, you can expect the lifespan to be on the shorter side, but if you use it less frequently, expect that lifespan to jump up closer to 12 years.