As a fitness enthusiast, you're used to pushing yourself through your training sessions, feeling the burn, and making major progress on your goals. You're working to build muscle, lift heavier, and leaving the gym feeling stronger. For cardio, you may bang out a quick and sweaty HIIT (high-intensity interval training) workout with a sky-high heart rate after lifting or on an off day.
It may seem counterintuitive, but sometimes slowing things down with LISS cardio — or low-intensity steady-state cardio — is beneficial. LISS is a type of cardio exercise done at a moderate pace for a longer period of time than HIIT. It's excellent for beginners. For dedicated strength athletes, it can also play a big role in active recovery days.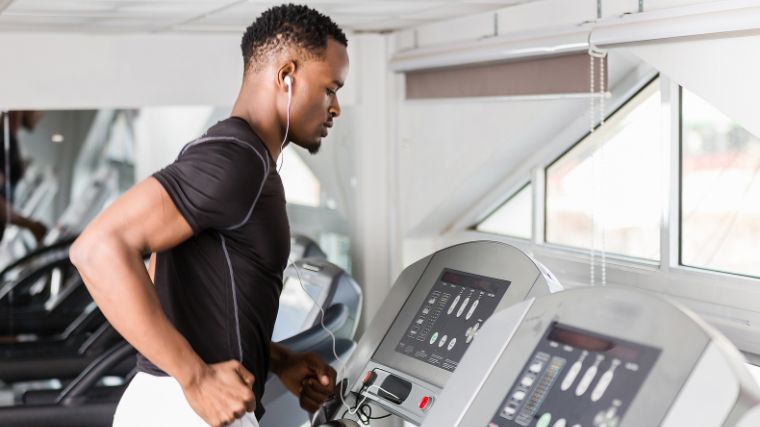 Here, we'll dive into all the details of LISS cardio: what it is, who should do it, how, when, and why. We'll also dip into the debate of LISS versus HIIT and leave you with the information you need to choose your preferred cardio workout.
Editor's Note: The content on BarBend is meant to be informative in nature, but it should not be taken as medical advice. When starting a new training regimen and/or diet, it is always a good idea to consult with a trusted medical professional. We are not a medical resource. The opinions and articles on this site are not intended for use as diagnosis, prevention, and/or treatment of health problems. They are not substitutes for consulting a qualified medical professional.
What is LISS Cardio?
LISS stands for low-intensity steady-state cardio. It's a form of cardio exercise that you can perform at a steady pace for a sustained amount of time without resting. You operate at a lower intensity than you may be used to as a strength athlete, but you'll be working continuously instead of splitting your work into discrete sets with rests in between.
Sustaining a lower heart rate while exercising — as in LISS training — can improve your aerobic capacity and offer many other health benefits.
What is Cardio?
Cardio is short for cardiovascular, and it usually refers to predominantly aerobic exercise. The American College of Sports Medicine (ACSM) defines aerobic exercise as any physical activity that utilizes large muscle groups and raises your heart rate and breathing. You perform it rhythmically and sustain it for a period of time. (1)
During aerobic exercise, your cardiorespiratory system delivers oxygen to your muscles for energy. Performing LISS cardio can improve your body's ability to continue delivering oxygen, which can help your heart work less hard in everyday life and in the gym. (1)
[Read More: The 9 Best Electrolyte Supplements of 2023]
According to the physical activity guidelines for Americans from the United States Department of Health, the American Heart Association (AHA) recommends a certain amount of cardio per week for adults. The amount can be 150 to 300 minutes of moderate-intensity aerobic exercise, 75 to 150 minutes of vigorous-intensity aerobic activity, or a combination of both. (2)
Reaching these recommendations can improve your heart health and help prevent cardiovascular diseases. (2) LISS cardio is a way of getting in your moderate-intensity aerobic exercise.
Type of LISS Exercises
When planning your LISS cardio workouts, you have several activities to choose from, including brisk walking, cycling, swimming, or hiking outside. If you prefer using a home gym or the weather isn't great, choose from the elliptical, walking on the treadmill, or using the rowing machine at a moderate pace.
[Read More: The 8 Best Treadmills With Screens of 2023]
Group fitness classes like yoga or dance are also good choices, but remember, it should be low-intensity exercise. A circuit-style or boot camp class with strength training wouldn't qualify as LISS because there are periods of intense activity followed by rest or lower-intensity periods.
Target Heart Rate
What does low-intensity mean, exactly? The easiest way to check would be by using the talk test. The AHA notes that a person should be able to talk but not sing during moderate-intensity exercise. In contrast, a person should not be able to speak or carry a conversation during vigorous-intensity exercise. (2)
Another way to gauge intensity is by tracking your heart rate on a heart rate monitor or wearable fitness tracker.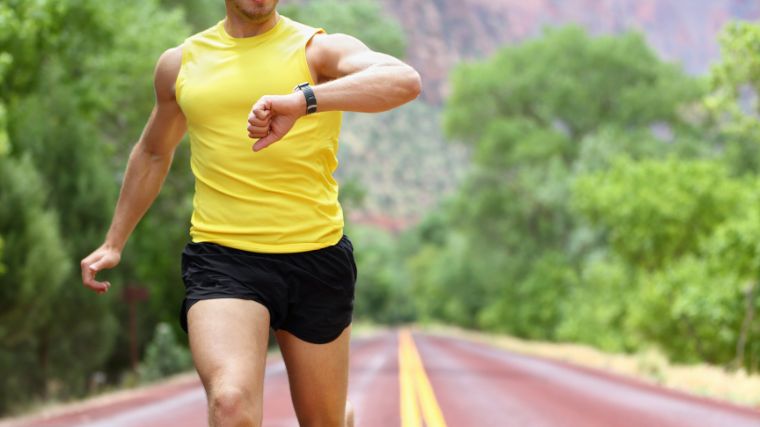 [Read More: What Is Heart Rate Variability? How to Use and Monitor HRV]
First, get your maximum heart rate by subtracting your age from 220. To find your target heart rate, multiply that number by different percentages. According to the Centers for Disease Control and Prevention (CDC), moderate-intensity exercise should be 64 to 76 percent of your maximum heart rate. For LISS training, you can aim for 50 to 65 percent. (3)(4)
Length of Session
Your LISS cardio workout can last from 45 to 60 minutes. There may be benefits to a 30-minute session if you're short on time. But since you are working at a lower intensity, the idea is to sustain it for an extended period.
Keep the length in mind when you're choosing your activity. If you're on a treadmill, keep the speed and incline at a level you can sustain for 45 minutes.
Who Should Use LISS Cardio?
Who is LISS cardio best for? Let's look at a few types of gymgoers.
Beginners
People who are new to exercise can start often immediately with LISS cardio. It's an easy addition to your beginner workout plan. LISS can be as simple as walking outside, so if you are physically able to walk, you can do it without any prerequisite skills or equipment.
Since it can be easy and enjoyable, you may be more likely to stick with it when starting a new exercise routine. You should be able to talk during low-intensity exercise — if you can't, lower the intensity to suit your needs — so you can even walk with a friend for more encouragement.
It's also important for beginners to learn resistance training to increase strength in their muscles. This will go a long way toward supporting LISS workouts.
Strength Athletes
It's not just about beginners. Strength athletes can benefit from adding LISS training to their weekly workout routines for active recovery.
Some research shows that low-intensity exercise can improve blood flow to your muscles when recovering from strength training. Increased blood flow may decrease delayed onset muscle soreness (DOMS) and improve your recovery so you can get back to lifting feeling strong and rested. (5)
Athletes Who Want to Improve Heart Health
LISS is a great option to help improve your cardiovascular health. Any form of physical activity can boost your heart health. However, sustaining a moderate heart rate for a longer period of time trains your heart to be more efficient at pumping blood and delivering oxygen to your body.
[Read More: 12 Best Cross-Training Shoes of 2023]
When your heart is more efficient, it doesn't have to work as hard in your everyday life, and you can lower your risk of a heart attack. (6)(7)
Benefits of LISS Cardio
Why put in the time for low-intensity, steady-state cardio? There are many benefits of LISS. LISS training can positively impact your physical and mental health, support fat loss, supplement strength and endurance programs, and help keep older people active. Here's how it all breaks down.
Improves Cardiovascular Health
One of the best-known benefits of cardio is strengthening cardiovascular health. It helps regulate blood sugar and blood pressure, lower cholesterol levels, and improve blood flow. In turn, your heart health improves, and you lower your risk of cardiovascular diseases. Cardio may also strengthen your immune system and help you get better sleep. (6)(8)(9)
Any type of cardio can get you these benefits, so they're not unique to LISS. However, LISS may be more approachable than other forms of cardio. So, it may be more likely that folks who are sedentary or new to exercise can participate more easily to improve their heart health.
Supports and Maintains Fat Loss
If you're trying to lose body fat, following a healthy diet and doing resistance training to preserve your lean muscle is essential. Doing LISS cardio workouts burns calories, boosting your total daily energy expenditure (TDEE).
Low-intensity exercise may help you burn fat more than high-intensity exercise. Since you're working at a lower rate of perceived exertion (RPE), you'll be able to exercise for a longer period of time. Although high-intensity interval training (HIIT) may burn the same amount of calories in a shorter period of time, the energy source matters.
LISS cardio workouts may increase your body's ability to burn fat as an energy source, while high-intensity exercise uses glycogen. (10)
If you've already lost weight, you'd probably like to keep it off while no longer reducing your food intake. According to the CDC, evidence shows continuing to engage in regular physical activity may be the only way to maintain weight loss healthily. (11)
Builds Endurance
Doing low-intensity steady-state cardio can help you prepare for an endurance event. Evidence shows that working well below your lactate threshold puts less stress on your cardiovascular system and can improve your aerobic capacity. (10)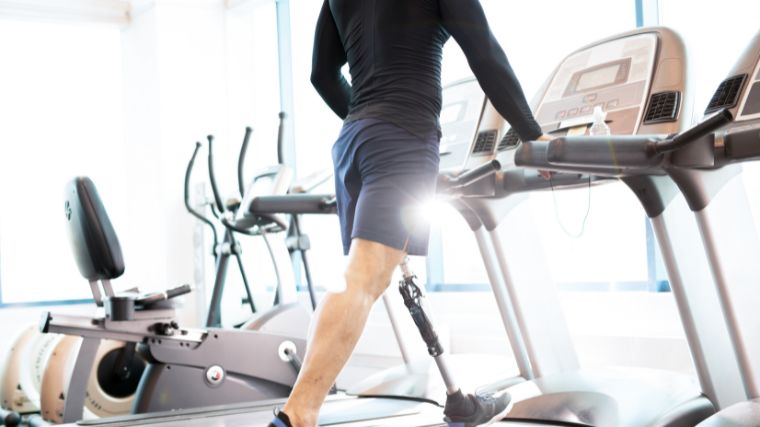 [Read More: Everything You Need to Know About Endurance Training for Strength Athletes]
If you're training hard for a marathon or other race, engaging in lower-intensity jogs or walks can help you continue training your heart and lungs while your muscles recover from your more intense workouts.
Good for Active Recovery
Strength athletes already put in a lot of time in the gym. You're getting other health benefits from lifting weights, but you're mainly depending on your anaerobic system by contracting your muscles for short bursts of time. Doing some LISS on an active recovery day works your aerobic system and provides different benefits.
One of the benefits of walking, cycling, or swimming for LISS exercise puts less stress on your joints and tissues, promotes blood flow, and may reduce inflammation between your strength sessions. It also gives you a mental break from intense lifting sessions, which may help you avoid overtraining.
Even if you are very active in the gym, you may still be sedentary if you spend the rest of your day sitting at work. Adding LISS sessions helps you get more movement in your day and can improve your mobility.
Low Impact
LISS workouts are generally low-impact. Low-impact workouts can benefit people who need to focus on injury recovery, people with hypermobile and sensitive joints, older adults, and anyone who wants to put a little less stress on their bodies but still get a good cardio session.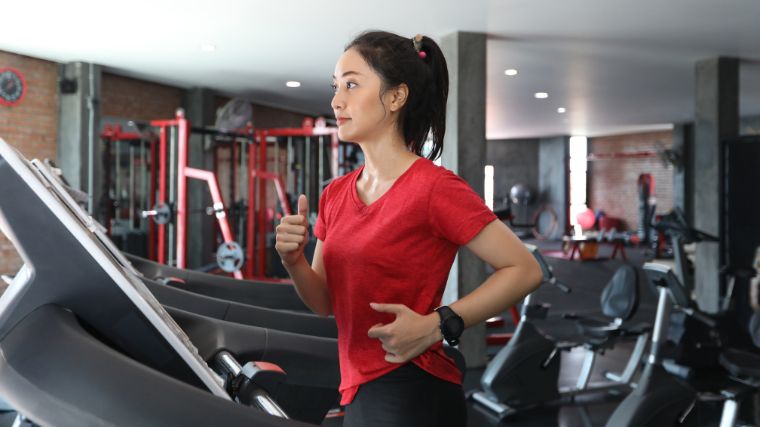 Some LISS exercises, like treadmill walking or using the elliptical, can be both low-impact and weight-bearing. Weight-bearing cardio exercise, resistance training, and proper nutrition help older people prevent or manage osteoporosis. Cis women are more likely to get osteoporosis as they age. Engaging in low-impact, weight-bearing LISS can help people of all genders maintain strong bones and joints. (12)
May Improve Mental Health
Aerobic exercise may help treat symptoms of anxiety and depression. Exercise can also boost your mood, self-esteem, and body image. It can help you cope with stress and improve your quality of life. Outdoor low-intensity walks through nature may also help you to reduce stress. (13)(14)(15)
Research shows that low-intensity exercise may benefit people experiencing chronic or severe depression. With depression, motivating yourself to get out for an intense workout may be difficult. For people with low fitness levels, moderate-intensity exercise may provide more enjoyment than high-intensity exercise, making them more likely to stick with it. (16)
Evidence also shows even a 10-minute, low-intensity walk can reduce stress and enhance mood for a sedentary person with depression. (16)
What Is LISS Compared to HIIT?
In the battle of the acronyms of cardio workouts, what is LISS versus HIIT? LISS stands for low-intensity steady-state, while HIIT stands for high-intensity interval training. Both are forms of cardio exercise done for different lengths of time at different intensities. Each may suit different types of gymgoers. Let's break it down.
High-Intensity Interval Training
High-intensity interval training, or HIIT, is characterized by short bursts of high-intensity exercise followed by short rest or active recovery periods. Alternating sprinting with a light jog is one example of a HIIT workout. You can also incorporate strength training by doing circuits of bodyweight exercises like squats, push-ups, and burpees in succession with short rest times.
LISS Vs. HIIT: Key Differences
Length of time: A LISS workout should be 45 to 60 minutes. You can do a HIIT workout in 10 to 20 minutes.
Level of intensity: In LISS, your target heart rate should be 50 to 65 percent of your maximum heart rate. In HIIT, you're aiming for 80 to 95 percent of your max heart rate during your short bursts of intensity and dropping to 40 to 50 percent for your rest.
Type of effort: In LISS, you're putting in a sustained effort for a longer period of time without resting. In HIIT, you're going as hard as possible for a short burst, taking a short rest, and repeating for an overall shorter period than a LISS session.
LISS Vs. HIIT: Key Similarities
Cardiovascular benefits: Both LISS and HIIT can improve your heart health and help prevent cardiovascular diseases when performed regularly.
Burns calories: LISS and HIIT both burn calories and increase your TDEE. Both types of cardio exercise can help you burn fat, although they may work different energy systems.
Builds endurance: LISS and HIIT both can increase your aerobic capacity and build your overall endurance. LISS may build endurance for longer activities, but HIIT can build endurance for working at a harder capacity for a shorter time.
How Do You Use It and When?
LISS, or low-intensity steady-state cardio, can be a beneficial addition to your exercise routine. Here's how to do it and when to incorporate it.
Choose Your Type of Exercise: Walking, hiking, cycling, swimming, elliptical, rowing, dancing, and yoga are all options for LISS — choose one you enjoy. If you are a runner, jogging may also be considered LISS. If you're not used to jogging, it may be too intense.
Set Your Level of Intensity: LISS needs to be a low-intensity exercise. You should be able to hold a conversation while doing it. You can also aim to be at 40 to 65 percent of your maximum heart rate. Stay in that heart rate zone for the entire workout.
Length of Session: Your LISS workout should ideally be 45 to 60 minutes, but 30 minutes can work if you're short on time.
Exercise Frequency: If you're a beginner, aim for two to three 45 to 60-minute LISS cardio workouts per week. Adding one 45 to 60-minute LISS session as an active recovery day for advanced athletes can be beneficial, especially if you are already doing HIIT.
Slowing It Down
In the midst of an intense workout routine, there's nothing wrong with slowing things down. For people who love to go hard at the gym, adding a low-intensity steady-state cardio session on an active recovery day can help improve your blood flow, reduce inflammation, work your cardiovascular system, and give you a nice mental break.
For folks new to exercising, LISS cardio is an accessible way to get moving to help improve your heart health and get you started on your fitness journey. You'll go about half as hard as you can push yourself, and you'll sustain it your whole session. So pop in your bluetooth earpbuds, take a walk, and enjoy.
FAQs
Let's answer some common questions on LISS.
What is LISS cardio?
LISS cardio is low-intensity steady-state cardio exercise. You do it for 30 to 60 minutes at a low enough intensity that you can hold a conversation mid-workout.
Is HIIT or LISS better for fat loss?
Both types of cardio can be beneficial for fat loss. Some evidence shows that LISS may be more effective at burning fat as an energy source. On the other hand, HIIT may tap into your anaerobic system, which increases your EPOC (excess post-exercise oxygen consumption) and continues burning calories after your workout.
You may be more likely to stay consistent with a type of exercise that you enjoy. If you like one better, that may be the one that's best for you.
What are some examples of LISS cardio?
Walking, hiking, cycling, swimming, dancing, and yoga sustained at low intensity for 30 to 60 minutes can be examples of LISS cardio. If you like using gym equipment, try hopping on the elliptical, rowing machine, or walking on the treadmill.
What does LISS stand for?
LISS stands for low-intensity steady-state cardio.
What is LISS cardio good for?
LISS cardio improves your cardiovascular health and can boost your mental health. It can help you lose fat and maintain it. LISS is good for building endurance and active recovery from strength training. It is often lower impact than other modalities, which is beneficial for older adults or people recovering from or training through injuries.
References
Patel H, Alkhawam H, Madanieh R, Shah N, Kosmas CE, Vittorio TJ. Aerobic vs anaerobic exercise training effects on the cardiovascular system. World J Cardiol. 2017 Feb 26;9(2):134-138.
Piercy, K. L., & Troiano, R. P. (2018). Physical Activity Guidelines for Americans From the US Department of Health and Human Services. AHA Journal, 11(11).
CDC. Target Heart Rate and Estimated Maximum Heart Rate. Centers for Disease Control and Prevention.
Tanaka H, Shindo M. The benefits of the low intensity training. Ann Physiol Anthropol. 1992 May;11(3):365-8.
Tufano, James J.; Brown, Lee E.; Coburn, Jared W.; Tsang, Kavin K.W.; Cazas, Vanessa L.; LaPorta, Joe W.. Effect of Aerobic Recovery Intensity on Delayed-Onset Muscle Soreness and Strength. Journal of Strength and Conditioning Research 26(10):p 2777-2782, October 2012.
Nystoriak MA, Bhatnagar A. Cardiovascular Effects and Benefits of Exercise. Front Cardiovasc Med. 2018 Sep 28;5:135.
Tian D, Meng J. Exercise for Prevention and Relief of Cardiovascular Disease: Prognoses, Mechanisms, and Approaches. Oxid Med Cell Longev. 2019 Apr 9;2019:3756750.
Nieman DC, Wentz LM. The compelling link between physical activity and the body's defense system. J Sport Health Sci. 2019 May;8(3):201-217.
Banno M, Harada Y, Taniguchi M, Tobita R, Tsujimoto H, Tsujimoto Y, Kataoka Y, Noda A. Exercise can improve sleep quality: a systematic review and meta-analysis. PeerJ. 2018 Jul 11;6:e5172.
American Council on Exercise. HIIT vs. Steady State Cardio: Which One is Best for Your Clients? ACE Fitness.
CDC. Physical Activity for a Healthy Weight. Centers for Disease Control and Prevention.
Benedetti MG, Furlini G, Zati A, Letizia Mauro G. The Effectiveness of Physical Exercise on Bone Density in Osteoporotic Patients. Biomed Res Int. 2018 Dec 23;2018:4840531.
Sharma A, Madaan V, Petty FD. Exercise for mental health. Prim Care Companion J Clin Psychiatry. 2006;8(2):106.
Jan Knapen, Davy Vancampfort, Yves Moriën & Yannick Marchal (2015) Exercise therapy improves both mental and physical health in patients with major depression, Disability and Rehabilitation, 37:16, 1490-1495.
Kondo MC, Jacoby SF, South EC. Does spending time outdoors reduce stress? A review of real-time stress response to outdoor environments. Health Place. 2018 May;51:136-150.
Craft LL, Perna FM. The Benefits of Exercise for the Clinically Depressed. Prim Care Companion J Clin Psychiatry. 2004;6(3):104-111.
Featured Image: Samuel Borges Photography / Shutterstock