It's not often we see a supplement with this many claims, though the one that leaps out the most from its packaging is, "the most powerful, high-impact, life changing whole meal superfood in existence." What else does LivingFuel's SuperGreens promise?
Then there are these promises: "Use it and you will experience a new level of energy, vitality and performance," "can help boost energy levels, stabilize blood sugar, optimize weight, build muscle and detoxify your body" and finally, "everything your body needs."
Did LivingFuel's product live up to the hype?
(We tried 47 brands: check out our best green superfood powder picks!)
Ingredients
They're helpfully separated into eight clear cut categories: Superfoods, Enzymes, Probiotics, Amino Acids, Herbs, Antioxidants, Vitamins, and Minerals.
The "Superfoods" blend includes barley grass leaf, spinach, kale, broccoli, dulse, kelp, and chia seeds. There are six digestive enzymes; 7.5 billion probiotics from three strains; the Amino Acids are comprised of glutamine, leucine, and taurine; the Herbs contain astragalus, milk thistle, turmeric, and ginkgo biloba. The Antioxidants include Quercetin, green tea catechins, and grape seed extract.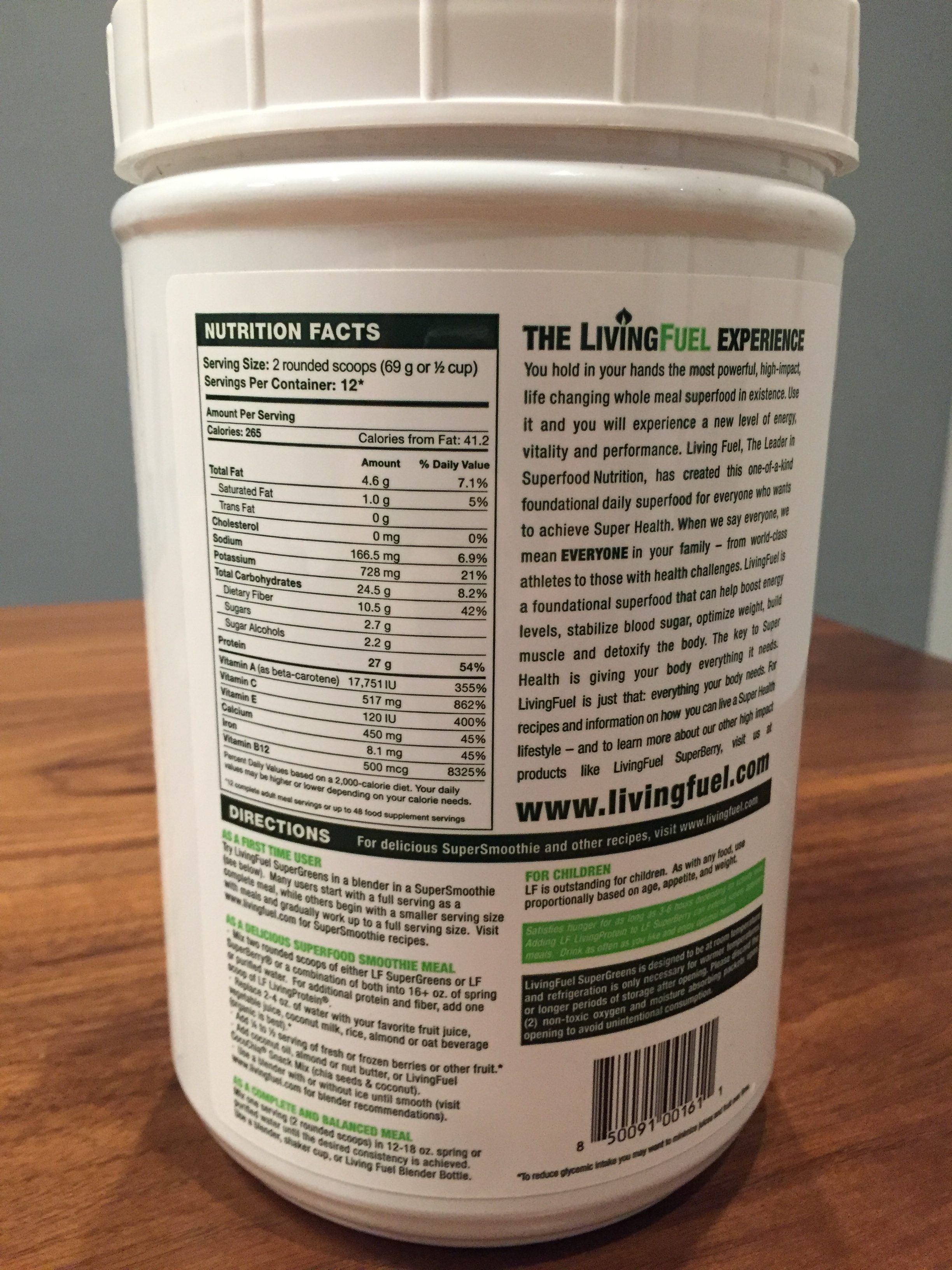 Then we arrive at the vitamins and minerals, which appear to have been added in their isolated forms. I'll delve into this in more details below, but they include hefty amounts of all the biggest hits: Vitamins A, C, D, E, K, most of the B-Vitamins, magnesium, calcium, and zinc are all present in very high amounts.
But I should emphasize that the calories and serving size are gigantic compared to other greens powders, in part because this is intended to double as a protein shake: one serving is two scoops that total 265 calories, 4.6 grams of fat, 27 grams of protein, 24.5 grams of carbohydrates, and 10.5 grams of fiber.
Taste
Proudly free from sweeteners, LivingFuel is very earthy and nutty (although it's also nut-free). I'd liken it to the taste of sacha inchi nut, a South American nut that's relatively popular among both vegans and ketosis fans: it's a little like defatted peanut butter without the sugar. It's earthy, nutty, and a little bitter. The good thing is that it doesn't taste like the sea vegetables and grasses that are present in high quantities, the bad news is that unless you like bold, earthy flavors, you probably won't be a fan.
The product itself recommends dropping it into smoothies or milks, which I'd recommend too.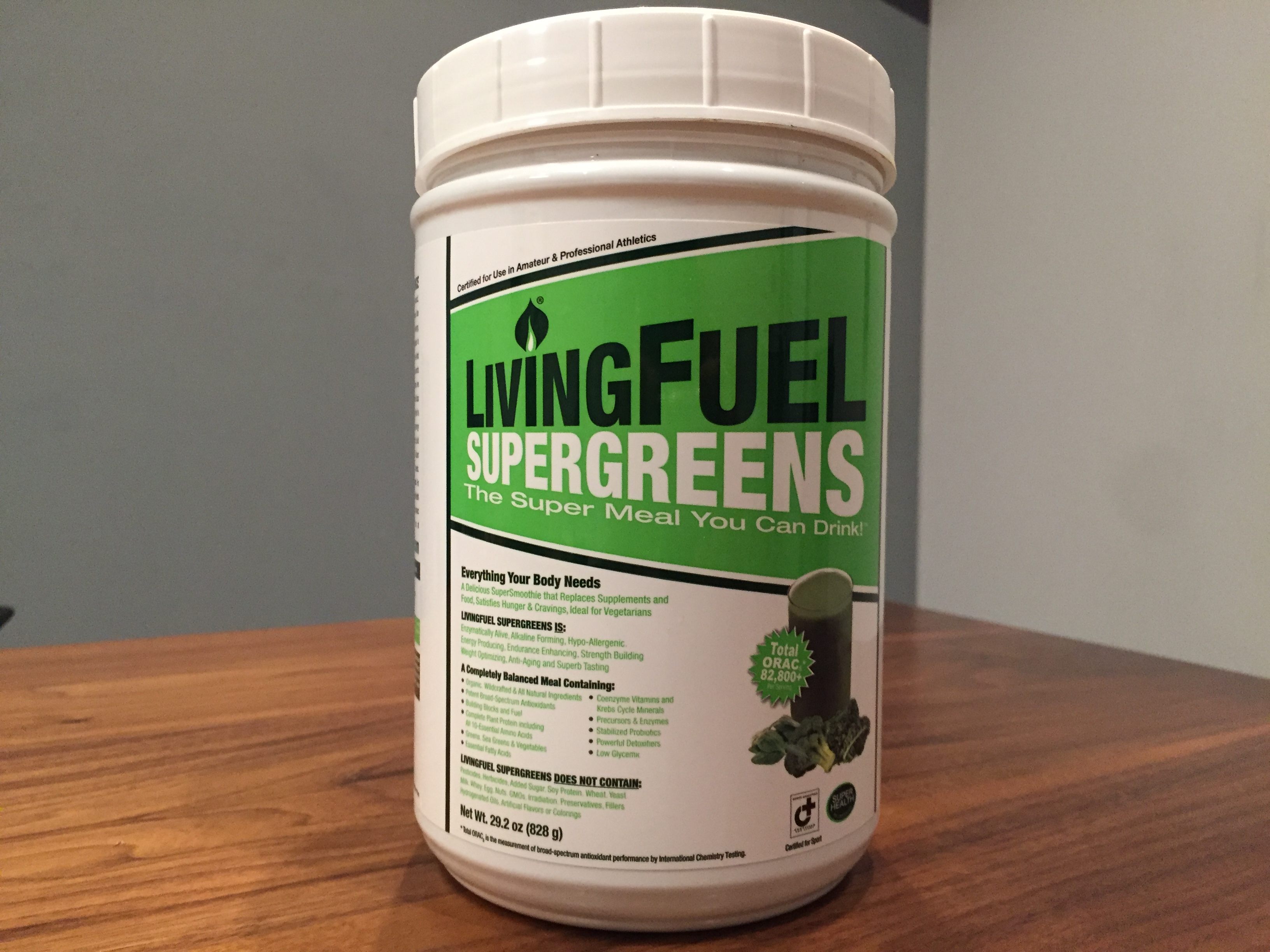 Effectiveness
OK, it is probably pretty effective. What I really like is that it puts numbers behind its claims; instead of saying it's high in something, it tells you how high its serving is.
To start with, it includes its ORAC rating — a tool used to measure antioxidant content — and it comes in at 82,800, more than six times the antioxidants found in a cup of blueberries. That's the highest I've ever seen, even higher than ORAC-Energy Greens.
It also quantifies its probiotics with 7.5 billion per serving, which is about the middle of the road as far as what most greens powders offer. That said, a lot of greens powders don't actually tell you how many probiotics they have, so I appreciate that LivingFuel went to the trouble of measuring its serving.
As far as vitamins and minerals go, this product really stands out. One serving (which, at half a cup, is enormous) provides more than 8,000 percent of the recommended daily intake of Vitamin B12; 600 percent of your Vitamin K; 500 percent of your B6; about 300 percent of your Vitamins B1, B2, E, and manganese;  200 percent of your Folate; 167 percent of your Vitamins A and D; and about 100 percent of your selenium, zinc, magnesium, and Vitamin A.
There's more nutrition than that, but those are the biggest hits. The large serving size, high protein level, and extreme amount of nutrition reminds me of its competitors Shakeology and Kylea's Total Living Drink Greens, which have similar benefits but are a little cheaper.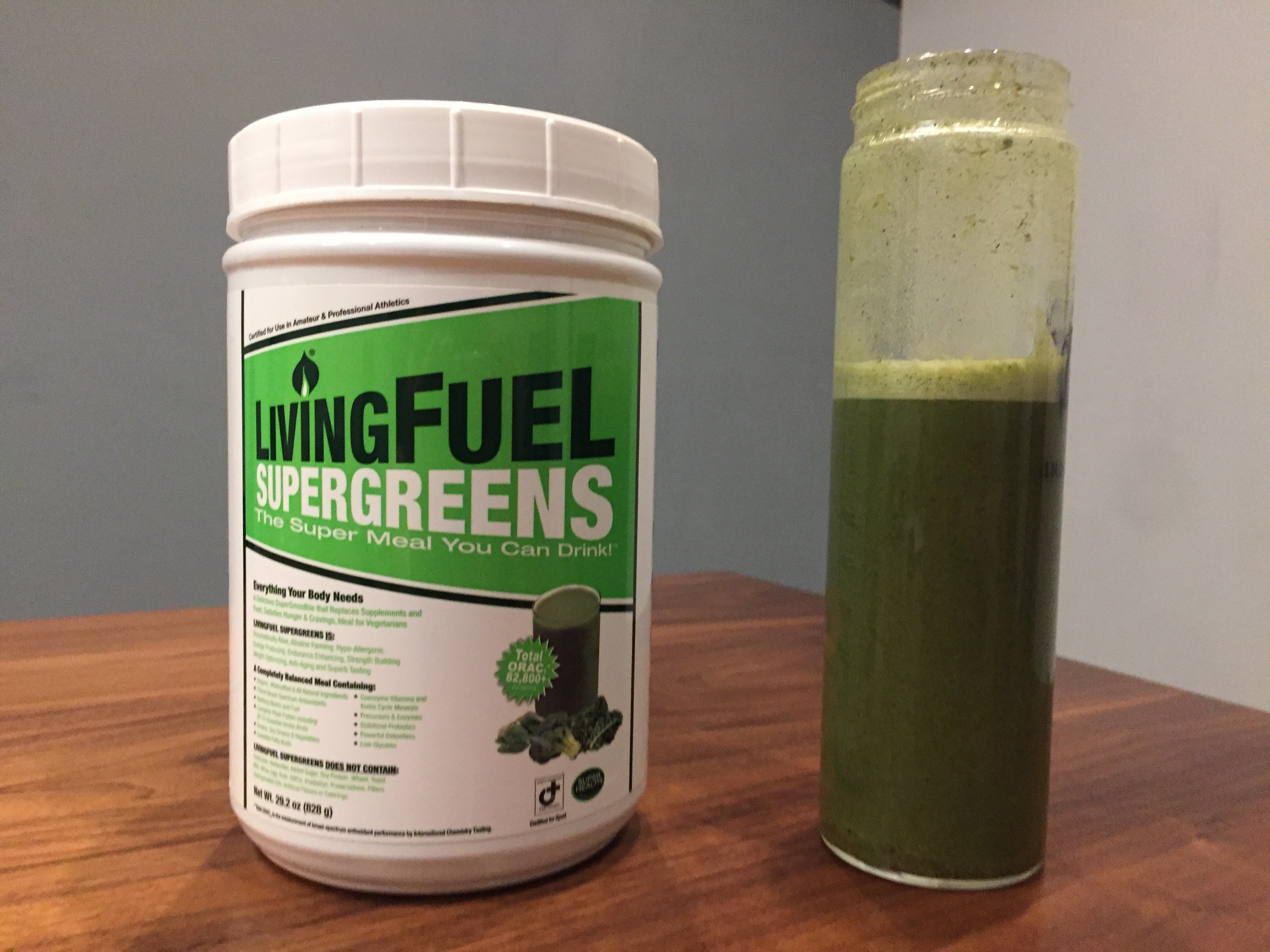 Price
Remember that the serving size is big, so a thirty-ounce tub provides just 12 servings for about $68, which comes to $5.66 per serving.
That's really, really, really expensive. Personally, I'd just take one scoop at a time, which would still deliver an extraordinary amount of nutrition at half the cost. Even then, it would cost $2.83 per scoop, which is still really expensive for a greens powder. But it's not so outrageous for one of the bulkier, higher-protein, meal-replacement greens powders like Shakeology ($4.33/serving) and Kylea's Total Living Drink Greens ($3.33/serving).
The Takeaway
First, the obvious: this does not provide everything your body could possibly need. LivingFuel has a great product here, but I don't think they needed to venture so far into hyperbole.
But nutritionally speaking, it's great. Everything is quantified: the vitamins, the minerals, the probiotics, even the antioxidants. You can pick this up, look at what it contains, and decide if it will give you what you need. That sounds like something any supplement should do, but it's very rare among greens powders.
I liked this product. The marketing should be toned down, but it goes above and beyond its competitors. Take half a serving at a time, and it might even be affordable.