It might be a little premature to say, but this year's IPF World Classic Powerlifting Championships have been nothing short of thrilling. Yesterday, we covered Ida Ronn and Kloie Doublin's epic battle for the -72kg women's junior world championship title, and today we got to witness another epic showdown in the women's -57kg open weight class.
Canada's Maria Htee and USA's Meghan Scanlon put on absolute show, and similar to Ronn and Doublin's battle, the World Championship title came down to the final deadlift.
To kick off the meet, Htee and Scanlon both went 2-for-3 in the squat at an IPF Classic World Championship that is becoming known for its strict calls on squat depth. Htee opened with an easy 165kg, then successfully completed a 172.5kg second attempt. Unfortunately, Htee missed her final 175.5kg squat due to being red lighted for depth.
Scanlon opened with 175kg, but got called for depth and took the weight again for a successful second attempt. On Scanlon's third squat, she completed a successful 178kg attempt to earn a new IPF -57kg Open World Record. 
Heading into the bench press, Scanlon had positioned herself with a 5.5kg lead over her rival.
Htee went 3-for-3 on the bench press. She opened with a successful 95kg press, then completed a 100kg second attempt, and a 102.5kg third.
Scanlon also went 3-for-3 and opened with 105kg, then bumped up 5kg to make an easy 110kg second attempt. For Scanlon's final attempt, she successfully hit 115.5kg, which was enough to earn her another -57kg Open World Record. 
At this point, Scanlon had taken taken a strong 18.5kg lead over Htee and had racked up two Open World Records. However, the deadlift is one of Htee's strongest lifts, and this where things get interesting.
Scanlon opened up her deadlift attempts with an easy 170kg pull, while Htee took 180kg. This was a lift that shaved Scanlon's lead to only 8.5kg.
For her second attempt, Scanlon completed a 177.5kg deadlift and Htee missed her 190kg second pull. At this point, Scanlon had secured a strong 471kg total, and increased her lead to 16kg heading into the third deadlifts. 
Scanlon called for 180kg on the bar for her third attempt, but unfortunately missed the lift around the mid-shin. Htee needed a huge deadlift to make back up the 16kg deficit she was in.
For her final attempt, Htee called for 197.5kg on the bar — this was 7.5kg more than the lift she just missed. The lift moved quickly off the ground, then Htee took about 4 seconds to fully lock out before earning a 'good lift' from the judges. This massive deadlift pushed Htee to first place with a 472.5kg total and earned her a -57kg Open World Record.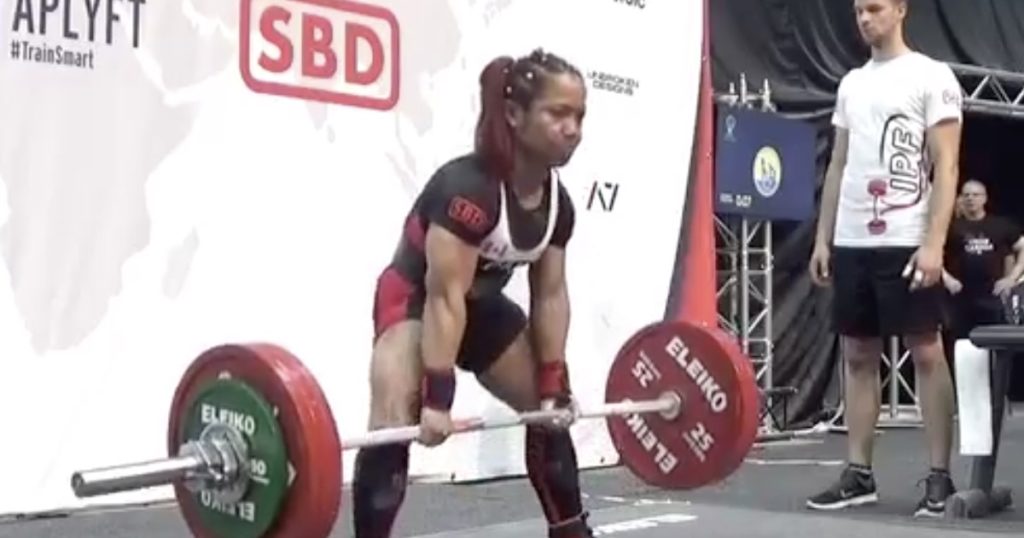 Hats off to both Htee and Scanlon on their epic battle, efforts, and new world records. This year is shaping up to be one the most exciting IPF World Classic Powerlifting Championships in recent years.
Feature image from International Powerlifting Federation Facebook page.