World record-holder Megan Jacoby has fans celebrating hard after her performance in Anaheim, California.
At HYROX Anaheim on April 22, 2023, Jacoby competed in the pro division and did not let a smaller field hold her back from breaking barriers. She became the first woman ever to go sub-60 in a HYROX pro race, setting the new fastest women's HYROX time ever at 58:58.
Jacoby came into the event with her best time set at 1:01:56. She set that world record at the Chicago 2022 race, but was soon beaten out by Mikaela Norman, who set a new record of 01:00:45 at the Hamburg race just weeks later.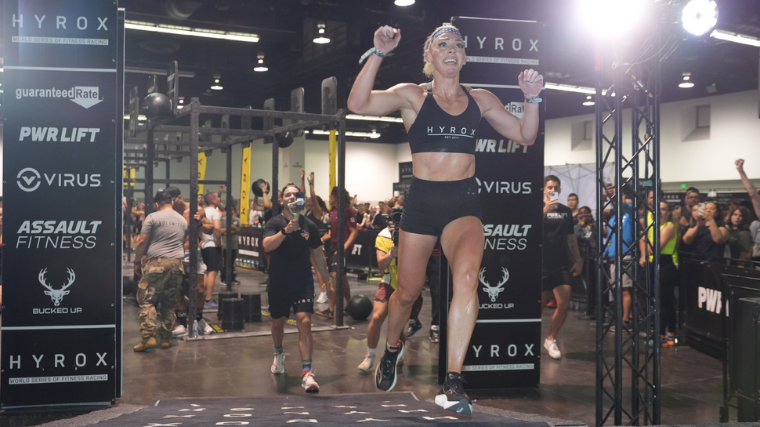 All the more reason for Jacoby to return with a vengeance in her last race before the 2023 World Championships. Here's how it all shook out.
2023 HYROX Anaheim Results
Jacoby set a world record, but she wasn't the only one to put on an impressive performance in Anaheim. The results for the Men's and Women's pro divisions are below:
2023 HYROX Anaheim Elite Pro Women's Results
Jacoby was the only well-known female athlete at the Anaheim event. This may have had fans questioning whether or not it was a day for breaking records. The incredible athlete that she is, Jacoby was still able to push herself to a new level without anyone else on her tail.
Belle Macfarlane, making a name for herself as well, was just over five minutes behind her, placing second with a time of 01:04:08.
Here are the full standings from the race.
Megan Jacoby (USA) — 00:58:58
Belle Macfarlane (USA) — 1:04:08
Lauren Rantala (USA) — 1:08:38
Lauren Griffith (ESP) — 1:11:05
Kayti Simonson (CAN) — 1:11:14
Jen Thompson (USA) — 1:11:58
Alex Shabo (USA) — 1:14:10
Kelsea Sloss (USA) — 1:17:14
Kendall Robowski (USA) — 1:18:02
Samantha Faddis (USA) — 1:18:44
Lauren White (USA) — 1:19:07
Lindsey Diefenderfer (USA) — 1:20:34
Michelle Wall (USA) — 01:21:08
Natalia Pendás Franco (ESP) — 01:21:10
Amirra Besh (USA) — 01:22:07
Cheryl Snow (USA) — 01:22:33
Kira Wasylak (CAN) — 01:24:11
Amber Nelson (USA) — 01:24:14
Andrea Clyburn (USA) — 01:24:16
Stacey Gregg (USA) — 01:26:30
2023 HYROX Anaheim Elite Pro Men's Results
The men's side wasn't without its thrills, with Anass Zouhry sliding into second place behind Ryan Kent. Despite a solid effort and nearing a personal best time, Rich Ryan couldn't quite secure a spot in the Elite 15 — though he did secure a podium finish.
Ryan Kent (USA) — 00:57:10
Anass Zouhry (USA)— 01:00:50
Rich Ryan (USA)— 01:01:11
Marc Howe (USA) — 01:01:36
Grady Jackson (USA) — 01:02:22
Jesse Bruce (USA) — 01:03:02
Chaz Hatton (USA) — 01:07:11
Zachary Wade (USA) — 01:08:57
Adrian Dahlin (USA) — 1:09:09
Juan Herrerra (USA) — 1:09:42
Tim Snee (USA) — 1:10:39
Luca Lorenzoni (USA) — 1:11:04
Dave Martinsky (USA) — 01:12:28
Jake Gibbs (USA) — 01:12:31
Darian Feick (USA) — 01:13:28
Jason France (USA) — 01:14:21
Hunter Faris (USA) — 01:14:35
Zach Reuther (USA) — 01:14:38
Alexander Fallek (USA) — 01:14:45
Alejandro Sanchez (USA) — 01:15:22
Megan Jacoby's World Record
Jacoby hasn't revealed if she went into the Anaheim race with a plan to break the record. Her social media was quiet, with no word of even attending the event in the first place. But she made her presence known, and the star athlete did not disappoint.
Jacoby absolutely crushed her previous all-time best record by over three minutes in Anaheim. In doing so, she's given the HYROX world something to talk about and set herself up as the athlete to watch out for at the 2023 HYROX World Championships, scheduled for May 22-23 in Manchester, UK.
After her record-breaking performance, Jacoby had few words on her social media. But honestly, no words are needed. She simply posted: "This weekend was one for the books."
View this post on Instagram
[Read More: 2023 HYROX Málaga Results — The Leaderboard Has Shifted in Spain]
She also went on to say how proud of herself she is and thanked everyone for their support, noting that her story is just beginning.
Sure enough, Jacoby was very new to the sport when she originally set the record in 2022. This left plenty of room for improvement as she raced more and gained more experience. It leaves HYROX fans wondering what will come from her future performances.
On to the HYROX World Championships
The 2023 HYROX season may have seen records shattered, but it's not over yet. There are still qualifying races taking place from Hong Kong to London ahead of the 2023 HYROX World Championships, which will take place in the penultimate weekend in May. Stay tuned to BarBend's coverage for continual updates.
Featured Image Courtesy of HYROX