MRM is a supplement company based in Oceanside, California, and their name stands for "Metabolic Response Modifiers." That seems to just mean "sports supplements" and their site claims that the company is "dedicated to furthering of nutritional modalities in the arena of Alternative Healthcare."
Their branch chain amino acid supplement is unusual because it's both extremely cheap and made without artificial sweeteners or colors. It's also contains a lot more than just BCAAs.
MRM BCAA+G Reload Post-Workout Recovery Ingredients
One serving is three little scoops that add up to about 14 grams. That provides 10 calories and 2 grams of carbs — no protein, fat, or fiber to speak of.
A serving contains 3.5 grams of leucine, 1.5 grams of isoleucine, and 1 gram of valine. Most BCAAs have a 2 or 3:1:1 ratio of leucine to isoleucine and valine. MRM has a 7:3:2 ratio which is a little unusual, but not significantly different to a normal 3:1:1 ratio.
Other ingredients include a day's intake of Vitamin B6, four percent of the RDI of sodium, 1.6 grams of beta-alanine, and 2 grams of glutamine.
The "other ingredients" mostly relate to flavorings: citric acid, natural watermelon flavor, stevia, monk fruit extract, trehalose (a type of carbohydrate made of glucose), plus some red beet powder and some silicon dioxide, an anti-caking agent.
Note that there are no artificial flavors, colors, or sweeteners, plus there's no soy and no gums (like carrageenan) either.
[See out top BCAA picks HERE]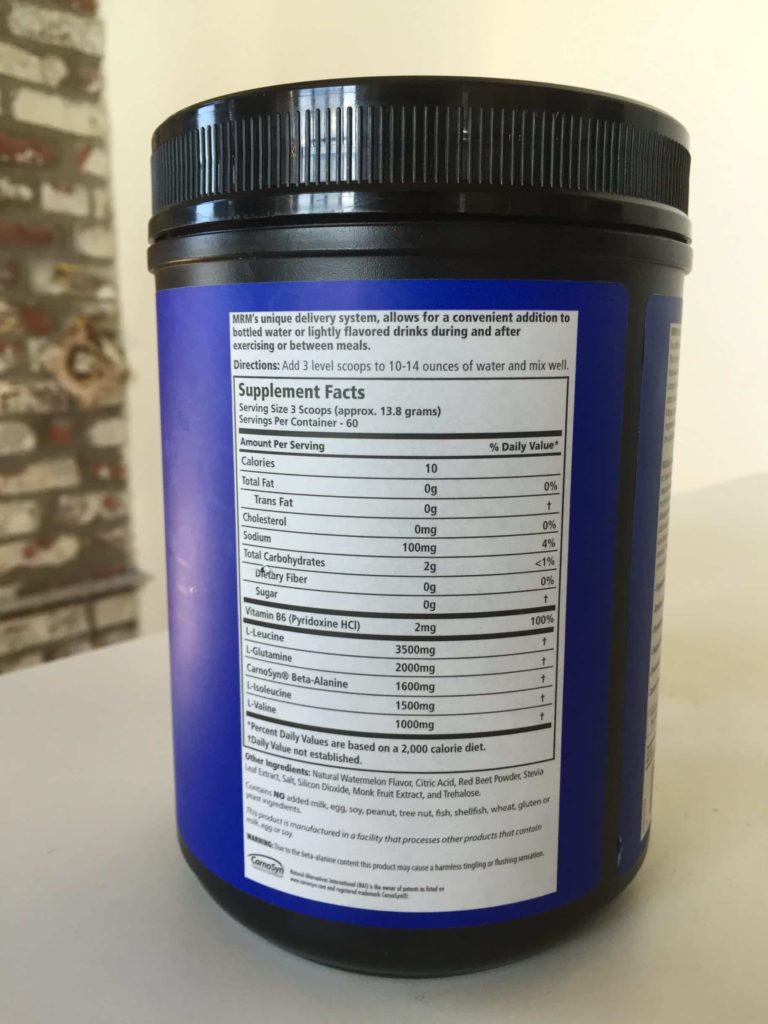 MRM BCAA+G Reload Post-Workout Recovery Benefits and Effectiveness
The leucine, isoleucine, and valine have been linked to better muscle retention, endurance, and focus during workouts. This product is also pretty high in sodium (4 percent of your RDI) so it should help with hydration.
The beta-alanine, meanwhile, may help with endurance and possible even hypertrophy (though the hypertrophic effect may just be because it can help some people finish more reps). It's a little unusual to have what most people use as a pre-workout as a significant part of what is ostensibly a post-workout recovery drink but everything suggests that MRM BCAA+G can be used as a pre-workout or intra-workout as well. However, 1.6 grams is a very small amount of beta-alanine that may not be that effective — 5 to 6 grams is what's usually recommended to get a proper effect.
There are two grams of glutamine in this product as well. There's nothing wrong with glutamine, but its reputation as a muscle builder is probably overblown. When taken as a supplement, most of it gets stored in the gut and doesn't make its way to the muscles.
Lastly, the Vitamin B6 may help with muscle retention, so it's always nice to see it in a workout supplement, particularly since we appear to lose B6 when we exercise.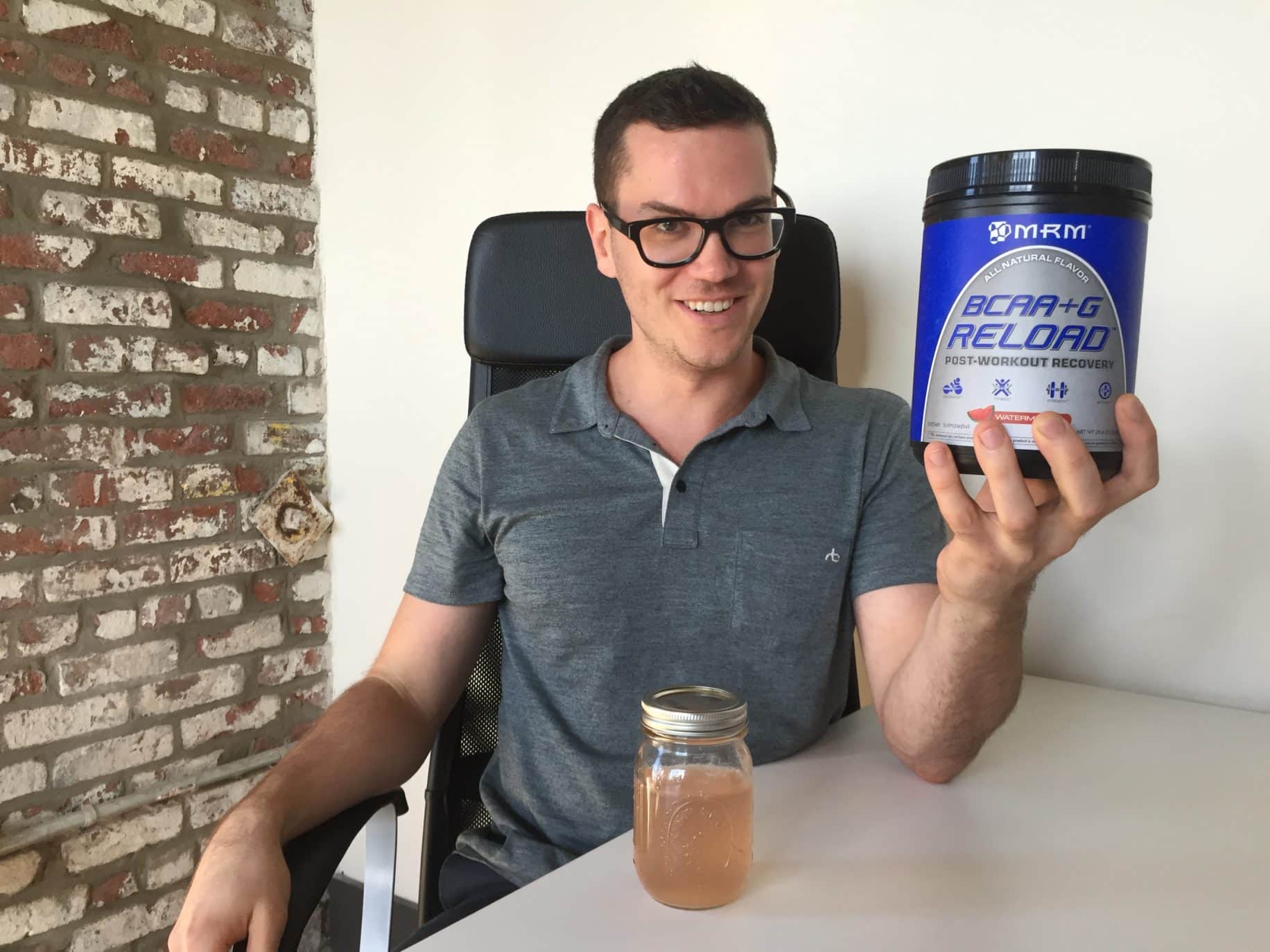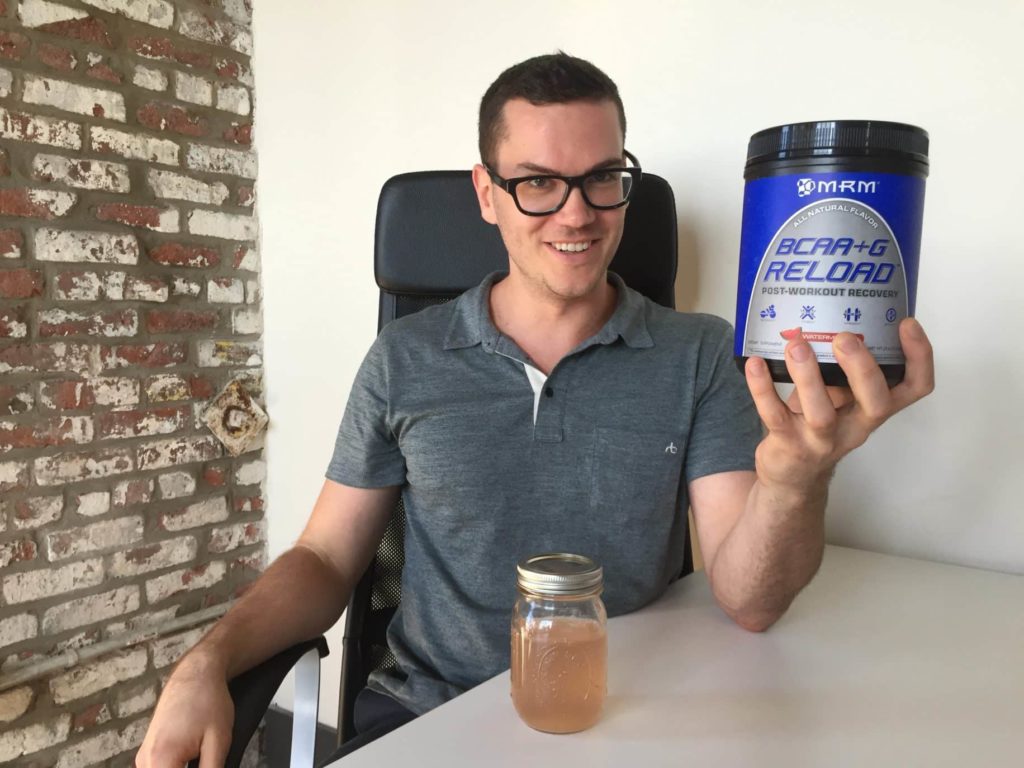 MRM BCAA+G Reload Post-Workout Recovery Price
You can pick up 840 grams for $29, which will provide 60 servings for about 48 cents each. Each serving provides about 5 grams of BCAA, so that's 9.6 cents per gram of BCAA. That's very cheap — most  of the popular inexpensive brands stay around 11 cents per gram of BCAA.
MRM BCAA+G Reload Post-Workout Recovery Taste
I tried the Watermelon flavor and unfortunately, it wasn't great. While there's certainly a market for tasty, naturally sweetened BCAAs, it doesn't seem to me like MRM has perfected their taste formula yet. Although it contains the flavorings stevia, malic acid, citric acid, natural watermelon flavor, and even monk fruit extract, this product was a bit bitter, and didn't really taste too much like watermelon.
The Takeaway
It's rare to find an inexpensive BCAA that's naturally sweetened and an effective supplement. That's MRM BCAA+G, which has a good ratio of BCAAs, has nothing artificial, and is very cheap. Unfortunately, I found the taste to be a bit lacking. However, for a lot of people, this may be a worthwhile sacrifice given how rare it is to find an effective, "all-natural" product like this one.
MRM BCAA+G Reload Post-Workout Recovery
Per Serving: $0.48