The NordicTrack Commercial S15i is one of the most advanced indoor bikes on the market. From the included iFit subscription to its rotating touchscreen display, this bike is more than just a tool for cycling — it's a full workout experience. It's built to replicate a real road ride and give you the tools that will keep you hooked on cycling for years. If you're considering which bike you want to add to your home gym and you love technology, the NordicTrack Commercial S15i may be the bike for you.
Main Takeaways
With your purchase, you'll receive a free month of

iFit

— a $39 value. 

This bike has a rotating 14-inch touchscreen display, so you can use your iFit subscription on and off the bike. 

There are 22 resistance levels, along with incline and decline options.
NordicTrack Commercial S15i Exercise Bike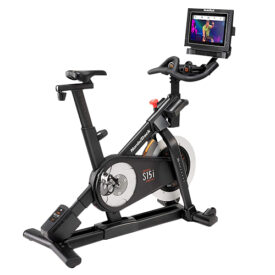 NordicTrack Commercial S15i Exercise Bike
The NordicTrack Commercial S15i is great for anyone who wants modernizations like an included fitness subscription, a large touchscreen display, and incline and decline options. Plus, the sturdy build and padded seat will hold up throughout years (possibly even decades) of usage.
NordicTrack Commercial S15i Bike Highlights​
If you're looking for a modern, has-it-all indoor bike option, the S15i checks all the boxes. The NordicTrack Commercial S15i is loaded with high-tech features like a rotating touchscreen display, a free month of iFit, incline and decline options, and more. However, if you aren't into the technology and want a bike that's no fuss, the NordicTrack S15i may not be for you.
Who Should Buy the NordicTrack Commercial S15i
Athletes who enjoy streaming fitness classes as they ride.
Anyone who wants a big display screen to watch classes and track their stats.
Riders who want incline and decline options in addition to adjustable resistance.
Who Shouldn't Buy the NordicTrack Commercial S15i
Bikers who just want to pedal and don't need the additional tech.
Anyone looking for a budget-friendly bike.
Users who would rather use a tablet or mobile device holder for usage during their ride.
Price​
This bike goes for $1,599, which is slightly on the higher end of the spectrum as far as indoor bikes go. It does come with a free month of iFit though, which is a $39 value. If you're into the idea of Peloton and it's bike + classes model, the NordicTrack Commercial S15i is certainly a competitor to consider, and the base price for this NordicTrack bike compared to the Peloton equivalent is hundreds of dollars cheaper.
Overall Build and Quality​
We found that the S15i is one of the higher quality bikes out there — and that's not just because of its modernized features. The NordicTrack S15i has a sturdy steel frame that can hold up to well over a decade of consistent usage, as well as incline and decline options that most indoor bikes don't have. On top of that, you'll find plenty of technology, a comfortable seat, versatile pedals and adjustments to cater to your body style.
Features​
With this bike's price, the dollars are certainly going toward advanced features and a quality build. You'll find loads of stat-tracking, Bluetooth connectivity, iFit classes, a touchscreen display and speakers that all cater to an immersive riding experience. What's great about this bike is that the rotating display screen allows for this immersive experience to continue on the floor if you want to take strength or yoga classes off the bike, as well.
Stats Tracking and Metrics​
The NordicTrack Commercial S15i tracks calories burned, resistance, distance, heart rate, time, speed and wattage throughout your ride.
Display​
This machine has a 14-inch, 360-degree rotating HD touchscreen display, which — without using so many fancy words — just means you can turn the screen while you aren't on the bike to stream strength or yoga classes from the floor as well.
Included workouts​
Though this bike doesn't come with pre-programmed workout options, it does come with a free month of iFit, which includes over 16,000 live and on-demand classes you can choose from. The only downside is that, after your free month, in order to have workouts to choose from, you'll have to continue your iFit membership for $39 per month. This is on par with other popular interactive fitness subscriptions on the market.
Workout Apps, Compatibility​ and Subscription Options
The NordicTrack Commercial S15i comes with a free month of iFit. For the month, you'll have access to iFit's entire library of live and on-demand classes, which include bike, strength, yoga classes, and more that you can do on and off the bike.
Ride Feel and Comfort
This bike has a smooth ride and includes one-touch controls, so you won't have to scramble to adjust your resistance during your workout. In addition, the ergonomic padded saddle will provide optimum cushion during your seated recoveries.
Heart Rate Monitoring​
While this bike does not come with a heart rate monitor, you can sync your own through Bluetooth and the NordicTrack S15i will track your stats on-screen for you.
Fans
This bike features an Autobreeze workout fan to keep you cool throughout your ride.
Speakers
There are two 2" digitally amplified speakers, so you can feel fully immersed in your iFit classes or sync your own music through Bluetooth to blast throughout your session.
Water Bottle, Cup Holders, Tablet and Phone Holders​
You'll find an accessory tray and two water bottle holders for storage, but you won't find any sort of smart device holder — the touchscreen display will be your source for all things iFit streaming on this bike.
Bluetooth and Audio Options​
This bike has Bluetooth connectivity to sync up your own headphones and/or heart rate monitor.
HDMI, USB and Other Inputs​
While there's no USB port, there is an auxiliary port for headphones if you'd prefer to plug in to listen to your iFit classes.
Product Specs​
This sturdy 203-pound piece of equipment is built out of commercial grade steel, so you know it will hold up throughout consistent usage. It has 22 levels of resistance with its inertia-enhanced flywheel and its silent magnetic resistance makes for a near silent ride each time. And if you find yourself needing to move your bike, the front wheels will lend you a hand and make the move easy on any firm surface.
Bike Type
The NordicTrack S15i is an upright bike featuring an inertia-enhanced flywheel, which makes for a smooth ride every time.
Resistance
The inertia-enhanced flywheel has 22 levels of resistance that you can adjust to change your difficulty. And what's rare is that on top of that, this bike also has incline and decline options that range from 10 to 20 percent to further control the intensity of your ride.
Pedals
The NordicTrack S15i has standard road bike pedals, so you won't need any fancy riding shoes to lock into them.
Seat and Handlebars
The seat and handlebars are adjustable both vertically and horizontally, making the bike customizable to most body sizes and user preferences.
Dimensions
This machine measures 55.75" x 22" x 61" which is a little larger than most indoor bikes, so be wary of this if you are trying to put this bike in a small space — there's no way to break it down into a smaller size and store it when you're not using it, so be conscious of its footprint.
Weight Capacity​
This bike can handle users up to 350 pounds, which is just above average for indoor bikes.
Portability
You'll find front frame mounted transport wheels for easy maneuvering when you need to switch up your workout location.
Electrical Requirements
You'll just need your average in-home, 120-volt circuit to power this bike.
Warranties​
With your purchase, you'll get a lifetime warranty on the frame, three years on parts and one year on labor.
Noise
The silent magnetic resistance feature allows you to cycle in near silence, making this a great pick for anyone living in a big household who doesn't want to disturb others as they bike during their at-home workouts.
Places to Buy
You can buy the NordicTrack S15i through NordicTrack's website.
Company Information​
NordicTrack is known for its fitness class subscription, iFit, which offers virtual live and on-demand classes. The company produces high-quality bikes, rowers, treadmills, ellipticals and strength equipment. They offer a 30-day trial period, and if you don't love your purchase after a month, you can send it back for a full refund. If you need to reach their customer service number, call 1-888-308-9616.
FAQs
Can you use the NordicTrack Commercial S15i without iFit?
Yes, if you're okay with just riding solo, you can pedal away even without iFit, but if you want any sort of instruction or guidance, you will need an iFit membership after your free month ends.
Can you watch TV on the NordicTrack Commercial S15i?
Sadly, no. The touchscreen display on the bike is made for streaming iFit classes only, so there's no option to sync your Netflix or Hulu account through the bike.
Is the NordicTrack Commercial S15i worth the money?
It depends on what you need in a bike. If you're looking for a Peloton equivalent at a slightly lower price point, then this bike has a lot of potential. However, if you just stream fitness classes once or twice a week, there are much cheaper options out there with tablet holders (in place of the touchscreen display for iFit streaming) that you can use when you want to stream a class.