Based in Edison, New Jersey, PlantFusion was founded by two guys who already worked in the nutrition industry. One created a popular chain of health food stores and the other a "nutritional innovation company," and when they met they bonded over their frustration with the prevalence of what they saw as "inferior filler ingredients" like rice and soy in most vegan products.
The two forged an alliance and swore to "use only the most nutrient dense plant-based ingredients, free of major allergens and easy to digest." PlantFusion was born, an unusual company that owns and operates its own USDA Organic-certified production facility. What that means is there's no likelihood of contamination with major allergens and animal products. Many if not most supplements have a small disclaimer: "made in a facility that also processes dairy, soy, eggs, shellfish, tree nuts," and so on, and so on. PlantFusion doesn't, which means it makes some of the most hypoallergenic products on the market
We decided to take Complete Plant Protein for a spin to see how it holds up.
PlantFusion Complete Plant Protein Nutrition Information
One serving has 120 calories: 21 grams of protein, 4 grams of carbohydrates (all sugar), and 2 grams of fat (no saturated fat).
There's not really anything to talk about regarding micronutrients. There's 16 percent of the daily intake of sodium and 2 percent of your daily potassium, but there are no other vitamins or minerals.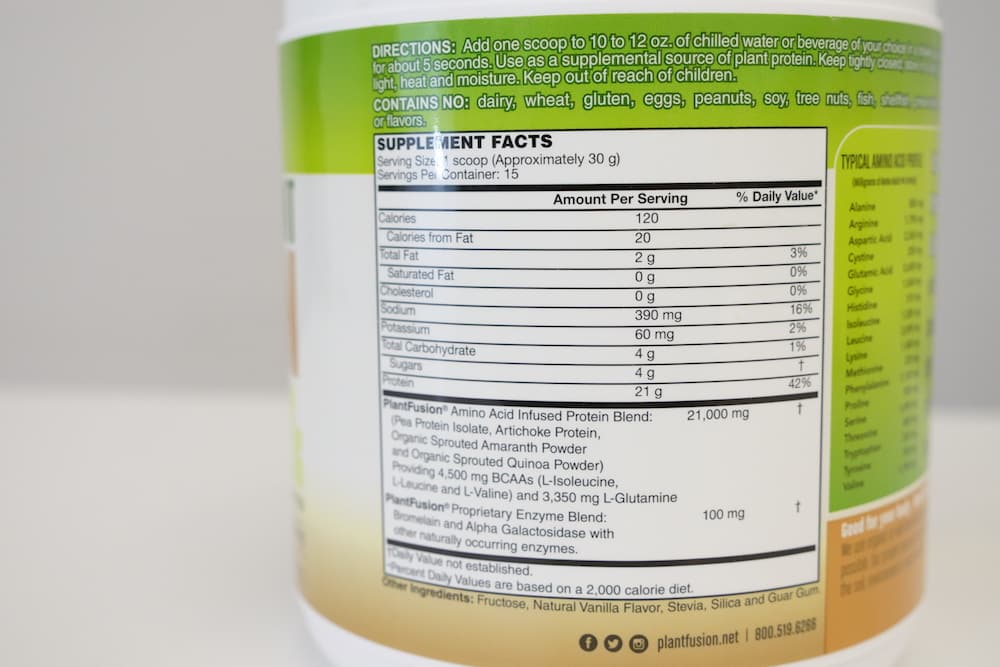 PlantFusion Complete Plant Protein Ingredients
The main ingredient is the PlantFusion Amino Acid Infused Protein Blend. That's made of pea protein isolate, artichoke protein, organic sprouted amaranth powder, organic sprouted quinoa powder. There's some extra information on amino acids here, too: there are 4.5 grams of branched chain amino acids and 3.35 grams of glutamine per serving.
There's also the PlantFusion Proprietary Enzyme Blend that contains bromelain and alpha galactosidase "with other naturally occurring enzymes."
The other ingredients are fructose, natural vanilla flavor, stevia, silica, and guar gum.

PlantFusion Complete Plant Protein Benefits & Effectiveness
There are a lot of pros to this product. First off, it's pretty darn high in protein: 21 grams of protein in 120 calories with just 4 grams of carbohydrates is unusual for a vegan protein powder, which tend to be a little higher in carbs. (Not that there's anything wrong with that.)
It's also very transparent in its labeling. Not only do you get a good amount of information regarding BCAAs and glutamine, you get the typical amount of each amino acid you'll get in each scoop.
There are no artificial sweeteners or even preservatives here either.
The fact that it's made in its own facility is also remarkable. As mentioned above, it means no cross contamination with animal products or allergens. There's no gluten, dairy, soy, peanuts, eggs, dish, or shellfish whatsoever. This isn't important to a lot of people who don't have allergies or don't mind their vegan products being made in the same facility as animal products, but it's a nice option for those who do find these aspects important.
PlantFusion Complete Plant Protein
PlantFusion Complete Plant Protein
PlantFusion Complete Plant Protein offers a quality dose of nutrient dense plant based protein in every serving!
Finally on the "pro" side, I like the enzymes. These may help to better digest the food and absorb nutrients, however I'm never crazy about proprietary blends and I would have liked to have known what enzymes are contained in the product.
Other downsides: no vitamins and minerals. Given this is full of pea and artichoke and amaranth and quinoa, I would have expected there to be at least some B-vitamins and Vitamin C, and a lot of folks like some micronutrients in their protein powder, particularly vitamin B12 and iron, which can sometimes be a little tricky to get on plant-based diets.
Finally, not all of the ingredients are organic. Again, not a big deal for everyone but if it is, PlantFusion also has an all organic protein.
PlantFusion Complete Plant Protein Price
You can pick up one pound for $30, which offers 15 servings per tub. That comes to $2 per serving or 9.5 cents per gram of protein. That price drops to 8 cents per gram if you pick up a two-pound tub.
That's not a bad price for a naturally sweetened vegan protein powder, but it's not great. There are a lot of all organic vegan protein powders that cost around 6 or 7 cents per gram of protein.
PlantFusion Complete Plant Protein Taste
There are five flavors available and I grabbed Vanilla. First off, the powder is very fine and mixes a lot better than competing brands. The flavor was very sweet — no doubt the result of 4 grams of fructose per serving combined with stevia. The end result was closer to a caramel flavor than vanilla, but if you like caramel you'll be happy.
The Takeaway
I was disappointed by the price and the lack of nutrients and fiber, but this product has a lot going for it. It's got a great macro split, it's got some digestive enzymes, and most impressive it doesn't have any contamination from allergens or animal products. If those are more important to you than having a protein powder that doubles as a vitamin supplement, then you'll be happy with PlantFusion.