Rainbow Light is a supplement company that offers a women's multivitamin called Rainbow Light Vibrance Women's Multivitamin plus Balance & Energy, which is vegetarian, gluten-free, certified organic, and Non-GMO certified.
The product claims to include vitamins and minerals that "support estrogen metabolism, promote steady, natural energy levels, help fortify the immune system, and eases digestive complaints and support gut health". We decided to take a closer look. It's worth noting that Rainbow Light offers several Women's Multivitamin blends, and today we're specifically looking at their "Plus Balance & Energy" formulation.
Rainbow Light Vibrance Ingredients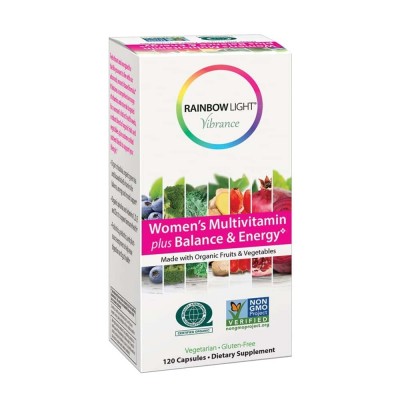 Rainbow Light Vibrance: Women's Multivitamin plus Balance & Energy has 23 ingredients including 20 vitamins and minerals and 3 specialty blends. Of these ingredients, the supplement offers 100%-175% of your recommended daily values for 7 vitamins and minerals, and 200% (or more) of 5 vitamins and minerals.
[In the market for a multivitamin but aren't sure which is right for you? Check out our rundown of the Best Women's Multivitamins HERE!]
Below, we highlight some of the ingredients in Rainbow Light Vibrance: Women's Multivitamin plus Balance & Energy, including the ones we deemed as particularly uncommon or noteworthy ingredients for a women's multi.
Note: Multivitamins shouldn't be seen as replacements for a healthy diet or medication. It's always a good idea to talk to your doctor before beginning a new fitness, nutritional, and/or supplement routine. Individual needs for vitamins and minerals will vary. 
B-Vitamins
By now you've probably heard the buzz of the B Vitamin Complex. This complex is like a factory made up of 11 incredibly diligent workers who ban together to create and sustain the bodies energy supply by breaking down the micronutrients we consume (fats, proteins, carbs).(1) These workers are also known for helping the factory (you) fight fatigue and stress.(2) There are many different kinds of B vitamins: Thiamin (B1), riboflavin, niacin, pantothenic acid, biotin, vitamin B6 (pyridoxine), folate (called folic acid when included in supplements), vitamin B12 (cyanocobalamin). And Rainbow Light Vibrance: Women's Multivitamin plus Balance & Energy packs in 5 of the 11 B Vitamins.
Rainbow Light Vibrance Women's Multivitamin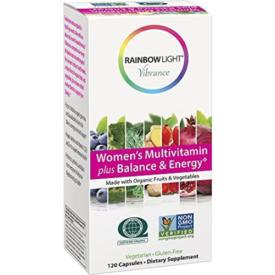 Rainbow Light Vibrance Women's Multivitamin
With 20 ingredients, this is packed with nutrients and also seems to benefit gut health.
There's 25 Mg (or 1667%) of Thamin Vitamin B-1, 25 Mg (or 1471%) of Riboflavin Vitamin B-2, 20 Mg (or 1000%) of Vitamin B-6, and  7 Mcg of Vitamin B-12 (or 1117%). The company claims that "this comprehensive B-vitamin complex provides steady energy to get you through your day," and research suggests that B Vitamins may have that effect.
https://www.instagram.com/p/BcsRHg-BFeZ
Vitamin D 1000 UU
Vitamin D is involved in almost everything we do like building proteins and enzymes, boosting the immune system, and fighting inflammation. It's also important for bone health, which is why we look out for it in supplements in the 50+ crowd.(3) Rainbow Light Vibrance offers 250% of your daily needs, so if your 50+ this should catch your attention. Because it's hard to get the right amount from food, you have to get the rest of your daily needs through sun exposure (which is tricky during the winter) and supplementation.
Biotin 500 Mcg
If a multivitamin is marketed "for women", typically you'll find a hearty serving of biotin in it. That's because Biotin is great for luscious locks and it has been shown to boost nail health.(4) While good dietary sources of biotin include Swiss chard, tomatoes, romaine lettuce, carrots, onions, cabbage, cucumber, cauliflower, and mushrooms, getting enough may be tough especially for picky eaters so the fact that this supplement offers 167% of your daily values is a plus.
Molybdenum 75 Mcg
This is probably the most surprising ingredient on the list, because it's not often included in multivitamins. That's because humans don't need much of it, and what we do need we usually get from food. Its basic role is to help us break down fats and carbs for energy. But it's also abundant in human tooth enamel and may have a role in lowering the risk of tooth decay (NBD for women in their 20's, but might be important for women 50+).
Folic Acid 800 Mcg
Whether you're growing out your nails, fighting depression, or looking to fight inflammation, this ingredient is a must. And if you're trying to cut pounds, here's a bonus: one short study suggests that even a low-dose daily folic acid supplement could reduce inflammation in people who are overweight, which may be why at 200% daily values Rainbow Vibrance claims to support metabolism.(5)
https://www.instagram.com/p/BZdyJhphKPO
Women's Balance & Energy Blend 308 Mg
This name of this blend is a little strange, but according to the ingredient label the blend is made up of organic rhodiola, organic dong quai, organic green tea, organic red clover, and dim (diindolylmethane) complex. The product claims that, "organic rhodiola and green tea provide additional support for feminine balance, energy and mood".
We're not totally sure what a feminine balance is, but it's worth noting that while some studies support the conclusion that adaptogens like rhodiola have promise and potential at reducing stress, improving attention, upping endurance, and fighting fatigue. More research needs to be done to determine whether or not they actually do much for your insides. (And because you're paying for these special ingredients, this multi is probably best for women who have used and found benefit in adaptogens previously.)
Organic Antioxidant Fruit & Vegetable Blend 1076 Mg
This ingredient sounds like something you might order at a smoothie shop. But it's actually a combo of spirulina, lingonberry/cranberry, acai, lycium, pomegranate, blueberry, broccoli, kale, and beet.  It was tricky to find out much info on this ingredient on the Rainbow Light website, but the company does say "these antioxidant-rich foods work to scavenge free radicals and help fight the signs of aging," which suggests it's a plus for older women.
Prebiotic & Probiotic Digestive Support Blend 789 Mg
This blend is made up of organic inulin (from agave sp.), organic milk thistle seed, organic artichoke leaf, organic ginger root, protease, amylase, lipase, cellulase, and probioactive™ 25,000,000 cfu. The ingredients of this blend may sound a little unusual, but basically it's a probiotic with "organic artichoke and ginger to ensure the formula is easy on the stomach," according to the website.
This is noteworthy because digestion affects how we absorb our supplements, and probiotics and digestive enzymes may actually increase the nutrient absorption from the food you're eating. That means not only is the supplement helping you absorb your food, it may actually help you reap the benefits of the other 22 ingredients.
Other ingredients include:
Vitamin A 2500 IU

Vitamin C 60 Mg

Vitamin E 30 IU

Niacin 30 Mg

Pantothenic Acid 10 Mg

Iron 4 Mg

Iodine 75 Mcg

Zinc 5 Mg

Selenium 50 Mcg

Copper .5 Mg

Manganese 1 Mg

Chromium 150 Mcg
It's also worth noting that the multivitamin is free of artificial preservatives, colors, flavors, and sweeteners. That means it contains zero cellulose, stearic acid, sodium croscarmellose, magnesium stearate, silica, hypromellose, and glycerin which are typically used in vitamins to help give the pill it's shape and flavor. Instead, this multi uses organic brown rice and vegetable polysaccharide to keep its shape.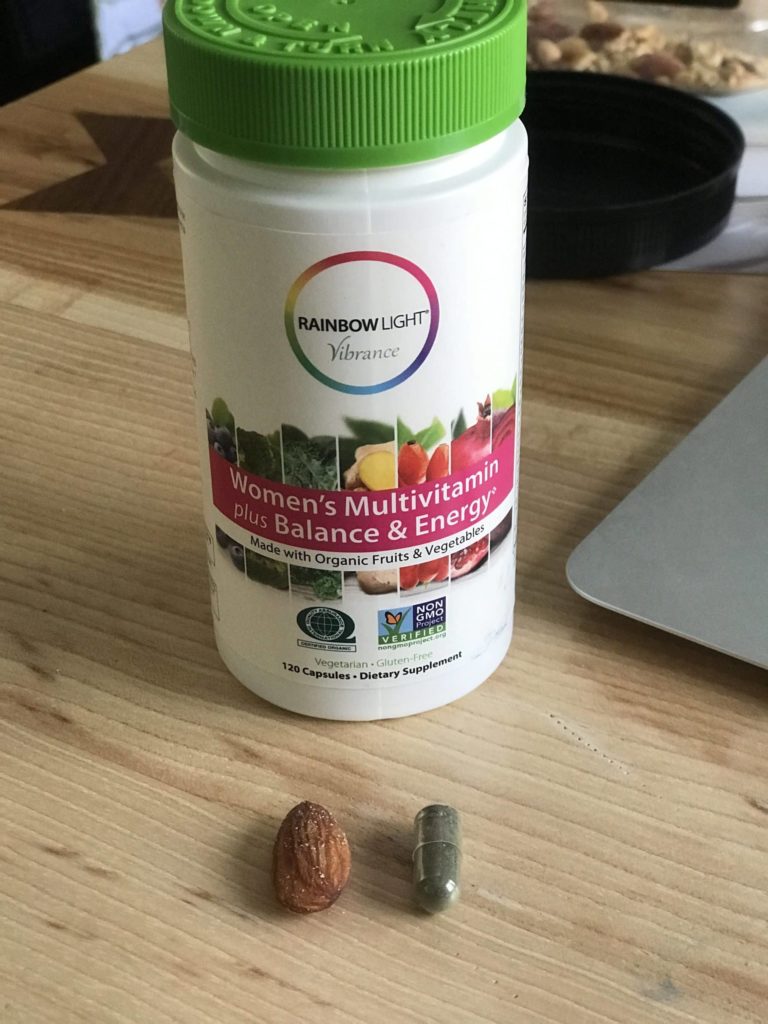 What's Missing?
You may be surprised to see that a few common ingredients like Omega 3s, Vitamin K, Boron and Calcium are missing from this multi.
It's also worth mentioning that the multi does not include a few ingredients that active women usually look for on an ingredient label such as Lycopene, Alpha Lipoic Acid, Coenzyme Q10, or Calcium.
Rainbow Light Vibrance Multivitamin Benefits and Effectiveness
I've mentioned in past reviews that I have a sensitive stomach. Sometimes protein powder is the culprit of my mid-WOD belly-aches, other times it's too much coffee. But other times it's from the iron in my daily multivitamin. When I saw that Rainbow Light Vibrance 1) doesn't have much iron (4 Mg which is 22% daily values, not enough to upset my stomach) and 2) contains a digestive support blend, I decided to give it a try. (More on those two benefits below).
When I unscrewed the cap for the first time, I immediately noticed that the pills were way larger than I expected them to be given that you have to swallow 4 pills per serving! Each pill is about the size of 1 cashew or almond. Good news is that swallowing pills has never been an issue for me, so the size didn't bother me but it might be an issue for you if swallowing NSAIDs give you trouble.
The pills didn't smell like fish or garbage, they actually smelled a bit like (organic) carrot juice, which isn't too bad. That said, I left the capless bottle next to my plate of eggs the first morning I took the pill and by my second bite of omelette, I had to screw the cap back on. The smell was making me a little nauseous. Every morning after that I made sure to screw the cap back on the bottle after taking my 4 pills out, and didn't get nauseous (wahoo!).
https://www.instagram.com/p/BVpe_Idh6-u
I took my multi's with breakfast every morning to avoid any possible pill-burps, so I can't speak to taking these babies on an empty stomach. But the bottle does say, "Gentle enough to be taken on an empty stomach or with food". Interestingly, the bottle also says, "capsules may be opened to sprinkle on food or mix into a drink". So even if you haven't experienced indigestion or heartburn from supplements in the past, you should be fine because I found the pills very easy to digest. That said, the pills don't taste great. They taste like romaine lettuce if you put a piece of it in your mouth and didn't chew for 2 minutes. It's a mild flavor, but the pill certainly doesn't taste like strawberries and cream.
After reading the reviews online I was on the lookout for more energy. One woman claimed that, "This vitamin only has the good stuff that a busy woman needs with a lot of stress and demands in her life" while another said "These vitamins really work. I kept falling asleep each morning after the alarm went off every morning. Now I'm able to get up and get moving". The reviews were promising, but I didn't feel any boost in energy. It's only a daily multivitamin not an espresso or butter coffee, after all.
What stands out to me the most about this product is that my stomach really was calmer by my second week of taking it. Likely, that's due to combination of things. For one, I stopped taking my previous multivitamin which packed over 100% of my daily needs or iron, but which also slightly harsh on my stomach because of its high iron content. Rainbow Light may only pack 4 Mg or 22% of Iron, which is low for a women's multivitamin, but I eat a decent amount of meat, fish, eggs, nuts, seeds, spinach and whole grains all which have the mineral. Additionally, the vitamin does contain a prebiotic and probiotic digestive support blend. I've taken a probiotic supplement in the past, and I noticed similar benefits to what I found taking Rainbow Light: calmer stomach, less belly gurgles, and a more regular bathroom schedule.
Anytime I see a nutrition label with 1000% daily values listed for one or more ingredients, I get nervous that I'm just going to end up peeing out all the nutrients I paid for. Here's how it works: When it comes to vitamins, how well we're able to absorb nutrients, matters a lot. If we can't absorb the nutrients, we end up flushing them down in a puddle of bright yellow or orange urine. But according to my pee-color, my body was actually able to absorb the B vitamins in Rainbow Light Vibrance. And it didn't affect the smell of my pee! I read all the Amazon reviews of the product as well, and no reviewer mentioned that the product turned her pee a dark or neon yellow, so it's likely it won't tint your urine either.
Another highlight of the product is that it's vegetarian, gluten-free, contains no: gluten, wheat, milk, tree nuts, peanuts, soy, eggs, fish, or shellfish and is both Certified Organic and Non-GMO Certified. It's also worth mentioning that Rainbow light as a company prioritizes transparency. While the company does not list where each of the ingredients in this women's multi are sources, Rainbow Light does offer their 4-step potency and purity testing standard online.
A potential downfall of this product is that it includes Women's Balance & Energy Blend and Organic Antioxidant & Vegetable blend, both of which contain ingredients which are not super well researched. However, many products in the supplemental market are not well researched, so this should not come as a surprise.
Overall, as an active women in my 20's, I liked this product, but I don't think it's the best match for me because it's missing some key ingredients for active women. Instead, with a hearty serving of B-vitamins and emphasis on digestive support, and well as it's my opinion that the ideal candidate is someone who wants to supplement their diet with a multivitamin, but has a sensitive stomach. Or women who are over the age of 50, due to the inflammatory-fighting benefits of B-vitamins and the benefits of molybdenum.
Rainbow Light Vibrance: Women's Multivitamin Plus Balance & Energy Price
The biggest complaint about this product online was the price, so that may be your complaint, too. One bottle packs 120 pills and costs around $49.99. That brings the price to 42 cents per pill, but because one serving is 4 pills, that's actually $1.68 per serving. Or $11.76 per week. Which if you think about it isn't that bad, it's about the cost of 3 green juices or 1 salad, but it may be a con for some.
The Takeaway
Overall, I enjoyed this product. It has over 20 ingredients (some of which promise some rad benefits), it didn't taste atrocious, and didn't upset my stomach (it actually made some of my stomach problems better!). Not to mention that if you have food allergies or are ra-ra for organic, Non-GMO, and transparency, this multi has your back.
If you have a hard time swallowing pills, are looking to see benefits ASAP, or really looking for a supplement that will help you recovery faster from exercise, this probably isn't the pill for you.
But otherwise, I don't see many drawbacks in incorporating this vitamin into your wellness routine.
Featured image: @rainbowlight on Instagram
References
1. Kennedy DO, et al. B Vitamins and the Brain: Mechanisms, Dose and Efficacy–A Review. Nutrients. 2016 Jan 27;8(2):68.
2. Stough C, et al. Reducing occupational stress with a B-vitamin focussed intervention: a randomized clinical trial: study protocol. Nutr J. 2014 Dec 22;13(1):122.
3. Laird E, et al. Vitamin D and bone health: potential mechanisms. Nutrients. 2010 Jul;2(7):693-724.
4. Hochman LG, et al. Brittle nails: response to daily biotin supplementation. Cutis. 1993 Apr;51(4):303-5.
5. Valentini L, et al. Impact of personalized diet and probiotic supplementation on inflammation, nutritional parameters and intestinal microbiota – The "RISTOMED project": Randomized controlled trial in healthy older people. Clin Nutr. 2015 Aug;34(4):593-602.
Vibrance Women's Multivitamin Plus Balance & Energy
$1.68 per serving
Pros
Vegetarian, Gluten-Free, Certified Organic
Ingredients for gut health and digestion
No artificial ingredients
Easy on the stomach
Cons
Have to take 4 pills
Missing some key ingredients
Not specific to athletes
Daily multivitamin, no immediate effects