We receive free products and receive commissions through our links. See
disclosures page
.
We are officially on the tenth iteration of the Reebok Nano and the newest model is possibly my favorite. The Reebok Nano X features a reworked outer and lace construction that levels up the previous model the Reebok Nano 9.
Over the last few weeks, I've been putting this model to the test and assessing if it performs as well as it feels. In this review, I focus on all of the key factors that make the Reebok Nano X so great, along with problematic areas I could see others having with this model. We'll cover the following:
For those interested in watching the full review, check out our Reebok Nano X review video below!
Reebok Nano X Pros
There is a lot to like with this model, but three major pros in particular that I liked about the Reebok Nano X are as follows.
All-around stable and reactive. This shoe is constructed similar to the Reebok Nano 9, so its outsole is stable and the forefoot utilizes a high-density foam to create a reactive feeling during bounding movements.
Re-worked toe cage. The Reebok Nano X's toe cage got re-worked, so there's no more funky overlap at the bottom of the laces.
Secure and durable outer construction. The outer construction of this model still has a stretchy feel to it, but it feels layered and more secure than previous models. Additionally, the lip of the heel comes up higher, so there's never heel slip in this model.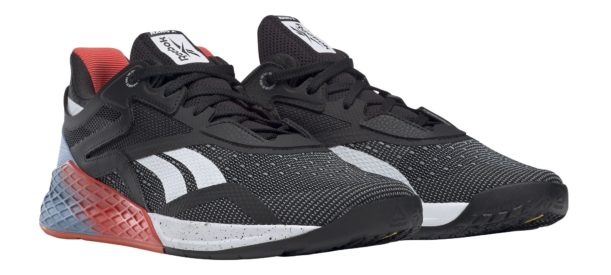 The Reebok Nano X is a versatile cross trainer that can support heavy lifts, agility workouts, and day-to-day wear!
Reebok Nano X Cons
To be honest, there weren't many cons with this model that I've found with my tests. However, I could see two aspects being issues for others.
Not budget friendly. The Reebok Nano X comes with a price tag of $130.00 USD, so if you're trying to save money, then this might not be the best model for you.
Maybe too wide for some. The forefoot of the Reebok Nano X is skinnier compared to previous models, however, I could see the small population out there that love tighter fitting shoes having issues with how these feel. Again though, this is nitpicking.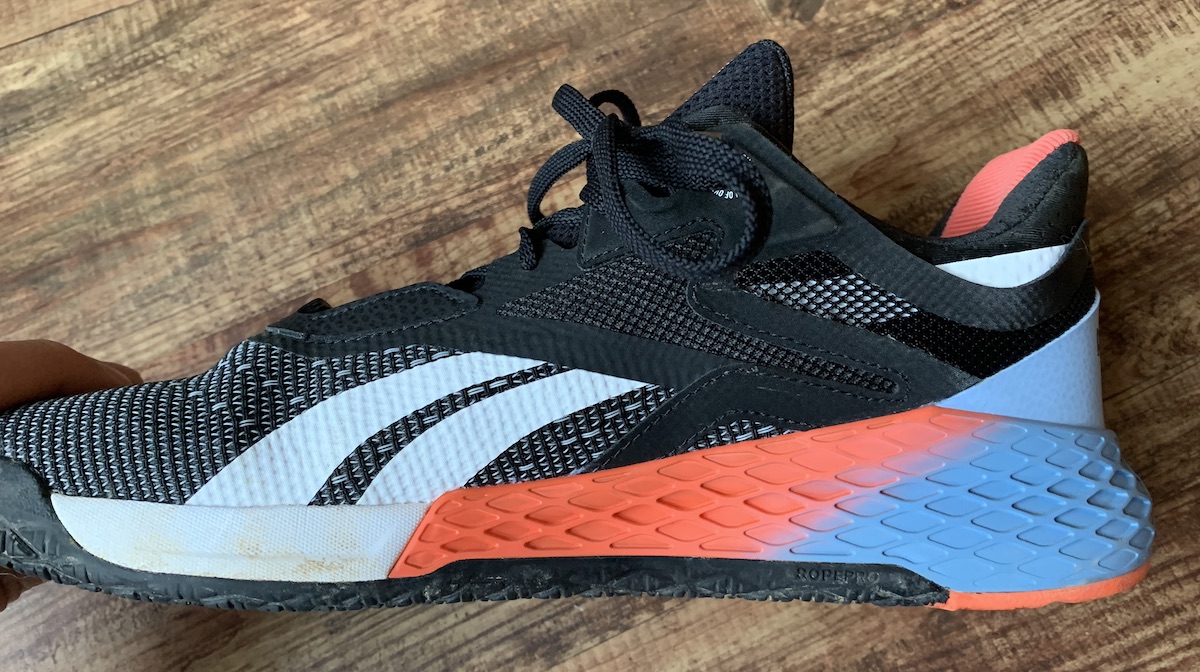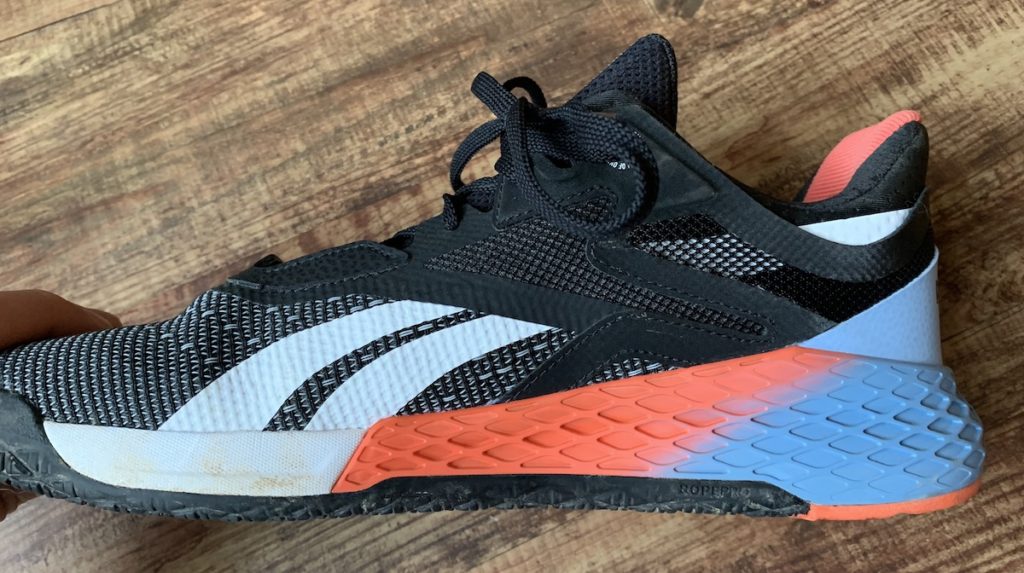 How the Shoe Performs
When it comes to performance, I put this shoe through a variety of tests that are similar to other cross trainers I've reviewed. This provides me with a perfect idea of how these compare to other top models on the market.
For this review, we'll breakdown performance into three separate sections including: lifting, running/jumping, daily wear.
Lifting
Overall, this model was stable under weight and it's what you'd expect from a Reebok Nano. If you've ever worn the Reebok Nano 9, then you can expect a similar level of stability with this model. The split rubber outsole provides a solid base to stand upon and the forefoot still features the high-density foam.
I worked up to 300 lbs (limited by my equipment at home) and had no issues with stability whatsoever. In the 9s, I've squatted up to 400 lbs and deadlifted more than that with no issues, so I'd assume these will have identical levels of stability.
With power cleans, kettlebell movements, and accessories, I like these shoes. They're comfortable, secure, and have just the right blend of solid:reactive. For lifting purposes, I like this mode al lot.
Running/Jumping
One thing I like about the X and also the 9 is that Reebok is trying to make it more accommodating for a variety of activities. With the split outsole, metasplit construction, and high-density foam midsole, a lot fitness enthusiasts can wear these in classes and other scenarios where a lot of jumping is taking place and feel comfortable.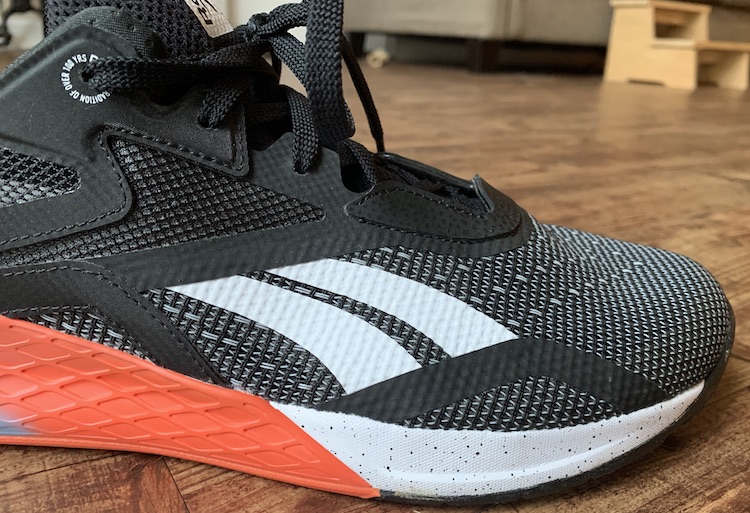 The Reebok Nanos have never been my favorite model to run in, however, this model is decent for shorter runs and sprints. It's not incredibly form fitting to my foot (I have a narrower foot), but the reworked outer construction give these a secure and stable feeling.
If you plan to go on longer runs, then I'd suggest looking for a pair of running shoes. One here and there might not be an issue, but I could see the slightly more stable outsole being problematic over time if longer runs are your main means of working out.
Day-to-Day Wear
On a daily basis, these shoes have been pretty solid. They're decently comfortable and I can wear them for longer periods without noticing them to a large degree.
For context, I've been wearing them on two dogs walks a day that range between 2-3 miles each walk. If you want a pair of shoes to rock in the gym and on a daily basis, then I think these shoes are a good bet for you.
Cost of This Model
Similar to other new cross trainers and top Reebok models, the Reebok Nano Xs cost $130.00 USD brand new. For Nano lovers, this price should come at no surprise, however, if you're on a budget, then it might be worth looking into the Nano 8 or Nano 9 to see if prices have dropped.
Construction Details
The construction of the Reebok Nano X is the star player of this model. Everything that was potentially an issue for users in the Reebok Nano 9 has been improved, which is awesome to see.
For starters, the outer construction got reworked slightly and is now even more secure, yet still breathable. The slight stretch in the top layer gives this shoe a versatile light feeling while the thicker outer construction locks down the foot.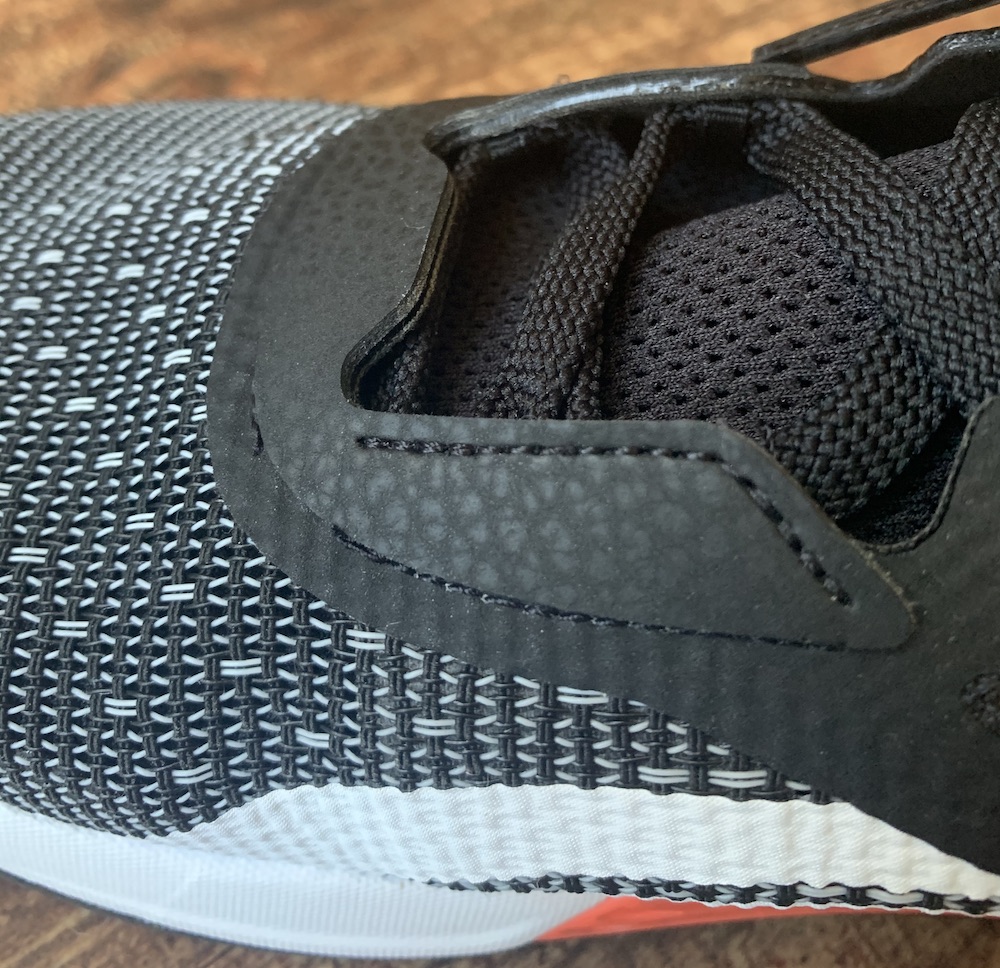 The material at the bottom of the toe cage in the Nano 9 had overlap when you laced them tightly, however, that's been fixed in the X. Reebok implemented an internal method of lacing this shoe, which limits the overlap and still provides security.
On top of these two changes, the outer aesthetic on the lateral side of the shoe has changed and Reebok added some external synthetic layers of material to beef up durability. The shoe has a slightly heavier feeling now (not by much), but I think it's warranted with the re-vamped aesthetic and durability.
The final change worth noting with model's construction is the increased lip on the heel. This model is designed to be versatile, so it was really nice seeing Reebok pay attention to heel slip by adding some material on the posterior of the shoe.
The midsole and outsole are exactly the same as the Reebok Nano 9. The outsole features the split and and the metasplit feature on the forefoot, while the midsole is still comprised with high-density foam and a plastic TPU layer that wraps over the mid-foot and heel.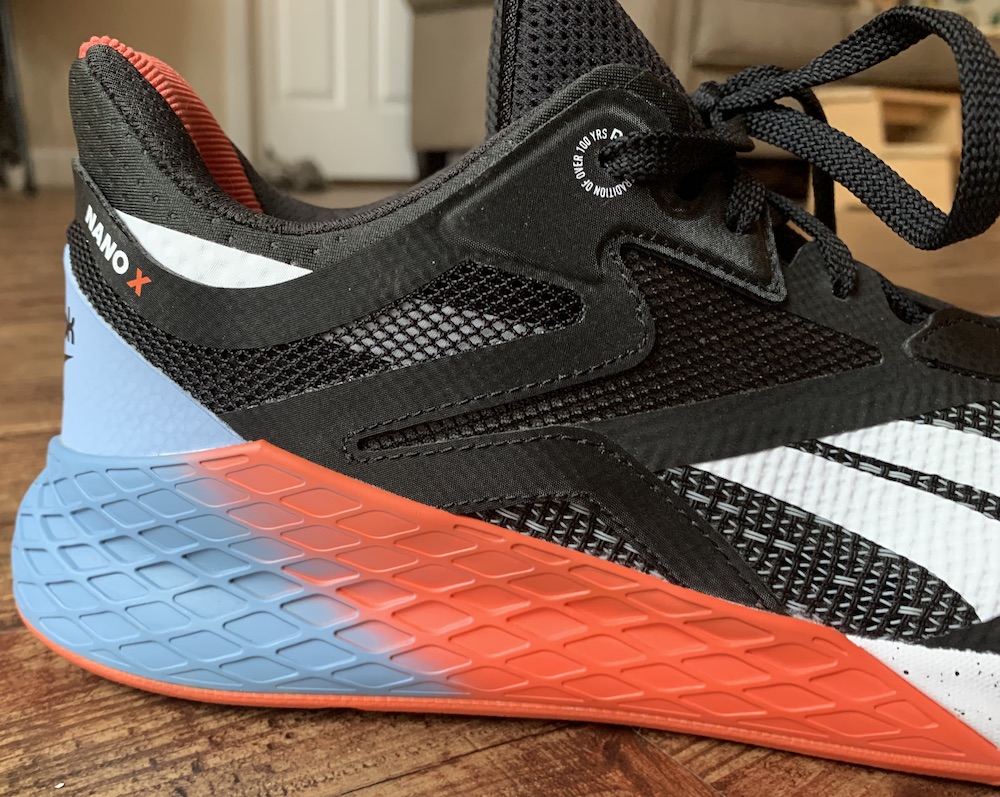 Sizing and Fit
If you've worn the Reebok Nano 9, then expect the same sizing and fit for this model. For those that haven't rocked Nanos before, then I'd advise going true-to-size for most, but if you air on the smaller end of your normal size, opt for a half size down.
Reebok Nano X FAQs
How much does the Reebok Nano X cost?
The Reebok Nano X costs $130.00 USD.
What's new about the Reebok Nano X?
The Reebok Nano X features three changes compared to the Reebok Nano 9. These changes include:
Reconstructed lacing system.
Reworked outer construction.
Increased lip on the heel.
Are the Reebok Nano Xs good for CrossFit?
Absolutely. The rubber split outsole is stable and can support heavy lifts, and the high-density midsole provides a reactive nature to this shoe.
Can I run in my Reebok Nano X?
Yes, you can do shorter runs and sprints in this model with relative ease, however, you might want to opt for a pair of running shoes if plan on tackling a lot of mileage.
How heavy can I train in the Reebok Nano Xs?
Heavy! These shoes have supported over 400 lbs with ease in our reviews and stability was never an issues for us.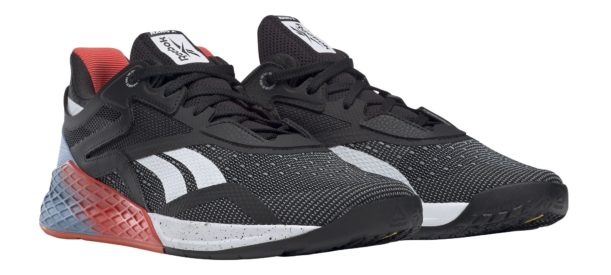 The Reebok Nano X is a versatile cross trainer that can support heavy lifts, agility workouts, and day-to-day wear!
Wrapping Up
Overall, the Reebok Nano X performed great across the board. It's basically a leveled up Reebok Nano 9 and has construction tweaks that many were not fans of in that model. To me, this is really cool because it shows that Reebok was listening to their consumers.