We receive free products and receive commissions through our links. See
disclosures page
.
Knee sleeves are worn for multiple reasons by strength athletes. Two of the major reasons are for extra knee support and maintaining joint warmth. There are different levels of thickness knee sleeves provide for athletes, and their thickness is often dependent on an athlete's sport and needs. A thicker sleeve like SBD Knee Sleeves are typically preferred by powerlifters and strongman competitors.
SBD is a company that makes a variety of high-end supportive lifting gear for elite strength athletes. They're based in the United Kingdom and have become widely known in the powerlifting and strongman communities. When we received our pair of SBD knee sleeves I was excited to put them to the test.
I prefer to lift in a powerlifting style, so I tested these sleeves heavily with low-bar back squats, high-bar back squats, and to add variety, the power clean. Additionally, I've competed in these sleeves twice, and have had some great experiences in them.
SBD Knee Sleeves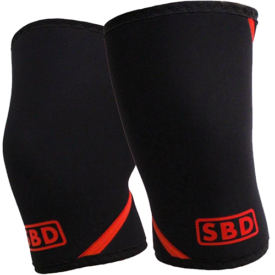 These knee sleeves are both IWF and IPF approved and offer a supportive 7mm neoprene construction.
Why We Like the SBD Knee Sleeves 
Stable and supportive with a thicker 7mm neoprene. 
Durable knee sleeve option with reinforced stitching throughout. 
Great for competing in, as multiple federations allow them. 
Versatile option for powerlifters, strongman athletes, and weightlifters. 
Potential Cons With the SBD Knee Sleeves
Slightly more expensive than other options on the market. 
May be a little too stiff for athletes that need a knee sleeve for super long work out durations. 
Stability of SBD Knee Sleeves
SBD knee sleeves are made with a 7mm high-end neoprene, which is on the thicker end for knee sleeves.
These sleeves hugged my knee extremely tight and provided a lot of stability when standing or at the bottom of the squat. Stability is possibly one of the first things you'll notice that makes these sleeves a little different. If you're looking for a stable, more rigid knee sleeve, then SBD could be a good choice.
There's a taper on the calf and quad that help squeeze the leg in the right areas. This taper helped provide a little pop out of the hole of the squat, which is a feature that most look for in a stable knee sleeve.
For athletes who need a sleeve to help keep their knee warm and mobile, as opposed to providing stability and a bounce out of the hole of the squat, then these sleeves may not be the best choice.
[Check out our best knee sleeves round-up for our top knee sleeve picks]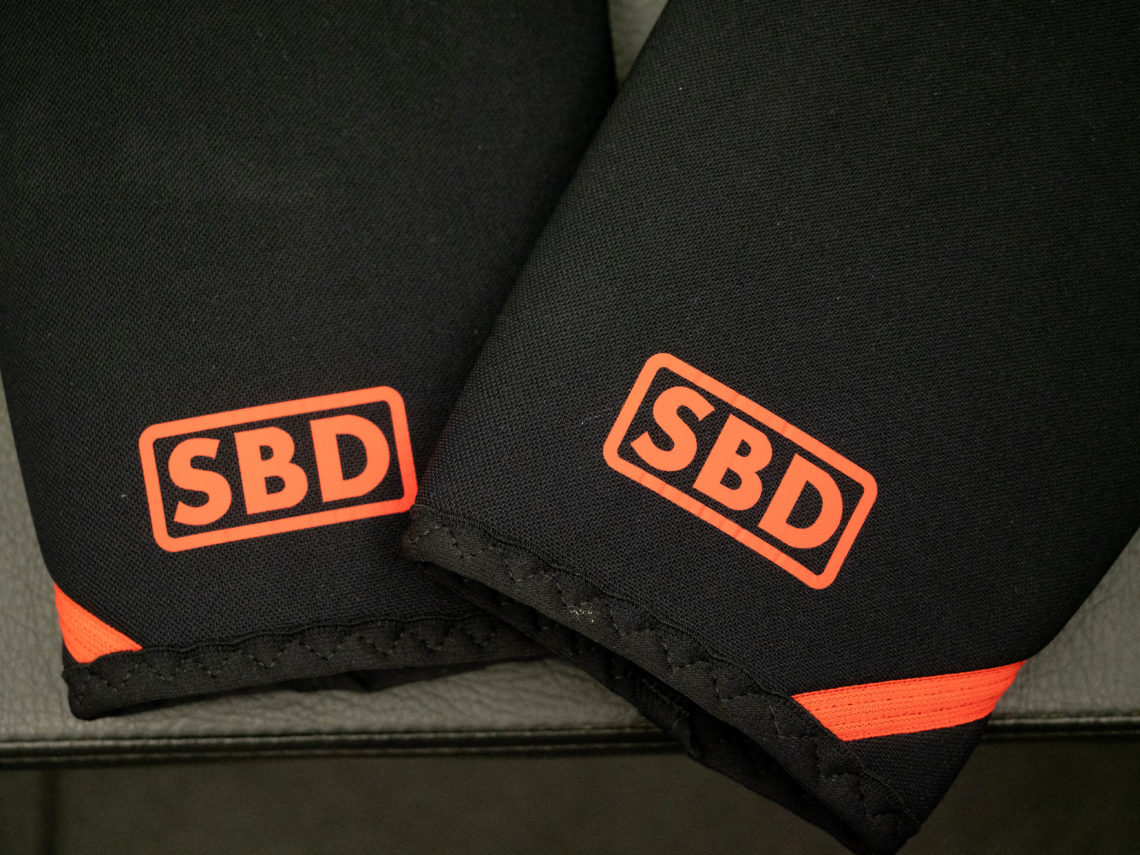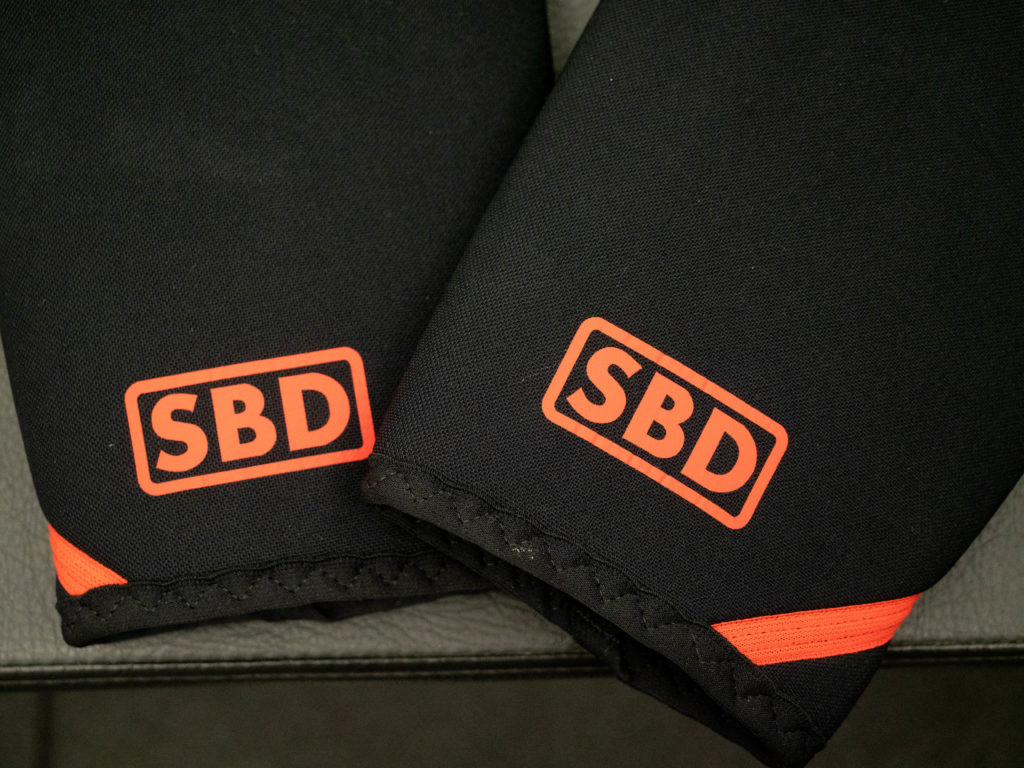 Comfort and Fit
For a very stable and stiff sleeve, I personally liked the comfort these sleeves offered. Some sleeves on the thicker side can turn off athletes due to the inability to easily bend the leg. I found these sleeves to be a good balance of a thick, stable sleeve, while providing some mobility. Keep in mind I said some mobility, as these sleeves weren't the best for moving freely like thinner sleeves can provide.
The tapered edges were also a positive feature of this sleeve because they provide both the upper and lower leg with support. I liked the tapering aspect and they stayed really secure for most of my lifting, and I liked how they felt when I progressed through my working sets of squats. The only real issue I could see someone having with these sleeve's comfort is for prolonged use and bouts of exercise, but that will rarely be an issue for many athletes.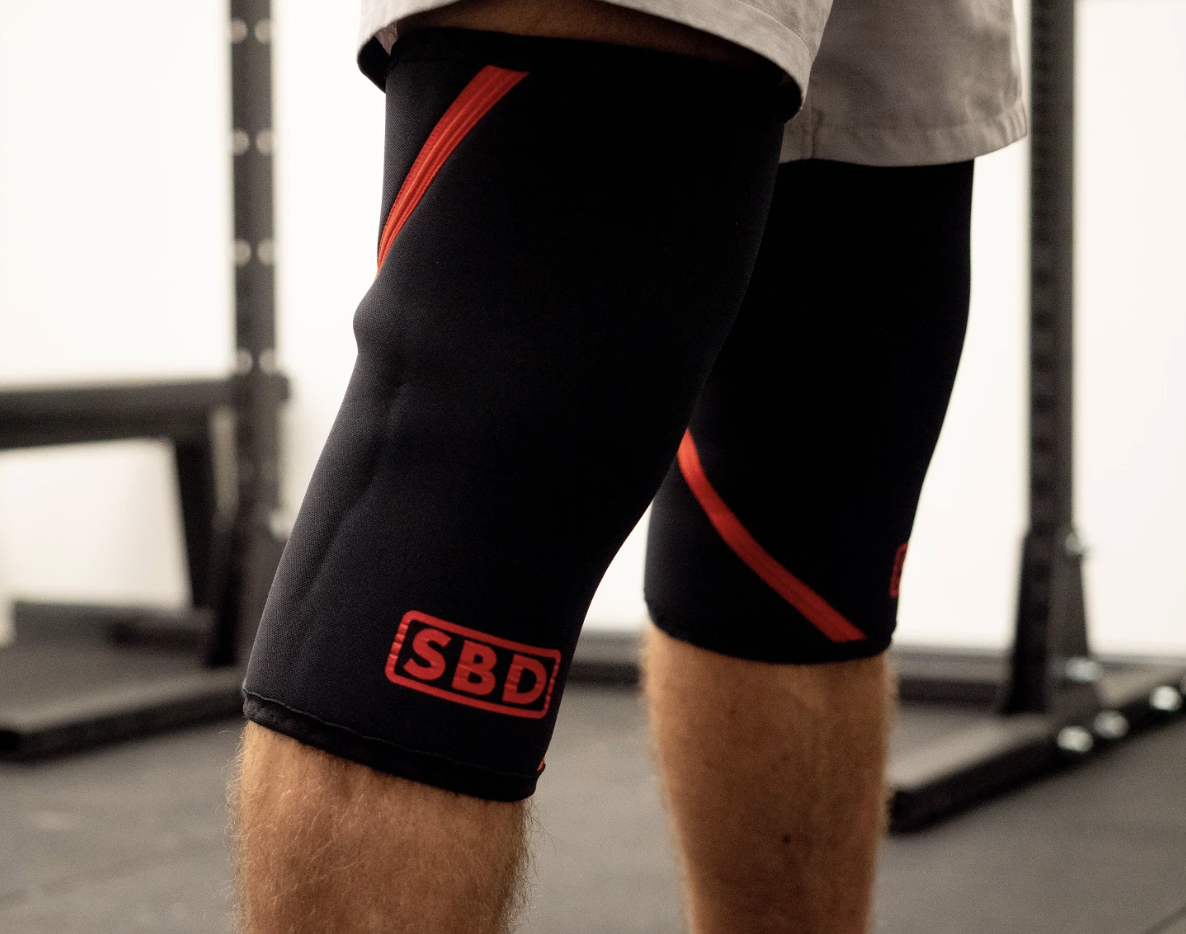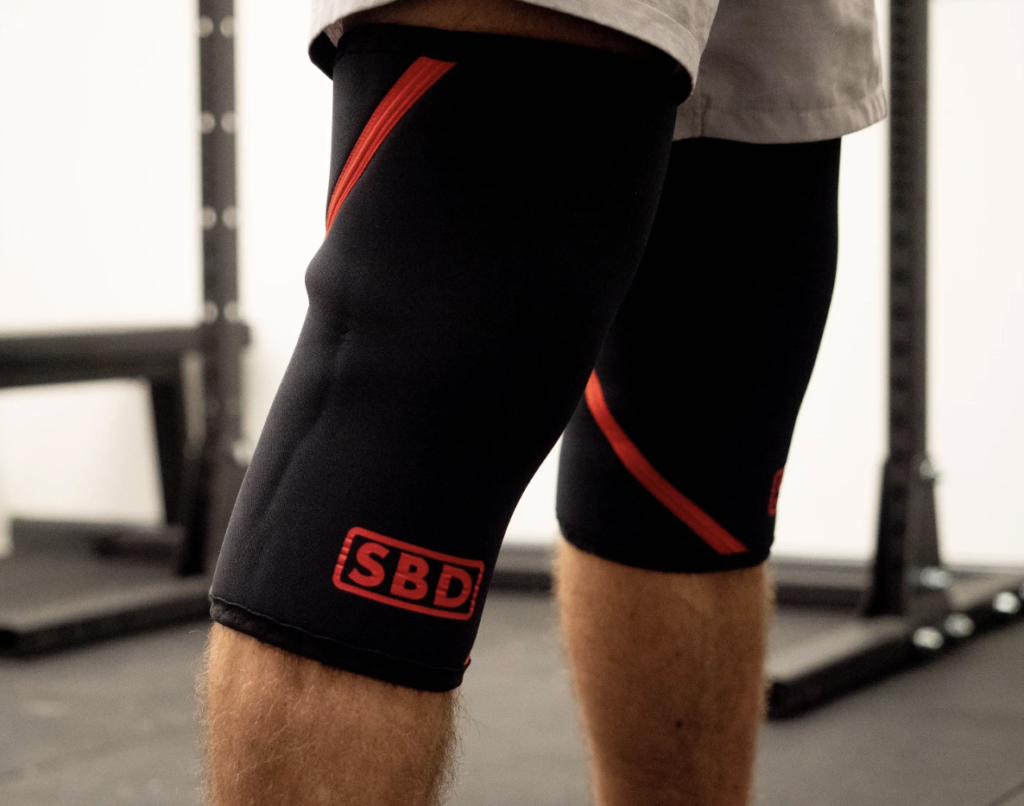 The sizing chart of these sleeves fit true to the actual size of my leg. SBD's website has specific instructions when picking your size that I would highly recommend looking over before making a selection, which we've embedded below. Finding the right size is a huge plus, especially for for those who are buying these for competition purposes.
These sleeves are on the list of IPF and IWF approved equipment, so you can wear them in formal competition. During a competition you'll be lifting for a large amount of the day, so having a comfortable sleeve that fits true is a huge plus.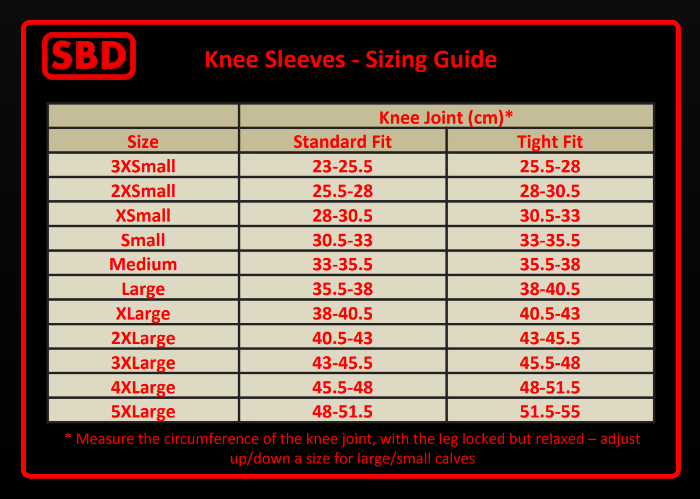 Material
The neoprene these sleeves use feels sturdy and allows very little stretching when pulling on them. There's a softer inside layer and a little thicker layer on the outside. This is a traditional feature of knee sleeves for comfort purposes. I personally liked the neoprene for two distinct reasons, but had one issue with it. First, I really liked how the material isn't sponge-like, so it didn't absorb sweat and stain easily. Second, I really liked how it snaps back to it's original shape when bent. This is what provides this sleeve with its pop out of the hole.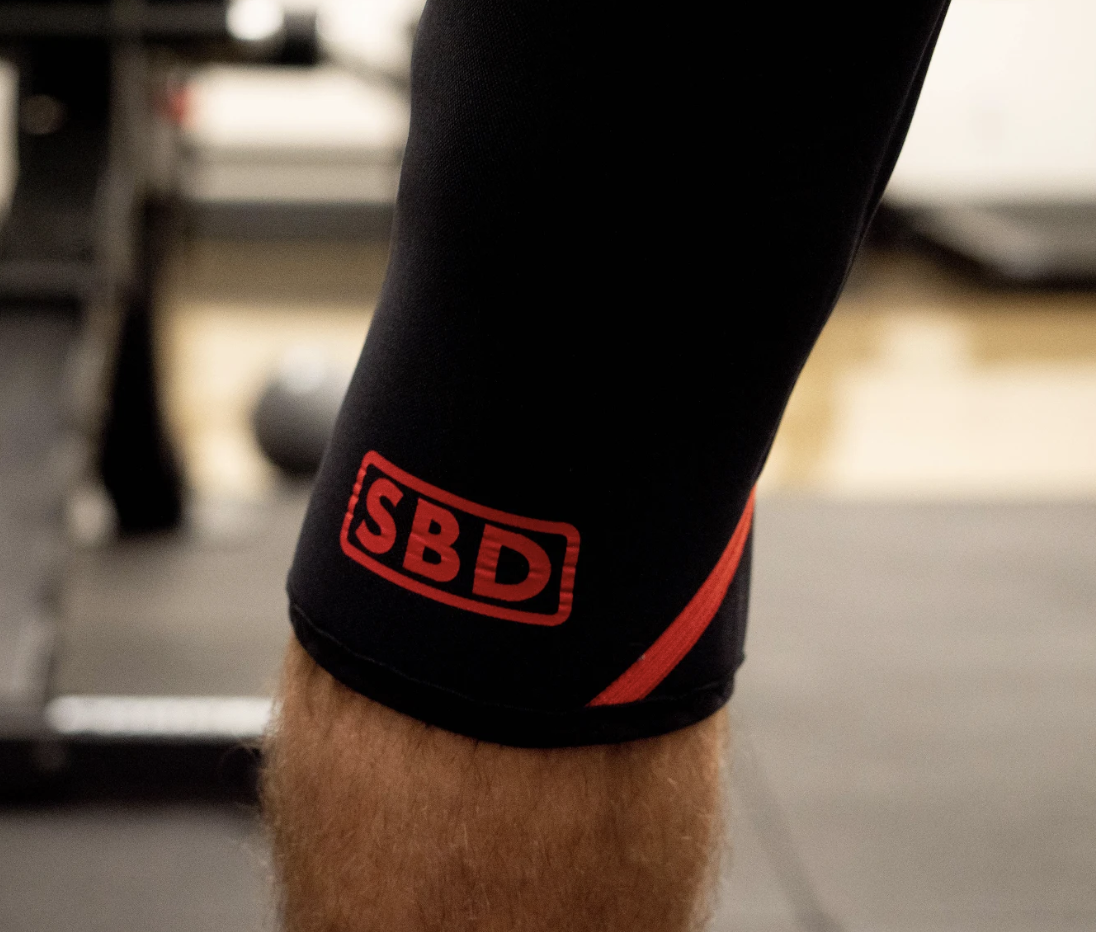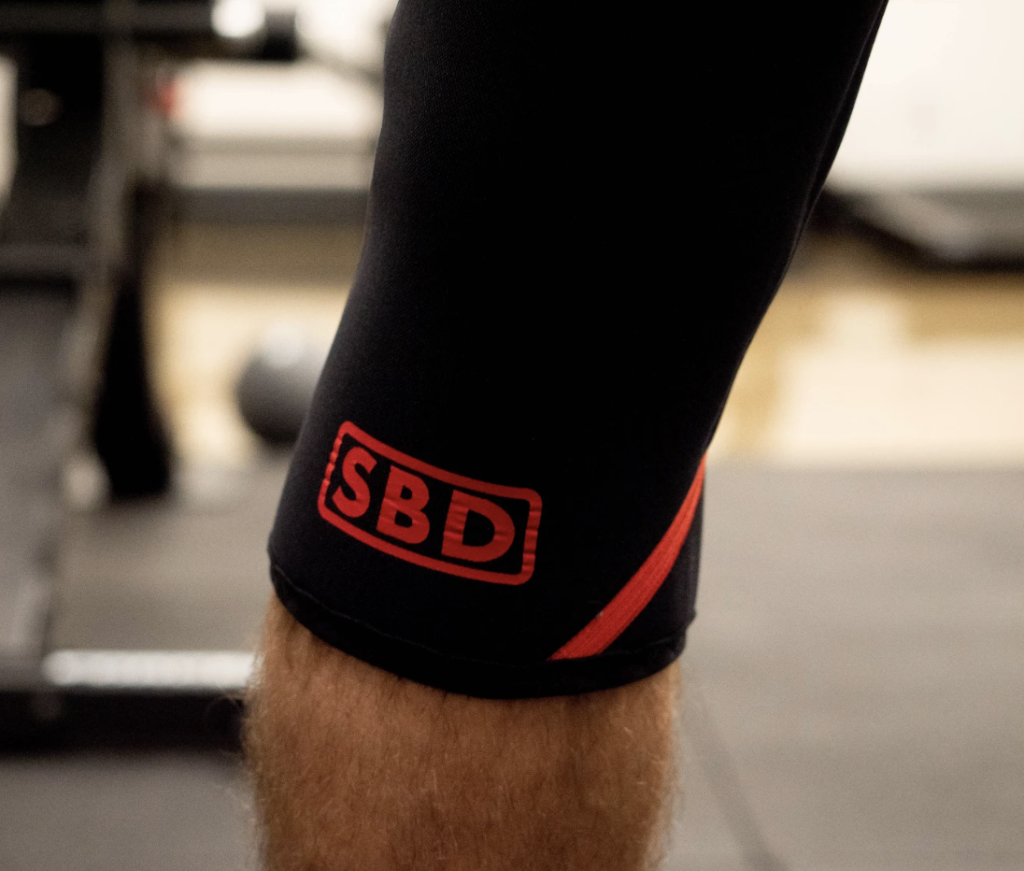 The one issue I had was related to the first point I mentioned above, and that was the lack of sponge-like material. I did experience the sleeve sliding down my quad a little bit as I got progressively sweatier. This was never an issue during sets or movements, but would sometimes happen when getting ready to start a set. It very rarely happened, but it's worth calling to attention. Finding your right size is key.
Durability
I didn't sense any immediate durability issues with these sleeves throughout my gym sessions. I liked that the SBD knee sleeves has reinforced stitching to ensure there isn't early ripping. Also, the tapered ends have a piece of cloth that prevents early fraying. This cloth is stitched with a triangular stitching pattern, which was a cool feature that I haven't seen on a lot of sleeves.
There could be one issue with future durability, and that's with the amount of pop this sleeve offers in the squat. I'm interested to see how this pop is impacted over progressive usage and time and whether it holds up after dozens of training sessions. Although, from the I've experienced and heard from other athletes, this sleeve's snap stands a solid test of time.
Price
The price of these particular sleeves start at $82.00. This is a high price point for knee sleeves, but that price could be justified for the lifter who wants a sleeve for competition or heavy lifting. These sleeves are both IPF and IWF approved for competition, so you can wear them legally in powerlifting and weightlifting competitions.
For the recreational lifter or functional fitness athlete, then the price may be a little high.
Final Word
The SBD Knee Sleeves held up well to our tests and proved to be a stable option for strength athletes. They're IPF and IWF approved, so they're approved for most weightlifting and powerlifting competitions. Also, they provide a strong, stable feeling, which a lot of lifters prefer when moving maximal loads. The only real issue I could potentially see someone having is the sleeves comfort over long workouts, but again, that will only impact very few athletes. 
For the serious strength athlete who needs a stiff sleeve that's competition approved and stands the test of time, then the SBD Knee Sleeves may be a solid investment.