After four weeks of play, most of the top 20 names on the worldwide CrossFit Games Open leaderboard are your usual suspects. Scott Tetlow, currently in 15th, is not.
"I'm just an average guy," said Scott Tetlow.
Tetlow clearly has no idea what an "average guy" looks like.
An average guy doesn't train three times a day—once at 5:30 a.m., once at lunch and once in the evening—all the while trying to balance a full-time 9-to-5 job with the US military, not to mention ensuring he makes time for his wife and 4-year-old son.
"Sunday is family day. I'm not allowed to workout on Sunday," the 27-year-old Tetlow assured me.
And an average guy certainly doesn't find himself in 15th position in the world after four weeks of the CrossFit Games Open, which is exactly where Tetlow currently sits.
He's well aware of what this means: If he can hang on for just one more workout, he has a very strong chance of qualifying to this summer's Reebok CrossFit Games, a dream he has been chasing for close to five years.
Tetlow isn't shy about his aspirations to get to Madison, Wisconsin this summer.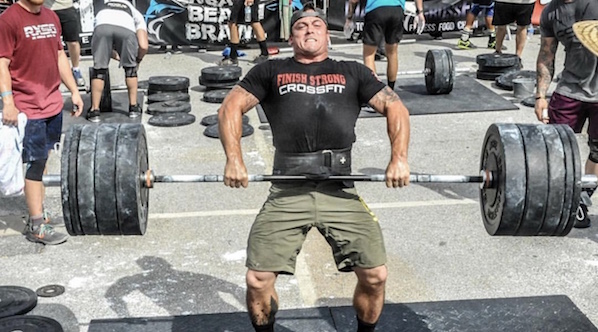 "Yeah, I want to make it. A lot. And at this point, if I miss it, I know it's because I just didn't put out hard enough on this last workout," he said.
That being said, at 5-foot-3, he's also realistic that two movements could very well show up this week that aren't going to do him any favors: rowing and wall balls. Then again, so could other movements suitable to his shorter levers, such as DB snatches, chest-to-bar pull-ups, or muscle-ups.
Either way, he will accept the challenge.
"Jacob Heppner said it best: You pay the 20 bucks to play their game, so that's just how it is," he shrugged.
Regardless of the game CrosssFit HQ asks him to play this week, Tetlow is confident: Confident he will come ready to play, and confident he will find himself en route to Madison. And if he doesn't, there's always the Wodapalooza Sanctional event, he explained.
Though Tetlow has never competed at a CrossFit Games before, he's not entirely new to high-level CrossFit competition. He competed at the South Regional competition as an individual in 2017 and 2018, where he placed 31st and 19th respectively.
After 2018, he was looking forward to continuing his climb up the Regionals leaderboard.
Until everything changed last year.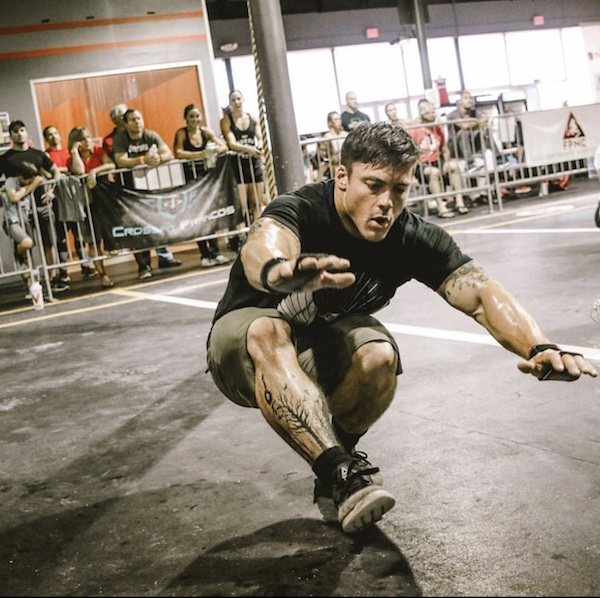 "I didn't know how to take it at first. I was hoping to be in the top (group) in my region (in 2019), but then the game changed and you had to be in the 20 top in the world," he said.
He admitted he was discouraged.
"But only for a week," he said.
After that, his fire only grew hotter.
"It actually just motivated me to work harder," Tetlow added.
What's most impressive about Tetlow's work ethic and rapid rise this year is that he has done it largely on his own.
Though he started CrossFit at Finish Strong CrossFit in Louisiana—and said he is incredibly grateful to them—he has been working out alone in his garage gym at home for the last year-and-a-half following Ben Bergeron's CompTrain. No training partner. No coach. No nutritionist. No massage therapist.
"Well, I have a foam roller and a lacrosse ball," he said.
As for his diet, "I eat whatever my wife cooks," he laughed. "I eat healthy, but I definitely don't have anyone laying it out there for me, or sending me meals."
With four workouts down and one to go, it's clear Tetlow is perfectly capable of going at it alone. And regardless of what comes up, he admits he won't think about it too much. He'll just put his head down and get to work at CrossFit Kilter n Illinois, where he has been doing all of this year's Open workouts.
"I try not to overthink any workout. I know my abilities and I just listen to my body and I go into a black hole, as I like to call it. People will ask me after, 'Did you hear that song that came on?' And I'm like, 'Nope, I didn't hear it. I am just focussing on what I have to do,'" he said.
If he manages to find that big black hole one more time this week, there's a good chance Tetlow will find himself throwing down with the best CrossFit athletes in the world at this summer's CrossFit Games.
Images courtesy Scott Tetlow