We receive free products and receive commissions through our links. See
disclosures page
.
Six Star Pro Nutrition is a supplement company owned by Iovate Health Sciences, the same company behind MuscleTech and StrongGirl, and the brand is targeted a little less toward bodybuilders and more toward pro athletes like baseball, basketball, and football players.
They sell a remarkable four different pre-workouts, and we decided to try out the Fruit Punch flavor of Pre-Workout Explosion, a remarkably cheap, zero-calorie blend with a huge variety of ingredients.
Six Star Pro Nutrition Pre-Workout Explosion Nutrition & Ingredients
These are the main ingredients:
Beta alanine (1.5g)
Creatine (1.5g)
L-arginine AKG (1.1g)
Pre-Workout Explosion Blend (535mg) that contains Vitamin C, 135mg of caffeine (about the amount found in a large cup of coffee), choline bitartrate, niacin, and tyrosine.
Advanced Pump Complex (500mg) taurine, citrulline, citrulline malate, and arginine HCI.
In addition to these there are some natural and artificial flavors, colors, sweeteners, and anti-caking agents. Note that it has sucralose and acesulfame potassium, artificial sweeteners that some folks like to avoid.
So what do all these ingredients do?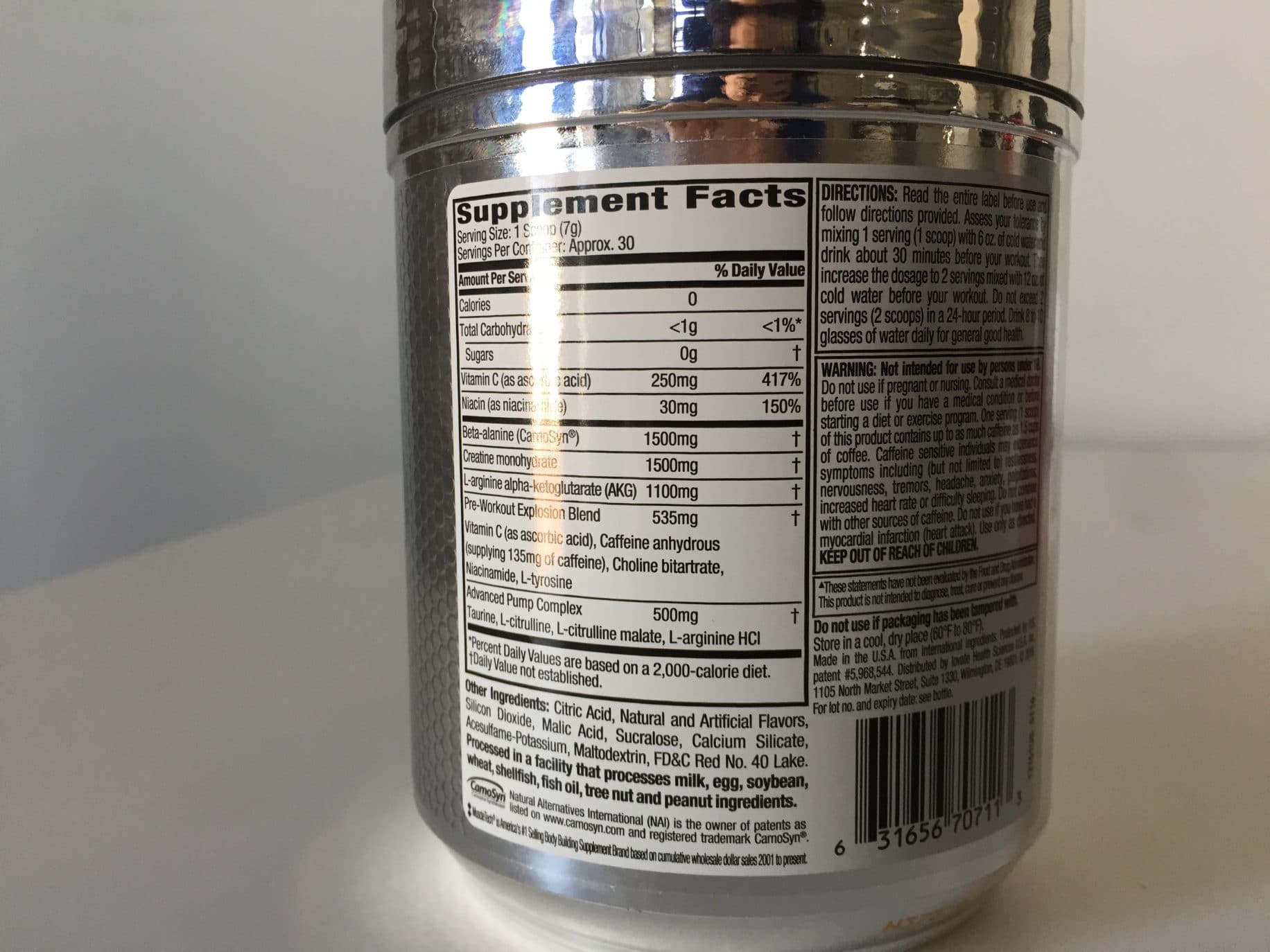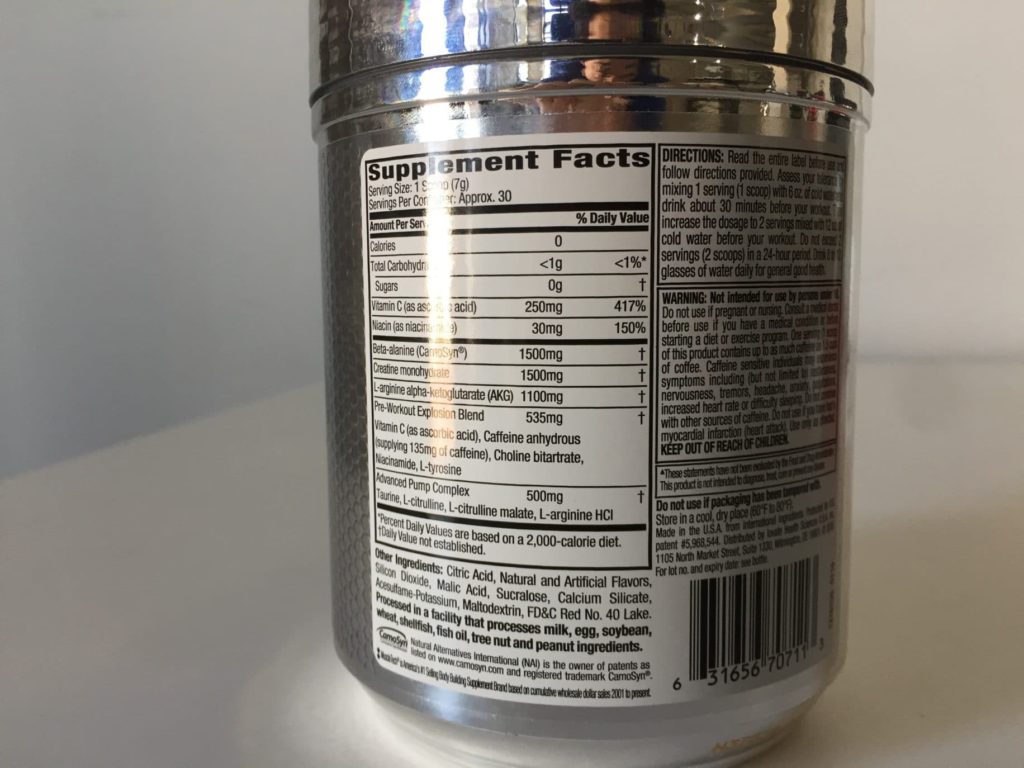 Six Star Pro Nutrition Pre-Workout Explosion Benefits & Effectiveness
The beta alanine has a solid link with endurance and the creatine with power output. The arginine helps the liver break down byproducts of exercise, like ammonia, so it might help you exercise for longer. Both are dosed pretty effectively.
Pre-Workout Explosion contains two proprietary blends, the Pre-Workout Explosion Blend and Advanced Pump Complex. This means we don't really know how much of each ingredient it contains. The Vitamin C is in antioxidant, so it may reduce the cellular damage associated with exercise. The choline bitartrate could help with anaerobic power output while the tyrosine may improve focus.
Six Star Pro Nutrition Pre Workout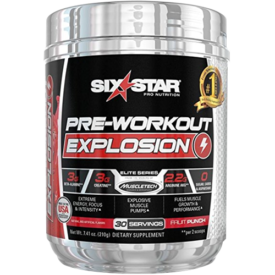 Six Star Pro Nutrition Pre Workout
This pre workout comes with ample energy boosting and pump supporting ingredients.
It seems likely that this product may be a little low in one or more of these ingredients, since studies suggest you probably want a good 500 milligrams of tyrosine to have a pronounced effect. There's 535 milligrams in the whole Pre-Workout Explosion Blend, and 135mg is caffeine.
As for the Advanced Pump Complex, the taurine helps with focus and the citrulline may help with blood flow. The whole blend is 500mg, but studies suggest an ideal dose is a good 1 gram of taurine and 6 grams of citrulline.
Check Out Our Top Pre Workout Picks Here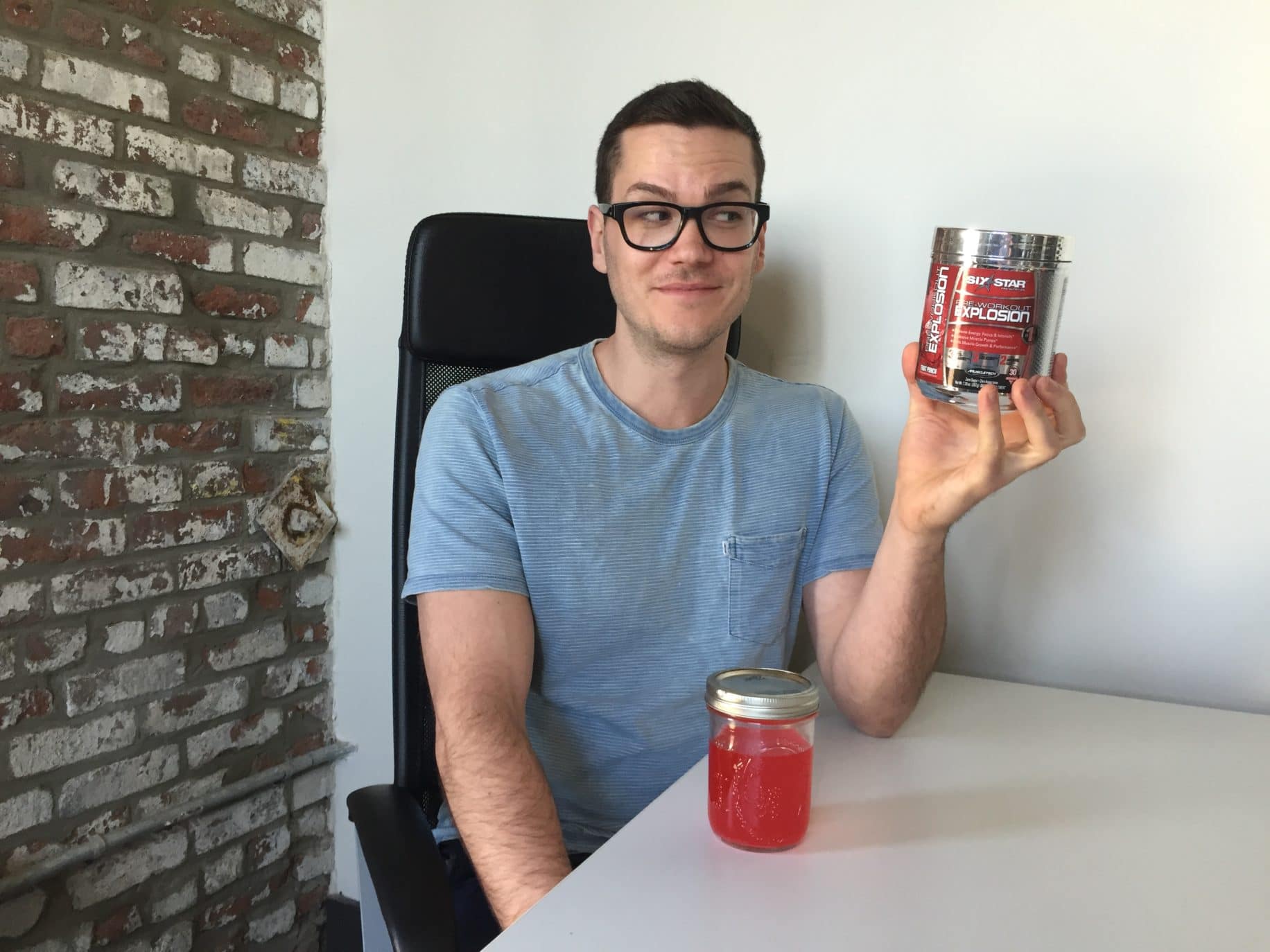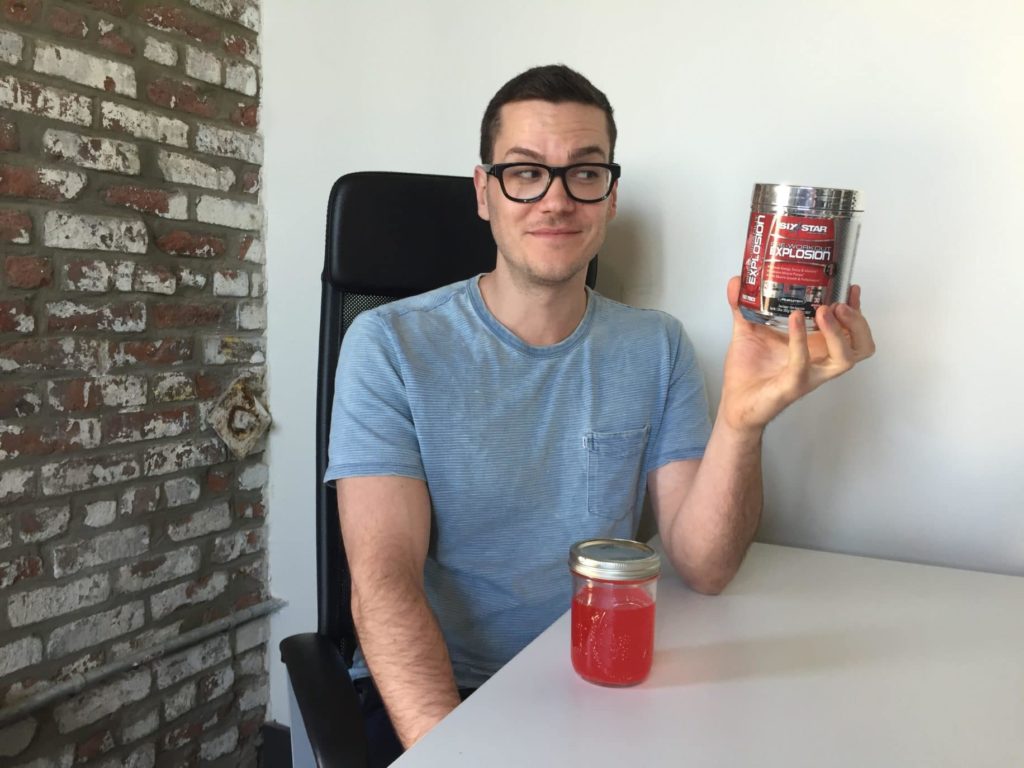 Six Star Pro Nutrition Pre-Workout Explosion Price
Prices change quite a bit, but right now you can pick up 33 servings for $15, which makes 45 cents a serving. That's very cheap; most pre-workouts are between 80 cents and a dollar per serving. That said, if you look on the front of the tub, it advertises the amount of beta alanine, creatine, and arginine found in two scoops, so it seems to be suggesting that some users should double up.
Even if they do, it's still pretty reasonably priced.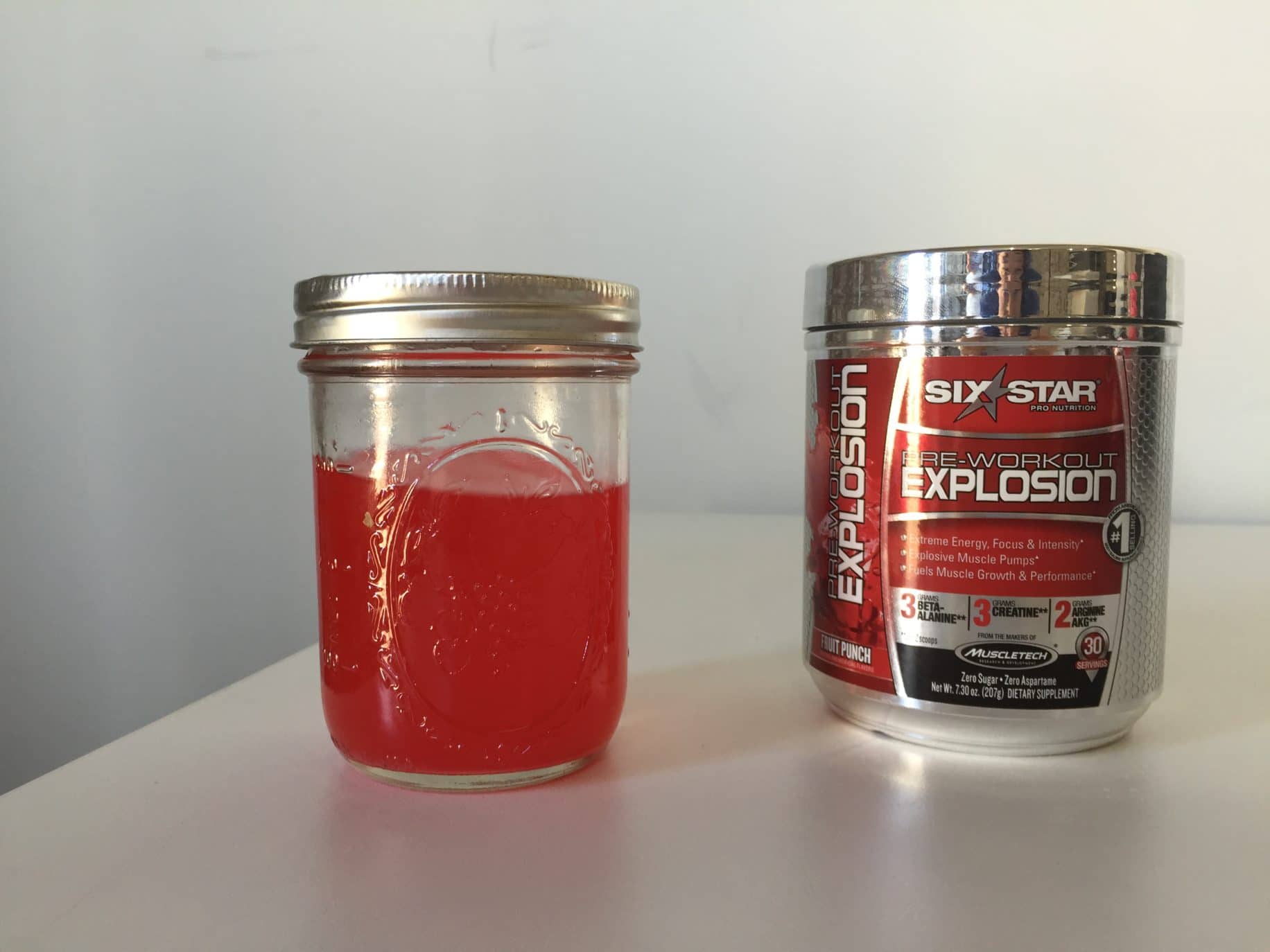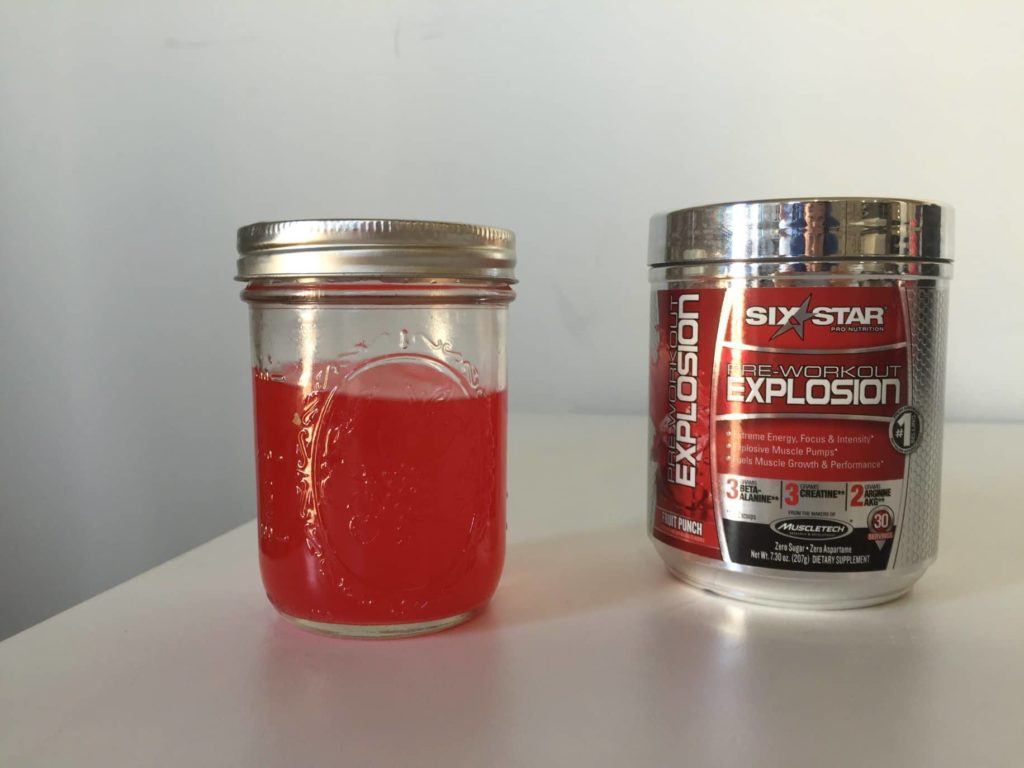 Six Star Pro Nutrition Pre-Workout Explosion Taste
The Fruit Punch flavor was pretty consistent with other Fruit Punch flavors on the market: cherry candy with a hint of bubblegum. If you like cherry, you'll like this, just don't expect a burst of tropical flavor: it's cherry.
The Takeaway
Six Star's Pre-Workout Explosion has effective doses of beta alanine, caffeine, and creatine, so it works as an inexpensive supplement for endurance, energy, and power — which is all most people are after.
I'm not so sold on its usefulness as a supplement for focus since it may be low in taurine and tyrosine, even if you take two scoops. I don't think it's great for blood flow either, since it's very low in citrulline.
But it's one of the cheapest energy, endurance, and power supplements you'll find.
Six Star Pro Nutrition Pre-Workout Explosion
Per Serving: $0.45
Pros
Inexpensive
Good hit of caffeine, beta alanine, and creatine
Vitamin C may reduce cellular damage from exercise
Cons
Seems low in ingredients for focus and blood flow
Some proprietary blends
Artificial flavors, sweeteners, and colors