We receive free products and receive commissions through our links. See
disclosures page
.
Knee sleeves are a supportive piece of strength equipment that have multiple purposes, which very between athletes. For example, powerlifters use them for their rigidness and support under maximal loads. Weightlifters and functional workout athletes often use them for joint warmth with a little support. Most knee sleeves are created with a neoprene material, which is useful for providing support and maintaining joint mobility. Slingshot is a company known for making supportive powerlifting equipment, so I was excited when we received our pair of STrong knee sleeves.
Sleeves come in a variety of options with multiple features an athlete can choose from dependent on their lifting style and preference. So I was excited to give these extra-rigid STrong sleeves — from powerlifter Mark Bell's company — a try.
Click HERE to shop the Slingshot STrong sleeves.
Stability
My main concern when checking out this product was how much support they offered. The STrong knee sleeves utilize a grade three 7mm neoprene, which is designed to be more rigid than regular 7mm neoprene sleeve models.
[Check out our best knee sleeves round-up for our top knee sleeve picks]
Since Slingshot makes supportive equipment geared towards powerlifters, I was intrigued by how much support they'd offer under heavy lifts. The rigidity of this sleeve lived up to the remarks Slingshot make on their site about them. They state these sleeves can add anywhere from 20-50 lbs of rebound action in the squat, and to compare them to a light knee wrap. I found this to be true, especially in their first uses when they had yet to be broken in.
I think these were some of the stiffer sleeves I've tried, and rival SBD when it comes to stability in the hole of the squat. Personally, I lift in a powerlifting style, so I really like their rigid appeal. Plus, on maximal days I felt confident coming out of the hole, even when weight was 90%+ of my 1-RM. One issue I found with this sleeve was their adaptability to functional workouts or WODs. They're a very stiff sleeve, so if you're moving between power and strength movements, then you may feel limited in your mobility.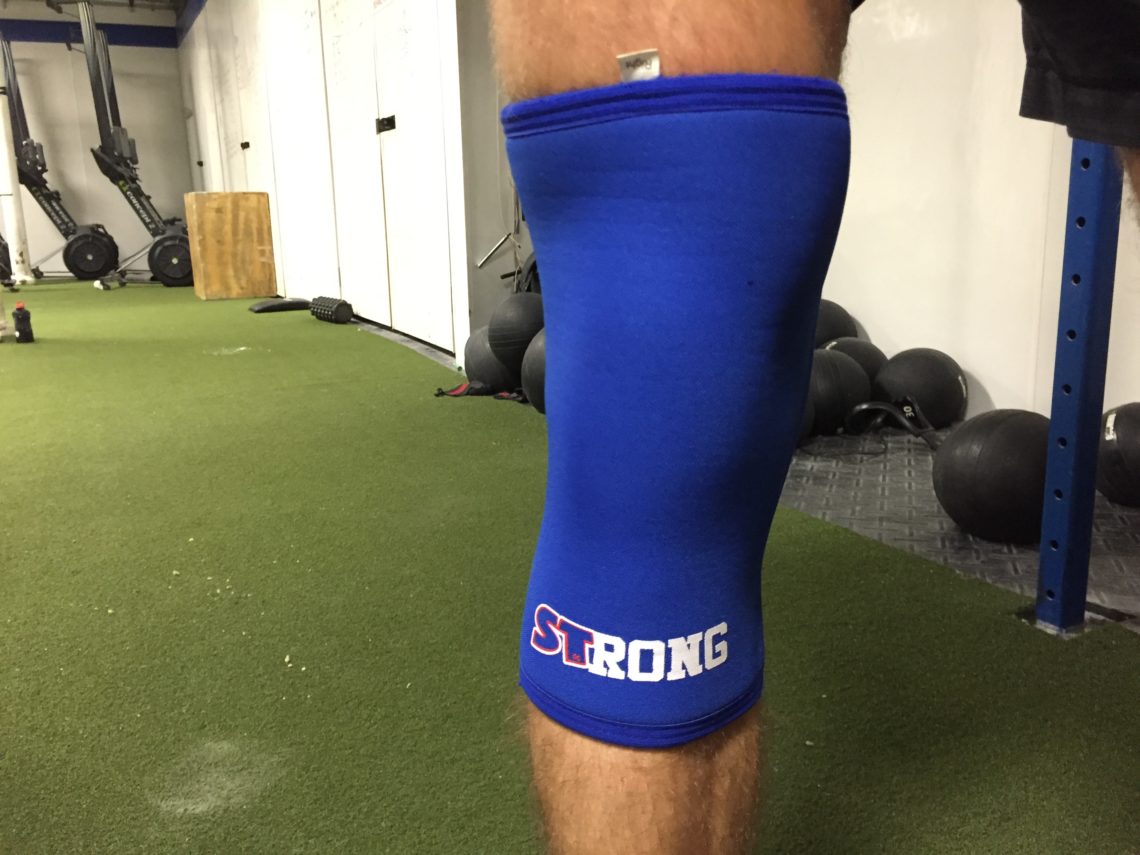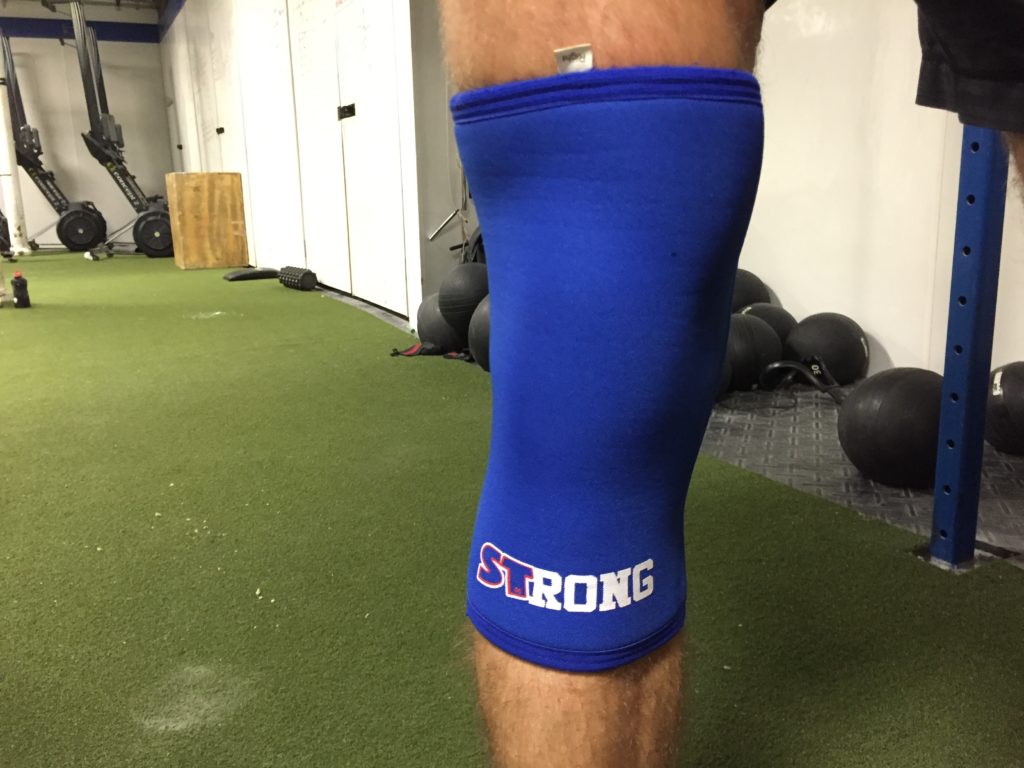 Comfort and Fit
The STrong knee sleeves come in a variety of sizes, and to give you reference they post other athletes' heights and weights who use them with their wearable size. In terms of comfort, prepare yourself for a tight sleeve, because as mentioned earlier, these are a grade three 7mm neoprene.
An issue some lifters run into with rigid sleeves is their ability to stay in one place. Sometimes tight, rigid sleeves slide down the leg after prolonged use, but I never had an issue with these sleeves. As I got progressively more sweaty, I never experienced them sliding down my calve like some sleeves can. The sleeves also have reinforced stitching, which I really liked because they hugged the knee joint tightly without any wrinkling.
These were very supportive and comfortable in squats, but lacked when it came to power movements. I thought they were almost limiting when setting up for cleans, which could be an issue for those who need a sleeve to do a variety of work. Also, the rigid neoprene made it hard to comfortably maintain depth without a fair amount of weight, so I'd recommend trying to use them primarily for heavier sets.
[Buy Slingshot STrong Knee Sleeves for the best price on Amazon.]
Material
The grade three 7mm neoprene is stiff. You're not going to get a lot of stretch out of these sleeve's material. In addition, they did a fairly good job at resisting sweat, and weren't absorbent like some softer neoprene sleeves can be.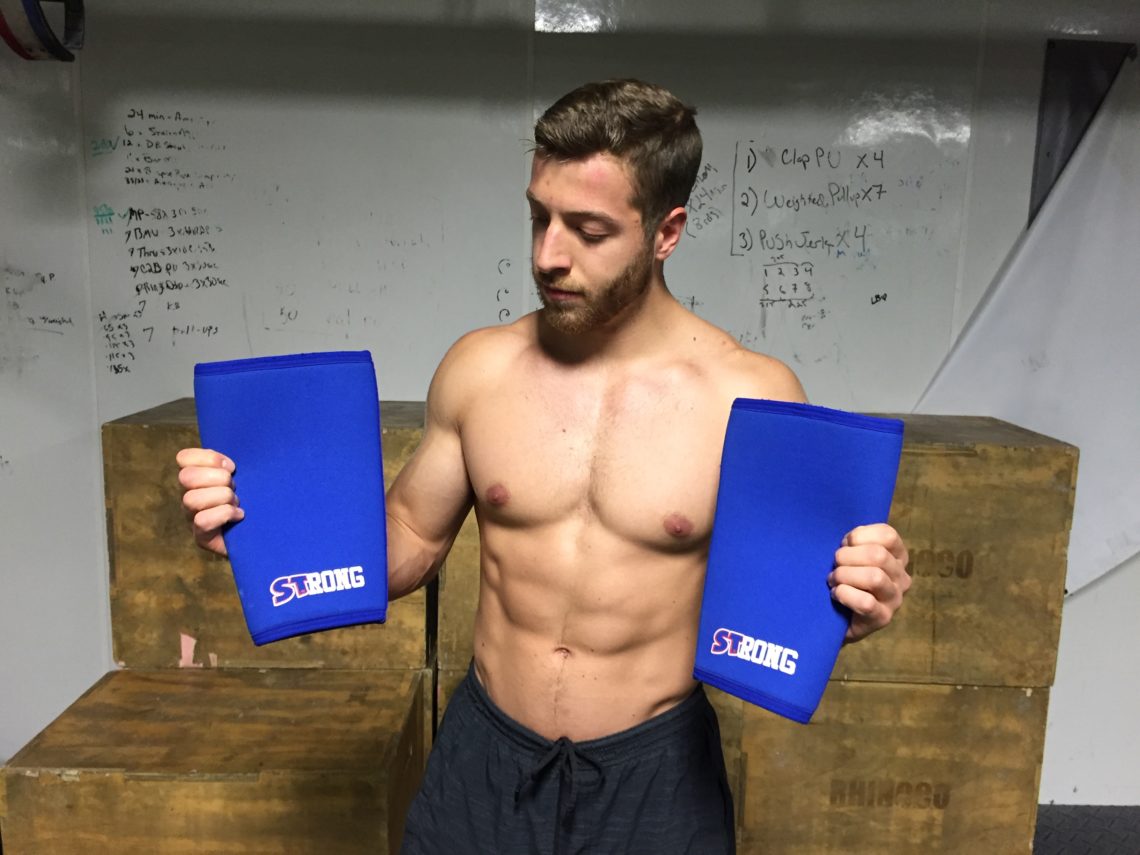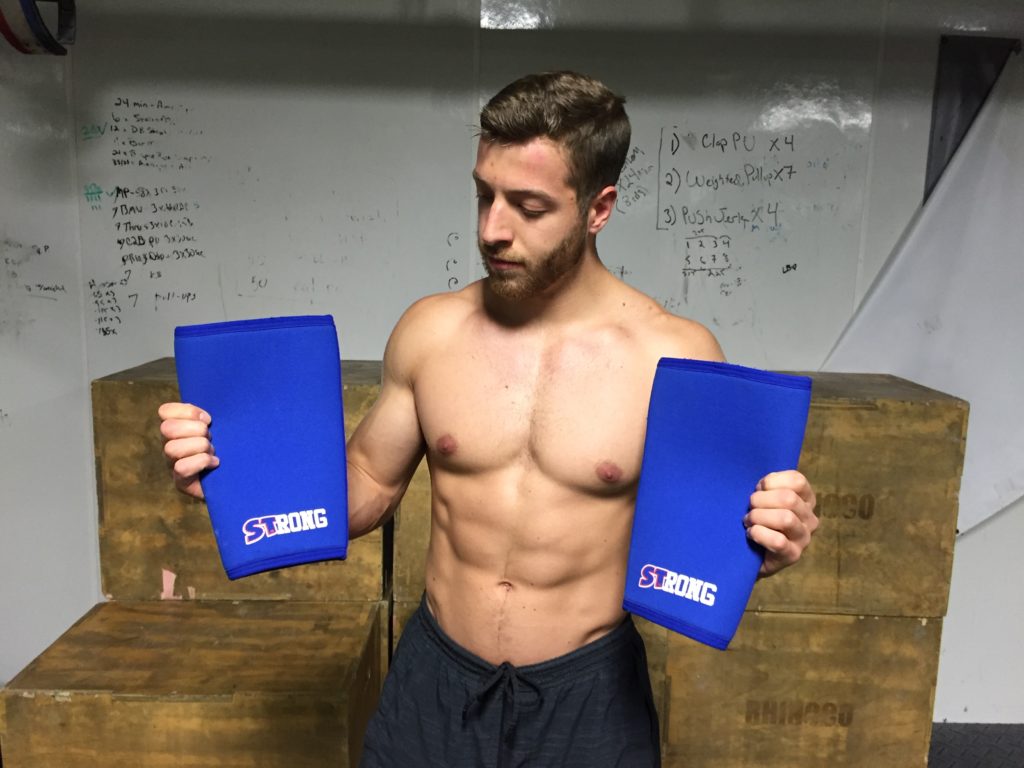 I'm always on-the-go and bringing sleeves in my backpack, so having a slightly water resistant pair is a key attribute. Plus, after multiple sweaty sessions, these sleeves did a good job at resisting odor as well. I also liked that there was reinforced stitching down the side, so the chance of this material ripping is pretty slim. The main downside to the above attributes is this sleeve's neoprene's ability to be really mobile and easily broken in.
Durability
From my multiple gym sessions with these sleeves, I never experienced any durability issues. I like that the material was resistant to easily stretching. This is promising for the powerlifter who needs a rigid sleeve that will last them a while. I also felt the reinforced stitching down the side was a good additive to resisting early fraying. There's never a chance of this stitching rubbing on a barbell, which I think is a key to maintaining a sleeve's durability.
Price
The STrong sleeves are a little on the pricey side starting at $80 for a pair. If you need a sleeve for a variety of reasons, then these may not be the best choice. On the flip side, if you're a powerlifter who's looking for a rigid sleeve that compared to a light wrap, then the price can be justified. In addition, I felt their durability was pretty well off for the price.
Final Thoughts
The Slingshot STrong Knee Sleeves were a rigid sleeve that felt durable through multiple gym sessions. I liked that they added a little rebound in the squat. For the powerlifter in need of a stiff sleeve, then I feel these are a good choice. The downfall for these sleeves lie in their versatility. They support the knees very well, but limit mobility in some power-based movements. Also, the price is a little high for the recreational gym-goer.
For the powerlifter in need of a very stiff sleeve, then the Slingshot STrong Knee Sleeves could be a good fit.