When it comes to indoor bikes, the Sole SB700 keeps it simple. It has all the necessities for a solid workout but none of the extras that may distract some users from having a good, concentrated sweat session. While you'll be able to track all your stats on the display, you won't find any extra workouts or programs on this bike. And though this may be a downside for some users, many can find added technology to be more of a hassle than a perk.
As you're considering if you want more or less technology, if you prefer clip-in pedals or just toe cages, if you need an upright or a recumbent bike, and what type of resistance you like best, we've dug into the specs of the SB700 to help you decide if it's the perfect bike for your home gym.
Main Takeaways
The Kelvar braking system creates a smooth and quiet ride for the Sole SB700.

A tablet holder makes for easy class streaming while you ride.

Toe cages make riding with

running shoes

possible, so no extra shoe purchase is necessary.
Sole SB700 Exercise Bike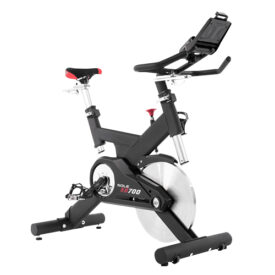 The Sole SB700 was built for riders who like to keep their workouts simple. It sports a 48-pound flywheel with adjustable resistance, adjustable handlebars and seat, and a tablet holder that allows for third-party fitness class streaming while you ride.
Sole SB700 Bike Highlights
​
With the Sole SB700, you'll find that it doesn't have a whole lot of added technological features, but it does have a quiet braking system that makes it great for at-home workouts. You won't find any workouts included with this purchase, but it does make it easy for you to stream third-party apps with its built-in tablet holder. If you like to keep things basic and want an exercise bike that has a pretty reasonable price tag, then the SB700 might be the bike for you.
Who Should Buy the Sole SB700
Anyone who enjoys equipment that is no fuss and low-tech.

Users who need a space to prop their tablet to stream classes while they ride.

Shoppers who want a quality exercise bike at a lower price point.
Who Shouldn't Buy the Sole SB700
Athletes who want the most modern technology incorporated into their machine.

Bikers who need or prefer a wider seat.

Anyone who wants pre-programmed workouts included with their purchase.
Price
​
The Sole SB700 goes for $699.99, which is on the low end of the market for indoor bikes. Sole has a pretty good track record of making quality products too, so this is a pretty solid value as far as we're concerned.
Overall Build and Quality
​
The Sole SB700 is a solid pick that gets the job done even with fewer added features than most bikes. You won't have to fuss with setting up programs or classes before your workout — the focus here is on the quality of the build and the comfort of the biker. Without the added technology, you'll be on your own for either finding a class to stream on a tablet or just pedaling solo. Either way, the Sole SB700's durable build, stat-tracking and quiet ride will make a great addition to your home gym for building both conditioning and muscle.
Features
​
There aren't a whole lot of added features on the Sole SB700, but you will find everything you need for a complete workout. The small display will track all your necessary stats, the cushioned seat will keep you comfortable while you're in the saddle, and the tablet holder will allow for class streaming if you want it. However, you won't find any fans, speakers, pre-programmed workouts or Bluetooth connectivity here, so if those features are some of the perks you're looking for, this bike may fall short of your expectations.
Stats Tracking and Metrics
​
On this display screen, you can track your RPMs, estimated calories burned, distance, speed, time and heart rate.
Display
​
This display is a small 3- by 4-inch backlit LCD screen with an LED-illuminating feature if you need some added lighting to check your stats in a dim setting.
Included workouts
​
There are no pre-programmed workouts on this machine, so you will need to be comfortable riding solo or programming your own workouts.
Workout Apps, Compatibility
​
and Subscription Options
Since this bike doesn't have Bluetooth, it's not compatible with streaming services like iFit or Peloton. However, it does have a tablet holder, so you can prop your tablet up and stream classes from your third party app right on your console.
Ride Feel and Comfort
Overall, you'll find a smooth ride on the Sole SB700, but the seat on this bike is a bit smaller than ones you'll find on other indoor bikes. It's close to the size you'll find on a road bike, but is still padded for comfort when you're in the saddle.
Heart Rate Monitoring
​
You'll have to purchase a separate heart rate monitor, but this bike is compatible with a wireless chest strap for instant heart rate zone stats.
Fans
This bike doesn't have any cooling fans, so you'll have to set up a floor fan separately to keep cool during hot summer workouts.
Speakers
There are no speakers on the Sole SB700, so if you want to listen to music, podcasts or any coached classes, headphones or a speaker are the way to go.
Water Bottle, Cup Holders, Tablet and Phone Holders
​
This bike has two water bottle holders and a tablet holder, which makes it easy to prop your tablet up to stream a class through a third party app while you ride.
Bluetooth and Audio Options
​
This bike doesn't have Bluetooth connectivity, so you won't be able to play any classes through the bike itself.
HDMI, USB and Other Inputs
​
There are no inputs on this bike, so you'll need to have your devices fully charged up if you want to use them while you ride.
Product Specs
​
This 141-pound indoor bike includes a 48-pound flywheel and a durable 2.0mm oval steel tube frame, which will allow you to ride for many years — maybe decades if you take good care of it. With adjustable resistance, adjustable handlebars, and a seat that adjusts both vertically and horizontally, this bike can really accommodate athletes of all shapes, sizes and fitness levels. Plus, it's one of the quietest bikes on the market, which makes it ideal for home use.
Bike Type
The SB700 is an upright bike, so if you need extra back support, a recumbent bike may be more up your alley.
Resistance
The Sole SB700 has a 48-pound flywheel that creates resistance. You can adjust the resistance lower or higher, replicating incline and decline to change the difficulty of the workout.
Pedals
The pedals have cages only, so you don't need any special shoes to ride — basic running shoes will do the trick.
Seat and Handlebars
Both the seat and handlebars are easily adjusted vertically and horizontally with a knob to accommodate all heights.
Dimensions
This bike measures 42″ x 21″ x 40″, which isn't a whole lot of floor space, but it is worth noting that you can't make this machine any smaller when it's not in use so it will stay that size wherever you decide to keep it.
Weight Capacity
​
This bike can handle users who weigh up to 300 pounds, which is about average for an indoor bike.
Portability
The Sole SB700 has wheels at the front of the bike that make it easy to roll to a different location as long as you're on a smooth and firm surface.
Electrical Requirements
This bike's power is self-generated, so you just need to pedal in order for it to run.
Warranties
​
With your purchase, you'll get a lifetime warranty on the frame, three years on parts, three years on electronics and one year on labor.
Noise
The Sole SB700 is one of the quieter bikes on the market thanks to its semi-metallic Kelvar braking system, which is less prone to squealing and creates a smoother, quieter ride.
Places to Buy
You can buy the Sole SB700 through Sole Fitness' website.
Company Information
​
Sole Fitness started out only selling their equipment to hotels, but they now sell to individuals for home use as well. Along with bikes, they also make rowers, treadmills, ellipticals and climbers.
Sole Fitness equipment comes with a 30-day trial period, and if you decide to return at the end, you will receive a full refund. Their customer service line is 866-780 SOLE (7653) if you need any extra assistance.
FAQs
How expensive is the Sole SB700?
The Sole SB700 runs a hair under $700. It's a solid bike with a reliable build, adjustable parts and a quiet, smooth ride. We think the price is justified compared to similar products of this quality on the market.
Is it easy to move the SB700 around?
Yes, as long as you have a smooth and firm surface for it. The two front wheels may struggle to get over a cobbled patio pathway or chunky carpet, but tiles, concrete, hardwood floors and a firm carpet will be a breeze.
Can you take classes on the Sole SB700?
You cannot take any fitness classes directly through the bike. However, the Sole SB700 does have a tablet holder, so you can prop up your tablet and stream classes from a third-party app while you listen through the tablet's speakers or separate headphones.