Fear, excitement, anxiety, and pure enthusiasm or apprehension are all things we can experience in the hours leading up to and during a contest. Control and proper direction of these feelings and emotions are necessary for a positive outcome. To truly have a consistent performance, you must react well under stress, and being emotional and disorganized is not any way to do this. While experience can alleviate some of the jitters, there are many other effective ways to reduce or eliminate unnecessary competition stresses.
First pick a contest inline with your current goals. Is this a tune up meet, one where you need to qualify or the big contest of the year? You can't attack every show the same way. For an in depth look at how to plan out where you need to be on the day check out this article on game day goals.

For most of us having a plan in place will start us down the road to success. Where better to begin than a few weeks prior when making plans for the trip? I always recommend arriving the day before weigh in. I understand it is more time off work, but it makes a weight cut that much easier. It also allows for airline errors, or traffic and mechanical breakdowns.
Being there early also has a major advantage of allowing you to hit a grocery store in order to have food for the contest and to properly rehydrate. I missed a pro qualifier once because a storm in Toronto halted many flights leaving Buffalo. Not only did it waste money, but I had trained specifically for it for six weeks. I felt it was a big setback in my career and gave me constant pre trip anxiety. If you just can't do the extra night, get in as early as possible the day of weigh-ins.
Once you have made weight, it is time to relax. I would not recommend heading out to see the city or to catch up with friends. Rather, time well spent would include meditation, relaxation, and getting your bag and gear in order. Low energy expenditure is priority here, a perfect time to actually watch Netflix and chill. If you decide to get dinner with the gang, get food that you are used to and does not have much of a chance of getting you sick. Skip the raw oysters and get your burger well done in this case. Don't walk more than a few blocks, Uber back to the hotel and get to bed early.

When you wake up on contest day, try and stick to your regular event day routine as closely as possible. A main reason my Saturday crew and I started at 10:30AM was because that is close to the time most contests will start. The body has a rhythm and you should follow it as much as possible.

Set up your own space or team space at the venue. The feeling of a defined area and community is very comforting to humans. Grab chairs and use them between events. Standing, pacing or visiting sales booths creates nervous energy and will drain you.

Warm up time favors mostly those that start immediately after they are completed. If you have to wait much more than 10 minutes you have lost most of the physical benefits and wasted a bunch of unnecessary energy. If you are lucky enough to go early, warm up as you would for group day.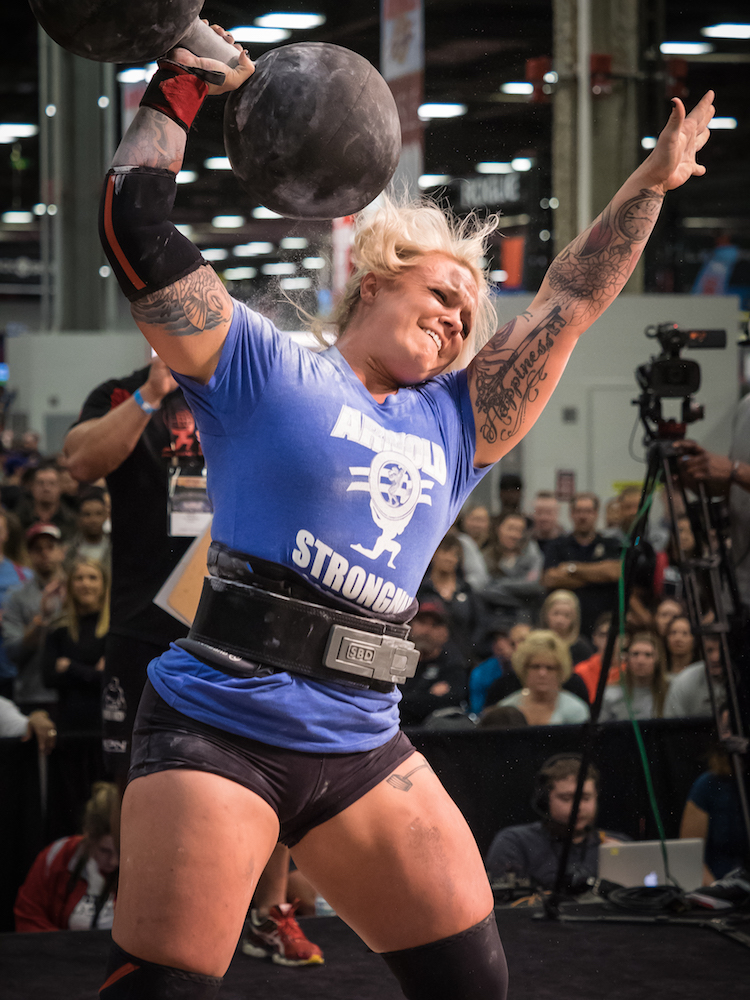 If you are in a later group, try only  doing a few minutes with the implement to get the "feel" of this particular one. After that sit back, conserve energy until it is about 15 minutes prior to your start time. Now begin a proper warm-up by using either bands (that you brought), plates and bars, and some dynamic movements to warm up. Stop two or three minutes prior to your heat to allow your heart rate to return to normal.

When it is time to go, there should be no doubt as to who you follow. The MC has probably announced your name three times prior to your start. Paying attention here will likely prevent you from getting flustered and running last second across the venue floor holding everyone up!

Many large events can go five to eight hours in length. You should have an easily digestible solid food source with you. Some candy, water, or peanut butter and jelly sandwiches are all good choices. Do not make the mistake of relying on food at the venue. Roller dogs, nachos and sports drinks aren't what you eat when you train. This isn't the time to test the iron stomach.

While many competitors will hang all day and be social with each other and even give interviews to guys like me, you should realize that all of this can have an impact on your psyche. If you are doing well with one or two events left, cut the small talk. Someone may say something that irritates you, makes you question your performance or worse, make you overconfident. Instead, sit down, slap on some headphones and watch videos of yourself performing well in training and other contests. This will do more to aide in your success.

Not everything you need to do requires a paragraph, so don't forget these quick tips:

1. Make a checklist of everything going in your bag before you go to the event. Then check the list after the contest. Nothing is worse than leaving a 100 dollar pair of shoes behind.

2. Nothing new on game day. This includes straps, wraps, tacky, belts, food, and techniques. If you didn't practice with it, skip it. Go with what you know.

3. Have fun. No one said being prepared will kill the buzz. It just makes victory more attainable.

Competition is unlike anything else on Earth. You really can't call yourself a strongman until you have been put through the paces on contest day.  By being prepared, organized, and in tune with the day you will put the odds better in your favor and get closer to that first place finish.

Editors note: This article is an op-ed. The views expressed herein and in the video are the authors and don't necessarily reflect the views of BarBend. Claims, assertions, opinions, and quotes have been sourced exclusively by the author.
Images: Michele Wozniak