What truly defines a legendary strength athlete? Often times, it's the fact that these athletes were years beyond their time when it comes to lifting, competition, and fitness knowledge. And in my opinion, another attribute to being a legend is setting and having long-standing records that are still relevant today. For example, we still have things like the Steinborn Squat — and in Donald Dinnie's case — we have the Dinnie Stones.
The Dinnie Stones are something of legend in Scotland, much like the Lochness Monster, only these are real (believe me, I want to believe Nessie is real). These stones still currently sit outside the Potarch Cafe & Restaurant between Aboyne & Banchory in Aberdeenshire, Scotland. 
The Legend of the Dinnie Stones
When it comes strength sports, lifting crazy heavy stones has been around for centuries. For example, if you're ever in Iceland you can attempt to lift the legendary Husafell Stone, a feat dating back hundreds of years. This historic 407-lb shield shaped stone was popularized worldwide at the 1992 World's Strongest Man Contest, and it remains in the village of Husafell, Iceland to this day. Now, let's take a trip to Scotland, where you'll find the famous Dinnie Stones.
For Dinnie Stone background, in 1837 Donald Dinnie was born to his father Robert Dinnie, who worked as a stronemason. At the age of 16, Dinnie won his first athletic competition (wrestling) in a neighboring town, and this win kickstarted his athletic career. In the years following his start to sport at 16, Dinnie competed in multiple tests of athleticism, and is best known for dominating the Scottish Highland Games Championships for 20-years (1856-1876).
Now as the legend goes for the Dinnie Stones, in the 1830's, metal handles were attached to two large boulders, which were used as counterweights for the maintenance of the Potarch bridge. Cumulatively the stones weigh 332.5kg (733 lbs), and individually the smaller stone weighs 144.5kg (318 lbs), while the larger stone weighs 188kg (414 lbs).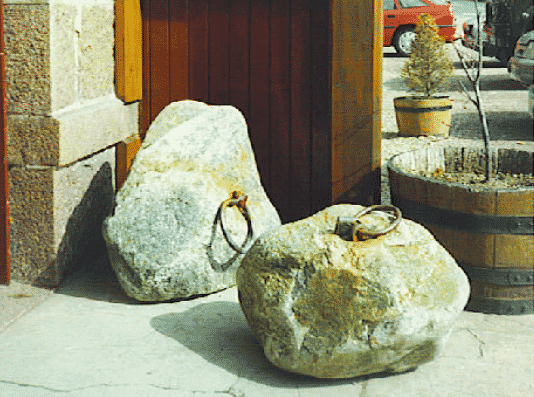 Photo by Colin Smith. Licensed under  CC Attribution-Share Alike 2.0 Generic.
In 1860, Dinnie completed one of the most impressive strength feats of his career, which is now known as the Dinnie Stones. It was at this time, Dinnie carried the two massive stones described above across the Potarch bridge, then back, for a distance of about 4-5 yards.
The New Dinnie Stones World Record
Only a handful of athletes have been able to compare to Dinnie's original strength feat, and even fewer have broken what's known as the Dinnie Stones World Record. In fact, only five athletes have been able to hold the stones for longer than 30 seconds, and most of them are dedicated or professional strongman, and that brings us to the topic of this article.
[Want more on Stone Lifting? Check out Rogue Fitness' movie "Stoneland"!]
Two weeks ago, the Dinnie Stones World Record was broken yet again, and the feat has quietly flown under the radar of many strength sports fans (including us!). Mark Haydock, a strongman competitor and avid strength athlete broke the Dinnie Stones World Record in a glorious fashion by holding the stones for an epic 38.61 seconds. Check it out below.
In Haydock's Instagram video's description he writes, "Here it is then…Dinnie hold world record of 38.61 seconds!!! Got to say a BIG thank you to Brett and Lynn for helping and making this possible, also Sam, Nat, and Emily for helping and support. Plus my training partners back home.
So much respect for Mark Felix, Bryan Hunsaker, Timo Lauttamus, and James Crossley, who have all broken the 30-second barrier…we feel each others pain!"
The Dinnie Stones and things like the Steinborn World Record are awesome because they have the capability of bringing more athletes together, along with keeping strength legends and feats alive.
Feature image from @haydockmark Instagram page.