Unbroken Designs is a strength company that makes supportive equipment for the functional fitness athlete, including knee sleeves. Their equipment was designed by functional fitness athletes who wanted supportive equipment designed specifically for their activities. They also make their equipment with unique designs that gives them a unique appearance in the gym setting.
Unbroken Designs makes belts, compression wear, and knee sleeves. Their Block Party Knee Sleeves are made with 5mm neoprene and are designed to support the knee joint through functional workouts. When we received our pair I was excited to put them through a variety of tests.
I personally train in a powerlifting fashion, so I tested these sleeves with both powerlifting and functional fitness workouts.
Click HERE to buy Unbroken Designs Knee Sleeves.
Stability
These sleeves are made with 5mm neoprene, which is right in the middle of what you can expect in a knee sleeve's thickness. This style of thickness is usually used to enhance knee warmth.
That being said, they weren't the most rigid sleeve I've tried for heavy lifts. If you're looking for a sleeve that's going to provide a bunch of support with maximal lifts, then you may find issue with this particular sleeve. Athletes looking for a stiff, more rigid sleeve may be turned off by the little support these offered during maximal lifts.
[Check out our best knee sleeves round-up for our top knee sleeve picks]
Personally I thought these sleeves did a good job at one main purpose, which is keeping the knee warm with some support. They allowed me to move well in power movements like the clean and snatch, while providing some support for comfort. It's important to keep in mind that these sleeves are built for functional fitness athletes.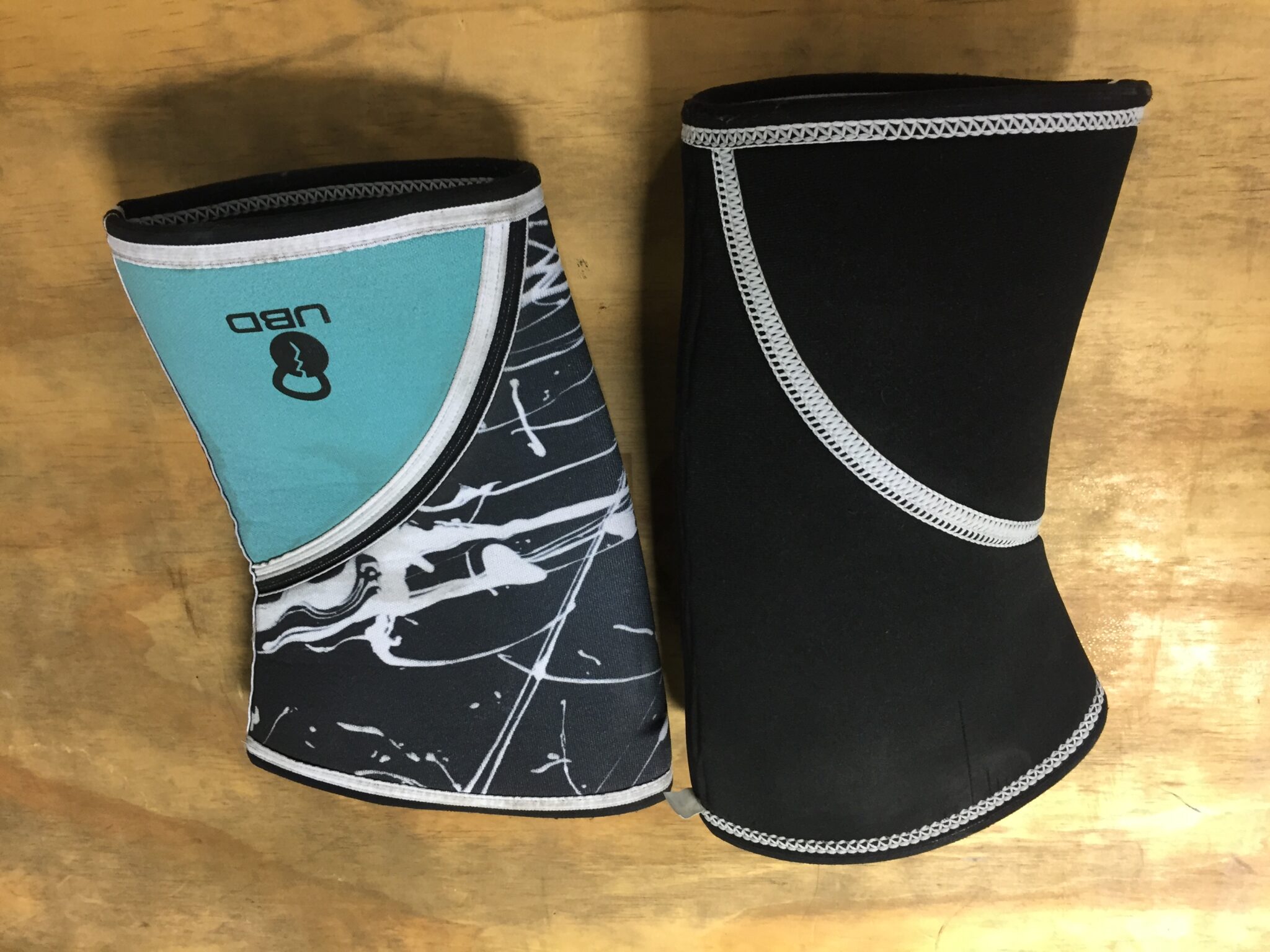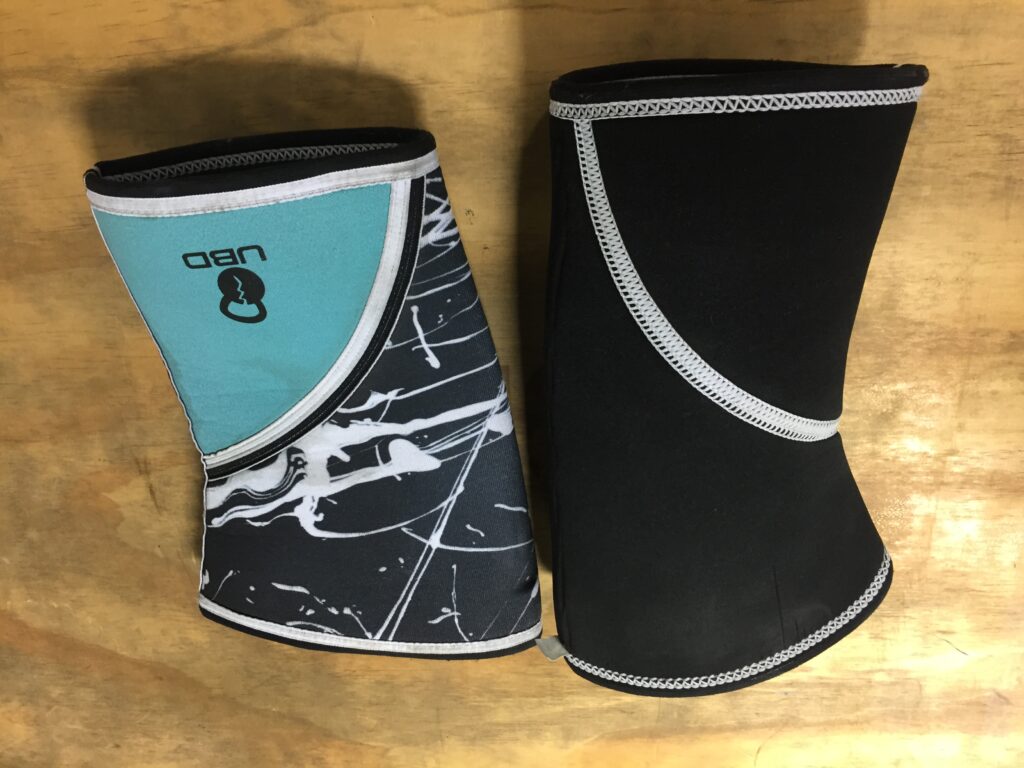 Comfort and Fit
These sleeves may not have been the most rigid, but they were comfortable around the knee joint.
They fit pretty true to their sizing, and are comparable to other company's sizing models as well. Each end of the sleeve has a tapered end, so they hug the quad and calve well. I liked this aspect because it made them hug the right areas of the leg appropriately for their size description. A sleeve that doesn't taper (while rare) has the issue with providing an awkwardly tight fit, which these were great at avoiding.
An important aspect to keep in mind with these sleeves was the rate at which they stretched out. If you're interested in this sleeve, then I would recommend going a size down. They feel great at first, but ended up stretching a bit around the 2-month mark. This was an issue because I had to continually pull them up during a lift. After pulling them up, I'd lose chalk on my fingers due to sweat, and that was frustrating at times.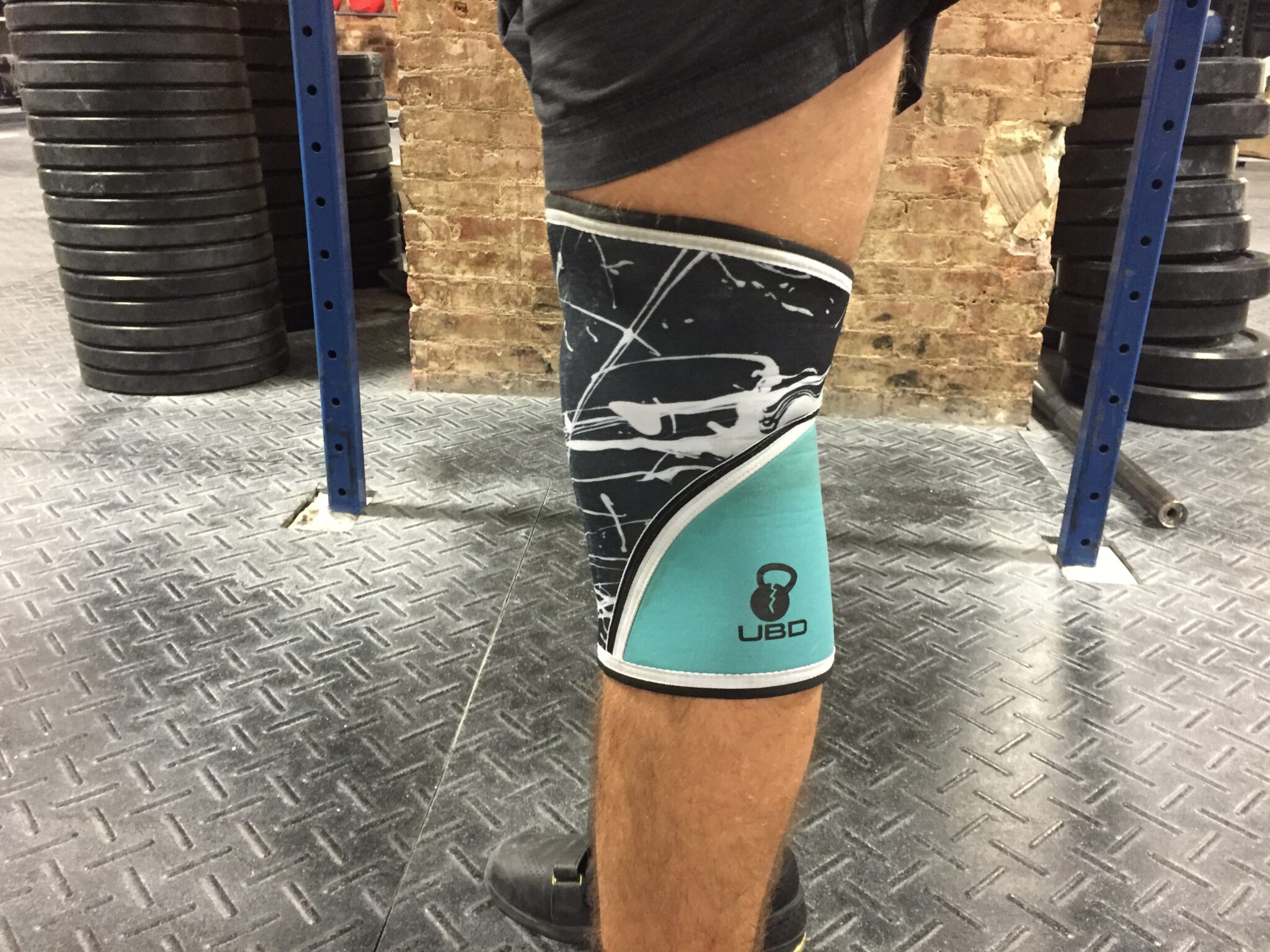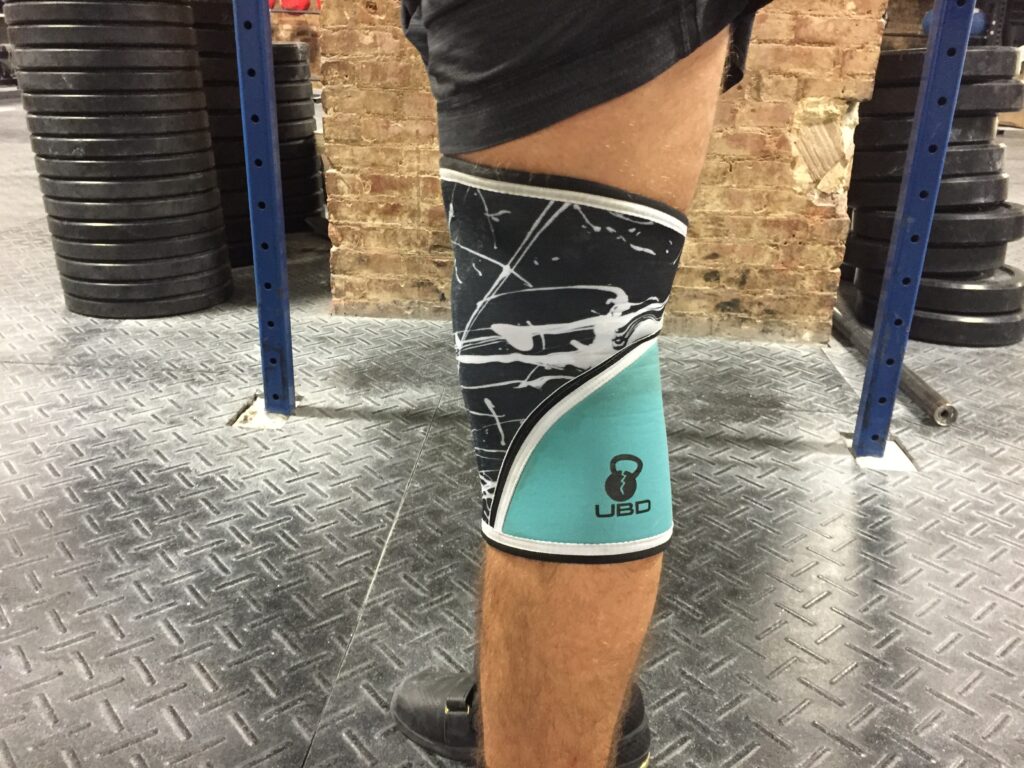 Material
I liked the neoprene this sleeve used. It was softer on the inside, so it was comfortable on the skin. Some sleeves I've tried that have a little rougher neoprene can take longer to break in. These sleeves broke in quickly (around three sessions) and felt great on the skin from their first use. The material stretches well if you pull on it, but not to the point where it feels loose and cheap.
The outside material is a little tougher, and that's standard with most sleeves for durability purposes. I liked the print the outside material has as well. It made them standout in the gym, which is an aspect I personally liked. There will never be an issue with finding the sleeve if I left it out on accident. The only downside to the material Unbroken Designs uses is the rate at which they stretch. I mentioned this point above, but it's worth bringing up again.
Durability
These sleeves had multiple durability aspects I liked, but they also came with a few downsides. One of the aspects I enjoyed about this sleeve was the neoprene feeling itself. It didn't feel cheap, or extra stiff. Also, I liked how the tapered ends of the sleeve are enclosed by a layer of cloth to prevent fraying edges.
A few downsides to this sleeve involved the stitching. I like sleeves to be a little more heavily stitched, and these sleeves seemed a little light on stitching at the seems.
Another downside was how fast they stretched and how fast they stained with sweat. In only 2-3 months of using them, they stretched out and had pretty visible sweat stains on them. The sweat stains aren't the biggest deal, as they can be washed out, but the stretching is a problem you can't really fix. The point of a good knee sleeve is maintain their support, so without this aspect it makes me question these sleeve's long-term durability.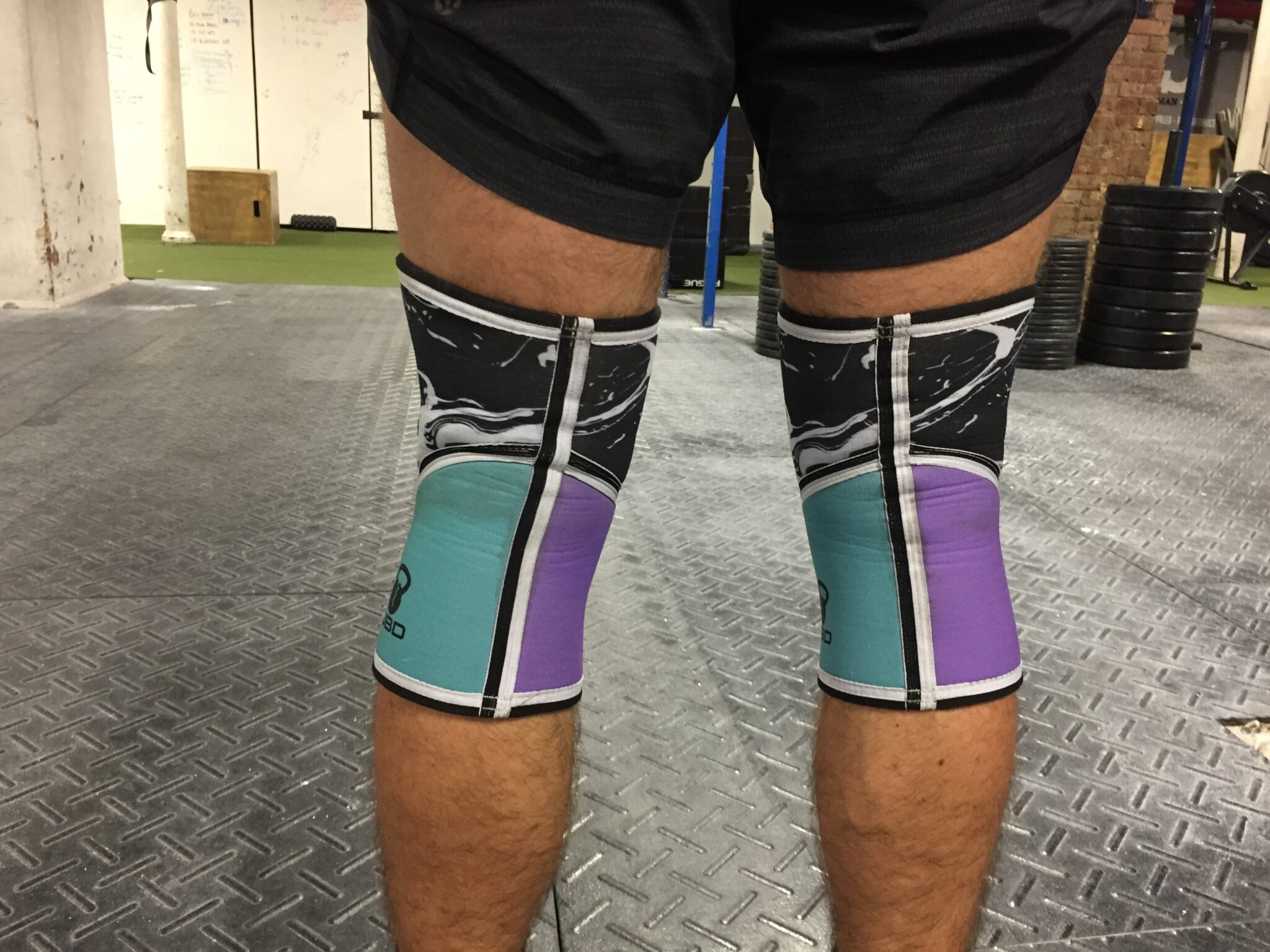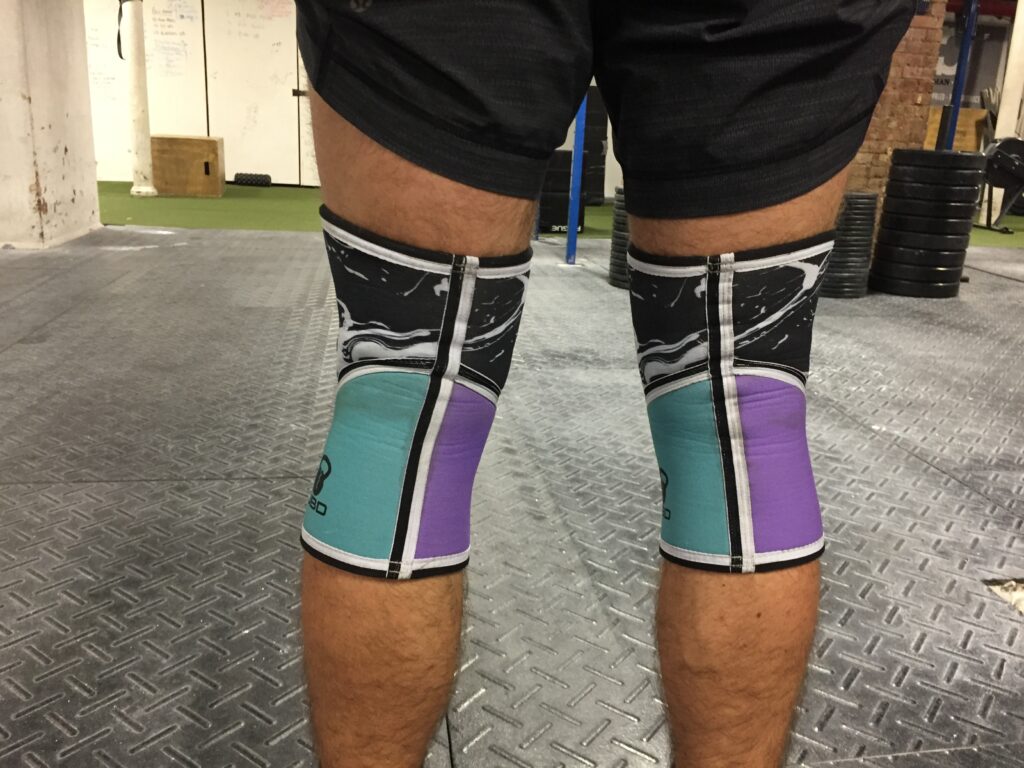 Price
The price of this particular sleeve is $65.00 for a pair. This price is a little on the higher end for a 5mm neoprene sleeve. For the functional fitness athlete, these sleeve's pricing may be a good fit. This sleeve is a little on the stiffer end for functional styled sleeves and provides free range of motion with ease. If you want a stand out sleeve designed for functional styled workouts, then the price may be a good fit.
Personally, I think the price is a little high for the rate at which they stretched out during my usage.
Final Word
All in all, I liked the Unbroken Designs Block Party Knee Sleeves for the purpose of keeping my knees warm. They kept my knee warm and hugged tightly in both powerlifting and functional fitness workouts. The design was also a plus with how they made these sleeves stand out and look original.
They didn't provide a ridiculously rigid feeling, so powerlifters or strongman athletes may want to consider this aspect and look for a stiffer sleeve. Also, they did have a few issues with durability, which I pointed out above, especially when it comes to stitching and stretching out over time.
For the functional fitness athlete who wants a somewhat stiff sleeve that allows free movement, then this sleeve may be a good choice for you.