Under Armour and Dwayne "The Rock" Johnson are back at it again with a brand new performance shoe. On Thursday the Project Rock 2, also known as the PR2, became available for purchase. This is the second of the Project Rock training shoe collection — check out our review of the first Project Rock.
Under Armour says the PR2 shoe is "built to break through" and was created after the success of the PR1, which was released on Memorial Day last year. Dwayne Johnson has been hinting at the PR2's release since this past December and made things extra official with an Instagram post today:
He put the caption,
Sophisticated.
Pick up truck's loaded with my brand new toys on my way to the gym.
New blood orange #PR2s 👟 and new camo strap 🏋🏾. Let's do some damage shall we? 😈
In Under Armour's press release, "The Rock" commented on where the inspiration came from to create the PR2.
"Our PR1 shoe sold out in 30 minutes, so when designing and personally testing the PR2, I knew we needed to take it to the next level. The PR2 is completely unique – the first ever HOVR training shoe to be created, made to make you feel stronger than ever before so you can push through whatever obstacles life throws at you. This is not your average training shoe."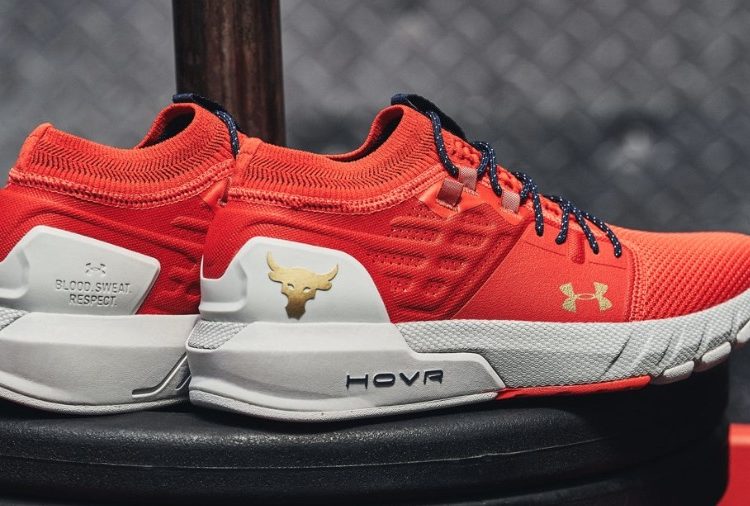 We've reviewed a lot of training shoes in the past — and came up with our guide to the best cross-training shoes — and we found the PR1 to be a solid, dynamic training shoe that is suited for a wide variety of workouts.
[Curious about which lifting shoe is right for you? Take this quiz to find out!]
Project Rock 2 Shoe Features
As Johnson notes above, it's the first HOVR shoe for cross training. That's Under Armour's "energy return foam," which until now was only used in their running shoes. The idea with HOVR is that it helps to absorb and eliminate impact when you're training — in fact, the claim is that its "Energy Web," which contains the HOVR, can return as much energy as you put into it with every stride. Basically, it puts a spring in your step that should help with lifting and agility work.
It also makes use of the TriBase™ design, which featured in their Reign Cross Training Shoe. It's intended to allow the foot to maneuver with ease and maximize ground contact. Men's Health reports that relative to the PR1, the toe box is narrower, they're cut slightly lower, and it no longer has the layer of TPU in the heel. We'll have a full review up on BarBend once we've tried 'em out ourselves.
The PR2 is now available in men's, women's, and youth sizes. In U.S. dollars the prices are $140 for men's and women's sizes, and $120 for youth sizes.
Featured image from Under Armour's website.