Based in New Brunswick, New Jersey, Universal Nutrition has been in the supplement business for over forty years. Perhaps best known for targeting their products at the bodybuilding community, we've tried quite a few of their products sold under their "Animal" line, like their whey protein. We've also tried their regular creatine powder but when we heard they also sold chewable creatine, we had to give it a try. We were happy to find that it's a tasty, convenient way to get creatine on the go, plus there are no artificial sweeteners.

Best Creatine Chews
Universal Nutrition Creatine Chews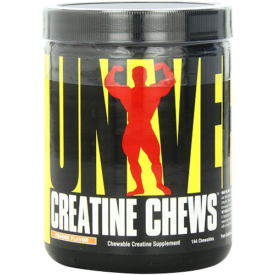 Universal Nutrition Creatine Chews
This creatine supplement provides five grams of creatine monohydrate per serving in convenient chewable tablets. It are free from artificial sweeteners, vegetarian-friendly, and only contains four grams of sugar per serving.
Universal Nutrition Creatine Chews Ingredients
One serving is four pills, which provide 18 calories and five grams of Creapure® brand creatine monohydrate. The calories all come from carbs: there are 4.5 grams of them, 4 of which are sugar.
That's why the first three ingredients are sucrose, dextrose, and maltodextrin. Then there are flavorings: natural and artificial flavors and citric acid. There's also stearic acid, which helps to extend shelf life, and magnesium stearate, a flow agent that helps to keep the product from sticking to the machinery in the facility in which it's made.
Note that there are no artificial sweeteners or colors, though there are artificial flavors.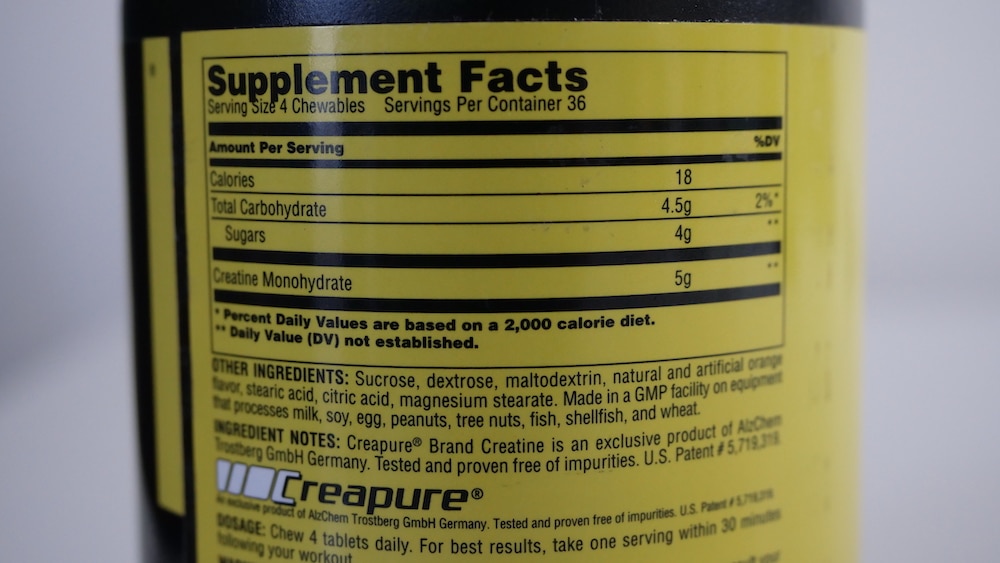 Universal Nutrition Creatine Chews Benefits and Effectiveness
Creatine has really strong links with improving power output, muscle size, and maybe muscular endurance.(1)
The big benefit of this product, of course, is that it's a jar of chewable pills. That means that not only are they portable, but you don't need to have a glass or bottle of water on hand if you want some creatine. That gives it an advantage over regular creatine pills. It's also worth noting that these pills, unlike most creatine capsules, are vegetarian.
The pills aren't actually that chewable, though. They're hard like breath mints, so keep in mind they'll take a while to break down in your mouth and become soft enough to bite.
It's also noteworthy that Universal Nutrition have used Creapure® brand creatine, which has a stellar reputation for its purity. It's made in a dedicated facility in Germany, tested at the German Olympic Training Center in Berlin, and has a ton of different quality controls to help ensure there are no banned substances or impurities.
The Universal Nutrition facility in New Jersey is also GMP certified and their creatine is third party tested for purity. That could be good news for competitive athletes who are particularly concerned about banned substances.
A final note on purity: while Creapure is made in a dedicated facility, the product is made on equipment in the US that processes many common allergens like peanuts, shellfish, and wheat. If you have extremely sensitive allergies you may want to steer clear.
Universal Nutrition Creatine Chews Price
You can pick up a jar of 144 tablets for about $20.50. Each serving is four tablets, so that offers 36 servings for about 57 cents each. That winds up at 11 cents per gram of creatine.
That's somewhat expensive since it's not hard to find plain creatine monohydrate for 4 or 5 cents per gram, even if it's from Creapure. You're clearly paying extra for the fact that the creatine had to get processed into pills, so if you love the idea of chewable creatine then the price may be worth it for you.
Universal Nutrition Creatine Chews Taste
The Orange flavor is very mild. I was expecting something bolder, but perhaps due to the lack of artificial sweeteners, this was pretty bland — in other words, it tastes more like creatine than orange. That's not to say it was unenjoyable, just don't expect candy.
The Takeaway
I was impressed by the quality of these pills: no artificial sweeteners, high-end Creapure-brand creatine, and super convenient in that you don't need water to get a hit of creatine. Finally!
The main issues you might have are that it contains sugar, it's not all that allergen-friendly, and they're not actually chewy. But if all you want is quality creatine that's extra portable, you're in luck.
Reference
1. Cooper R, et al. Creatine supplementation with specific view to exercise/sports performance: an update. J Int Soc Sports Nutr. 2012 Jul 20;9(1):33.