Based in New Brunswick in New Jersey, Universal Nutrition has been in the supplements business for over forty years. Perhaps best known for targeting their products at the bodybuilding community, we've tried quite a few of their products including their BCAA stack and the Juiced Aminos and whey protein sold under their "Animal" line.
Today we wanted to take a closer look at their creatine, which we found to be reasonably priced and unusually pure.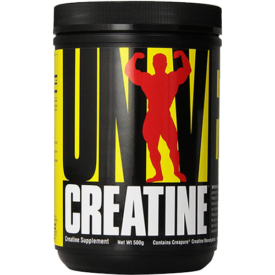 This 100 serving creatine supplement delivers 5 grams of monohydrate in every dose.
Universal Creatine Ingredients
Their unflavored version just has one ingredient: creatine monohydrate. Note that this product does come in Fruit Punch and Blue Raspberry flavors which include natural & artificial flavors, citric acid, malic acid, artificial food dye, and the artificial sweeteners acesulfame postassium and sucralose.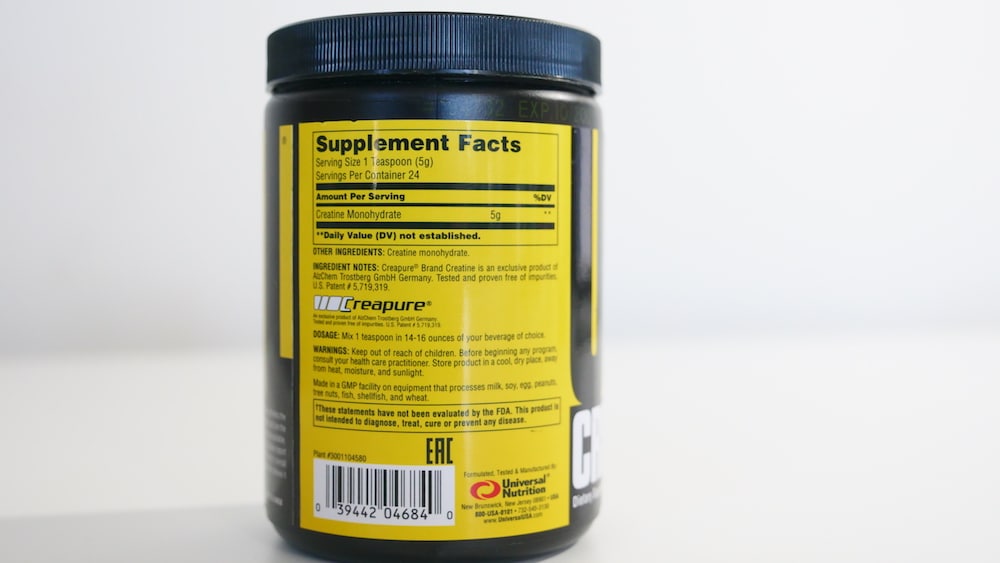 Universal Creatine Benefits & Effectiveness
Creatine is one of the most well-researched supplements on the market and it has very strong links to improved muscle power, endurance, and hypertrophy.(1) There's even some evidence it may improve cognition among people who don't consume creatine in whole foods — since it's only present in animal products, this mostly applies to vegetarians and vegans.(2)
Creatine monohydrate is the most common form of the supplement and the one that is used most frequently in clinical studies, so it's smart to pick monohydrate. What's great about Universal Nutrition's creatine is that they use the monohydrate from Creapure®, a German company that's known for their very stringent quality control process. It's made on a closed production line in a dedicated facility that operates according to the principles of Hazard Analysis and Critical Control Points, meaning that there's no cross contamination with other supplements, plus it's tested for purity and banned substances at the German Olympic Training Stadium.
Universal Nutrition does note, however, that their supplements are processed with equipment that also processes milk, soy, egg, peanuts, tree nuts, fish, shellfish, and wheat. Athletes with extremely sensitive allergies may not be satisfied with this product.
That said, Universal Nutrition's facility is GMP (or Good Manufacturing Practices), which means there's a reasonably high benchmark for purity and banned substances.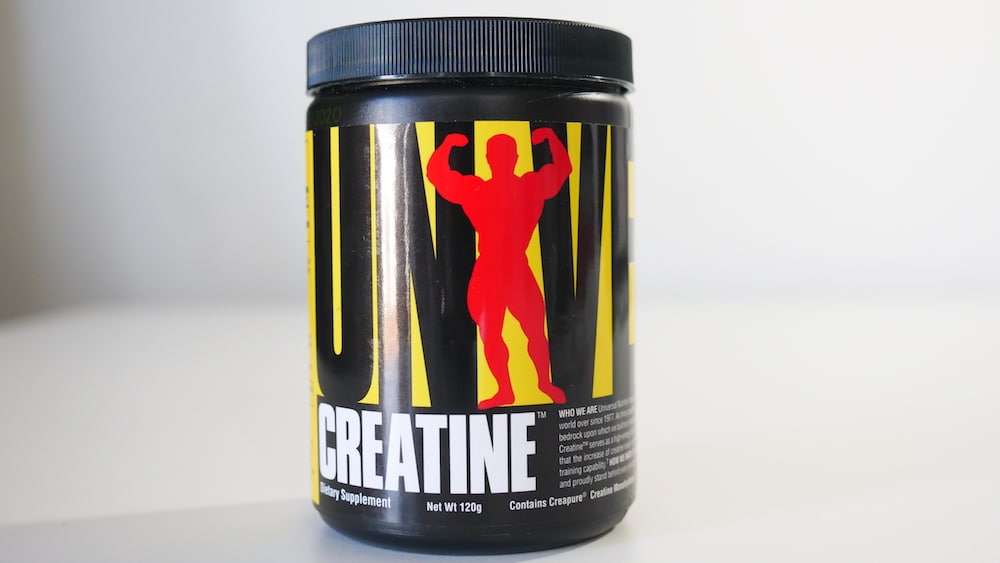 Universal Nutrition Creatine Price
I picked up 120 grams, or 24 servings, for $7.75. That came to 32 cents per serving or 6.4 cents per gram of creatine. If you pick up a larger 500-gram tub for $16.95, the price drops to 3.4 cents per gram.
The smaller tub's price of 6.4 cents per gram isn't that cheap, since there are plenty of other brands that offer closer to 3 or 4 cents per gram of creatine, but since this is Creapure, you may find the price justified.
[Looking for more creatine? See our best creatine picks.]
The Takeaway
It's hard to land on a verdict for this product since it uses very high quality creatine. It's also worth noting that this isn't micronized creatine, so it won't disperse all that well in water as compared to some other versions.
But since it's still Creapure in a GMP facility, you can be fairly confident that there are no banned substances in Universal Nutrition's creatine, and since their primary audience is bodybuilding enthusiasts, this will be good news for those competing in natural contests.
References
1. Cooper R, et al. Creatine supplementation with specific view to exercise/sports performance: an update. J Int Soc Sports Nutr. 2012 Jul 20;9(1):33.
2. Benton D, et al. The influence of creatine supplementation on the cognitive functioning of vegetarians and omnivores. Br J Nutr. 2011 Apr;105(7):1100-5.