Vega is one of the best known names in vegan nutritional supplements, stating that "you shouldn't have to choose between clean, plant-based nutrition and on-the-go convenience"
They were founded in 2004 and they've got a wide range of nutritional products available including protein powder, greens powder, and protein and greens powder, but today we're discussing their famous "All-in-One Shake" called One. It comes in six different varieties and I decided to take the coconut almond flavor for a spin.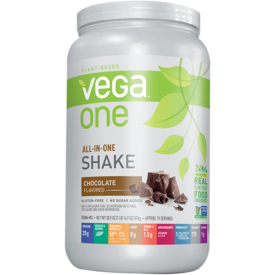 This meal replacement delivers quality protein with a solid macro profile, along with probiotics and much more.
Vega One All-in-One Shake Nutrition Info
One scoop has 150 calories: 20 grams of protein, 8 grams of carbohydrates (4 grams of fiber, 1 gram of sugar) and 5 grams of fat (0.5 grams of saturated fat).
As fas micronutrients go, there's roughly 50 percent of the daily intake of a variety of nutrients: Vitamin A, Vitamin C, Vitamin D, and a range of B-vitamins. There's about 30 percent of the daily intake of iron and B12 and 15 percent of the calcium RDI as well.
There's some zinc, potassium, magnesium, biotin, and folate, but everything is under 10 percent.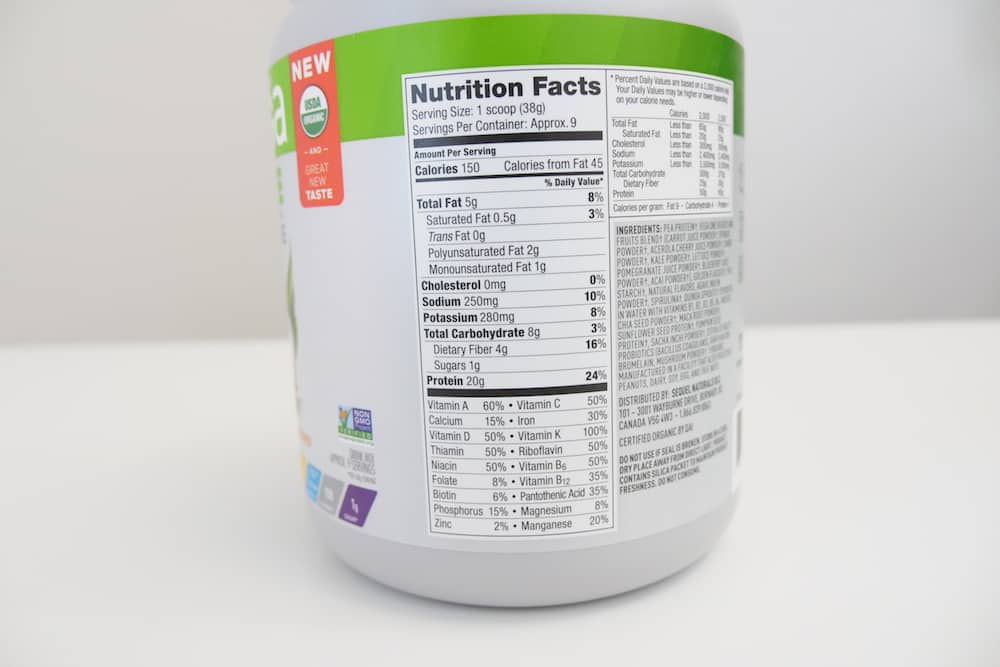 Vega One All-in-One Shake Ingredients
The ingredients are pretty much all natural. The protein comes from pea, then there's a huge variety of powdered fruits and vegetables (sometimes made from powdered juice powder, which may be more nutritious).
There's spinach, acerola cherry, chard, kale, pomegranate, maca root, chia seed, sacha inchi, mushroom, and many others. To top it off, there's 2 billion probiotic bacteria per serving from bacillus coagulans. 
[See which brands made our list of the 10 best meal replacement shakes here!]
Vega One All-in-One Shake Benefits and Effectiveness
Everything here is vegan, non-GMO, gluten-free, soy-free, and added sugar-free. There are no artificial ingredients whatsoever and there's an argument to be made that it's made entirely from whole foods. There are a couple of loopholes, like the ambiguous "natural flavors" and the fact that the quinoa was sprouted in water containing vitamins, but nonetheless this product has clearly made a committed effort to getting its nutrition from "natural" sources.
So how complete is it? There's a lot of great nutrition here that I've already mentioned, and in particular the high amount of vitamin B12 and iron may be extra useful, since they can sometimes be a little tricky to get on a vegan diet, at least for some folks. That said, I was a little disappointed in the calcium content with 15 percent, since that's another nutrient that can be hard to get a lot of without animal products.
So as a vegan nutritional supplement I think it's done a pretty impressive job, especially since it's relatively low carb and half the carbs come from fiber, which keeps the net carb count low and makes it extra satiating.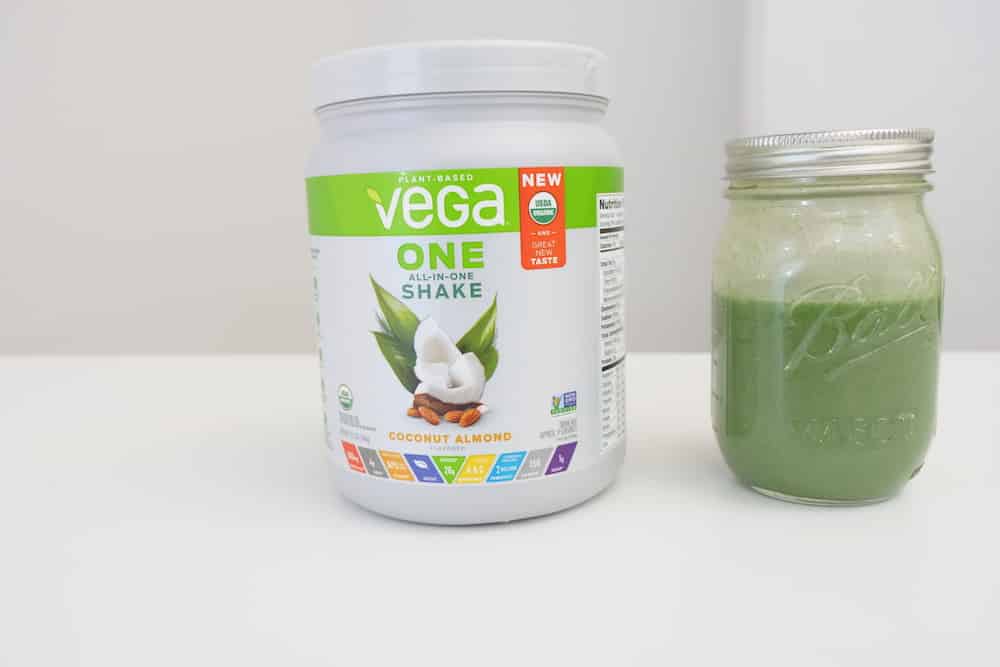 The name "All-in-one" isn't perfect, since there are a lot of nutrients this is low in. There's little potassium, magnesium, zinc, biotin, and folate, and there's no talk at all of copper, chromium, choline, iodine, selenium, and a few other nutrients.
That said, as a product targeted at vegans, I think this does a pretty solid job of supplementing with a variety of important nutrients. The other ones I mentioned aren't especially hard to consume on a diet that's rich with plants.
The probiotics are also a great touch that may help to improve digestive health. The only other thing worth mentioning is that this comes form a facility that also processes dairy eggs, tree nuts, peanuts, and soy, which could be an issue for some consumers.
Vega One All-in-One Shake Price
You can pick up a tub of 9 servings for $28.50. That comes to $3.17 per serving. It's worth pointing out that different flavors, at least on Amazon, have different prices and some of them wind up closer to $4.40 per serving. That's pretty pricy for a meal replacement, but if you pick up a larger tub of 18 servings, it's $44 or about $2.44 per serving, which is a pretty reasonable price compared to other brands.
Vega One All-in-One Shake Taste
I was pretty surprised by the taste. The powder smells a lot like your classic greens powder, which is to say it smells like wheatgrass and soil, so my expectations were low. But I actually found the coconut almond flavor to be really tasty — it tasted like coconut and almond.
I tried it with water and with unsweetened almond milk and I actually preferred it with water. It mixed better and it reduced the "nutty" flavor so that more of the coconut flavor came to the fore.
The Takeaway
I wouldn't consider this an "all-in-one" meal replacement in that it doesn't contain every nutrient we need, but as a supplement to a vegan diet or any diet that includes plenty of fruits, cruciferous vegetables, and fats, I think this could be a solid supplement.