Keto diets have become phenomenally popular, with Google searches related to the term surging by almost 2,000 percent between 2016 and 2018. Halle Berry has done it, Tim Tebow has done it, Vanessa Hudgens has done it, Tim Ferriss has done it, and by now most people have a friend of a friend who swears it got them in the best shape of their life. Innovative nutrition companies like Ample have even started offering on-the-go solutions — the diet certainly doesn't need to be all butter and steak.
Nonetheless, a lot of people hear "keto" and think "lots and lots of ribeyes" but what does it actually entail, and how can you make it more manageable?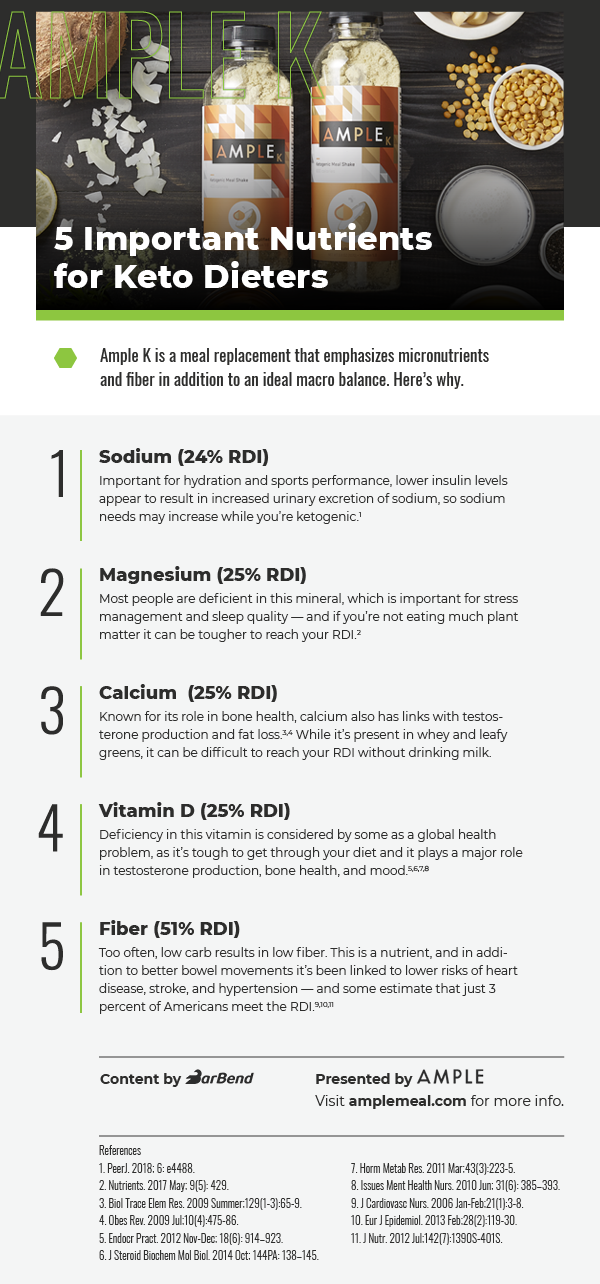 Ketogenic Diet Benefits
For starters, the ketogenic diet is high in fat: about 60 to 70 percent of your calories come from fat with some 20 to 30 percent from protein and under 50 grams of carbs per day, depending on your calorie intake.
Going so low in carbs triggers a range of changes in your body. The precise physiological effects are complex but the long and short of it is that with so few carbs, the body starts relying more heavily on other sources of fuel, typically fat and/or ketones.
Research suggests this could have a range of benefits, particularly for the brain. For the past hundred-odd years it's been used to treat epilepsy, as a lot of data suggests it has the potential significantly reduce the frequency of seizures patients.(1) Lately, newer research has found it that going keto may have applications for other neurologic conditions like Parkinson's and Alzheimer's, with the theory being that the diet is neuroprotective — helps to preserve brain cells.(2)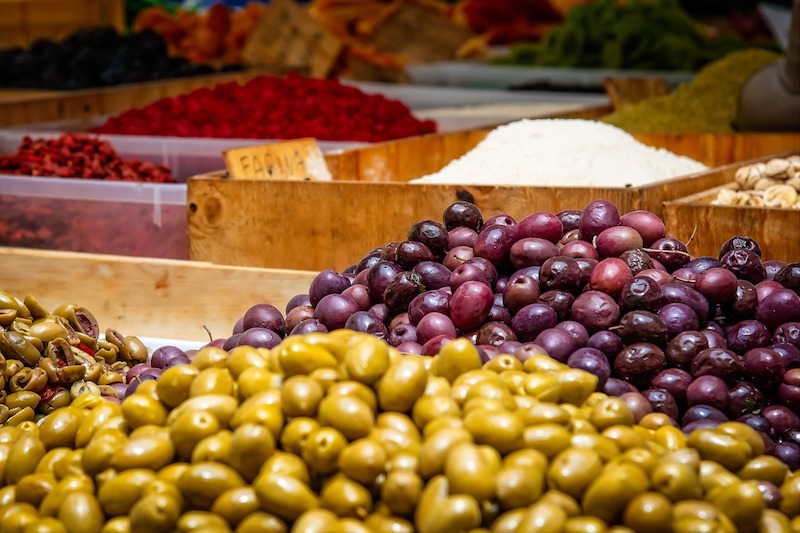 Now we should make it clear that these novel, therapeutic applications of the keto diet aren't universally agreed upon in scientific circles, but for many adherents they're besides the point: the real draw for much of the general population is the research suggesting keto might make it easier to lose body fat and retain muscle, plus the drop in carbs makes it easier for some folks to control hunger while in a calorie deficit.(3)(4)
Of course, like most diets and workout routines, the way people respond is highly individual: certain people find it too difficult to stick with while others absolutely thrive on it. For some, the limiting factor is all those "ribeye or bacon" heavy meals; at a certain point, won't the repetition get tiresome? Fortunately, there are a lot of other ways to stay keto that don't involve meat at all. When your diet needs refreshing, consider the following foods — and keep scrolling for some delicious recipes that you can build on.

Vegetarian Keto Food List
Keep in mind that staying ketogenic is largely about your macros: we're listing foods that can easily fit into a diet, not foods that on their own comprise a perfect 60:30:10 ratio of fats, protein, and carbs.
Sure, not all fats are created equal. Some prefer more saturated, some prefer polyunsaturated, some like more medium chain triglycerides, some want to up their lauric acid… the ins and outs and pros and cons of different fats could fill a lot of doctorates and is beyond the scope of this piece. But if your main concern is your macros, these can help you hit 'em.
Dairy
Heavy cream and certain cheeses provide a big hit of fat and are typically lower in the Omega-6 fatty acids that some people prefer to avoid. If you want as many Omega-3s and beneficial fats as possible, lean toward grass-fed dairy.(5)
Eggs
One large egg about 5 grams of fat to 6 grams of protein and depending on the chicken's diet, that yolk can be a potent source of Omega-3, zinc, calcium, choline, and antioxidants.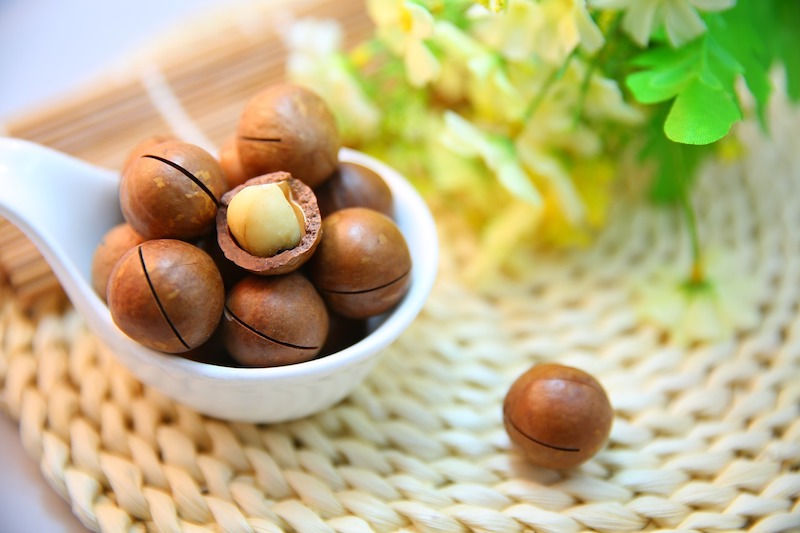 Coconut
Coconut oil, coconut meat, and coconut butter have exploded in popularity because of a variety of potentially healthful ingredients like lauric acid, which may have antibacterial properties, and medium chain triglycerides, which more effectively provide energy while in ketosis.(6)(7)(8)(9)(10)
Nuts, nut butters, and seeds
Nuts can be a little iffy here as some of them, like cashews and pistachios, are significantly higher in carbs than others. For keto diets, it's easiest to default to macadamias: a half cup has 50 grams of fat, 3 grams of net carbs, and 6 grams of protein. They're also way lower in Omega-6 than most nuts, comprising just 4 percent of the fat content.(11)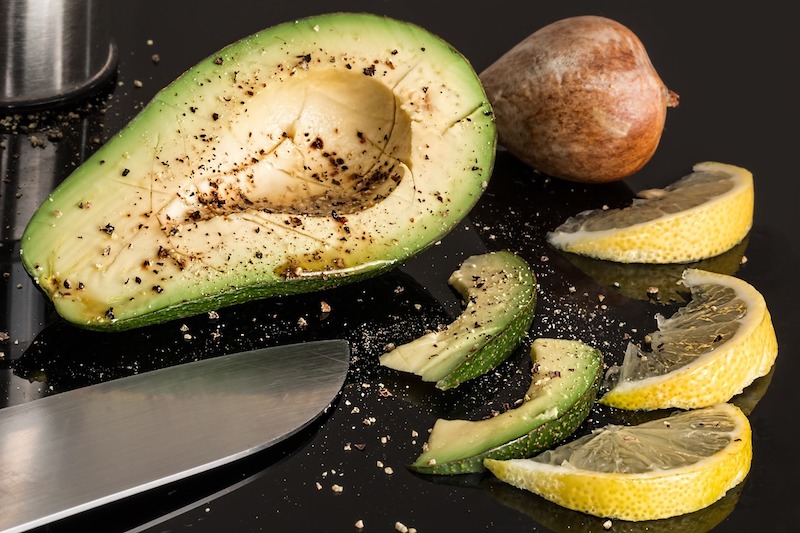 Avocado
Americans consume about 50 million pounds of avocado per week and it's a great fit for a ketogenic diet: one cup provides a solid 21 grams of fat, 12 grams of carbs and 10 grams of fiber, along with a suite of important vitamins, minerals, and antioxidants.
Oils
This is an obvious one, but remember to experiment with options beyond olive and coconut. Avocado oil is rich in oleic acid and lutein, red palm oil is high in carotenoids and antioxidants, and hey, grass-fed butter has a lot of the dairy benefits we outlined above without any of that pesky lactose.
Tofu and Mock Meats
As protein sources tofu, seitan, and other mock meats aren't always seen as low carb options but the firmer the tofu, the lower the carb count. Seek out "super firm" or "extra firm" tofu brands and you'll find that any of them have just one or two grams of net carbs for every 10 to 20 grams of protein.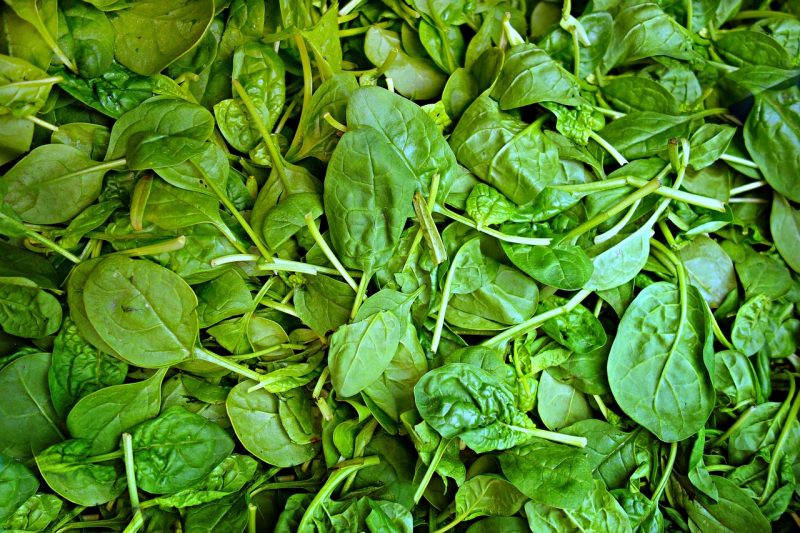 Above Ground Vegetables
This isn't a universal rule but generally, veggies that grow underground are high in carbs and those that grow above ground are more likely to fit into keto diets: broccoli, spinach, zucchini, eggplant, Brussels sprouts, and others are jam packed with essential nutrients.
Mushrooms
Not technically vegetables, these nutritious fungi come in a zillion varieties but are typically good sources of fiber, B-vitamins, and antioxidants.
Herbs and Spices
Any and every herb and spice you can think of can be liberally tossed onto your food and will provide flavor and antioxidants with nary a carb in sight.
Vegetarian Keto Menu
Once again, keto is about your overall macros, so you can feel free to add in protein or carbs based on your own needs. These recipes are templates that you can feel free to build on: they aren't all a strictly perfect ratio of fat to carbs to protein, but they all provide a significant hit of fat with relatively few carbs and should be easy to fit into your daily macros.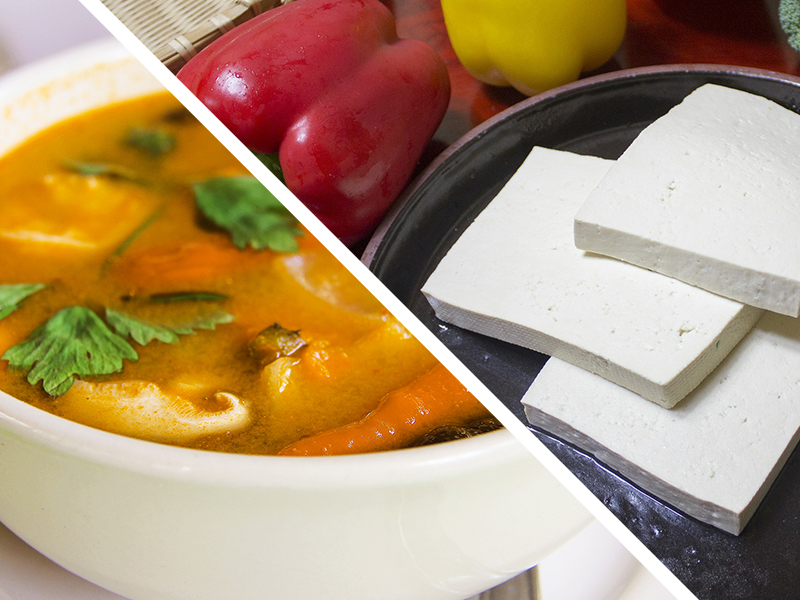 1. Coconut Curry
Ingredients
½ cup onion
½ cup celery
1 cup mushrooms
1 cup broccoli
2 tbsp coconut oil
4 garlic cloves (crushed)
2 tbsp red curry paste
1 block (250g) of super firm tofu
2 cans of full fat coconut milk
Sautée the onion, celery, and garlic in the coconut oil until the onions are soft, then add sliced tofu, broccoli, and mushrooms until browned. Throw in the red curry paste, cook for another minute, then pour in the coconut milk and simmer for twenty minutes. Consider garnishing with cilantro and lime juice and serving over some cauliflower rice.
Servings: 2
Calories: 570
Fat: 44g
Carbs: 24g (5g fiber)
Protein: 24g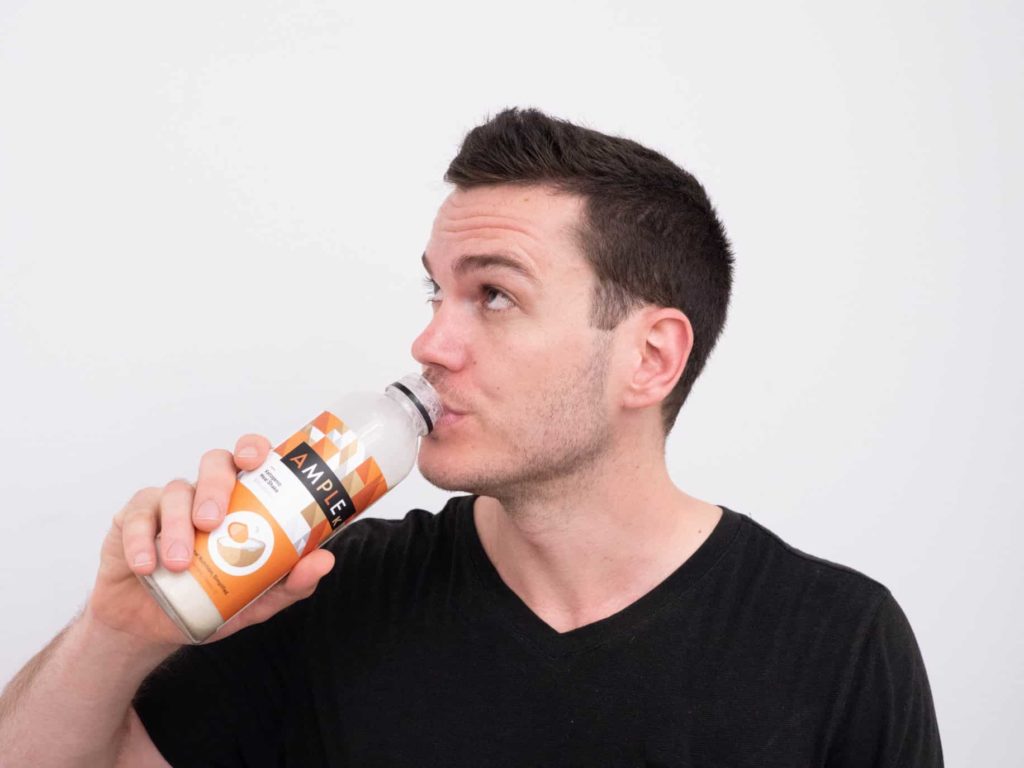 2. Ample K
Far and away our favorite keto meal replacement, Ample K has excellent macronutrients — unlike a lot of competitors that tend to be equal parts protein and fat — and it's an all natural product. This means the flavor profile comes from a rich blend of coconut, macadamia, MCTs, and grass-fed whey along with cinnamon, lemon juice powder, and dried honey, making for a mild flavor that's reminiscent of liquid shortbread.
Add to that antioxidants from greens like organic barley grass and probiotic bacteria from six different strains, there's a reason this is our go-to meal on the run. You can buy it in 400-calorie and 600-calorie versions, we've listed the larger serving below.
Serving: 1
Calories: 600
Fat: 51g
Carbs: 19g (Fiber 14g, net carbs 5g)
Protein: 19g
[Take a look at our full Ample K review!]
3. Sour Ice Cream
Keto researcher Dom D'Agostino, PhD popularized freezing sour cream for a high fat snack — here's a surprisingly tasty template you can work with.
Ingredients
1 cup of sour cream
1 tbsp cocoa
Pinch of salt and stevia
Mix, put it in the freezer for 1 to 2 hours, and enjoy. Optional toppings include cinnamon, blueberries, a tablespoon of melted coconut oil for drizzling.
Servings: 1
Calories: 504
Fat: 49g
Carbs: 12g (Fiber 2g)
Protein: 9g
4. Keto Salad Dressing
The beauty of a salad is that you can throw in whatever keto-friendly vegetables suit your fancy. Where the rubber meets the road is when you decide on your dressing. Here's a foolproof formula.
Ingredients
⅔ cup olive oil
1 tbsp tahini
1 tbsp lemon juice
1 tbsp vinegar
1 tsp mustard
dash of garlic powder, salt, pepper, and Bragg's Liquid Aminos
Shake everything in a mason jar. If you can find room in your macros, adding a tablespoon of honey really sweetens the deal.
Servings: 3
Fat: 47g
Carbs: 1.6g (0.7g fiber)
Protein: 1.2g
5. Zucchini Pasta Alfredo
If you can get your hand on a device for making zucchini noodles, they're a real game changer for keto diets. Grind three of them into spaghetti and microwave them covered for about six minutes until they soften. (They'll release a lot of water and then continue releasing water after they've stopped cooking, so let them sit for a few minutes.)
Here's a nice, fatty sauce to go on top.
Ingredients
1 tbsp butter
2 garlic cloves
1 cup heavy cream
½ cup parmesan
salt, pepper, nutmeg to taste
Sautée the garlic in the butter until fragrant. Add the cream, bring to simmer for about five minutes until it thickens, then lower the heat and toss in the parmesan until it melts. Add salt, pepper, and nutmeg to taste.
The numbers below include three spiralized zucchinis.
Servings: 1
Calories: 785
Fat: 68g
Carbs: 26g (7g fiber)
Protein: 25g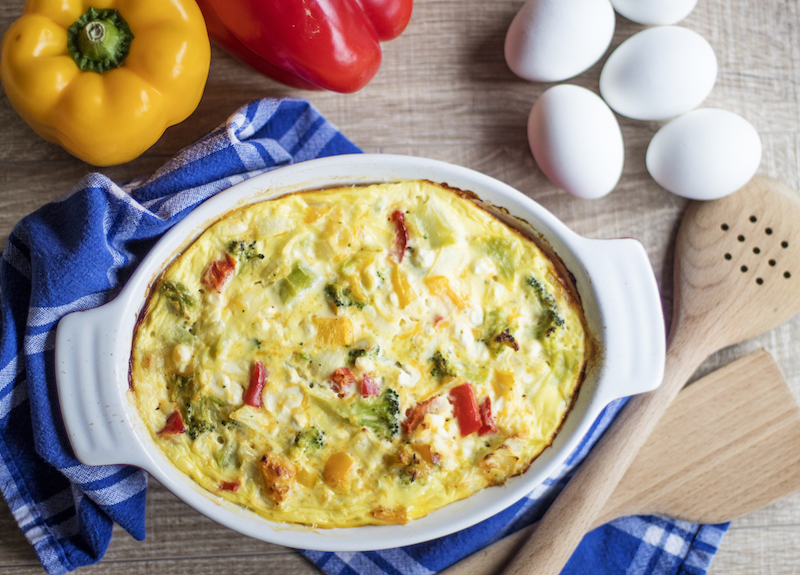 6. Keto frittata
Frittatas are a little like salads: they can contain pretty much any mixture of keto-friendly veggies you like. Here's one we like a lot that's packed with mushrooms and minerals.
Ingredients
4 tbsp butter
2 cloves of garlic
½ cup onion
3 cups mushrooms
3 cups spinach
1 cup diced red bell pepper
8 eggs
2 cups grated mozzarella
Pre heat the oven to 375 degrees Fahrenheit. Beat all the eggs together in a big bowl. In a pan, sautée the garlic in the butter for a minute, then cook the mushrooms, onions, and veggies in it until they're soft. Toss in the spinach and stir until it's wilted. Take the pan off the heat, pour in the eggs and the cheese, stir everything together and put it in the oven for about 20 minutes. Consider broiling for the last few minutes to get a nice brown crust.
For an extra portable version, pour the mixture into muffin tins when it's oven time and decrease the cooking time to about 10 to 15 minutes. Eggs provide quite a lot of volume without a lot of calories, so you may find it easier to consumer smaller servings of this one.
Servings: 2
Calories: 603
Fat: 46g
Carbs: 15g (3g fiber)
Protein: 36g
7. Macadamia Nut Chocolate Fat Bombs
Again, macadamia nuts are phenomenal picks for a keto diet, particularly when you're not in the mood for animal products. They're a good source of iron, Vitamin B-6, and magnesium, plus they're loaded with fat and very low in net carbs.
Ingredients
100 grams of cocoa butter
4 tbsp cocoa powder
2 tbsp Swerve (an erythritol-based sweetener)
½ cup coconut oil
200g macadamia nuts
You want two pans for this: one for boiling water and a second one for cooking everything. Put the cooking pan over the boiling water — this makes the heat a little more gentle on the ingredients than a stovetop.
Melt the cocoa butter in a pan, add four tablespoons of cocoa powder, two tablespoons of Swerve, and 200 grams of macadamia nuts. Mix everything, then add the coconut oil and mix some more. Let everything cool down to room temperature and pour it into a mold. Put it in the fridge or freezer for a few hours and voila!
Servings: 6
Calories: 550
Fat: 60g
Carbs: 11g (4g fiber)
Protein: 3g
These bombs come out pretty fudgey but if they're kept cold they're perfect finger food. Feel free to salt 'em.
Wrapping Up
We love bacon and porterhouses as much as the next person, but if you're feeling like a break then you've got more than enough ideas here to help you take a break from meat while keeping your fat intake high and your Omega-6 relatively low. Meal replacements like Ample K, along with portable options like nuts, coconut butter, dark chocolate, can also make meeting your macro and calorie goals a lot easier.
Above call, try to take these as ideas to inspire you to design your own creations — creativity can go a long way in staving off diet boredom and keeping your ketogenic diet fulfilling and enjoyable.
References
Rogovik AL, et al. Ketogenic diet for treatment of epilepsy. Can Fam Physician. 2010 Jun;56(6):540-2.
Barañano KW, et al. The ketogenic diet: uses in epilepsy and other neurologic illnesses. Curr Treat Options Neurol. 2008 Nov;10(6):410-9.
Vargas S, et al. Efficacy of ketogenic diet on body composition during resistance training in trained men: a randomized controlled trial. J Int Soc Sports Nutr. 2018 Jul 9;15(1):31.
Gibson AA, et al. Do ketogenic diets really suppress appetite? A systematic review and meta-analysis. Obes Rev. 2015 Jan;16(1):64-76.
Dhiman TR, et al. Conjugated linoleic acid content of milk from cows fed different diets. J Dairy Sci. 1999 Oct;82(10):2146-56.
Harvey CJDC, et al. The use of nutritional supplements to induce ketosis and reduce symptoms associated with keto-induction: a narrative review. PeerJ. 2018 Mar 16;6:e4488.
Jain S, et al. Chemical characteristics and source apportionment of PM2.5 using PCA/APCS, UNMIX, and PMF at an urban site of Delhi, India. Environ Sci Pollut Res Int. 2017 Jun;24(17):14637-14656.
Cinar V, et al. Testosterone levels in athletes at rest and exhaustion: effects of calcium supplementation. Biol Trace Elem Res. 2009 Summer;129(1-3):65-9.
D C Harvey CJ, et al. The Effect of Medium Chain Triglycerides on Time to Nutritional Ketosis and Symptoms of Keto-Induction in Healthy Adults: A Randomised Controlled Clinical Trial. J Nutr Metab. 2018 May 22;2018:2630565.
Harvey CJDC, et al. The use of nutritional supplements to induce ketosis and reduce symptoms associated with keto-induction: a narrative review. PeerJ. 2018 Mar 16;6:e4488.
Ako H, et al. Healthful new oil from macadamia nuts. Nutrition. 1995 May-Jun;11(3):286-8.