Vi-Shape is a high protein meal replacement sold by Visalus, a supplement company that was founded in 2005. The company is pretty well known for starting what's called the Body By Vi challenge. This is a company that likes using challenges to promote weight loss — we get it, accountability is an important part of the puzzle — and the Body By Vi Challenge awards vacations, cash, and a bunch of other prizes for the best transformations each year.
Their line of supplements include Nutra-Bars, Nutra-Cookies, metabolism-boosters, and their flagship product: Vi-Shape Nutritional Shake Mix. We grabbed the Sweet Cream mix and we were pretty excited to try it, since Britney Spears once said it was "The one protein shake that actually tastes good."
Here's what's in it.
Visalus Vi-Shape Nutritional Shake Mix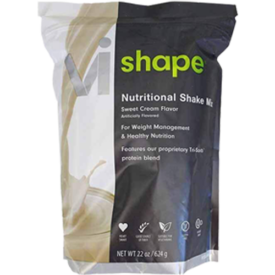 Visalus Vi-Shape Nutritional Shake Mix
This meal replacement delivers a full serving of fiber, along with quality protein to keep you fuller longer.
Vi-Shape Nutritional Shake Mix Nutrition
One serving has two scoops and provides 90 calories: 12 grams of protein, 7 grams of carbohydrates (5 grams of fiber, less than a gram of sugar), and 1 gram of fat (no saturated fat). There's just 5 percent of the recommended cholesterol intake and 3 percent of the sodium RDI.
There are a lot of micronutrients, precisely 30 percent of 23 vitamins and minerals. They include just about every vitamin, including vitamin K, as well as lesser known minerals like chromium, selenium, and copper. The only thing it's a little low in is iron (5 percent of the RDI) and there's no mention of choline, if that's a nutrient that's important to you. (Let's be honest, it isn't for most people.)
We put Vi-Shape on our list of the best meal replacements — find out who else topped the list!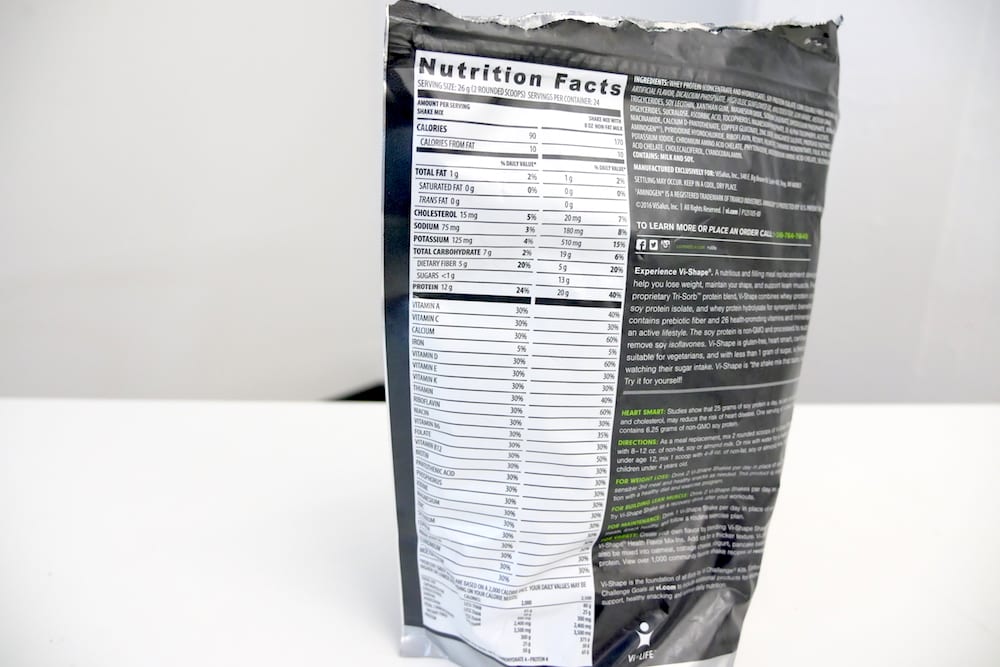 Vi-Shape Nutritional Shake Mix Ingredients
The ingredients are mostly the vitamins and minerals themselves, so I won't list them all here, but it's worth noting a few things.
The protein comes from whey and soy, it contains artificial flavors and the artificial sweetener sucralose, some of the fiber comes from corn, there's soy lecithin for mixability, and there's some Aminogen here, which is a blend of digestive enzymes.
Vi-Shape Nutritional Shake Mix Benefits & Effectiveness
For starters, these enzymes are pretty cool. There's some evidence that they may help to improve nutrient absorption and it's always nice to see enzymes in a meal replacement. (Though I would have liked to see some probiotic bacteria as well, since they're also strongly linked to digestive health.)
While we're talking about digestion, there's a lot of fiber here. In 7 grams of carbs, 5 of them are fibrous, meaning the net carbohydrates of this product are very low. Coupled with the 1 gram of fat per serving, this is a controversial macro split for a meal replacement. Yes, it's very low calorie and very nutritious. Some people prefer meal replacements to actually be a good source of protein and calories, carbs, and fat. This is really just a good source of protein, fiber, and micronutrients. If that's all you want then you'll be happy, but I wouldn't consider a 90-calorie drink to be a meal replacement.
Some people might be upset that this product contains soy, but it's worth pointing out that it's been processed in a way that reduces almost all of the isoflavones. That refers to the plant-based estrogen that makes a lot of people concerned about soy causing "feminizing" effects. Even if the estrogen was in the product it almost certainly doesn't cause any such effects, but it's certainly true that a lot of people will be glad to know this soy is largely estrogen free.
While it does have artificial ingredients, it is low in nutrients that a lot of people try to avoid when they're losing weight, namely sodium and cholesterol.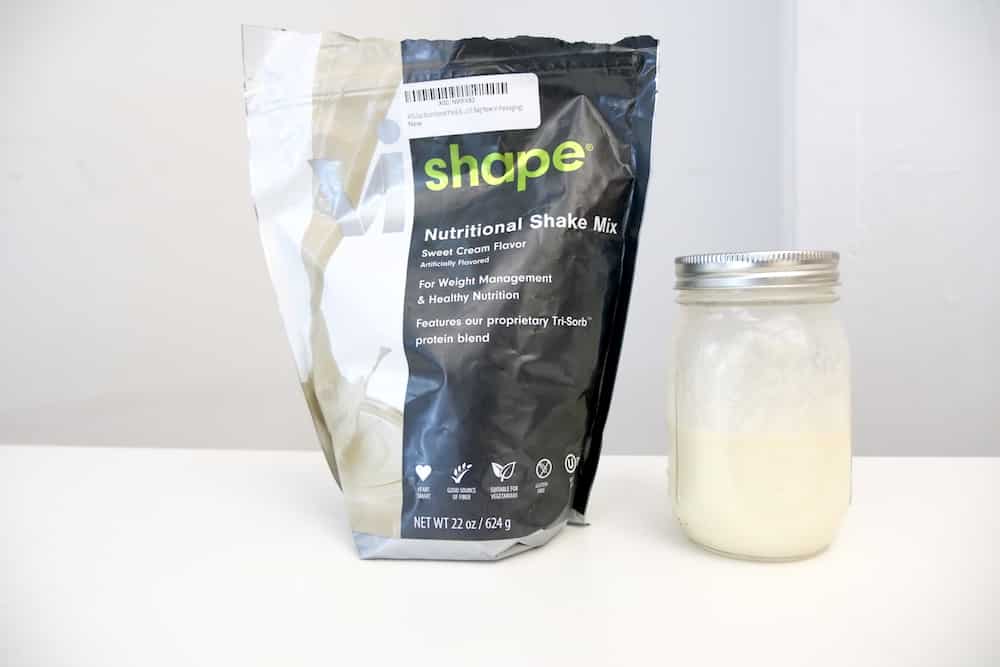 Vi-Shape Nutritional Shake Mix Price
Usually, Vi-Shape wants you to order these in bundles with other products, but when you do find Vi-Shape for sale on its own it's in a 22-oz bag that costs $50. That gives you 24 servings, so it's $2.00 per serving. That's very inexpensive for such a nutritious product. You might not be so happy about the fact that it's so low in calories, but those calories certainly make it better for weight loss than a 500-cal meal replacement.
Vi-Shape Nutritional Shake Mix Taste
The first thing I said when I tried this product: Britney Spears was right. This is delicious. It's not vanilla, it's Sweet Cream, which made for a sweet, creamy taste that was fantastic with milk. With water it wasn't quite as delightful (what is?) but I really wanted to savor this product. Of course, it has artificial ingredients, but they're worth it.
The Takeaway
I was very impressed with this product. It has just about every nutrient you need (besides iron), it's got a good hit of fiber and digestive enzymes, it's delicious, it's low in sodium and cholesterol, and it's reasonably priced. The main complaints someone might have is that it has artificial sweeteners and it's not a great source of calories. Both of those things are true but if you're looking for a filling, low-calorie, nutritious, well-priced drink to help your weight loss… this ticks all the right boxes.
Vi-Shape Nutritional Shake Mix
Per Serving: $2.08