One of the best things you can do when trying to lose weight is simply take a walk. If you need or want to lose weight for personal or medical reasons, the general idea is to decrease the calories you take in and increase the calories you put out through physical activity. Your body naturally burns calories on its own, but exercise can increase your output.
"Calories in, calories out" (CICO) doesn't always work for everyone. There may be metabolic, hormonal, and other potential reasons that someone's body may not respond to the simple formula. However, there are many physical and mental health benefits of walking beyond the calorie burn that may still lead to weight loss.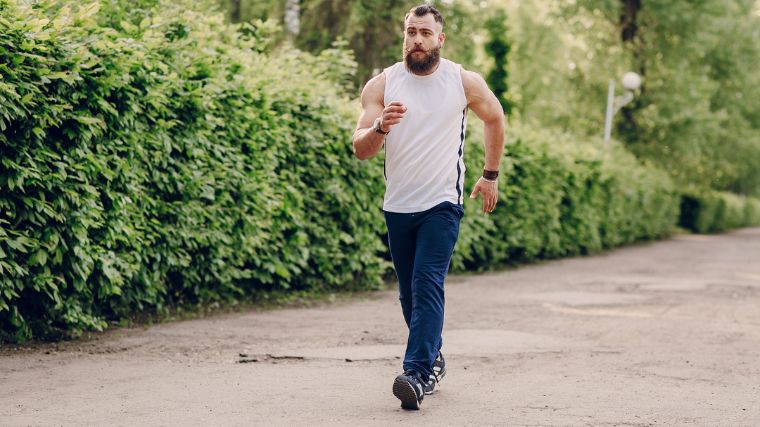 Here's everything you need to know about how walking may help you lose weight and improve your health, how to track your steps, how much walking you should do, and the best tips to walk more even amid a busy life. Get your shoes on and let's go.
Editor's Note: The content on BarBend is meant to be informative in nature, but it should not be taken as medical advice. When starting a new training regimen and/or diet, it is always a good idea to consult with a trusted medical professional. We are not a medical resource. The opinions and articles on this site are not intended for use as diagnosis, prevention, and/or treatment of health problems. They are not substitutes for consulting a qualified medical professional.
How Walking Helps You Lose Weight
If you're trying to lose weight or shed some body fat, walking may be an efficient way to help you out. Let's get specific on how that works beyond the calorie burn.
Burns Calories
When you think of losing weight, you may naturally think of burning calories, which refers to using energy. Your body naturally burns a certain amount of calories: you can find this out by calculating your basal metabolic rate (BMR). Your BMR refers to how many calories your body needs to sustain itself at complete rest.
When you do any physical activity — exercise or non-exercise — your body needs more calories. Your BMR plus your physical activity adds up to become your total daily energy expenditure (TDEE). Calculating your TDEE is helpful if you are trying to create a calorie deficit, or burning more energy than you take in. Expending more energy gives you a higher TDEE, so when you subtract calories from that number, you're not eating at a low or unsafe number.
Calorie Calculator
Age
Sex
Height
Weight
Activity Level
BMR estimation formula
[Read More: 5 At-Home Workouts for Strength, Muscle Growth, Power, and More]
Your TDEE takes into account both exercise and non-exercise activity. Strength training, HIIT, and structured cardio exercise will all boost your TDEE. Walking is unique in that some brisk walking can function as aerobic exercise on its own, but walking throughout your day for other activities of daily life will also add up to increase your energy expenditure.
The number of calories you burn is not an exact science, but thinking of it as the energy you expend may be more helpful.
Strengthens Muscles
When you're trying to lose weight, it's helpful to do resistance training to help build and preserve lean muscle mass. Muscle mass naturally requires and burns more energy, so building and maintaining lean muscle may help increase your BMR and TDEE. (1)
In addition to resistance training, walking will help to use and strengthen your muscles. Walking is a weight-bearing exercise that engages your glutes, leg muscles, and core. On its own, it doesn't build muscle, but depending on the intensity of your walking, it will majorly tax your muscles leading to greater energy expenditure.
May Improve Insulin Resistance
One instance where CICO doesn't always make perfect sense is if someone is dealing with insulin resistance. Insulin regulates your blood sugar and plays a role in your liver and muscle functions. If you're insulin resistant, your cells don't respond to insulin and your body creates more of it which can lead to it building up in your bloodstream. (2) This can make it difficult to lose weight.
Insulin resistance may be caused by genetics, metabolic syndromes, PCOS, type 2 diabetes, imbalanced nutrition, obesity, and other factors. Having insulin resistance can also put you at risk for type 2 diabetes and cardiovascular diseases. (2)
If you are insulin resistant, reducing your calories and increasing your exercise may not help you lose weight like it would in someone who is not insulin resistant. However, research shows that walking and other exercise may improve insulin sensitivity — which may then help you to lose weight. (3)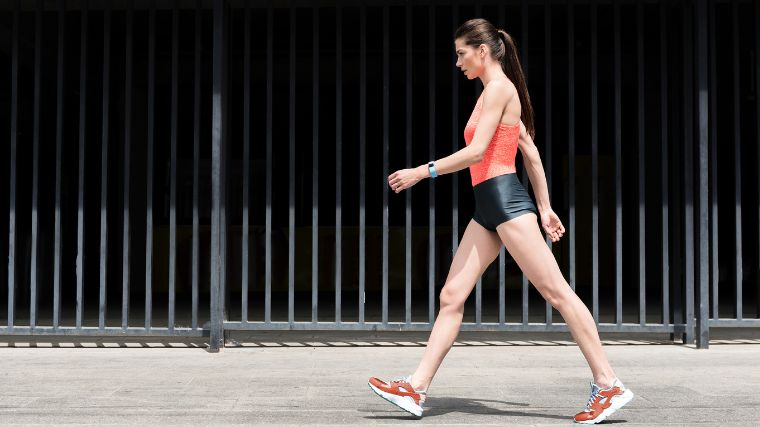 [Read More: The Best Foods for Energy Before, During, and After Your Workouts]
One study was done on a group of women with obesity. For 12 weeks, one group took moderate-intensity, 50 to 70-minute walks, three days a week. The other group remained sedentary and did not participate in the walking program. At the end of the study, the walking group reduced their abdominal fat and improved their insulin sensitivity. (3)
This may be because walking causes muscle contractions which can improve your blood flow. More blood flow may help insulin get into your cells, helping to remove the excess glucose buildup. After aerobic exercise, your body keeps using glucose, which helps it stop building up in your bloodstream, potentially leading to less insulin resistance. (3)
May Improve Mental Health
Walking may help improve your mental health. Aerobic exercise, including walking, has been shown to reduce symptoms of anxiety and depression. It can boost your mood, provide a healthy distraction, improve your self-esteem, and increase cognitive function. (4)
Simply being in a better mood and feeling confident that you can complete a task can help you stick to your weight loss plan. Walking — especially outdoors in nature — may also help you to reduce stress. (5) Chronic stress can lead to inflammation, health risks, and difficulty losing weight. Lowering your stress by walking may help.
For people suffering from chronic and severe depression, it may be difficult to motivate yourself to get out for a walk. For someone who is sedentary, even a 10-minute, low-intensity walk has been shown to be beneficial in enhancing mood and reducing stress. (6)
Boosts Overall Health
Walking is a form of aerobic or cardiovascular exercise. Regular cardio exercise like walking is associated with lowering your risk of heart disease by regulating your blood pressure, blood sugar, blood flow, and cholesterol. (7)
Walking is also a form of exercise that is weight-bearing. Weight-bearing cardio exercise — in addition to resistance training — is recommended for older people as a way to preserve bone strength and prevent or manage osteoporosis. (8)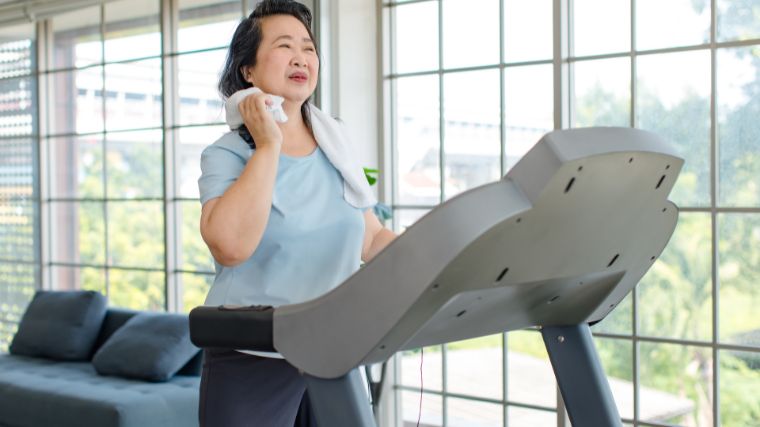 [Read More: The Complete Guide to Pre-Workout Supplements]
If you have a cardiovascular or metabolic condition that makes it difficult for you to lose weight, walking may help prevent or manage these conditions, which can in turn potentially boost your weight loss efforts.
Accessible Exercise
If you are physically able to walk, walking is one of the most accessible forms of exercise you can do. You don't need a gym, equipment, or any pre-requisite skills, and it's free. If you're new to exercise, you can get started with walking immediately. This makes it more feasible to reach your exercise goals and gives you something you can be consistent with.
If you are trying to lose weight and you're able to work with a certified personal trainer and a registered dietitian, it may be beneficial to learn how to resistance train and eat healthily on a personal level in addition. But if you can't, walking is still a great and free start.
Helps Maintain Weight Loss
Let's say you've already lost weight and reached your goal — now you probably want to maintain that as best as you can. Keeping walking as part of your daily routine is a great way to maintain your hard work.
The Centers for Disease Control and Prevention (CDC) notes that pure weight loss can be attained by reducing your caloric intake. Once you have lost weight and want to maintain it, you won't be eating at a calorie deficit anymore. Evidence shows a great way to maintain weight loss is to keep engaging in regular physical activity. (9)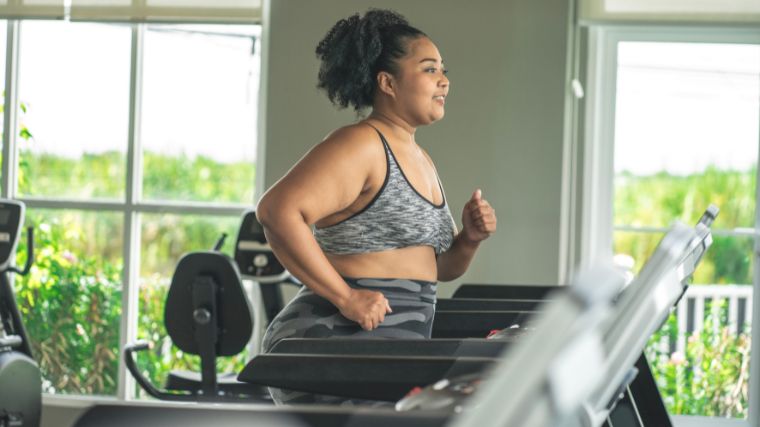 [Read More: The 12 Best Supplements for Muscle Growth]
The CDC recommends 150 minutes of moderate-intensity cardio exercise weekly. You can split that up into 30 minutes of brisk walking five times a week. (9) This is also the amount of aerobic exercise recommended by the American Heart Association (AHA) to prevent cardiovascular diseases and improve heart health, so it's a win-win for weight maintenance and overall health. (10)
How To Track Your Steps
Increasing your step count helps you walk more and combat a sedentary lifestyle which is a leading cause of health issues. (11) You can aim to increase your steps both by taking daily walks at a brisk pace and walking more throughout your day.
To track your steps, you have a few options.
Smartphone App: If you already have a smartphone, you can download a step-tracking app. The issue here is that if you walk around without holding your phone, it won't count those steps.
Pedometer: You can get a simple, inexpensive pedometer to carry around that will track your steps.
Wearable Fitness Tracker: If you're willing to invest a bit more, you can get a wearable fitness tracker like an Apple watch or another brand. These will also track your heart rate and can be helpful for calculating the intensity of your walking.
How Far Should You Walk?
The American Health Association (AHA) recommends adults complete 150 to 300 minutes of moderate-intensity aerobic exercise, 75 to 100 minutes of high-intensity aerobic activity per week, or a combination of both. The AHA recommends that these activities are spread throughout the week and that two of your exercise days should include muscle-strengthening activities (resistance training). (10)
The minimum recommendation will get you heart health benefits, and increasing your exercise time may help boost weight loss when combined with a reduction in calories. If you have a history of disordered eating or don't want to count calories, you can reduce your portions instead.
If you can, aim for 300 minutes of exercise a week. For exercise to supplement a balanced weight loss plan, try this:
A minimum of two days of 60-minute resistance training sessions. That leaves you 180 minutes for aerobic exercise, including walking.
Take longer walks (45 to 60 minutes) with less intensity, try power walking for a shorter time, or combine both.
Try a 60-minute moderate-intensity walk twice a week and a 30-minute walk at a higher intensity twice a week.
If this sounds like a lot, know that anything is better than nothing. Taking a 30-minute walk a few times a week is a great place to start.
The American College of Sports Medicine (ACSM) notes that to burn fat while walking, you should be working at 60% of your maximal oxygen uptake — so a little more than half as hard as you can push yourself. (3) Aiming to hit that level of intensity may be more important for burning fat than how far or how long you walk.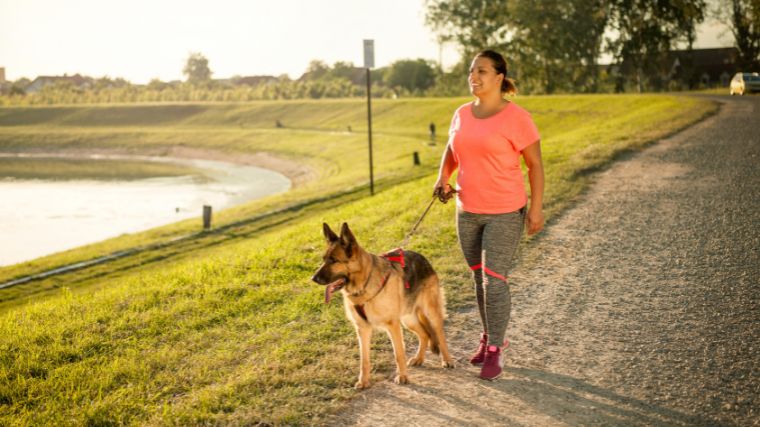 [Read More: The Best Protein Intake Calculator for Muscle Gain and Fat Loss]
On the other hand, studies on older women showed that the intensity of walks didn't add more health benefits than walking slowly. Simply increasing their step count reduced their risk of dying regardless of walking speed. Women who took 4,400 steps a day had less risk of dying than those who took 2,700 daily steps. At 7,500 steps a day, benefits seemed to level off. (11)
Tips for Walking More
When you're trying to walk more to lose weight, you want to focus on both your structured walking workouts and increasing your daily step count through non-exercise activities. Here are five tips to make it all happen.
Set Realistic Goals
Starting from where you are and setting realistic goals are the keys to creating healthy and sustainable routines. First, assess your current fitness level and the number of steps or amount of physical activity you're getting. If it's zero, try to take two 30-minute walks this week. It seems small, but you're more likely to get it done, which will make you want to keep going.
Check your current number of steps. Sedentary people may get less than 2,000 steps a day. (11) If this is you, try increasing to 5,000 steps a day for the next week.
You've probably heard that you should get 10,000 steps a day. Research on the ideal number of steps for health benefits is ongoing. (13) Getting more than what you currently get is still probably going to be beneficial for weight loss and overall health.
Make incremental changes until you can get up to more steps and more walks per week. Eventually, aim to hit 150 to 300 minutes of moderate-intensity aerobic exercise per week to boost your heart health and increase your energy output.
Get Walking Shoes and a Step Tracker
Getting a comfortable and supportive pair of walking shoes may help stabilize your joints, prevent injury, and make your walks better. It's important to still do resistance training to further strengthen your muscles to support your walks.
[Read More: The Best Online Workout Programs For Coaching, Cardio, Value, And More]
Getting a pedometer, or wearable fitness tracker, or using a tracking app on your phone will help you set specific goals and hold yourself accountable.
Schedule Your Walks
A solid walking plan needs a schedule. If you have a busy life, take a look at your schedule and find times that you can fit in your walking workouts. Aiming for a higher-intensity walk may make a 30-minute walk more beneficial. Here are five times you can squeeze it in:
Wake up a little earlier and take a morning walk before you start your day. Getting outside for some vitamin D first thing in the morning can also boost your mood.
Bring your sneakers to work and pop out of the office during your lunch break.
Take a walk right after work before you get home to relax.
Take an after-dinner walk if it's safe to be outside at night in your area. Walking after a meal can improve digestion.
If you have young kids that need your attention, schedule your walks around times that they might be napping, at school, or other activities. Getting a treadmill or walking pad at home can make this more feasible.
Audio Stimulation
Listening to a podcast, audiobook, or music on your walks can help keep your brain stimulated. Pairing an entertaining activity with your walks may help you stay consistent and stick to your walking routine.
Walk Throughout Your Day
Moving more throughout the rest of your day outside of your planned walks is key to increasing your step count and boosting your TDEE. Here are five tips for smaller walks that add up:
If you drive, park farther away from where you're going so you get some extra steps walking to and from your car.
Take the stairs going down instead of an elevator or escalator (if you're able to). You can also take the stairs going up for some extra work.
Even if you are super busy, get up from your desk once an hour and take a quick walk around your room or office.
Stand and walk around or walk in place while you talk on the phone at work. If you work from home, consider getting a walking pad under your desk so you can keep moving even when you're working on your computer.
Use your walking pad or simply walk in place while watching TV.
Stepping Up
Creating a calorie deficit by eating less and moving more is often recommended for weight loss. Walking is an accessible way to do aerobic exercise that benefits your physical and mental health. It burns calories, increases your daily energy expenditure, works your muscles, and can help you maintain your weight after weight loss.
Still, some people may experience metabolic, hormonal, or other factors that prevent the weight loss equation from working. Walking can still benefit their health, and potentially help them lose weight by improving metabolic health markers like insulin sensitivity.
Aiming for a mix of structured walking workouts and increasing your daily step count through regular movement is key to walking helping you to lose weight. Setting attainable fitness goals, getting a step tracker, scheduling your walks, and moving throughout your day will set you up for success.
FAQs
Here are some common questions about walking for weight loss.
How much do I need to walk daily to lose weight?
In addition to reducing your calories or portions, aim for 150 to 300 minutes of moderate-intensity walking per week. You can split it up into daily 30-minute walks at a brisk pace.
How many calories do I burn walking?
The number of calories you burn may not be an exact science and may vary depending on your body weight, age, assigned sex at birth, and other factors. According to The Mayo Clinic, 30 minutes of brisk walking burns about 150 calories. (14)
Will walking help me lose weight?
To lose weight, you need to eat fewer calories than you burn. Walking can increase your total daily energy expenditure and help you lose weight in addition to your diet.
How do I know if I am losing weight?
Weighing yourself weekly at the same time of day is one way to track weight loss. However, progress doesn't always show on the scale, and fluctuations are normal. If you have a history of disordered eating or don't want to weigh yourself, you can also pay attention to how your clothes are fitting.
If they become looser, you may be losing weight. You can also take weekly measurements of your body, sometimes you will lose inches before the number on the scale goes down. Lastly, taking weekly photos of yourself in the same clothing from the same angles can also show you if your body is changing.
References
Speakman JR, Selman C. Physical activity and resting metabolic rate. Proc Nutr Soc. 2003 Aug;62(3):621-34.
Freeman AM, Pennings N. Insulin Resistance. [Updated 2022 Sep 20]. In: StatPearls [Internet]. Treasure Island (FL): StatPearls Publishing; 2023 Jan-.
Hong HR, Jeong JO, Kong JY, Lee SH, Yang SH, Ha CD, Kang HS. Effect of walking exercise on abdominal fat, insulin resistance and serum cytokines in obese women. J Exerc Nutrition Biochem. 2014 Sep;18(3):277-85.
Sharma A, Madaan V, Petty FD. Exercise for mental health. Prim Care Companion J Clin Psychiatry. 2006;8(2):106.
Kondo MC, Jacoby SF, South EC. Does spending time outdoors reduce stress? A review of real-time stress response to outdoor environments. Health Place. 2018 May;51:136-150.
Craft LL, Perna FM. The Benefits of Exercise for the Clinically Depressed. Prim Care Companion J Clin Psychiatry. 2004;6(3):104-111.
Nystoriak MA, Bhatnagar A. Cardiovascular Effects and Benefits of Exercise. Front Cardiovasc Med. 2018 Sep 28;5:135.
Benedetti MG, Furlini G, Zati A, Letizia Mauro G. The Effectiveness of Physical Exercise on Bone Density in Osteoporotic Patients. Biomed Res Int. 2018 Dec 23;2018:4840531.
CDC. Physical Activity for a Healthy Weight. Centers for Disease Control and Prevention.
Piercy, K. L., & Troiano, R. P. (2018). Physical Activity Guidelines for Americans From the US Department of Health and Human Services. AHA Journal, 11(11).
Park JH, Moon JH, Kim HJ, Kong MH, Oh YH. Sedentary Lifestyle: Overview of Updated Evidence of Potential Health Risks. Korean J Fam Med. 2020 Nov;41(6):365-373.
NIH (2019, June 11). How many steps for better health? National Institute of Health.
Kraus WE, Janz KF, Powell KE, Campbell WW, Jakicic JM, Troiano RP, Sprow K, Torres A, Piercy KL; 2018 PHYSICAL ACTIVITY GUIDELINES ADVISORY COMMITTEE*. Daily Step Counts for Measuring Physical Activity Exposure and Its Relation to Health. Med Sci Sports Exerc. 2019 Jun;51(6):1206-1212.
Zeratsky, K., R.D., L.D. Walking: Is it enough for weight loss? – Mayo Clinic. Mayo Clinic.
Featured Image: Oleggg / Shutterstock