The International Weightlifting Federation (IWF) World Weightlifting Championships is the biggest weightlifting competition of the year and it's about to get underway.
The competition kicks off on September 18th in Pattaya, Thailand, and runs through September 28th. We've already written the ultimate IWF World Championships preview, but here's how to watch the world's top weightlifters compete.
According to USA Weightlifting, ESPN3 — an online streaming service you need a subscription to watch —will be showing some of Team USA's sessions.
In some countries (with a geolocating VPN) sessions will be available to watch live on the Olympic Channel.
You can watch the non-televised sessions on Thailand TAWA Official YouTube Channel. They will be showing sessions for free, and the IWF will be keeping a live scoreboard throughout the course of events.
The official 2019 start list for for the IWF World Championships has been announced. The sessions with Team USA's athletes that are to be aired on ESPN3 can be seen below.
| | | | | |
| --- | --- | --- | --- | --- |
| Athlete | Session | Local (Thailand) Time of Competiton | Time (in USA) of Competition | Stream Information |
Alyssa Ritchey
49kg A
Thursday, 9/19
17:55
Thursday, 9/19
05:55
Jourdan Delacruz
55kg B
Friday, 9/20
14:25
Friday, 9/20
02:25
CJ Cummings
73kg A
Saturday, 9/21
20:25
Saturday, 9/21
08:25
Harrison Maurus
81kg B
Sunday, 9/22
14:25
Sunday, 9/22
02:25
Mattie Sasser
64kg A
Sunday, 9/22
20:25
Sunday, 9/22
08:25
Jordan Cantrell
89kg B
Monday, 9/23
14:25
Monday, 9/23
02:25
Mattie Rogers
71kg A
Monday, 9/23
17:55
Monday, 9/23
05:55
Kate Nye
71kg A
Monday, 9/23
17:55
Monday, 9/23
05:55
Nathan Damron
96kg B
Tuesday, 9/24
14:25
Tuesday, 9/24
02:25
Jenny Arthur
81kg A
Wednesday, 9/25
17:55
Wednesday, 9/25
05:55
Wes Kitts
109kg B
Thursday, 9/26
14:25
Thursday, 9/26
02:25
Sarah Robles
+87kg A
Friday, 9/27
13:25
Friday, 9/27
01:25
This year there will be a total of 734 athletes competing, representing 105 countries. The breakdown of these athletes comes out to a total of 395 men and 339 women.
Again, while no direct stream links have been provided as of yet, the IWF has shared a list of broadcasters that will be streaming the World Championships that correspond with countries across the globe. On September 14th, the IWF posted the below photo on their Facebook page highlighting where fans can watch the IWF World Championships based on where they live — check it out below.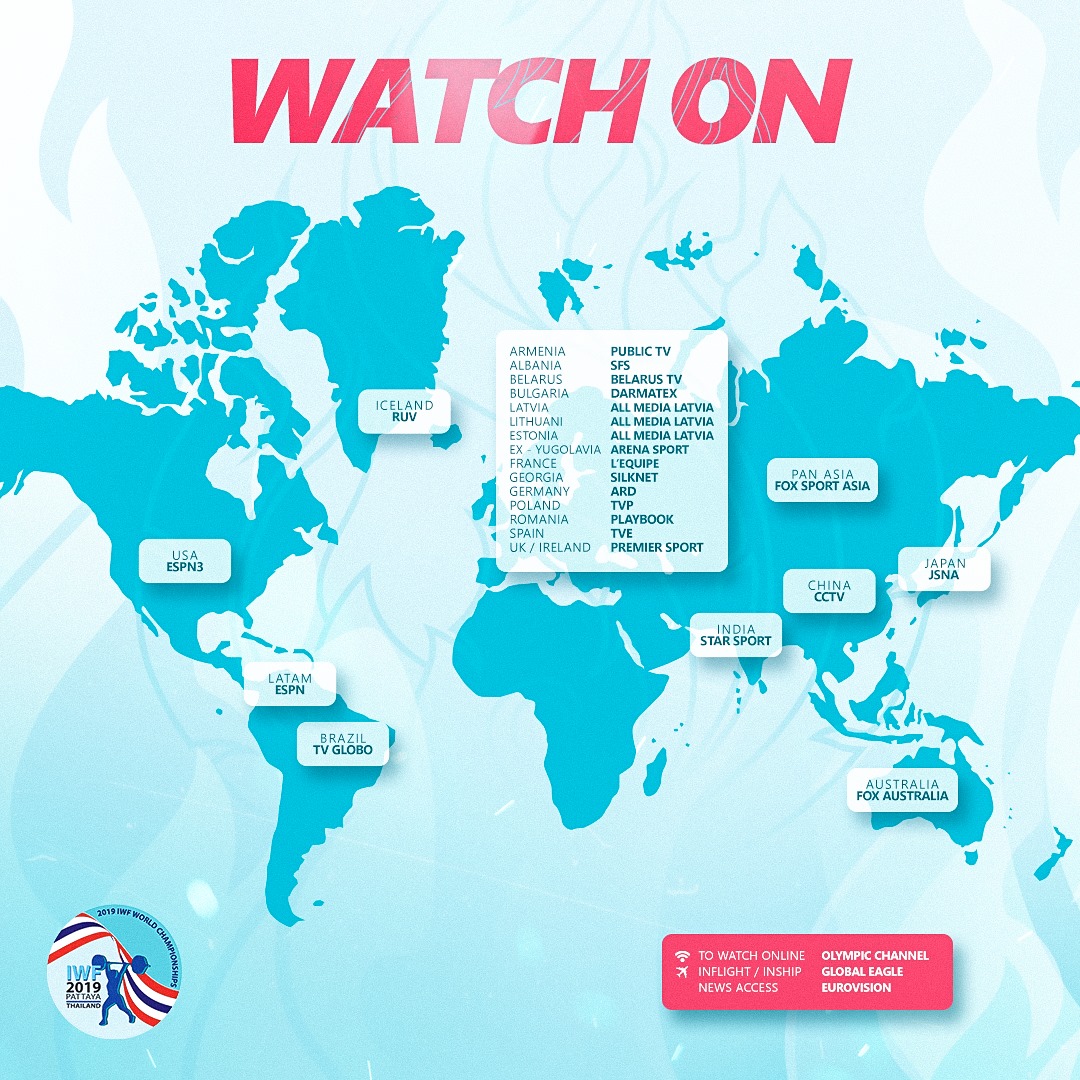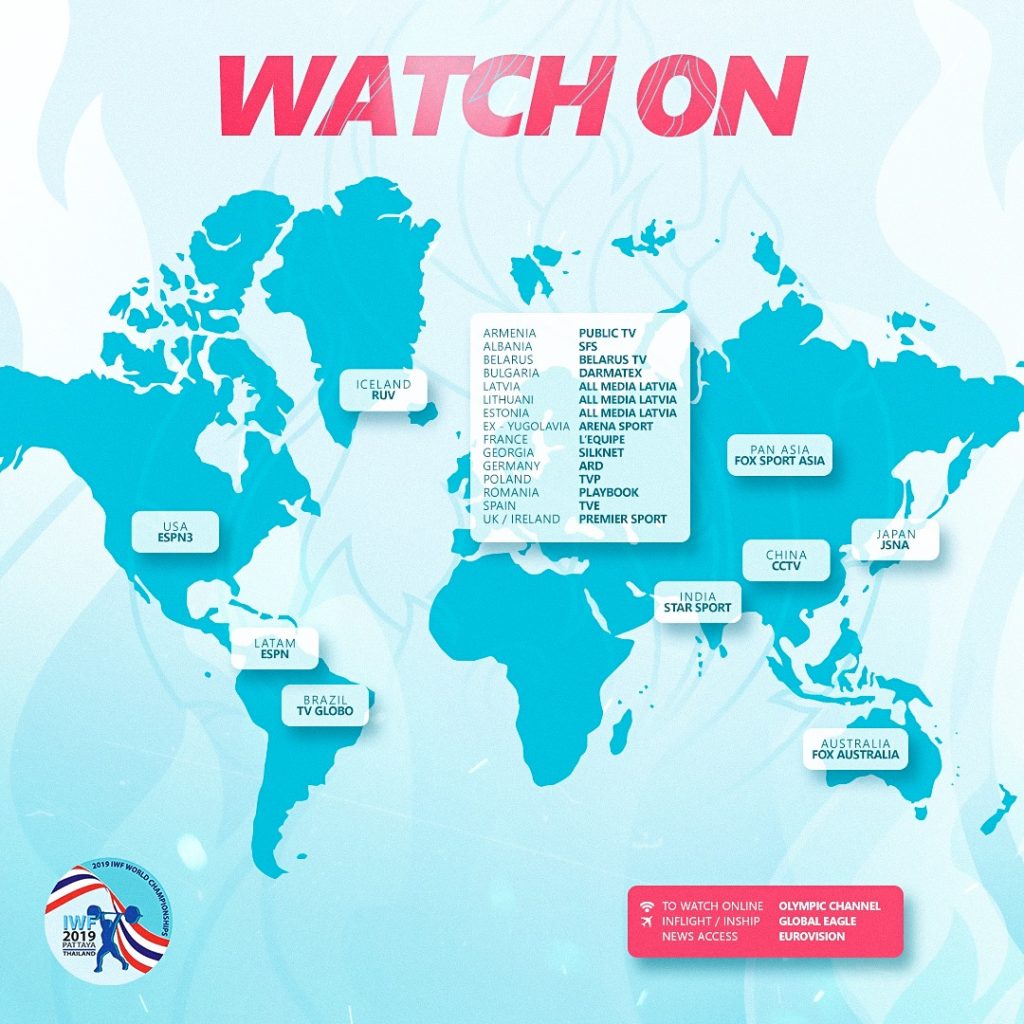 Armenia: Public TV
Albania: SFS
Belarus: Belarus TV
Bulgaria: Darmatex
Latvia: All Media Latvia
Lithuani: All Media Latvia
Estonia: All Media Latvia
EX—Yugolavia: Arena Sport
France: L'Equipe
Georgia: Silknet
Germany: ARD
Poland: TVP
Romania: Playbook
Spain: TVE
UK/Ireland: Premier Sport
Iceland: RUV
India: Star Sport
China: CCTV
Pan Asia: Fox Sport Asia
Japan: JSNA
USA: ESPN3
Latam: ESPN
Brazil: TV GLOBO
Australia: Fox Australia
Based on previous years, we're expecting that live stream links will be shared within the next 24-hours before the competition kicks off, so check back soon for all of the official links!
Featured image from @cj__cummings Instagram page.