The 2023 Arnold Classic at the 2023 Arnold Sports Festival in Columbus, OH, featured seven bodybuilding divisions across two days of competition. On March 4, 2023, the Wheelchair division took to the main stage in the morning.
Harold "King Kong" Kelley continued his dominance from his 2022 Olympia win in December 2022, earning his sixth Arnold Classic title. Below are the results:
2023 Arnold Classic Results — Wheelchair Division
Tory Jones
Bradley Betts
Woody Belfort
James Berger
Tim Caldwell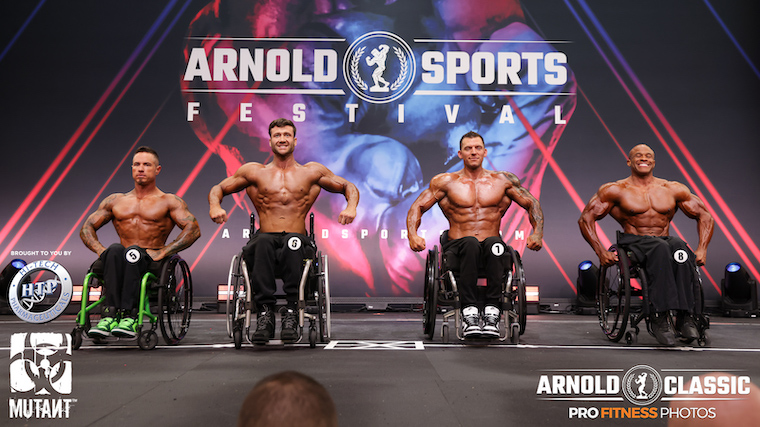 [Related: Kassandra Gillis Victorious at the 2023 Wellness International]
The Wheelchair lineup was initially expected to be larger heading into the competition weekend. The defending champion Gabrielle Andriulli vacated the title, leaving the expectation that Kelley would reclaim the crown.
However, two major contenders withdrew from the 2023 Wheelchair contest before it began:
Antoni Khadroui of Algeria had to withdraw due to travel issues preventing him from arriving in Columbus, OH. Arnold Anand was scheduled for his sophomore Arnold Classic appearance, but injury kept him from the competitive stage.
[Related: Victoria Long Pulls 651 Pounds for New Elephant Bar Deadlift World Record]
Harold Kelley's Dominance
Kelley scored his first Arnold Classic victory in 2016 when he made his debut in the contest. That was the only pro show he competed in that year, according to NPC News Online, but he carried that momentum in the years that followed.
Kelley defended the Arnold Wheelchair throne in 2017 and 2018. The latter year he scored his first Olympia title. In 2019, Kelley remained undefeated at the Arnold, claiming his fourth title.
Despite many pro bodybuilding shows not occurring in 2020 due to the COVID-19 pandemic, Kelley still claimed his fifth Arnold and his third Olympia title. Skipping to 2021, Kelley did not participate in the Arnold, instead maintaining his place on the Olympia throne.
2022 marked the only blemish on Kelley's record at the Arnold as Andriulli proved it was possible to best "King Kong." However, it was short-lived, as Kelley reclaimed the crown in 2023 and remains the athlete to beat in the Wheelchair division.
Featured image courtesy of the Arnold Sports Festival.