There were seven IFBB Pro League contests held on the weekend of June 3-4, 2023, and one of them was in South Beach. The Miami Muscle Beach Pro took place on June 3, and it featured Men's Physique, Bikini, and Wellness divisions.
By the time the final awards were given, Andre Ferguson (Men's Physique), Cristobalina Pajares (Bikini), and Tefani Sam Rahzi (Wellness) had all won their respective shows to qualify for the 2023 Olympia Weekend in Orlando, FL, on the weekend of Nov. 2-5, 2023.
2023 Miami Muscle Beach Pro Results
The top 15 finishers for all three divisions are below:
Men's Physique
Andre Ferguson (USA)
Vitor Chaves (Brazil)
Daniel Ammons (USA)
Ramses Rams (Spain)
Deke Walker (USA)
Juan Manuel Gochez (USA)
Maxime Parisi (France)
Brett Mario Jackson (USA)
Victor Manuel Ramirez Chavez (Costa Rica)
Renato Menezes (Brazil)
Kevin Rascoe (USA)
Steven Rogers (USA)
Lamar S. McNeal-Smith (USA)
Xavier Jamie (Puerto Rico)
Justo Scott (USA)
Bikini
Cristobalina Pajares (Spain)
Romina Basualdo (USA)
Sierra Swann (USA)
Marisa Woo (USA)
Janine Herrera (USA)
Alina Bogacheva (Kyrgyzstan)
Sandra Roxana Merlo (Argentina)
Shey Webb (USA)
Lauren Kralovec (USA)
Laura Martinez Manrique (USA)
Nicole Hermanson (USA)
Gavi Soni (USA)
Rebecca Flachner (USA)
Marina Maiden (Israel)
Marisol Sosa (USA)
Wellness
Tefani Sam Razhi (USA)
Lili Dong (USA)
Johanna Calcano (USA)
Edna F. de Souza (USA)
Joanna Jean (Canada)
Simara Walter (Brazil)
Tatiany Vaillant (USA)
Vanina Alejandra Pikor (Argentina)
Yami Patridge (USA)
Anna Banks (Poland)
DeShondra Brown (USA)
Kimberly Riley (USA)
Antonia Liliana Licciardi (Italy)
Pernille Mindahl (Denmark)
Clara Sella (Italy)
[Related: Ashley Kaltwasser Wins the 2023 Nevada State Pro Bikini Division Show]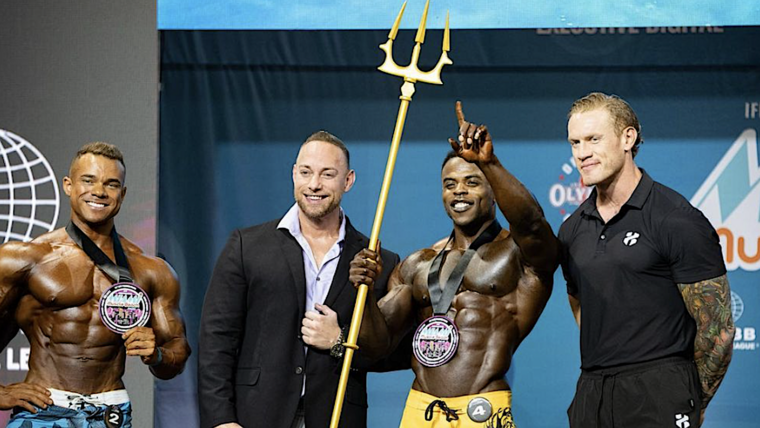 [Related: Emily Schubert Wins 2023 Omaha Pro Women's Physique Show]
Men's Physique Winner — Andre Ferguson
This was Ferguson's 18th win in his career and qualified him for the Men's Physique Olympia for the ninth straight year. The New York native received straight first-place votes from the judges to become the 19th athlete to qualify for the 2023 Men's Physique Olympia.
Vitor Chaves came in as the runner-up for the second contest in a row. He was runner-up to Ryan Terry in the New York Pro in May 2023. Daniel Ammons landed third place, but he was already Olympia-qualified thanks to his win at the 2023 Palmetto Pro.
Bikini Division Winner — Cristobalina Pajares
Many people thought this contest would come down to Romina Basualdo and Sierra Swann, both of whom already won pro shows in 2023. However, Cristobalina Pajares pulled off the upset to represent her home country of Spain at the 2023 Olympia with Ivanna Escandar.
View this post on Instagram
Basualdo was second in her fourth contest of the season. Swann finished in the bronze spot after winning the 2023 Optimum Classic Pro.
American athletes occupied the top four slots in this division: Lili Dong (second), Johanna Calcano (third), and Edna F. de Souza (fourth) will have to win a different pro show this season to qualify for the 2023 Olympia.
Wellness Division Winner — Tefani Sam Razhi
This was Razhi's pro debut, and she left Miami with her first pro win. Razhi has five months to prepare for the 2023 Olympia debut against two-time defending champion Francielle Mattos. Razhi is the ninth athlete to qualify for the 2023 Wellness Olympia.
Featured image: @luckylibra213 on Instagram