Ample is on a mission to change the meal replacement game. Launched in 2015 by Connor Young, a one-time owner of his own CrossFit gym, the idea behind the brand was to produce a meal replacement for folks who didn't want to consume artificial ingredients, people who are tired of low-calorie and low-fat shakes, and those who feel that these sorts of products tend to neglect digestive health.
The product was a smooth, buttery beverage that contains fiber, prebiotics, and 40 billion probiotic bacteria per serving. The product was so popular that it launched a vegan version and Ample K, a high fat and low carb drink suitable for folks following a ketogenic diet.
Here, we're comparing those two versions of the product, Ample and Ample K. And there's more to talk about than just the fat.
Looking for the best meal replacement on the market? Here are our picks.
Save 15%
Ample V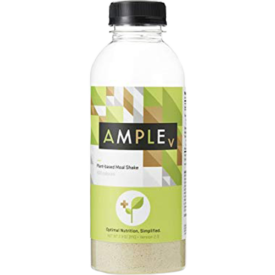 More focused on digestive health than your average vegan protein powder, it's a good source of protein, fiber, fat, and probiotics. Use code BARBEND to save 15% on your order.
Save 15%
Ample K
A keto-friendly shake packed with probiotics, it's a great way to curb hunger while keeping you in ketosis. Use code BARBEND to save 15% on your order.
Ample vs. Ample K Nutrition
Ample
Both of these products are available in 400- and 600-calorie varieties, and we grabbed the 600-calorie bottles. In Ample, that contains 38 grams of protein, 38 grams of carbohydrates (14 grams of fiber, 6 grams of sugar), and 33 grams of fat (16 grams saturated fat). There's no cholesterol at all, though there is 29 percent of your daily sodium.
There are few vitamins and minerals: 2 percent of the recommended daily intake of Vitamins A and C, 4 percent of your calcium, and 15 percent of your iron. 
[Read our full review of the original Ample here!]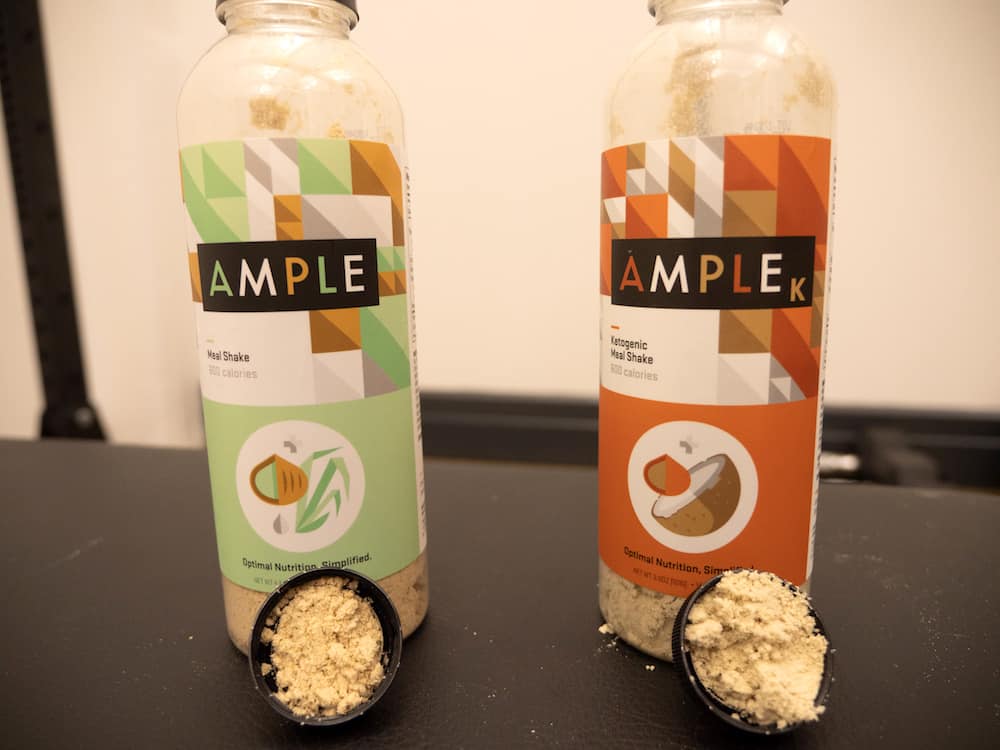 Ample K 
In 600 calories there's 50 grams of fat (33 grams saturated), 19 grams of protein, and 22 grams of carbs with 13 grams of fiber and 3 grams of sugar. (So that's 9 grams of net carbs.)
So that's 17 more grams of fat, 16 fewer grams of carbs and 19 fewer grams protein, though there's just 1 gram fewer of fiber.
The micronutrients are a big difference though. While the two products have roughly the same amount of sodium, Ample K has 25 percent of your daily calcium, Vitamin D, and magnesium, and 10 percent of your daily iron.
[Check out the full Ample K review here!]
Ample vs. Ample K Ingredients
Ample
Both have a lot in common. Both of these products have 40 billion probiotics from six strains; they both have antioxidant-rich greens from wheatgrass, chlorella, and barley grass; they both have coconut and macadamia nut oil; they both have protein from grass-fed whey and pea; and they both include flavoring from honey, salt, lemon juice, cinnamon, monk fruit, and stevia extract.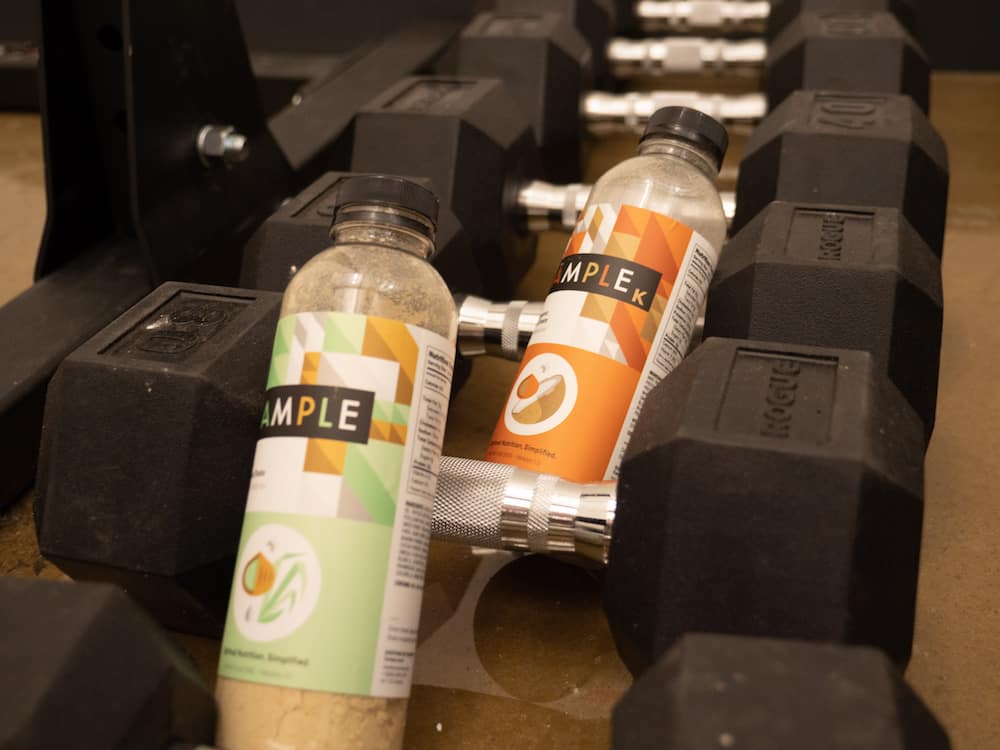 Regular Ample has a few things Ample K doesn't, perhaps most importantly collagen protein, which means that Ample is not vegetarian while Ample K is. It also has more sources of fiber: psyllium husk, sweet potato powder, and green banana powder. This also means that Ample has more resistant starch (from the banana), a carbohydrate that isn't technically fiber but acts a lot like it because it's "resistant" to digestion.
Ample K
The main thing to note here is that while there's no collagen protein, Ample K does have egg white protein, so it's vegetarian friendly but it may not suit lacto-vegetarians, a diet that's particularly prevalent in India.
The other principle difference is that Ample K has medium chain triglycerides, a type of fat that's not uncommon in ketogenic diets. Those are the main things Ample K has that Ample doesn't, and of course the ingredients are arranged slightly differently to give Ample K more fat. Finally, Ample K has added vitamins and minerals, whereas Ample doesn't.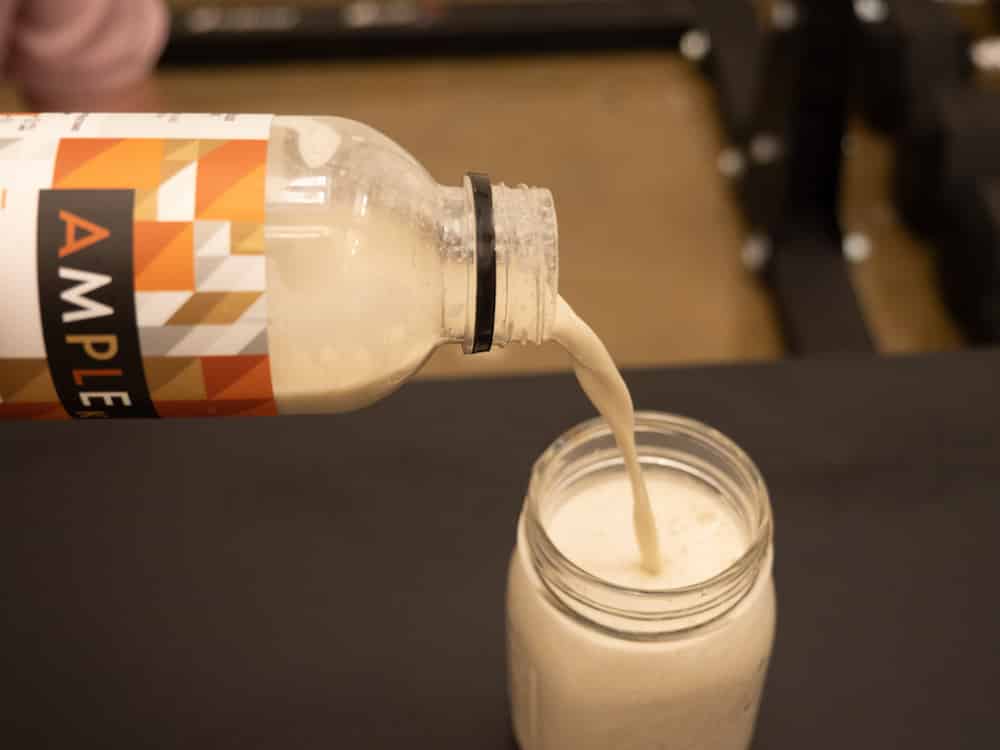 Ample vs. Ample K Price
Ample
There are a lot of pricing options with Ample. You have to buy it in a minimum order of 6, and the 600-calorie version is $7.30 each while the 400-calorie version is $5.85. The price decreases the more you buy: it's available in packs of 12, 30, and 60, with the bundle of 60 coming in at $6.12 for 600 calories and $4.97 for 400 calories.
Ample K
Ample K is more expensive. A 6-pack of 600-calories is $9 per bottle while 400 calories is $7.20. Crank that up to a bundle of 60 the price goes down to $7.65 each for 600 calories or $6.12 for 400 calories.
Note that you can subscribe to regular shipments for either of the products and get a discount of about 10 percent.
Taste
Ample
The combination of coconut oil, macadamia nut oil, collagen, whey, cinnamon, salt, cocoa, and lemon make for a buttery concoction that tastes quite a lot like liquid shortbread cookie.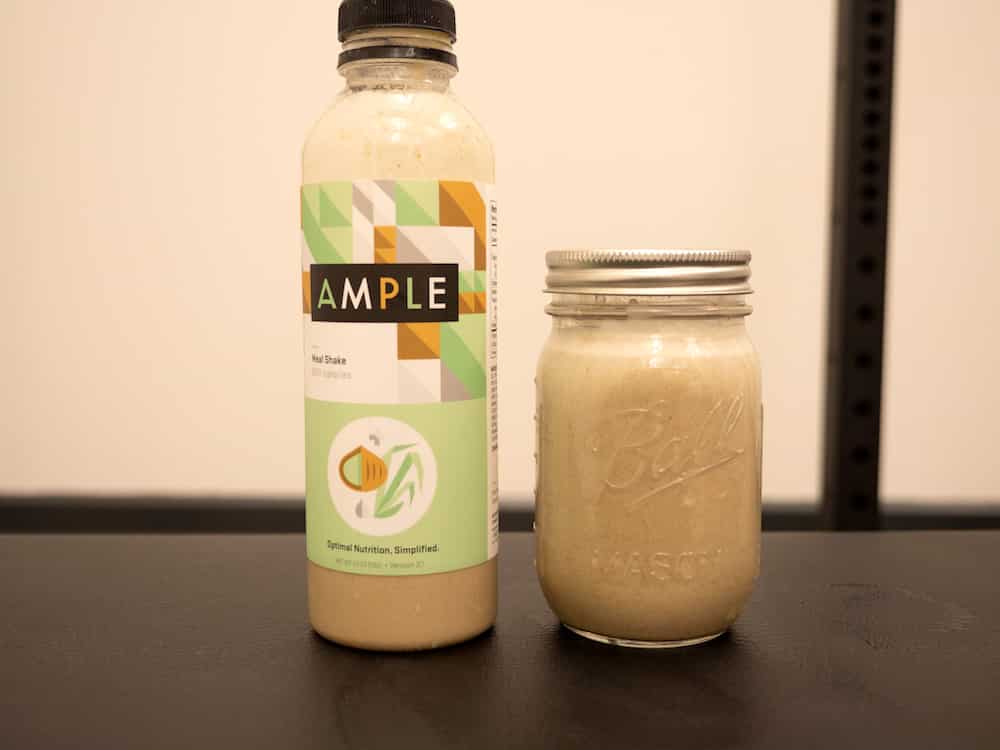 Ample K
This product has all the same flavorings above except for the collagen and the cocoa, plus it has MCT oil which has a pretty generic, tasteless "fatty" flavor. However, I was pleased to find that Ample K was pretty close to Ample, although it was less buttery and sweet and more coconutty and savory.
The Takeaway
There are more similarities than differences here: both have a big focus on probiotics and digestive health, both contain ingredients with a lot of antioxidants, both are all natural, both have plenty of fat and fiber, and both taste like shortbread.
[BarBend readers can get 15% off their first order of Ample and Ample K with code BARBEND.]
Ample K is a bit blander, it's vegetarian, it's pricier, and of course, it has a lot more fat and fewer carbs. Both can fit happily into a well planned diet — it just depends on your individual goals.