Ample is one of the rising stars in the world of meal replacements, partly because all of their products are made with all-natural foods, but we'll be honest, the fact that their high fat content makes for a particularly tasty beverage is probably a big factor too.
The company was founded by Connor Young back in 2015 after deciding that your standard on-the-go snack bars and meal replacements tend to result in indigestion and low energy. That's why Ample also has a particularly unusual focus on digestive health, with all of its offerings including 40 billion CFUs of probiotic bacteria.
We've tried regular Ample and the extra high fat Ample K but we were very curious to try out Ample V, the plant-based version. How does going vegan affect the macros and micros? Let's take a look.
Shopping for the perfect meal replacement? Check out our ultimate list of the best.
Save 15%
Ample V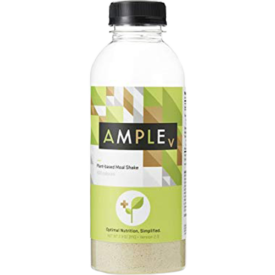 More focused on digestive health than your average vegan protein powder, it's a good source of protein, fiber, fat, and probiotics. Use code BARBEND to save 15% on your order.
Ample V Nutrition Info
The product is available in 400-calorie and 600-calorie versions. We grabbed the 600-calorie one which contains 35 grams of protein, 42 grams of carbohydrates (15 grams fiber, 6 grams sugar) and 33 grams of fat (16 grams saturated).
There's no cholesterol and as far as micronutrients go there's 25 percent of the RDI of calcium, 20 percent of your iron, and 24 percent of your sodium.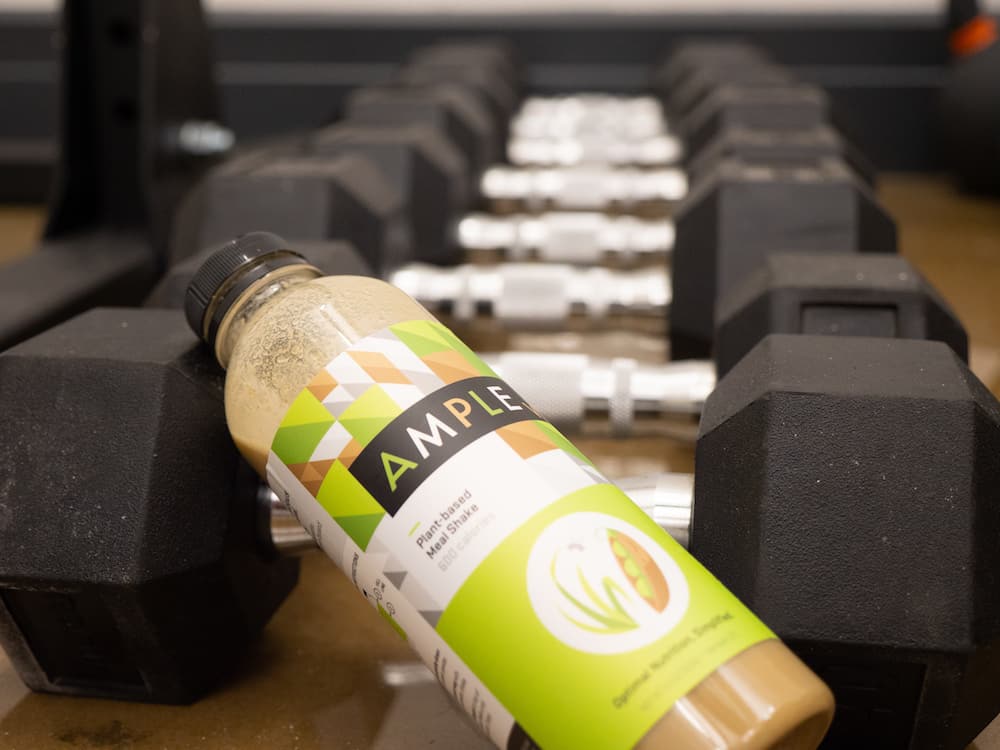 Ample V Ingredients
There are a lot of ingredients here that I'll try to break down by category.
Protein: Organic pea protein, organic brown rice protein
Fats: Macadamia nut oil, coconut oil, sunflower lecithin, Omega-3 chia seed extract
Carbs: Tapioca dextrin, acacia fiber, organic coconut sugar, organic sweet potato powder, organic green banana powder
Greens: Organic wheatgrass, organic barley grass, organic chlorella
Fiber: Acacia fiber, psyllium husk, Jerusalem artichoke inulin
Probiotic bacteria: Lactobacillus acidophilus, Lactobacillus paracasei, Bifidobacterium lactis, Bifidobacterium infantis, Lactobacillus rhamnosus, Bacillus coagulans
Flavorings: Organic cocoa powder, sea salt, lemon juice powder, cinnamon, natural flavor
It's worth emphasizing there are no artificial ingredients or soy.
Ample V Benefits & Effectiveness
You probably haven't seen a vegan protein powder or meal replacement with this much fat before: 33 grams of fat is the same amount found in regular Ample, so that part of the macros didn't take a hit during the vegan conversion.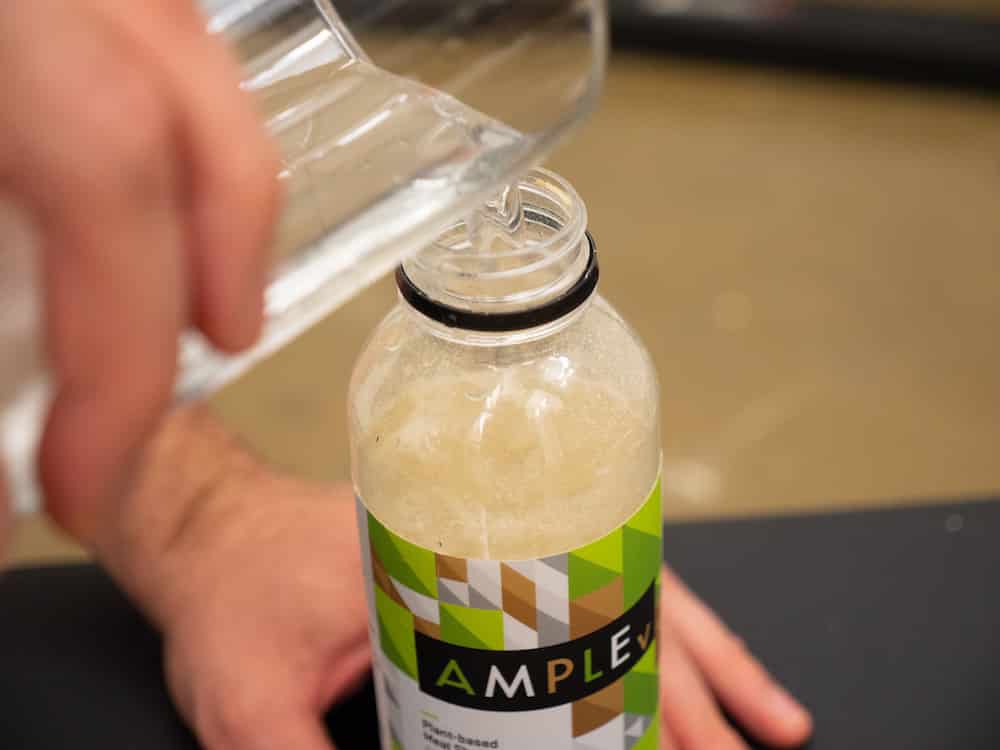 It's also more nutritious than regular Ample, with more iron and more calcium, plus those are two nutrients that can sometimes be tricky to get on a plant-based diet alone. So that's good news with the nutrition, but it's still not that nutritious. For something that's marketed as a meal replacement that "provides comprehensive plant-based nutrition" there are just two minerals here, three if you include sodium, and practically no vitamins.
So what does it offer? Primarily, it's really designed for curbing the appetite with lots of protein, lots of fat, and lots of fiber. That fiber combined with the inulin (a prebiotic fiber) and the probiotic bacteria also make this a really solid supplement for gut health. Probiotics have been linked to everything from better immunity to better mental health, though it might be worth mentioning that a lot of them are from the Lactobacillus family which some people don't consider vegan.
There's also the greens: wheatgrass, barley grass, and chlorella. Ample calls these (along with cocoa) a "plant extract blend from land and sea to provide a versatile array of nutrients." The nutrients aren't on the nutrition label, though. I don't doubt they provide antioxidants, but I would have liked the antioxidant content quantified with something like the ORAC scale. Similarly, while it contains Omega-3 "chia seed extract" the polyunsaturated fats aren't quantified either.
Ample V Price
There's a minimum order of 6 bottles and if you're going with 600-calorie items, it comes to $5.10 per serving. You can get tubs of 12, 30, or 60 and the price per serving decreases as you go, culminating at $4.33 per meal for 60.
The 400-calorie versions are about 80 cents less per serving and if you subscribe to regular shipments you can expect a discount of around 10 percent per order.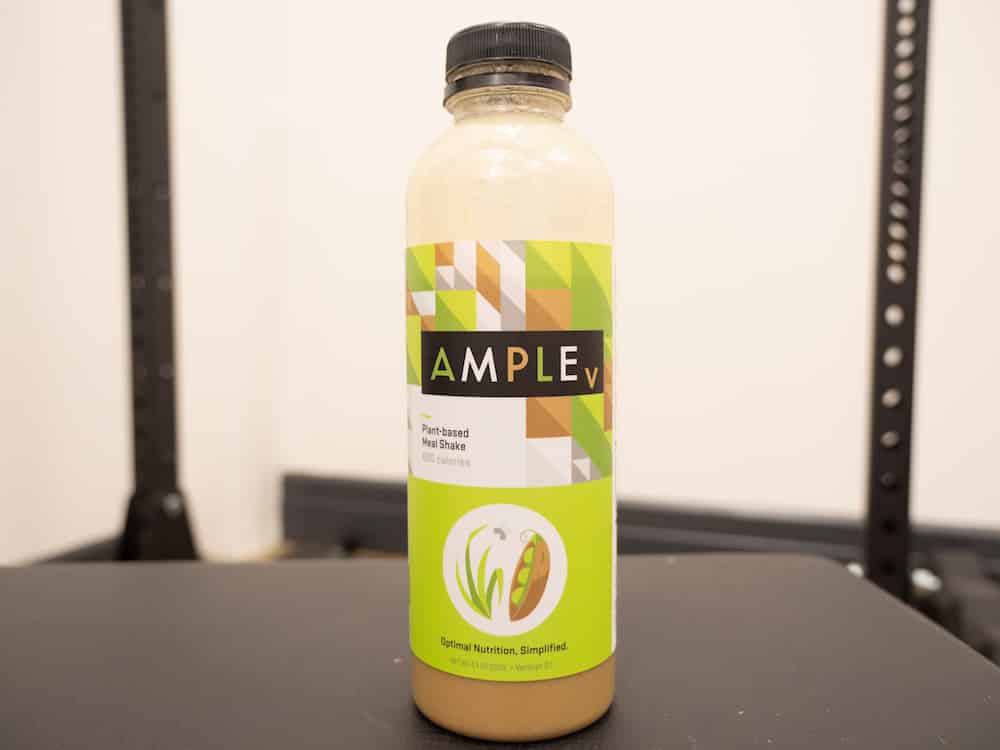 Ample V Taste
I was a little disappointed by the taste. Despite the fact that it has all the same flavorings as Ample and Ample K, it appears the absence of dairy, increase in pea protein, and addition of brown rice protein resulted in a taste that's pretty similar to most vanilla vegan protein powders: nutty and grainy.
Now I should note that if this were a regular vanilla vegan protein powder it would be one of the best I've ever tried, especially because the coconut oil powder adds an interesting background flavor. Gone is the tasty shortbread flavor shared by Ample and Ample K but this is still a pretty enjoyable taste, all things considered.
The Takeaway
This is cheaper than other kinds of Ample and is way more focused on digestive health than your average vegan protein powder. It's pricier than most meal replacements, but it's a good source of protein, fiber, fat, probiotics, and maybe antioxidants. I would have potentially liked some more vitamins, but it's still a decent way to satiate your cravings.