We receive free products and receive commissions through our links. See
disclosures page
.
The key to any solid home gym is finding the perfect centerpiece. Some may opt for a high-tech smart gym, cable machine lovers may want a functional trainer, but those who love working out with a barbell should target a power rack like the Bells of Steel Hydra Rack.
From start to finish, this power rack is fully customizable. Whether you simply want a no-frills four-post rack or the largest configuration possible with each of the 26 attachments, you can create your ideal power rack. The Hydra Rack also features a 3" x 3" 11-gauge steel build and boasts a 1,000-pound weight capacity, so those pushing some major weight can easily hit their next PR. If you're building a home gym from the ground up, the Hydra Rack's fully customizable nature may be the ideal way to start — let's dive into a full review.
Bells of Steel 3x3 Inch Four Post Hydra Rack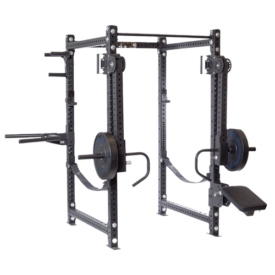 Bells of Steel 3x3 Inch Four Post Hydra Rack
This rack from Bells of Steel offers custom height, width, and depth dimensions, West Side spacing, a plethora of accessory options, and a 1,000-pound weight capacity. 
About Our Tester
Jake Herod is BarBend's main product tester, and he's conducted hundreds of reviews on strength equipment in both written and video formats. He put together this review using a combination of his past experiences and those of our other product testers.
Main Takeaways
The Bells of Steel Hydra Rack is fully customizable from its overall size to the number of attachments.
The 3" x 3" 11-gauge steel uprights on this rack create a sturdy build that supports up to 1,000 pounds.
The Hydra Rack features westside spacing in the bench zone for optimal positioning.
Bells of Steel Hydra Rack Video Review
Check out this detailed video review as our Reviews Writer, Jake, breaks down everything you need to know about this power rack.
Bells of Steel Hydra Rack Highlights
Price: The lowest possible price is $870 but could exceed $5,000
Weight Capacity: 1,000 pounds
Type of steel: 3" x 3" 11-gauge steel 
Size: Depends on your configuration
Attachments: 26 to choose from
Whether you're looking for a compact rack to squeeze into a room with short ceilings or you have enough room for the largest configuration, the Hydra Rack has you covered. There are four different heights you can choose from (72, 84, 90, or 108 inches), three depth options (24, 30, and 43 inches), and two widths (41 or 43 inches). Regardless of the size, the 3" x 3" 11-gauge steel build ensures your rack can withstand up to 1,000 pounds of weight, so you can comfortably attempt to break the world record back squat. 
The ability to completely customize your rack is a bit of a rarity, but it doesn't stop at the dimensions. You can also choose from 26 different attachments to provide yourself with the tools you need to pack on as much muscle as possible. While you could spend less than $900, you could also easily exceed $5,000 — but the ability to determine the final price tag allows you to work perfectly within your available budget. 
Pros
The ability to completely customize the Hydra Rack allows you to create your dream power rack and work within your budget.
The westside spacing on the benching zone makes it easy to find your sweet spot for optimal positioning of your J-Cups.
Every iteration of this power rack can hold up to 1,000 pounds.
Cons
The building process can be tedious, depending on your configuration.
Even the lowest price for this rack might not be in everyone's budget.
Training With the Bells of Steel Hydra Rack
Our test rack was the smallest build available, but we were impressed with how sturdy it felt when working out with it. One person could move it around, but we never felt like it was going to tip over when repping some strict pull-ups. However, we suggest bolting it to the ground at the base of the uprights for your safety or adding the front foot stabilizers.
Despite it being only 35 inches in depth, we still had plenty of room to rep out back squats in the cage, but the 72-inch height made it a little tricky to unrack the bar, as you could hit your head on the back crossmember. While that may be something you simply have to deal with, we suggest going with the 84-inch height build if it fits your space. 
Assembly
Assembling our Hydra Rack was relatively easy, and it only took one tester about 30 minutes to do it solo. However, the time spent is determined by each specific build. Now, the Hydra Rack is still a four-post rack (unless you add on the Batwing), so it still shouldn't take too long, but the bigger builds will likely require an extra set of hands. Regardless of the build, we recommend recruiting some help to make things easier.
Speaking of the Batwing, this is an extra set of uprights that connect to the rack with crossmembers, which adds to the stability while also serving as your built-in storage for weight plates and barbells. We didn't add this to our rack, but it could be pretty clutch for those who need a way to store their gear.
Stability
Despite us building the smallest rack possible, we still felt as if it was pretty stable. We repped out a lot of strict pull-ups and weren't worried about it tipping, but you'll want to bolt the rack to the ground for some kipping pull-ups. In fact, due to the size and weight, we can easily grab the pull-up bar and tilt the rack towards us with one person. 
Additionally, if you're squatting some really heavy weight, we advise bolting the rack to the ground if you want to squat outside the cage. But if you build a bigger rack, the extra weight will make it more stable. You can also add on the front foot stabilizers if you don't want to bolt it down. 
Pull-Up Bar
Since we had the smallest dimensions, we were forced to add the straight bar pull-up bar. However, if you have room for the 43-inch wide rack (inside dimensions), you can choose from four additional options that include multi-grip and globe-grip options. The powder coat finish on the straight bar provided a pretty solid grip, but if you choose the 72-inch height, you'll have to bend your knees to perform your pull-ups.
Westside Spacing
For those unaware, westside spacing refers to the one-inch spacing between the holes on the uprights of a power rack on the benching zone. This is a luxury, as most power racks only feature two-inch spacing between each hole on its uprights. This allows you to position your J-Cups for optimal comfort for your bench presses.
What to Consider Before Buying the Bells of Steel Hydra Rack
While we think the Hydra Rack is a great investment for those building their home gym, you still need to weigh some important factors. The first is the money; we all want nice things, but it's essential to work within your budget. You get to decide how big your rack is, but you still need to make sure it fits, and then the fun part is determining which attachments you want.
Price
One of our favorite things about this rack is the ability to control the final price tag, but you must pay close attention as it gets expensive quickly. If you're looking for the most simple version of the Hydra Rack, then you'll spend around $900, but the attachments and size could lead to it exceeding $5,000. 
Size
Before configuring your rack, you should take a few minutes to measure your available space and determine how big your rack should be. The beauty of this rack, though, is that it can fit in essentially any room due to the various sizing options. 
Attachments
The most fun part of building your rack is likely selecting the attachments. Whether you want to keep it simple with a landmine attachment or dip station, or target a selectorized lat pulldown attachment, you can choose from 26 options. In addition to selecting your ideal pull-up bar, you can select the pin pipe or strap safeties. While the pin pipe ones have a more classic feel, we opted for the straps since they're softer on your barbell if you drop it on a failed lift. The beauty of this process is that you get to choose your own adventure. 
Bells of Steel Hydra Rack Vs. The Competition
There aren't too many racks that offer as many customization options as the Hydra Rack, but we still wanted to take a moment to compare it to some other power racks on the market.
| | | | | |
| --- | --- | --- | --- | --- |
|   | Bells of Steel Hydra Rack | REP Fitness PR-5000 Power Rack | Force USA MyRack Power Rack | Force USA X20 Pro Power Rack |
| Price | Starts at $870 | Starts at $900 | Starts at $500 | Starts at $4,250 |
| Weight Capacity | 1,000 pounds | 1,000 pounds | 1,000 pounds | 1,000 pounds |
| Height Options | Four | Two | One | One |
| Depth Options | Three | Three | One | One |
| Width Options | Two | One | One | One |
| Included Attachments | N/A | N/A | N/A | 17 |
| Steel Used | 11-gauge | 11-gauge | 12-gauge | 11-gauge |
As you can see, these racks are similar but aren't identical. The PR-5000 is the closest one to the Hydra Rack since you also start from scratch, but it only has two heights and features a universal width. The Force USA MyRack is the cheapest available, but it also features 12-gauge steel rather than 11. 12-gauge steel is still high quality, but it's a little weaker than 11-gauge. Similar to the Hydra Rack and the PR-5000, you can select your ideal attachments, but they aren't as extensive as the other two options. 
The Force USA X20 Pro has the most expensive base price of $4,250, but it also comes with 17 attachments, so it could be the best overall value by the time you add the same attachments to the Hydra Rack and PR-5000. Plus, it comes with two 289-pound weight stacks, which is a rarity. However, it's a behemoth of a rack, and it took almost six hours for us to assemble it with hired help. 
But when it comes down to the most customizable rack in this chart, the Hydra Rack gets the nod. Not only does it offer the most dimensions, but it also has 26 possible attachments, so there isn't a shortage of strength-building tools at your disposal. You can't go wrong with any of these power racks; just be sure to be methodical in your approach, and you'll land on the best possible option.
Places to Buy
You can purchase the Hydra Rack directly through the Bells of Steel website. 
Warranties
Bells of Steel offers a limited lifetime warranty on the Hydra Rack that covers manufacturing defects and that it won't break under normal use, but negligent usage is not covered.
Company Information
From strength gear to cardio equipment, Bells of Steel offers a wide range of fitness equipment. In addition to the warranty, they also offer a 30-day money-back guarantee, but you will be responsible for a return shipping fee. If you need to speak to a team member, you can contact them via email at support@bellsofsteel.us or by phone call at 1-888-718-7997.
In Conclusion
The Bells of Steel Hydra Rack is one of our favorite power racks on the market due to its fully customizable nature. Whether you're working with a shoebox of a room or your workout space resembles an airline hangar, you can create your ideal power rack based on your specific needs. The 3" x 3" 11-gauge steel uprights on this rack offer a strong and durable build, and the 26 possible attachments mean you have all the necessary tools to build as much muscle as possible. If you're building your home gym or looking for a new centerpiece, you may have found your match in the Hydra Rack.