Protein puffs are a relatively new and increasingly popular type of high-protein snack. Crafted to resemble the cheesy junk food many of us know and love, these snacks are usually pretty high in protein and low in carbs. Usually utilizing milk or vegetable protein as their main ingredient, protein puffs might be a solid snacking alternative for folks who want to enjoy crunchy, salty snacks while maintaining a high protein diet.
Protein puffs are made by a variety of manufacturers and available in a wide number of flavors. While many companies offer a cheese flavor, others have branched out into other savory options and even a few sweet varieties. We rounded up some of the best protein puffs on the market, taste-tested them, and gave our picks below.
Best Protein Puffs
Editor's note: The content on BarBend is meant to be informative in nature, but it should not be taken as medical advice. The opinions and articles on this site are not intended to diagnose, prevent, and/or treat health problems. It's always a good idea to talk to your doctor before beginning a new fitness, nutritional, and/or supplement routine. Individual needs for vitamins and minerals will vary.
Best Protein Puffs
If you are a fan of Cheese Doodles®, then you'll likely enjoy what IWON has to offer. Each 1.5-ounce bag 10 grams of protein, five grams of fiber, and 180 calories. Their cheddar cheese flavor is the most similar to its mainstream, non-protein counterpart, but Caramelized Onion and Red Pepper flavors are also available.
IWON organics Protein Puffs
Made with certified organic ingredients, the main components of these protein puffs are green peas, yellow peas, and brown rice. Additionally, they are gluten and soy-free, non-GMO, and compatible with people who keep kosher. Each bag comes with a price tag of $1.66, making it one of the more affordable options on the market.
iwon organics Protein Puffs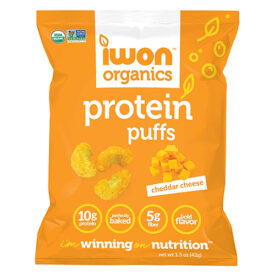 iwon organics Protein Puffs
Iwon organics protein puffs are made with plant-based proteins and are available in a variety of flavors. These light and fluffy puffs come in single-serving bags and pack a very flavorful punch.
Who Should Buy IWON organics Protein Puffs
Anyone who likes the texture of Cheese Doodles® and wants something similar in their protein puffs.
Those who want a good amount of protein in a sub-200 calorie snack.
Folks who are working with a tighter budget.
Who Shouldn't Buy IWON organics Protein Puffs
People who want a more filling snack — each bag is only 1.5 ounces.
Those who dislike the texture of Cheese Doodles®.
Overall, this is a good choice for flavor, cost, texture, and quality of ingredients.
[Related: Could Baking Soda Be The Best Workout Supplement You've Never Tried?]
Best Protein Puff Bar
Texture can be the difference between enjoying a pre-workout snack and just getting it down for the fuel it provides. So we sought out snacks that have some crunch to them, and Promix delivered in spades. If you enjoy gooey, crunchy textures reminiscent of a Rice Krispie® treat, Promix bars offer it in a 150-calorie bar alongside 15 grams of protein.
Promix Puff Bar
Promix also claims that they won't melt in transit, so toss these in your gym bag when traveling. They're made with raw cacao and cocoa, grass-fed whey, coconut oil, and tapioca. There are four flavors available: Snickerdoodle, Vanilla, Mint Chocolate, Chocolate Chips.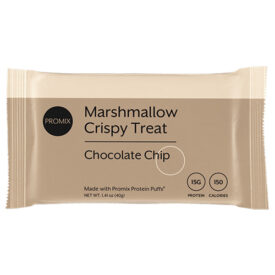 These crunchy bars are reminiscent of a rice crispy treat that's packed with protein and absent all that unwanted sugar. They're a nice change from normal chewy protein bars.
Who Should Buy Promix Puff Bar
Anyone who values minimal sugar content.
Folks who like having a wide variety of flavors.
Those who plan to train while traveling.
Who Shouldn't Buy Promix Puff Bar
Anyone who is bulking up and needs a higher-calorie bar.
Folks who don't want a crunchy bar.
People who want more than 15 grams of protein per serving.
Get your crunch on before knocking how some heavy lifts at the gym. Fifteen grams of protein in a low-calorie pre-workout snack will help you get there.
[Related: The Best Types Of Supplements For Performance, Weight Loss, And Health]
Best Protein Puffs for Flavor Choice
These crunchy protein puffs are a great choice to pour into a bowl and snack on like popcorn. Each one-cup (30-gram) serving is just 130 calories and provides 21 grams of protein. They are keto-friendly — only two carbs per serving (one gram of added sugar). Additionally, each serving has 351 milligrams of calcium or a quarter of the recommended daily intake (RDI).
Twin Peaks Protein Puffs
For comparison sake, these protein puffs are similar in style to cheese puffs. However, they are less puffed — meaning they have a harder crunch. Despite that, they are quite easy to eat multiple servings casually. Compared to other competitive options on the market, the calorie per serving ratio is quite good, and the Nacho Cheese flavor is tough to top.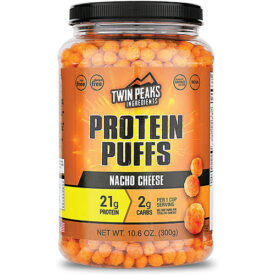 Twin Peaks protein puffs are a high protein, low carb, spicy and cheesy snack. Available in a jumbo-sized container, these bite size puffs offer a very ASMR-friendly crunch.
Who Should Buy Twin Peaks Protein Puffs
Anyone who wants a high-protein, low-fat snack.
Those who follow a keto diet.
Who Shouldn't Buy Twin Peaks Protein Puffs
Folks who dislike having cheesy residue on their hands.
People who want less of a hard crunch factor.
There is a strong aftertaste with these protein puffs. It isn't bad if you are a fan of cheesy flavors, but something to be aware of before clicking buy.
[Related: The Best Foods and Supplements For Fighting Inflammation]
Best Single-Serving Protein Puffs
These protein puffs are likely to make you double-take as to how they so accurately achieved each flavor profile. Most of the flavors provide 90 calories and anywhere from 12-14 grams of protein per 21-gram bag. They are a great option for a quick grab-and-go snack with flavors such as Baked Cheddar, Brick Oven Pizza, Nacho Cheese, Sour Cream, Sriracha Cheddar, and Strawberries & Cream.
Shrewd Food Protein Puffs
These protein puffs are good for people following keto diets as each serving only contains two carbs, none of which is sugar. However, these are a bit pricier than other competitive options on the market on a per ounce basis.
Shrewd Food Protein Puffs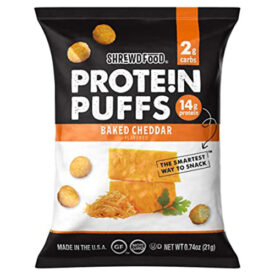 Shrewd Food Protein Puffs
Available in 8 flavors, Shrewd Food Protein Crisps offer a strong dose of protein in a relatively small serving size. These gluten-free puffs scored high on texture, though not as high in taste.
Who Should Buy Shrewd Food Protein Puffs
People who want quick, easy, protein-packed snacks on the go.
Those who appreciate having a variety of flavors to choose from — there is a variety pack available.
Who Shouldn't Buy Shrewd Food Protein Puffs
Anyone trying to keep snack costs down.
Folks who want something more filling.
The only real knock here is the cost, which is higher for smaller serving sizes than the rest of this list. However, the flavors are quite good, and the packaging makes them easy to eat on the move.
[Related: Intermittent Fasting 101: A Guide To Benefits, Muscle Gain, And More]
Best Sweet Protein Puffs
When comparing Kay's Protein Puffs to the rest of the market, you will notice that the serving size is slightly higher (1.2 ounces), and the calories are slightly lower (125 calories per serving). Considering there is also 12 grams of protein per serving, the macros are quite good. The flavors are also on the savory side — Mac & Cheese, Veggie Pizza, Almond Delight — despite having a sweeter kick to them.
Kay's Protein Puffs
Each serving includes 16 grams of carbs, three of which are sugar, so these are not as keto-friendly as many competitors. However, four grams of fiber is still pretty good for these non-GMO, gluten-free puffs. At just 90 cents per serving, meaning these are on the more affordable end on the market, there is a lot to like about Kay's.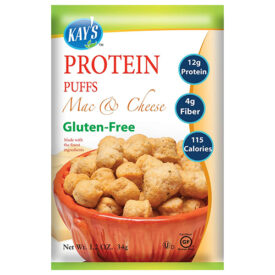 With a unique essence of almond, Kay's Protein Puffs offer a sweet alternative for folks looking for protein puffs. The main source of protein in these puffs is non-GMO soy protein.
Who Should Buy Kay's Protein Puffs
People who enjoy sweeter snacks.
Folks who want to keep spending down.
Those who follow a gluten-free diet.
Who Shouldn't Buy Kay's Protein Puffs
Anyone who follows a keto diet.
Folks who appreciate label accuracy.
There is a slight discrepancy between the labeling information and the nutrition label itself. The box says 115 calories per serving, but the nutrition label says 125 calories per serving. It's not a huge deal, but it is notable. However, the ingredients and macros are still quality enough to make this a great choice.
[Related: Best Macros Calculator For Tracking Muscle Gain And Fat Loss]
How We Decided Our Picks
More protein puffs are popping up on the market regularly. Many of them feature high protein and low carbohydrate nutrition profiles, making them appealing to folks following a low-carb diet. But, of course, it's wise to consult with a medical professional when going on a weight management journey. Before selecting a type of protein puff, there are a few key features to consider.
Flavor
Many protein puff makers include a cheese option. In fact, some protein puffs really do resemble the type of junk food, cheese doodle or cheese puff popular we ate at birthday parties growing up. However, if cheese is not an appealing choice, there are some other more unique options available.
Texture
Almost as important as the flavor is the texture of a protein puff. These can vary from puff to puff, but generally speaking, protein puffs are round or ovular and contain a pleasant crunch. They're pretty much the snacking version of popping bubble wrap.
Protein Source
Many protein puffs utilize milk protein as their main source. This makes them relatively filling while still maintaining a meager carb count. However, some brands utilize plant-based protein, which may be more appealing to some folks depending on their diets, and others even use soy-based protein.
Carbs
If keeping a low-carb diet is important, take a look at the nutritional facts and compare the carbohydrates on each package. Depending on the type of protein used, the carbohydrates can vary from zero all the way to 20 grams per serving.
Serving Size
A lot of the protein puffs on the market are available in individual size packages. These may be super convenient for folks who are on the go. Others offer bulk-sized containers, which could be great for those looking to cut down on waste from packaging.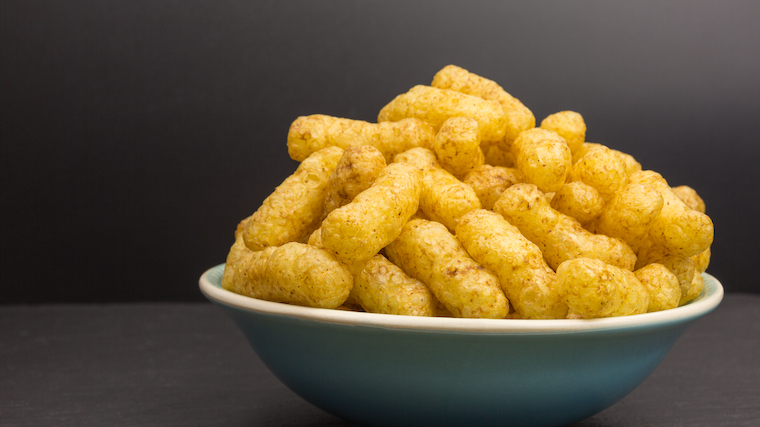 [Related: 10 Ways To Naturally Increase Your Appetite]
What To Consider Before Buying
Consult a medical professional before drastically altering your diet, particularly if weight management is a goal. Changing eating habits without changing exercise routine is like changing tires on a car but not putting air in them; we need both.
Protein puffs might be a great snacking alternative for folks looking to up their protein without sacrificing the crunch of junk food. However, if losing weight is a goal, it's wise to consult a medical professional before changing your diet too much.
FAQs
How nutritious are protein puffs?
The nutrition profile of protein puffs varies depending on the brand. Some are super high in protein while staying low in carbs, while others have higher carb counts.
What's the source of protein in protein puffs?
The source of protein in protein puffs depends on the brand. Many utilize milk isolate, while others get protein from plant sources.
What are the ingredients of protein puffs?
The ingredients of protein puffs vary depending on the type of protein puff in question. Many have milk isolate as the main ingredient and then use a number of other spices and flavors to round out the profile. Check the labeling to find out the exact list of ingredients for each brand.
Are protein puffs keto-friendly?
Some protein puffs are marketed as being explicitly keto-friendly. Others do not contain that labeling, but do contain comparatively high levels of protein with low amounts of carbohydrates.