There are a lot of well-made documentaries about strongmen, like Eddie Hall's Eddie Strongman, Brian Shaw's Tossing Kegs on 7 Meals a Day, and Hafthor Bjornsson's screentime in The Giants of Iceland. That's why Born Strong, the new documentary about the 2015 Arnold Strongman Classic now available on Netflix, feels a lot like The Avengers — all of strongman's greats assemble for one of their toughest battles yet.
It doesn't just follow the athletes on the day of the competition. Born Strong dedicates its entire first half to introducing Eddie Hall, Hafthor Bjornsson, Brian Shaw, and Zydrunas Savickas in thorough, engrossing segments that follow their daily lives and explore their personalities and motivations through interviews with the athletes and their loved ones.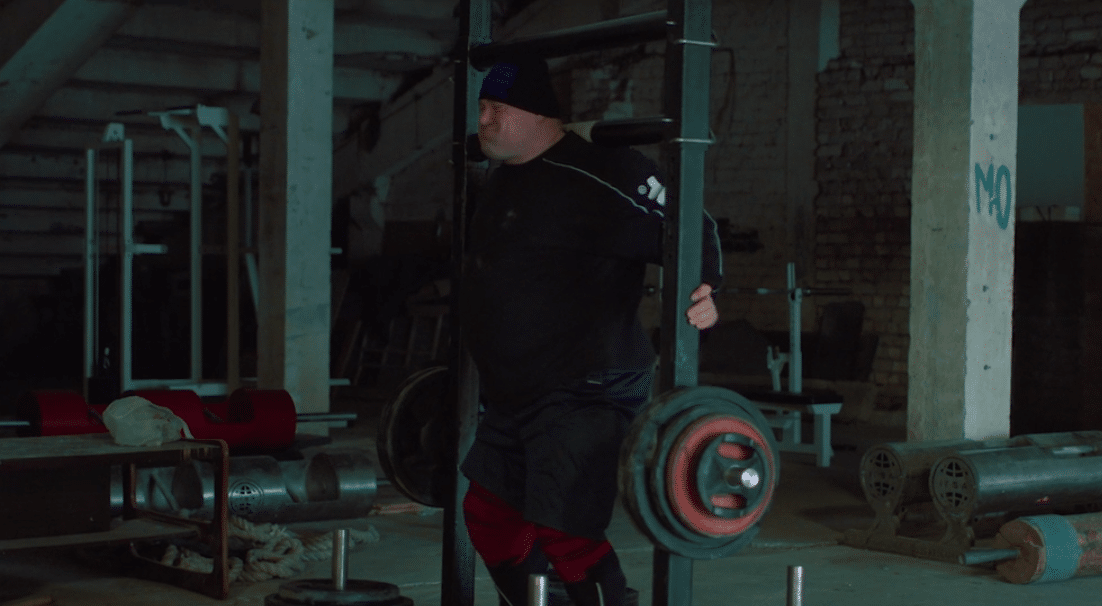 Image via Netflix
Even before we get to the contest, each of the profiles is worthy of being its own short film about the realities of strongman training. Each is haunting in its own respect: Eddie Hall's segment includes a jarring scene in which he expresses an interest in pursuing another sport like fighting or bodybuilding once he's done with strongman, which causes his wife to start weeping and ask him to "just be normal."
Hafthor Bjornsson's segment includes the line, "If eating shit would make me stronger, I'd probably do it." In Brian Shaw's, he laments that the strongman diet results in something like "reverse anorexia," and Zydrunas Savickas' short focuses on how growing up in Soviet-occupied Lithuania was like living "in a big prison" where gyms and strongman were banned.
The first half of the movie is about the why of strongman, which is as interesting as the competition itself and makes it a film that's much more accessible to non-fans of the sport. Why would you force feed over 10,000 calories a day so you can increase your injury risk and possibly shorten your lifespan? (Both Eddie Hall and his physician confess that the longer he stays at his current weight, the shorter his life will be.)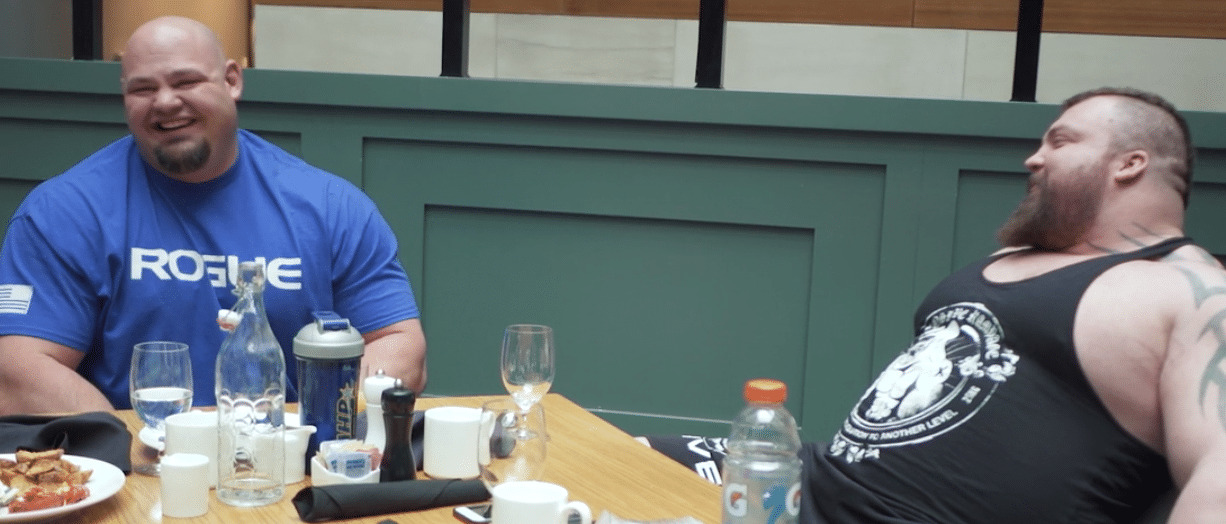 Image via Netflix
Bjornsson's segment suggests that Iceland's Viking history is an undeniable factor in the country's unusually high number of strongmen while for Hall, who gets the most screentime, the reasoning stems partly his drive to be the world's ultimate alpha male ("If you don't want that title, you're lying to yourself in some deep way") and partly because:
I think it's just human nature to want to be better than your siblings. I've got a hole deep inside that I'm trying to fill. I've obviously way surpassed my brothers in strength, but now I see the Brian Shaws and the Thors have replaced my brothers. I'm just trying to fill that void, and I won't feel satisfied until I do.

And this is what the obsession is: I will literally die trying to win the World's Strongest Man to prove that status.
[Don't miss BarBend's interview with Eddie Hall on his training and his ambitions outside of strongman.]
Once the film moves to the Arnold Strongman Classic, pieces of an interview with Schwarzenegger himself explain the meaning of the events — "it didn't matter how civilized (humankind) became, we always admired power" — and a series of cartoons help to explain the rules of the movements. It's hard to imagine a strongman documentary that could be more accessible to the casual viewer, and it's why this is one of the greatest films made about the sport.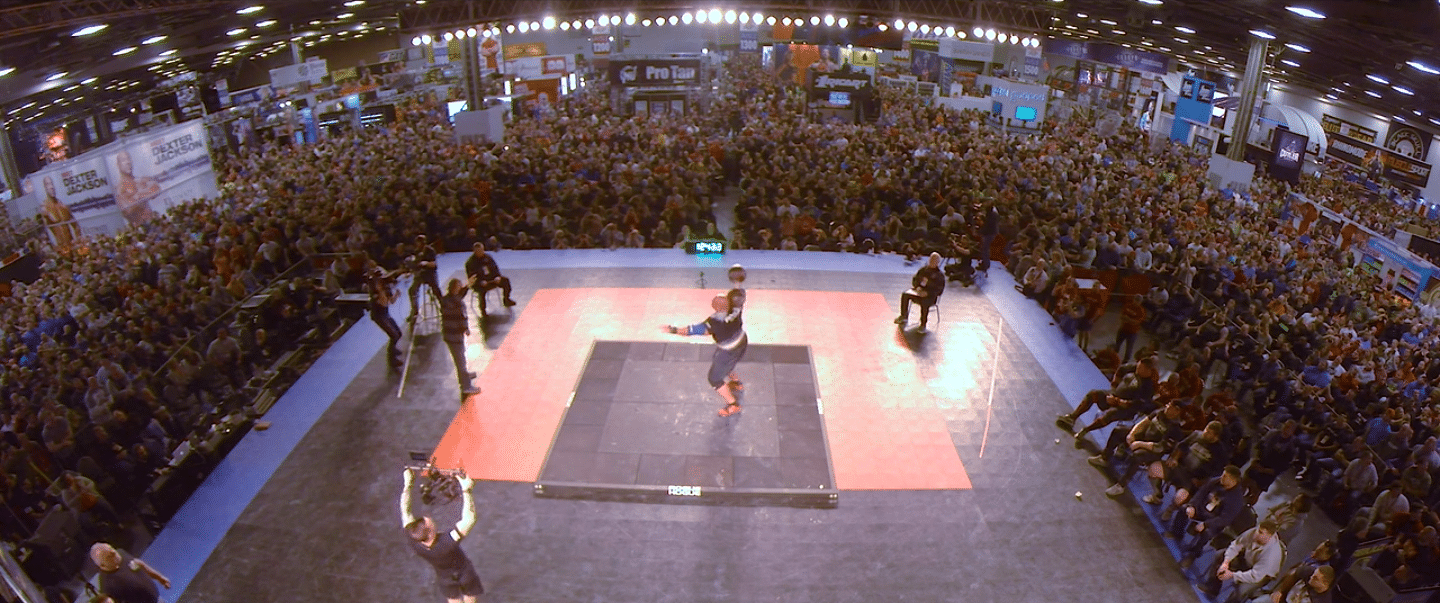 Image via Netflix
As each athlete fails in certain events and is forced to reckon with their weaknesses, the viewer understands that while this is a unique sport, it is at its core about athletes who are trying to be the best they can possibly be.
If you're a fan of strongman, watching Born Strong unfold is like unwrapping presents on Christmas morning. If you're not, it's about the best introduction to the sport — its stars, its psychology, and its dark sides — that you're likely to find.
Featured image via Netflix.