Home gym systems are a great way for achieving fitness results and maintaining progress from the comfort of your own home. One of the many companies that has a strong name in home gym equipment is Bowflex. They're a company known for their compact and versatile pieces of equipment.
In this article, we're taking a deep dive into the Bowflex PR3000. This is a slightly older "compact" model that has a couple unique features and potential pros and drawbacks. Within our review, we'll break down this Bowflex model's key features, versatility, ease of use, price, and warranty options.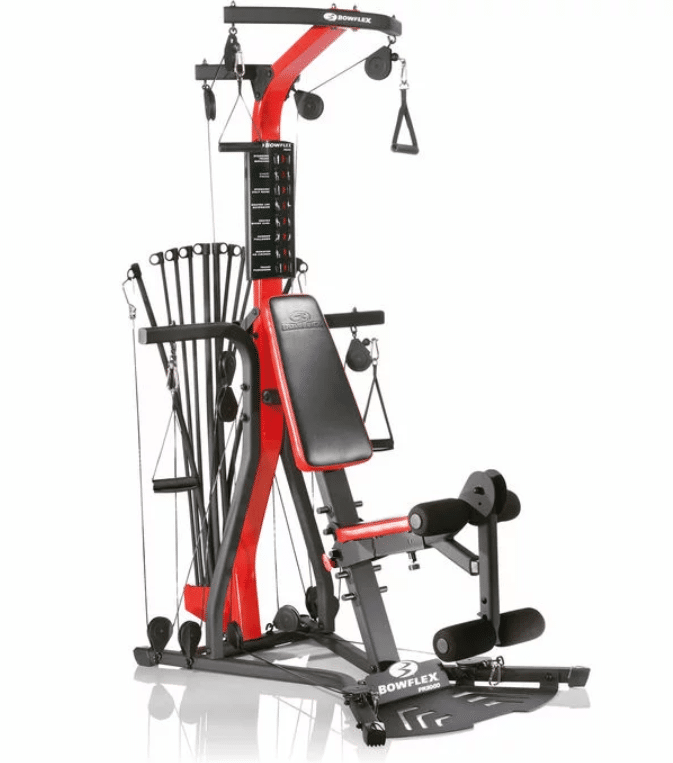 Image courtesy bowflex.com.
Bowflex PR3000 Key Specs and Features
The Bowflex PR3000 has a few key features that make it different and similar to other Bowflex models. To begin, this model is one of their middle of the road machines with versatility, as it offers you the ability to perform over 50 exercises. This is slightly more than the PR1000, but less than the newer Bowflex Xtreme 2 SE. For most, 50 exercises will be plenty to get in a full-body, or body part focused workout.
Shop Bowflex PR3000 HERE.
Another cool component that comes along with the Bowflex PR3000 is the content it includes and unlocks. This model has a descriptive exercise manual, and a chart attached on the machine highlighting some of the machine's fundamental movements. Additionally, the purchase of the PR3000 provides you with access to the Bowflex Full Body Plan, which is a library of exercises and workouts Bowflex provides. This can take the thinking out of working out, which could be a huge plus for a newer lifter.
Similar to other Bowflex models, the PR3000 comes with the standard 210 lbs of power rod resistance. Yet, if that isn't enough, then you always have the option to upgrade your resistance up to 310 lbs. For many, they'll find that 210 lbs resistance is enough to achieve a great at-home workout.
[Looking for the best home gym for you? Read here and check out our full rundown of the top equipment for your needs!]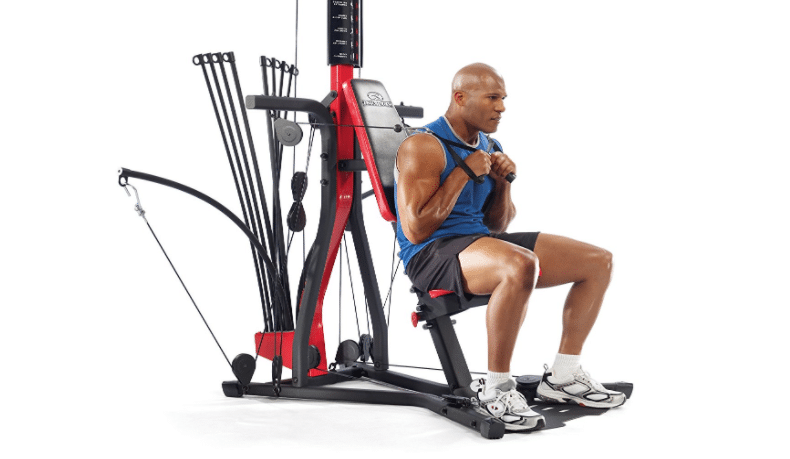 Image courtesy Bowflex.com.
The power rods are key to Bowflex machine's for a few reasons. First, they're a little less stressful on joints, which is a cool feature for one's longevity in the gym, and for those just beginning to workout. Second, they're lightweight, so moving them is easier than your standard home-gym equipment. Lastly, they come with a 7-year warranty.
Pros
Versatile: Over 50 exercises
210 lbs of power rod resistance
7-year power rod warranty, and 1-year machine warranty
Descriptive exercise manual and Full Body Plan access
Cons
Could be expensive for some who buys in one-time purchase
Doesn't come with lat pull-down bar
Is the Bowflex PR3000 Versatile?
As pointed out above, the Bowflex PR3000 is middle of the road when it comes to Bowflex machines and versatility. It's a machine that provides you with over 50 exercises and a library of workout content. This makes it a useful machine for those trying to achieve a full-body workout circuit, and someone who wants to isolate certain muscles. Additionally, the power rods make it easy to adjust weight quickly and appropriately for one's abilities.
Below are a handful of the body parts and exercises you can achieve with the Bowflex PR3000 home gym.
Legs: Leg extension, curl, and kickback 
Chest: Flat, incline, and decline press
Back: Lat pull-down with cables, row, lower back extension 
Arms: Bicep curls and tricep pushdown
Shoulders: Press, delt raise, shrugs 
Core: Ab crunch, trunk rotation, and oblique crunch 
Another versatile aspect of this machine is its dimensions and size. The PR3000 is one of Bowflex's compact machines, which means it doesn't come with a fold down bench. The minimal space needed to achieve a workout with this machine is 100″ by 78″. This makes it an okay sized machine for multiple rooms in the house.
Bowflex PR3000 Ease of Use
Whether you're a newer lifter, or weathered gym rat, then you'll find this Bowflex model is pretty easy to use. The machine comes with minimal pieces of equipment to adjust, so it's pretty easy to adapt and learn your way around the machine. This characteristic makes flowing through exercises and workouts slightly easier because there are fewer options to incorporate. That could be both a good and bad thing depending on the user.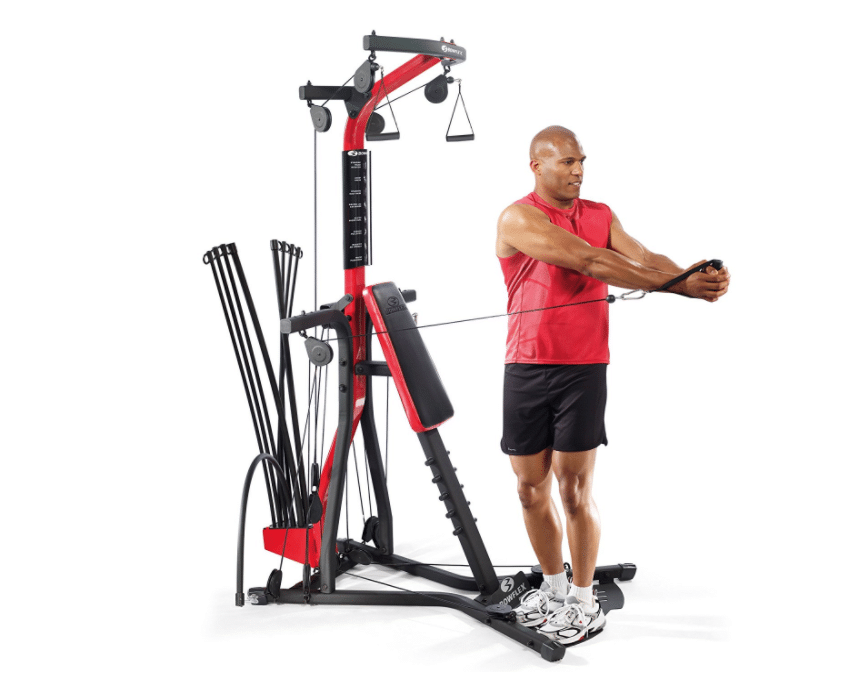 Image courtesy Bowflex.com. 
The Bowflex Full Body Plan also makes this piece of home gym equipment easy to use. It can be daunting to construct a workout for a new lifter, so they'll find it mentally comforting to have videos, workouts, and exercise descriptions at their fingertips. Bowflex's power rods also make this machine easy to use and track previous weight used appropriately.
Bowflex PR3000 Price
The average price for a Bowflex PR3000 comes out to $1,099.00. It's an older model with slightly fewer features (like a lat pull-down bar) than some of their new models, so the price makes sense. For someone needing a piece of equipment to accomplish multiple fitness goals, then I feel like this price is good. In addition, there are financing options, so a one-time purchase can seem less daunting.
Bowflex PR3000 Warranty
The Bowflex PR3000 comes with a warranty. It's not the comprehensive option Bowflex offers because it's a slightly older machine, yet it still trumps many other home gym models. The power rods come with a 7-year warranty, the machine has 1-year warranty, and additional pieces of equipment 60-days. Bowflex will cover any manufacturing issues or early degradation problems with these aspects if they're within their respective timelines.
In Conclusion
For many, the Bowflex PR3000 will be able to match many of the asks for a piece of home gym equipment. The price is pretty fair, along with the versatility that comes with this machine. I also liked the warranty that comes with it, even though it's a slightly older model. The only downfalls that come with this machine is the lack of lat pull-down bar and possibly limiting 210 lbs of resistance.
If you're in need of a home gym that can provide you with a full-body, or body part focused workout, then the Bowflex PR3000 could be a solid choice.
Feature image courtesy Bowflex.com.