We receive free products and receive commissions through our links. See
disclosures page
.
Products sold by high-profile athletes can often leave us disappointed, but that isn't the case with Chris Bumstead's Thavage pre-workout. If you aren't familiar, Bumstead is a modern bodybuilding legend with three Mr. Olympia Classic Physique first-place awards and a huge social media following. Not only does Bumstead (CBUM) know a thing or two about gains, he also has a knack for great marketing. Using his characteristic lisp as inspiration, Bumstead named this pre-workout after his pronunciation of the word "savage."
According to Raw, Bumstead "personally designed" the flavor options—which include 3 Peat and Rocket Candy, our two favorites. But there's more to Thavage than great taste – it also has an impressive ingredient list. We can't guarantee you'll win any Mr. Olympia titles if you take this pre-workout, but you just might be able to power through an extra drop set or even hit a new PR. We think CBUM Thavage is a solid option for non-collegiate weightlifters seeking an extra energy and focus boost for their pump, but it may not fare well with more stimulant-sensitive athletes.
Main Takeaways
CBUM Thavage offers a well-rounded dose of ingredients that can help support focus, potentially energize your workout, and may help you sustain a higher power output for longer durations.
With five highly palatable flavor options, Thavage delivers enough variety to keep your tastebuds as happy as your biceps. None of the flavors are overly sweet, thanks to the artificial sweeteners sucralose and acesulfame, so you won't get that overpowering flavor you sometimes get with budget pre-workouts.
Many feel that this pre-workout excels at supporting blood flow, thanks to ingredients like L-citrulline, betaine anhydrous, and alpha GPC. This combination can help encourage a high level of intensity when you're trying to crush heavy sets with minimal rest.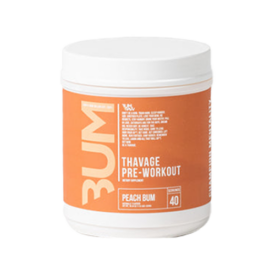 This potent pre-workout designed by Chris Bumstead in partnership with Raw Nutrition has all the ingredients you need for a savage, er, thavage workout. With five flavors to choose from providing 3,000mg of citrulline, 1,250mg of betaine, and 150mg of total caffeine per scoop, this supplement can easily become your new favorite pre.
CBUM Thavage Highlights
CBUM Thavage shines in three main areas. The first is flavor. In no particular order, the flavors are Peach Bum, Green Crush, Blackberry Lemonade, 3 Peat, and Rocket Candy. The second area is energy and mental focus. With generous doses of L-citrulline (3,000mg per serving), betaine anhydrous (1,250mg per serving), L-tyrosine (1,000mg per serving), alpha GPC (200mg per serving), and huperzine A (50mcg per serving), this pre-workout may help serious athletes conquer mental blocks, commit to grueling workouts, and stay focused deep into long sets. We can't forget the caffeine content, either. One scoop of Thavage delivers 130mg of caffeine anhydrous, or about the same as a small cup of coffee. The last area is endurance and pump. Thanks to the L-citrulline and betaine anhydrous, CBUM Thavage may help promote blood flow and reduce muscular fatigue, allowing athletes to perform at a higher capacity for longer.
Thavage is by no means the perfect pre-workout for everyone, though. While some may appreciate its stimulating effects, others may find the caffeine content overwhelming, especially double-scoopers. With 260mg of caffeine in two scoops, athletes who prefer to work out at night may find that Thavage negatively affects their sleep schedule. Similarly, the National Collegiate Athletic Association (NCAA) places one of Thavage's ingredients, bitter orange (also known as synephrine) on its banned substances list due to its stimulant properties.
While Raw Nutrition doesn't promote it as a main ingredient, we have to give an honorable mention to the hefty dose of beta-alanine (1,600mg/serving). Word on the street is that Bumstead loves the tingles, and hey, we do, too.
Who Should Buy CBUM Thavage Pre-Workout
Athletes who value flavor variety will enjoy the range of options here. Thavage's five flavors are Peach Bum, Green Crush, Blackberry Lemonade, 3 Peat, and Rocket Candy. If you like this formulation but hate drinking the same flavor over and over, there will likely be more than one flavor you'll enjoy.
Anyone looking for a solid pump and potential endurance edge will appreciate the 3,000mg per serving of L-citrulline in this formula.
Those who want a stimulant boost to get them motivated and in the zone before hitting the weights will be pleased with the mix of potential alertness-enhancers in this product, including 130mg of caffeine, 50mg of bitter orange, and 1,000mg of L-tyrosine per scoop.
Who Shouldn't Buy CBUM Thavage Pre-Workout
Some may find that this pre-workout is slightly underdosed when it comes to certain ingredients. For instance, many prefer doses up to 600mg of alpha GPC, but you'll only get 400mg with two scoops of Thavage (and only 200mg if you take a single scoop).
You won't find any creatine in this product, so if that's a must-have, we recommend you check out some other creatine supplements.
People looking for glycerol will be disappointed by its absence in CBUM Thavage.
College athletes competing in National Collegiate Athletic Association (NCAA) events should also stay away from Thavage. It contains bitter orange (also known as synephrine), which is a banned substance.
Price and Buying Options
You can buy CBUM Thavage directly from the Raw Nutrition website for around $49.99 a container (about $1.25 per serving) or by clicking the link above. The company also offers a payment plan, so you can pay in four interest-free installments of $12.50. The serving size is one scoop (13.4g), and there are 40 servings per container. More experienced supplement-takers may prefer to take two scoops (26.8g) before their workout, so if you fall into that category, you'll only get 20 servings per container. Overall, we find $49.99, or about $1.25 per serving, to be a fair price for these ingredients at these doses.
CBUM Thavage Overall
CBUM Thavage is well-rounded and offers enough high-quality ingredients to be a daily driver. However, one serving does contain 130mg of caffeine anhydrous, so if you're trying to cut back or you're prone to coffee jitters, you may want to stay away. That said, the formulation contains ingredients like L-citrulline and betaine anhydrous, which may help athletes increase their endurance and produce more power. And at only about $1.25 per scoop, we find Thavage a good bang for your buck. If you're new to pre-workouts, we recommend starting with one scoop or even a half scoop about 30 minutes before you hit the gym. More experienced users will likely benefit from a double scoop.
Formulation
While CBUM Thavage contains 15 active ingredients and vitamins C, B6, B12, and potassium, we want to highlight the five ingredients that we believe are most important. These are L-citrulline, betaine anhydrous, L-tyrosine, alpha GPC, and huperzine. When taken before a workout, these may help support both the body and mind. How? Let's get into it below.
L-Citrulline
L-citrulline is an amino acid that may offer a number of benefits when taken as a pre-workout supplement. Studies have shown that L-citrulline can help increase the amount of arginine in the bloodstream, which can lead to improved vasodilation (1). Scientific jargon aside, this means L-citrulline offers the potential for a better pump and better blood flow, especially during repetitive workouts.
One scoop of this pre-workout offers a 3,000mg dose while two scoops will land you at 6,000mg. Other supplements offer doses upwards of 8,000mg, so if you prefer a high dose, you can always top off your scoops with some pure L-citrulline.
Betaine Anhydrous
In one scoop of Thavage, you'll get 1,250mg of betaine anhydrous. Two scoops will give you 2,500mg. This ingredient has the potential for multiple beneficial effects. One study has suggested that betaine can enhance the antidepressant effects of S-adenosyl-methionine in those who suffer from "mild to moderate depression," which could go a long way in helping you get out of a slump and back in the gym (2). On the physical side, other studies have suggested that consistent supplementation of betaine can lead to "improved body composition, arm size," and even "improve power" (3).
L-Tyrosine
L-tyrosine is another amino acid that may help improve focus. One study suggested that supplementing with L-tyrosine can "reduce the effects of stress and fatigue on cognitive task performance" in scenarios with heightened physical stress (4). If you're going hard in the gym and putting your muscles through a rigorous workout, that certainly counts as physical stress. A full scoop will provide you with 1,000mg, and two scoops will provide you with 2,000mg.
Alpha GPC
Alpha GPC is a versatile ingredient that can potentially provide nootropic and ergogenic benefits. Many in the bodybuilding community turn to alpha GPC when they want to improve their focus, and, in 2021, researchers found that alpha GPC can increase motivation in healthy individuals with no apparent adverse side effects (5). Additionally, a study from 2015 found that it can have beneficial effects on "lower body force production," even after less than a week of supplementing (6). One scoop of Thavage has 200mg and two scoops have 400mg.
Huperzine A
While huperzine A is marketed as a focus booster, the research is mixed. Some studies have suggested that supplementing with this ingredient can potentially protect neurons from damage (7), while others suggest that it "does not enhance cognitive function during exercise" (8). The jury is still out on the effectiveness of huperzine A, but you can still get 50mcg from one scoop of Thavage and 100mcg from two scoops. At the very least, there haven't been any studies to our knowledge showing any detrimental effects, so here's to hoping!
What To Consider Before Buying CBUM Thavage Pre-Workout
There are several factors to consider before taking any pre-workout. These include the type of exercise you'll be performing, price, flavor, your level of experience taking supplements, and caffeine content. If you are new to pre-workouts, we recommend consulting a doctor before starting a new pre-workout regimen. As for this pre-workout, we cover what we think are the most important considerations below.
Type of Exercise
CBUM Thavage is geared toward athletes engaging in resistance exercise, so those lifting weights and doing other resistance training may see the most benefits from this product. Is taking a pre-workout like Thavage necessary? No. However, at least one study has shown that taking pre-workouts before strength training can improve "anaerobic peak and mean power values," and those containing caffeine, like Thavage, "may improve anaerobic power performance" (9).
Price
One container of CBUM Thavage will run you around $49.99. That includes 40 single-scoop servings, so each scoop will cost approximately $1.25. We believe that's a fair price for Thavage's formulation. More experienced lifters may prefer to take two scoops before working out, which comes out to about $2.50 per two-scoop serving. If you fall into that category, it might be a good idea to stock up on a couple of containers at once.
Flavor
One of the toughest areas for supplements to shine is in the flavor department. We're all familiar with the "grin and bear it" taste of many pre-workouts on the market, and we generally like to avoid that. Luckily, we found Thavage's variety of flavors to be neutral at worst and enjoyable at best. This pre-workout comes in five flavors: Peach Bum, Green Crush, Blackberry Lemonade, 3 Peat, and Rocket Candy. Of these, 3 Peat and Rocket Candy are the top two crowd-pleasers, but you'll have to decide for yourself.
To sweeten the product, Thavage uses two main sugar substitutes: sucralose and acesulfame. Though numerous studies and government agencies have confirmed the safety of these artificial sweeteners, scientists believe more large-scale research is necessary to fully understand the implications of long-term ingestion (10). The flavors come from a combination of natural and artificial sources and were designed by Bumstead, himself.
Caffeine
CBUM Thavage is a caffeinated pre-workout, with 130mg of caffeine per serving. While this may improve the alertness and focus of some, it can leave others with a crash after it wears off. Some individuals are more sensitive to its stimulant effects, too, and the last place you want to get the jitters is underneath a rack of plates. If you like to work out at night, the caffeine content may leave you unable to fall asleep after you complete your exercise, so consider your level of caffeine tolerance carefully before buying this pre-workout.
Final Word
Is Thavage a product worthy of the Chris Bumstead name? We think so. It offers a respectable range of ingredients at a fair price, and the flavors range from decent to legitimately tasty. The big hitters for this pre-workout are L-citrulline, betaine anhydrous, L-tyrosine, alpha GPC, and huperzine A. If you're always chasing a better pump and want some extra energy to crush your most difficult workouts, then the L-citrulline and L-tyrosine in this pre-workout may create an ideal formula to help support your goals. Likewise, if you've been searching for ways to improve your mind-muscle connection, the betaine anhydrous, alpha GPC, and huperzine A in Thavage may be the potential focus-enhancing combination you didn't know you needed.
FAQs
Is CBUM Thavage pre-workout safe?
For healthy individuals, the research suggests that multi-ingredient pre-workouts (like Thavage) are safe and can lead to beneficial changes in the physique of power athletes (11). However, research into the long-term effects of frequent pre-workout consumption remains insufficient, so it is best to proceed with caution. When it comes to CBUM Thavage, the main ingredient that raises question marks for us is the bitter orange (synephrine), since it's on the NCAA's list of banned stimulants. We do not recommend college athletes take this pre-workout. You should consult with a doctor if you have any questions and thoroughly research the ingredients in any pre-workout products you're considering. 
Is CBUM Thavage more effective than other options?
The answer to this question largely depends on your goals and the types of workouts you do. Everyone's body chemistry is different, so only you, your doctor, and/or your trainer will be able to determine whether a certain pre-workout is more beneficial for your exercise goals than another. That said, CBUM Thavage may be most effective for power athletes engaging in resistance workouts that involve sustained muscle contractions and heavier weights, since its formulation is optimized to potentially encourage energy, blood flow, motivation, and focus.
How should I take CBUM Thavage pre-workout?
For best results, we recommend dissolving this pre-workout in water and consuming it about 30 minutes before your workout. CBUM Thavage is geared toward weightlifters and bodybuilders, so if your exercise plan includes resistance training or free weights, Thavage may be a nice complement to your routine. If you are new to pre-workouts, we recommend starting with one scoop. If you are an experienced weightlifter, you may prefer to take two scoops at once.
References
Schwedhelm, E., Maas, R., Freese, R., Jung, D., Lukacs, Z., Jambrecina, A., Spickler, W., Schulze, F., & Böger, R. H. (2008). Pharmacokinetic and pharmacodynamic properties of oral L-citrulline and L-arginine: impact on nitric oxide metabolism. British journal of clinical pharmacology, 65(1), 51–59. https://doi.org/10.1111/j.1365-2125.2007.02990.x
Di Pierro, F., Orsi, R., & Settembre, R. (2015). Role of betaine in improving the antidepressant effect of S-adenosyl-methionine in patients with mild-to-moderate depression. Journal of multidisciplinary healthcare, 8, 39–45. https://doi.org/10.2147/JMDH.S77766
Cholewa, J. M., Wyszczelska-Rokiel, M., Glowacki, R., Jakubowski, H., Matthews, T., Wood, R., Craig, S. A., & Paolone, V. (2013). Effects of betaine on body composition, performance, and homocysteine thiolactone. Journal of the International Society of Sports Nutrition, 10(1), 39. https://doi.org/10.1186/1550-2783-10-39
Deijen, J. B., Wientjes, C. J., Vullinghs, H. F., Cloin, P. A., & Langefeld, J. J. (1999). Tyrosine improves cognitive performance and reduces blood pressure in cadets after one week of a combat training course. Brain research bulletin, 48(2), 203–209. https://doi.org/10.1016/s0361-9230(98)00163-4
Tamura, Y., Takata, K., Matsubara, K., & Kataoka, Y. (2021). Alpha-Glycerylphosphorylcholine Increases Motivation in Healthy Volunteers: A Single-Blind, Randomized, Placebo-Controlled Human Study. Nutrients, 13(6), 2091. https://doi.org/10.3390/nu13062091
Bellar, D., LeBlanc, N. R., & Campbell, B. (2015). The effect of 6 days of alpha glycerylphosphorylcholine on isometric strength. Journal of the International Society of Sports Nutrition, 12, 42. https://doi.org/10.1186/s12970-015-0103-x
Qian, Z. M., & Ke, Y. (2014). Huperzine A: Is it an Effective Disease-Modifying Drug for Alzheimer's Disease?. Frontiers in aging neuroscience, 6, 216. https://doi.org/10.3389/fnagi.2014.00216
Wessinger, C. M., Inman, C. L., Weinstock, J., & Weiss, E. P. (2021). Effect of Huperzine A on Cognitive Function and Perception of Effort during Exercise: A Randomized Double-Blind Crossover Trial. International journal of exercise science, 14(2), 727–741.
Martinez, N., Campbell, B., Franek, M., Buchanan, L., & Colquhoun, R. (2016). The effect of acute pre-workout supplementation on power and strength performance. Journal of the International Society of Sports Nutrition, 13, 29. https://doi.org/10.1186/s12970-016-0138-7
Tandel K. R. (2011). Sugar substitutes: Health controversy over perceived benefits. Journal of pharmacology & pharmacotherapeutics, 2(4), 236–243. https://doi.org/10.4103/0976-500X.85936
Harty, P. S., Zabriskie, H. A., Erickson, J. L., Molling, P. E., Kerksick, C. M., & Jagim, A. R. (2018). Multi-ingredient pre-workout supplements, safety implications, and performance outcomes: a brief review. Journal of the International Society of Sports Nutrition, 15(1), 41. https://doi.org/10.1186/s12970-018-0247-6